Profit Accumulator Trial
Sign up for a free trial today and earn £40+ in profit from free offers. No credit card required.
Get Your Free Trial Now
All Deals
Profit Accumulator Trial
You've come to the right place if you're looking for the Profit Accumulator free trial offer.
Profit Accumulator doesn't do discount/coupon codes. Comparism readers get instant access to the Profit Accumulator trial (using this link) to take it for a spin to find out if it works.
The trial is handy for learning matched betting by actually doing it (that's how I started). And help you make around £45 from two free bookmaker offers. No payment details are required.
Disclaimer: Comparism is supported by readers. We might earn a commission if you make a purchase at absolutely no extra cost to you. For more information, you can read our affiliate disclosure. I'm not a financial advisor, and this is not financial advice; this article is for information and entertainment purposes only. There is no guarantee of specific results. The amount of money you make depends on the time and effort you put in, with a degree of risk associated if you make a mistake.
Profit Accumulator: One Minute Review
Profit Accumulator is the UK's leading matched betting website that offers a range of tools to help you profit from bookmaker offers. It also provides a range of other features to help on your matched betting journey, including:
Comprehensive guides on how to get started with matched betting
Detailed instructions (video and text) on how to place each bet
Forum access to ask questions and get matched betting tips from experienced matched bettors

Calculators that work out how much profit you can make from each offer

OddsMatcher tool to quickly find bets that offer the best value
A 'Matched Betting Tracker' to help you keep track of your progress
Over 150,000 customers have signed up for their membership since launch, and it is easy to see why. Profit Accumulator is the complete package when it comes to matched betting sites! They have an 'Excellent' rating (4.9 out of 5) on TrustPilot and are the highest-rated matched betting site with close to 1900 reviews.
If you want to learn more about how it all works, check out my detailed Profit Accumulator review, where I go through all the features in detail.
Must Read: Is matched betting still worth it (in 2022)?
Profit Accumulator Free Trial
The free trial is a great way to access a dedicated matched betting service's potential and take the various tools for a spin. It includes:
step-by-step video instructions for the first two offers (worth around £45 profit)
help and support via email and phone
access to Oddsmatching software and calculators
How to Get Profit Accumulator Free Trial?
To sign up for the profit accumulator free trial, follow the below steps:
Step#1. Go to this link and click "Start My Free Trial" to create your free account.
Step#2. Enter your email address, username and password. Agree to the terms and conditions and click "Submit Form."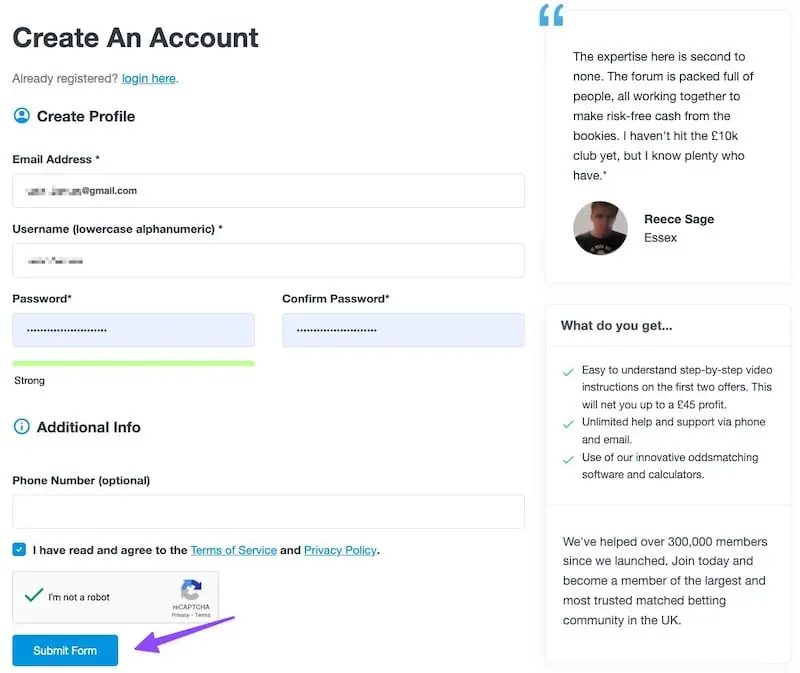 Step #3. You're now logged into your PA account with five tutorials in total for the two free offers so you can get started right away. With the free trial account, the two free offers you get are Coral and Betfred, located under the Start Here tab.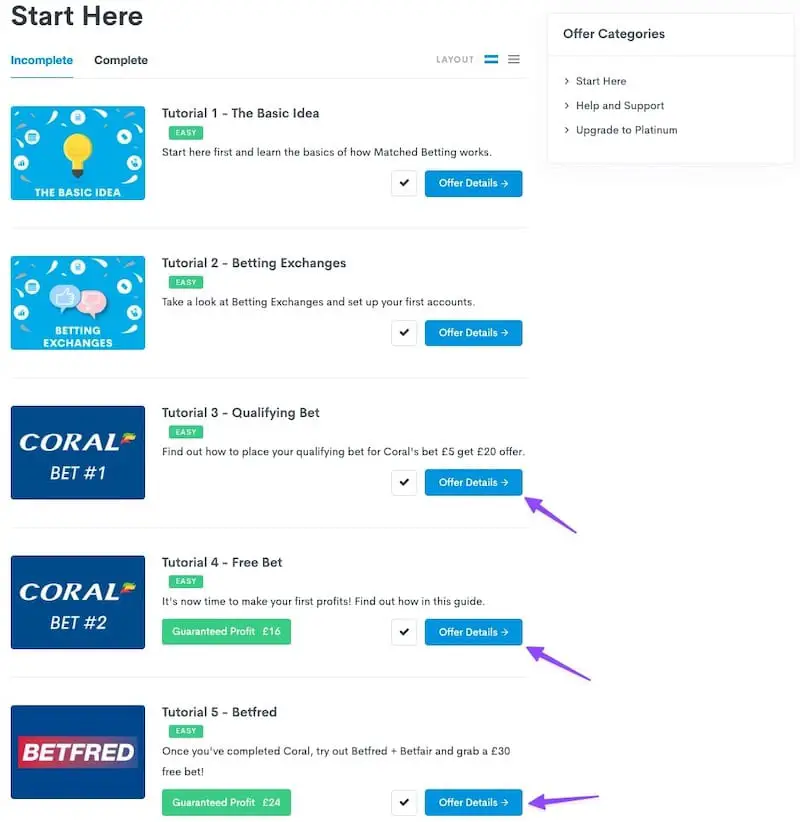 After doing these two offers, you'll bag around £40-45 in profit.
If you've already signed up for these two bookmakers in the past, you can contact the team, and they can tailor the trial for you by replacing the bookmakers with the ones you haven't signed up for before.
Profit Accumulator Platinum Trial (7 Days for Just £1)
The Profit Accumulator free trial offers a great value as you get immediate access to two bookmaker offers to start learning matched betting first-hand. And, you make £40+ in the process.
What offers even better value is the Profit Accumulator £1 trial offer (full access for seven days).
For Further Reading: Why isn't everyone doing matched betting?
FAQs
How long is Profit Accumulator's free trial?
The Profit Accumulator free trial lasts for 7 days and gives you access to two bookmaker sign up offers worth up to £45 in profits. It's a great way to try matched betting and see for yourself if it's for you or not. If you decide to continue, you can upgrade to the paid plan at £29.99 per month or £199 annually.
How much to start Profit Accumulator?
You can start with the Profit Accumulator trial for free; you don't need to share your payment details as well at this stage. When you decide to carry on with your matched betting journey, you can change to a paid subscription which is £29.99 monthly or £199 annually.
How much is Profit Accumulator membership?
If you decide to continue after your 7-day free trial, Profit Accumulator costs £29.99 per month or £199 per year (44% off) for the Platinum membership which includes most Sportsbook offers along with a few starter casino offers. If you want full access to the Casino offers and software tools, the Diamond membership is £44.99/month or £349 per year (35% off).