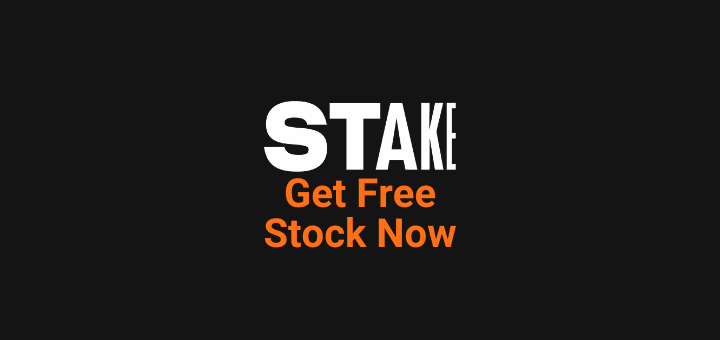 Stake Referral Code
Open a Stake account and get one free stock in either Nike, Dropbox or GoPro after your first deposit.
Get This Deal
All Deals
Stake Referral Code
Looking for a Stake referral code?
Here's my Stake free share invite code to get one FREE stock in GoPro, Dropbox or Nike when you open an account with Stake and make your first deposit.
(Referral Code: amandeeps597)
What's the Stake free share deal?
Open a share dealing account with Stake and you'll get one of the three stocks for FREE (guaranteed!) as a joining bonus under the Stake referral rewards program.
To get your free share from Stake, you must deposit $50 within 24 hours of the account being ready and approved.
You'll get one of these US-listed stock shares for free: Nike ($143) or Dropbox ($22), or GoPro ($9) after your first funding into the Stake account.
You can use Stake to get the free share if you live in the UK, Australia, New Zealand or Brazil. Like any other deal that I share on Comparism, I've verified this free stock promotion from the Stake share dealing app.
What free share have I received?
I used a referral code and got a free share of GoPro ($9) after I funded my account with $50+.
What is Stake?
Stake is a US share dealing/trading platform that gives access to 3800+ US Wall Street shares and ETFs from outside the US without charging any commissions or fees on the trades.
Stake is headquartered in Sydney, Australia and is a Robinhood equivalent, but Robinhood is restricted to use in the US only – using stake, you can invest in US shares and ETFs from UK, New Zealand, Australia and Brazil.
It works pretty much like Trading212 and Freetrade, but you cannot invest in UK stocks with Stake.
Don't forget to claim your FREE SHARE with Trading212 and Freetrade if you haven't done so already:
Stake Features
Here are some of the top features:
3800+ US stocks and ETFs
Commission or currency exchange fees on trades
Unlimited instant trades
FCA regulated
Stake also features fractional trading that allows you to buy a fraction of any share. That means you don't need to buy one whole share in companies like Amazon for $3000 – you can buy a small percentage of it.
Note: Even though Stake doesn't charge you any FX fees on any number of trades you make, they charge you a one-off 0.5% fee of your deposit (min. $2).
That means if you were depositing the min. amount of $50 to be eligible for this free stock promo, you'll be charged a $2 in fee (you still aren't losing anything because of the value of the free share you're guaranteed – I explain more on this below). The 0.5% deposit FX fees also means: up to a deposit of $400 (£295 by today's exchange rates), you'll be charged no more than $2.
🎁 How to get your free share with Stake?
Follow the steps below to get your free stock when you open a new Stake account and fund it.
Go to this Stake referral link 🔗
Click on "Claim Free Stock" button on the webpage.
In the UK and Brazil, you can sign up in the app only. If you're doing this from your computer, you can enter your phone number and you'll get a text on your phone with the app download link.
If you live in Australia or New Zealand, you can register for a new Stake account from your computer as well.
Install the Stake app 📲
You'll be taken to the App Store on iOS or Play Store on Android to download the Stake app.
Once installed, open the app and on the first screen, you'll see a message saying "You're almost there. Keep going!
Create your account and fund within 24 hours and a free stock is yours."
If you see this you're good to go. Click on "Create Account to Claim" button.
Create a free account👨🏻‍💻
Select your region: United Kingdom, Australia, Brazil or New Zealand.
Enter your Stake Referral Code
This step is optional if you've already clicked on my referral link. Still, I suggest you enter the Referral Code (amandeeps597) so that the referral gets tied and we both get our free share.
Enter your email address, click continue and set a password. You'll get a verification email with a one time code. Copy this and enter it in the app and you'll be signed in.
Provide W8-BEN tax account info 🕵🏼‍♀️
Stake is your US brokerage account and the W-8BEN info is required to let you invest in US stocks (and to get the free stock from the US).
Enter your Title, First name and Surname. Next, enter your postcode and select your address.
Enter your phone number and DOB. Click "Create Account"
Note: You might be asked to upload documents for verification. Your information will be reviewed and account approved.
Claim your Free Stock 💰
Once your account is ready, you need to make a min. deposit of $50 – you can pay from your bank app in the UK.
Instructions in the Stake account will guide you through it – I used my Monzo account to make a payment here in the UK; it was pretty straightforward.
Once the payment goes through, you'll be taken to the next screen with the mystery wheel.
Click "Spin For Stock" to spin the wheel and try your luck to get one of the three stocks – Nike, Dropbox or GoPro.
The stock is randomly picked – let me know which one you get in the comments below or on Twitter.
Get your free share! 🥳
Once the Stock mystery wheel shows you the share you've won, you should receive a free stock from Stake within the next 3 trading days. Good luck!
Remember: To get your free share, you need to make your deposit within 24 hours of your account being set up and ready. You'll be shown a countdown in the app as well, so you know how much time you have.
Note: As I mentioned before, you'll be charged 0.5% ($2 min.) when you make the initial deposit of $50 (that makes you eligible for the free share offer).
However, a free share is guaranteed, and the minimum you'll get is a GoPro share worth $9, so you don't have anything to lose.
And if you spin the free stock wheel and get the Nike one that is worth $145, well, lucky you, then! 🤑
---
Using this Stake free stock offer, you and I both get one free share.
You can get more free shares by inviting your friends using your personal referral code under the Stake referral program in your app.
💸 How to invite your friends to get Free Stocks with Stake app?
Here are the steps you can follow to refer your friends to Stake and get free shares using your personal referral link.
Login to your Stake account.
Look for "Get Free Stock" on the top left section of the Dashboard screen in your app. Or, you can access it from "Your account" section (last icon on the bottom bar in the app).
Click on "Get Free Stock"
You'll find your personal Stake invite code here that you can share with your friends to get more free shares with Stake.
Frequently Asked Questions