The techniques used in the matched betting process haven't changed much over the past few years. From my research and a lot of reading, I found that if you keep at it, Matched betting is still worth it and a profitable way to make extra money in 2023.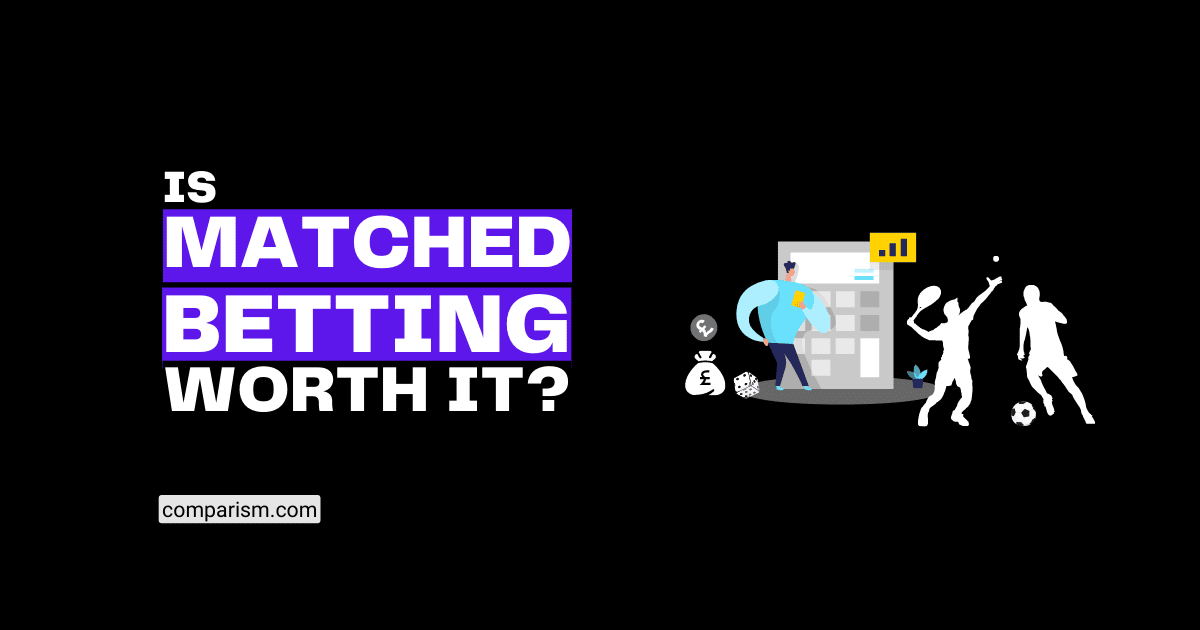 I started matched betting almost two years ago. I tried it hands-on for a few months and wrote this post to share my findings and have been updating it since.
Before I started exploring the world of matched betting, I was very sceptical about whether or not matched betting was still worth it and if it was really profitable or not.
If you have been reading my guides on Comparism, you'd know I like to try new things; take them for a spin to test if they keep up to their promises. Especially if they promise you to make money on the side (and that too tax-free). 😛
So, after a lot of research and studying, I finally took the plunge and decided to try Matched Betting for myself.
I signed up for the Outplayed yearly plan for £180 (it's changed to £250/year now). It was called Profit Accumulator at the time. Outplayed (review) is a matched betting site that provides detailed guides on using the free bet offers.
The £180 I spent on the membership, paid for itself in the first two weeks as I made about £50 a day from the free bets (the days I had some free time to place my matched bets).
Within just under two months of matched betting for only a few hours a week, I made a profit of £604.91. Not bad, in my view, for the minimal time and effort I put into it.
Update: In April 2022, I crossed the £1000+ milestone. I am at £1874.55 as of Mar 2023. I haven't been very regular and have been doing a few offers here and there.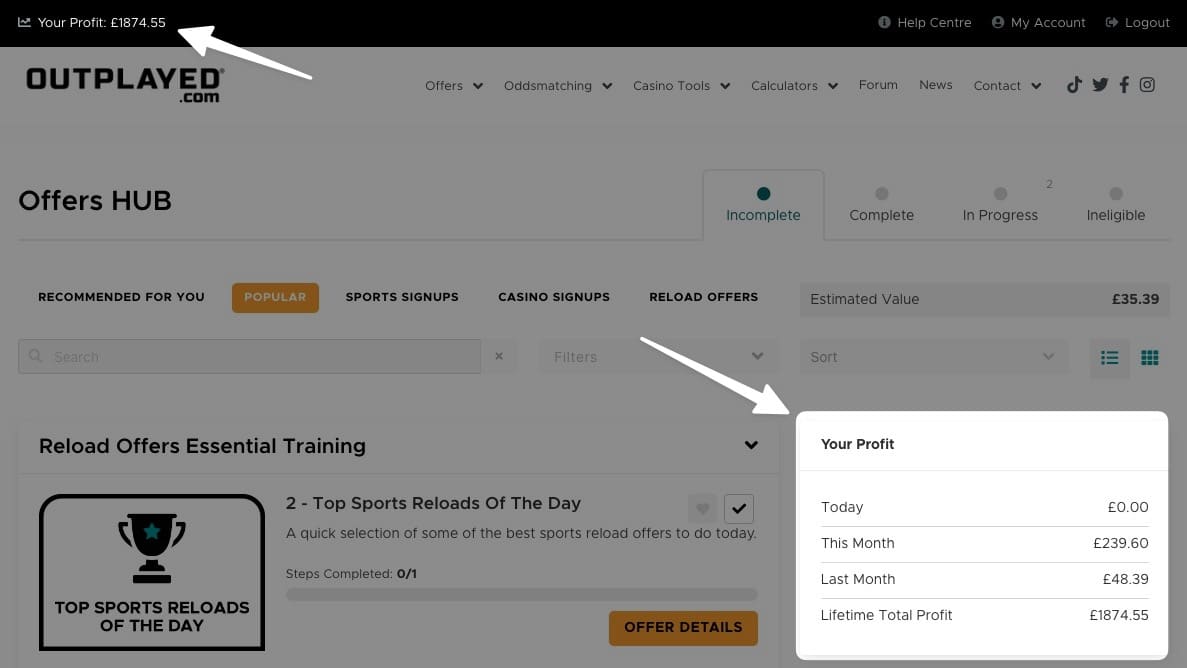 So, I decided to research and test what matched bet offers, as you can see!
In this article, I'll share my experience with matched betting and specifically give you my view on your question: Is matched betting worth it in 2023?
So let's get started!
Disclaimer: Comparism is reader-supported; this article contains affiliate links that might earn a small commission if you purchase a paid plan, at no extra cost to you. For more information, you can read my affiliate disclosure. The information provided in this article is for information and entertainment only. I'm not a financial advisor; this is not financial/investment advice. There is no guarantee of specific results. The amount of money you make depends on the time and effort you put in. Results can vary.
A quick primer to start with:
What is matched betting?
Matched betting is a technique used to make money from bookmakers' free bet offers on sports events including horse racing. You place 'back' and 'lay' bets on different outcomes of the same event with two different bookmakers. When the bet settles, your profit is the difference between the back and lay odds multiplied by your stake.
You make money using the free bets and bonuses offered by bookmakers.
People often think matched betting is illegal and confuse it with gambling.
Placing a matched bet is legal, and it isn't gambling because you know the winning outcome upfront, which isn't true for gambling. The reason is that you're using the free bets to cover your back bet.
So whatever the outcome of the event you bet on, you know upfront how much you will make from the free bet offer.
This is important: Human error is the leading cause of losing money when placing matched bets. To make sure you don't risk your money, make sure you follow the instructions of the offer and place your bets on the correct fixtures and events.
How Does Matched Betting Work?
Matched betting is a way of earning money by using the free bets that bookmaker's site offers to their customers. A typical matched bet offer looks like this: "Bet £20 to get £20 in free bets." To get this free £20 bet, the bookmaker will have you place a qualifying bet first. So in the example above, you will need to place a £20 bet to get a free £20 in return when your first bet settles.
Let's say you place your bets on the sporting event: Manchester United v Liverpool. To qualify, you would place a back bet on Manchester United to win at odds of 'x.'
You then 'lay' the bet to cover any possible outcome using a betting exchange that allows you to bet against a result. Examples of betting exchanges are Betfair, Smarkets, Betdaq etc.
So in my example, you'll lay your bet on ManU not to win at slightly higher odds, for example, 'y'. From this, your profit will be (x-y) multiplied by your stakes. So for your first qualifying bet, you'll make a slight loss.
Now, you might ask: "Aman, I want to get into Matched Betting to earn money and make profits. So why are you talking about losses!"
Patience, my friend. Patience. 😉
Drum rolls 🥁
When your first qualifying bet settles, you'll get the free bet credit of £20 (as per the above free bet offer). NOW you make money by using your free bet amount to back an event outcome and then cover the risk by laying (betting against) the same outcome.
Doing this, regardless of whether the team wins or loses, you'll make between £15-£20 tax-free income (not including your initial stake) from this free bet offer.
The beauty of matched betting is that you know the outcome and the related winnings (or a qualifying loss) upfront. So unless you make a mistake (aka human error) while placing your bets, you can't lose.
You can minimise the chances of making these mistakes by using matched betting sites like Outplayed (which is what I use!). If you plan to get started, you can use the Outplayed free trial that gives you access to two free offers (worth about £45 in profit).
Free Trial
Outplayed.com
Start matched betting easily with Outplayed. With over 150,000 paying customers, Outplayed is the UK's largest matched betting community.
Start My Free Trial
Read Our Review
We earn a commission if you make a purchase, at no additional cost to you.

Is Matched Betting Gambling?
Matched Betting is not gambling. It is a safe and legal way to bet on the outcome, and you win, irrespective of who wins or loses. With the help of a matched betting calculator, you can quickly work out how much you'll make from an offer. So you know your winnings even before the results are out – to the penny.
In gambling, on the other hand, you risk your money and have no idea what the outcome will be unless you are a statistician who understands what you're doing based on your analysis. And even then, you could get it wrong sometimes. That's how in gambling, the house always wins.
Is Matched Betting Worth It in 2023?
Yes. Matched betting is definitely worth it in 2023. It is a great side hustle to make some extra money on the side online.
Many people hate matched betting and call it gambling or unskilled work. Matched betting is not gambling; you use bookmakers' free bets to make money online with less risk. Most people that don't like matched betting have – in most cases – never tried it, and if they did, they didn't do it right.
Matched betting is a work-from-home job that can fit into anyone's schedule. It's also suitable for people with little money to start, as you don't need much capital to get started – you can start with as little as £20. How much you earn per month tax-free on average depends on how much time you can dedicate.
So, if you are looking for a new and exciting work-from-home opportunity with zero risk, matched betting is a great option to explore! Try it for yourself.
Can You Still Make Money from Matched Betting?
Overall, matched betting can be very profitable and you can make a decent amount of extra cash on the side if you are willing to put in the time and effort (about an hour a day). The more time you can spend on matched betting, the more money you can make. Simple.
Now, I'm not saying that matched betting is easy and that you will make a massive amount of money every day. There are good and bad days (mostly still profitable!).
If you're thinking of starting matched betting, I'd recommend Outplayed. They have a fantastic community of matched bettors who are always willing to help out, and their tutorials are super easy to follow.
Recommended
Outplayed.com
Get started with Outplayed, the largest matched betting community in the UK. Using the trial, you get access to two free bookmaker offers and make £40 in the process to try if its for you.
Start My Free Trial
Not Sure? Read Our Review
We earn a commission if you make a purchase, at no additional cost to you.

What is The Risk Involved in Matched Betting?
Matched betting is legal, and there's a low risk involved as you're using the free bets to cover the probability of any outcome. However, you could minimise the risk to ZERO if you take it slow and follow the process step-by-step.
The risk involved in matched betting depends on how much time and effort you put into it. If you are lazy and pick any offer that comes your way, you risk losing money.
However, suppose you take the time to understand the offers and follow the instructions (from a matched betting site). In that case, you can't lose as you're using the free bets to cover both outcomes.
You can spend some time and set your back and lay bets in batches for upcoming events, and you could make money passively, which grows as your bankroll increases. A bigger bankroll lets you place more wagers at once and speeds up your money-making journey with matched bets.
Another risk to starting matched betting is that it can get very addictive, and you could get into gambling which doesn't need to be. If you face this problem, you should visit BeGambleAware or GamStop for help.
Is Matched Betting Really Risk-Free?
As mentioned before, matched betting is mathematically risk-free, but there's a condition. You must follow the instructions and avoid making any errors. If you don't follow the steps, there is a small risk of losing money.
But that's down to human error (betting on the wrong outcome or the fixture itself). It's unlikely, but it can happen if you don't do it correctly.
If you follow the instructions closely, reducing the potential to make mistakes, you'll never lose money.
You also risk losing money if the bookmaker you signed up with goes bust and closes shop.
Remember: matched betting requires attention to detail and following precise steps. If you miss out on any step or make mistakes, you will risk losing money.
So, here's what I recommend from my learnings.
Start with a small amount and learn the tricks. Then, learn how it all works. Even if you are entirely new to placing bets etc., you can learn it very quickly.
Don't take matched betting as a get-rich-quick scheme and learn the tricks slowly, and you can earn a lot of money without losing or risking anything.
Websites like Outplayed offer step-by-step instructions (including written guides and videos for each offer). That's what I used when I started with this new way of making money on the side. Sam's detailed step-by-step videos made the whole process a lot better for me which, I think would otherwise be quite overwhelming to take in.
You can sign up for the Outplayed free trial and make £40+ from the two offers then give during the trial (usually Coral and Betfred). So that's what I did, and I was taken aback at what I just was able to do in spending not more than 30 minutes. It's a great visual way to learn this new concept, and that's how I started and recommend it.
Don't convert to a paid account if you find this isn't for you. You don't pay anything when signing up for a trial.
But, this would be an excellent opportunity to practice learning the nuances first. That way, you can reduce the probability of risk due to human errors. For example, placing a wrong bet or not reading the terms and conditions of an offer.
No Credit Card Required
Outplayed.com
You can take Outplayed for a spin now and keep £40 you make in the process. No payment details required. You only need to pay when you are fully convinced with the process.
Start My Free Trial
Read Review
We earn a commission if you make a purchase, at no additional cost to you.

I read every day about matched bettors who have made thousands of pounds every month by doing matched betting for around two hours per day. If you want to make more money from it, then increase your working hours and do more offers!
I will spend some time with it to earn more money on the side.
Read: Why isn't everyone matched betting? (9 Myths)
Can You Make Money Matched Betting?
Yes, you can make money from matched betting. Matched betting is a profitable way to make money for those who are willing to put in the time and effort. If you're willing to put in the time and effort, you could, on average, make around £300 to £500 a month, spending 30 minutes to an hour daily.
If I take Outplayed matched bettor community, here are a few examples by matched bettors on the community Facebook group: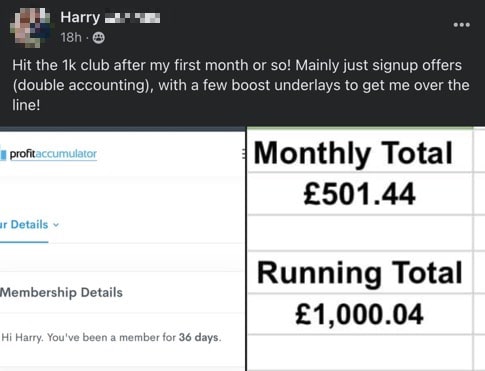 Another one:

There's even a £100K club where experienced matched bettors have reported having made over £100,000 from matched betting. So, taking into account these updates from members and from my personal experience having made £600+ myself, I can say that matched betting works, and you still make a decent side income from it.
But I must mention:
Becoming a matched bettor is not a get-rich-quick scheme. It requires patience and discipline to be successful at it.
Don't Miss: 20+ Matched Betting Tips (2023 Edition)
How You Can Get Started With Matched Betting (My Experience So Far)
Now:
You can start matched betting yourself – you'd need to scan the bookies' websites (like online bookmakers William Hill or Coral etc.) to place your Back bet and then place your Lay bet on betting exchanges (like Smarkets or Betfair).
It's doable. And you'd still be making some decent money every month.
But if you want to save time and make the same amount of money minus the hassle of finding offers, matched betting websites can do all of this for you using more advanced techniques. They curate all the welcome offers in a lovely table format for you to sign up one by one.
Plus, you can see what the risk is (if any), how much profit you could make and more importantly – how much time it would take to complete the offer.
When I got started, I used Outplayed which has a handy calculator that tells you how much money you will need to start matched betting with them and other important bits of information that will help you get started.
Outplayed has step-by-step instructions for each offer (including written guides and videos), so it's easy to follow.
I signed up for the annual plan almost eight months ago and made £600+ within just a few months, spending only a few hours of my time.
Sidenote: I had to focus on other things, so I couldn't find time after the first two months, but now that I am getting back to continue the matched betting journey, I thought to share my experience and new learning as I go from here.
I spent most of that time learning the ropes to understand how it all works and made all this money in the process.
But with over four months still left on my current membership, I'll be spending more time on Matched Betting and will even renew PA for another year (or maybe, I'll switch to another match betting site to review them here) – I'll keep you posted how that goes.
If you're unsure and want to try it out first, sign up for the free Outplayed trial, so you can make £40+ from the two offers they have on there (for new customers only). You don't even need to enter any payment details!
You can give it a go and then decide if this is worth your time or not. I'd recommend starting with a free trial because you don't have to pay anything, and you can start making money from the two offers they give during your trial period.
You'd still have made £40+ in profit – free money!
Don't convert to a paid account if you find that it's not worth the hassle. Just leave it at that and move on with your life.
Top Matched Betting Sites for Beginners
Here are the top matched betting websites you can use to start your journey as a matched bettor.
Outplayed was founded in 2014 (known as Profit Accumulator until very recently) and has been helping matched bettors make money for over 10 years. It offers a free trial using which you can try the product offering and earn £40 in profits.
They offer excellent services curating the best free bet offers and easy-to-use odds matching software to find games with the best matching bet opportunities from bookmakers.
Cost: FREE | £29 per month | £250 per year
Pros & Cons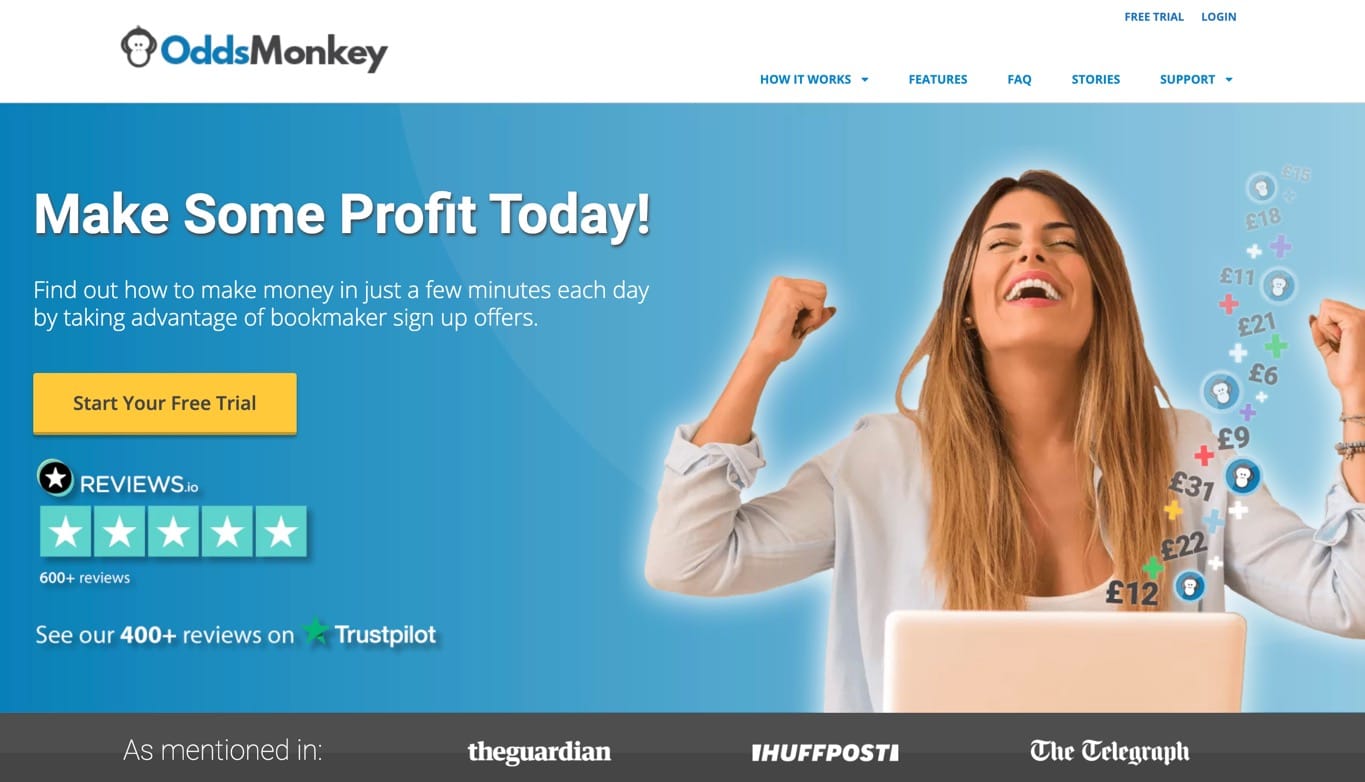 OddsMonkey is a matched betting offers aggregator that helps you make money from free bookmaker sign-up offers. With some excellent customer reviews on leading review sites, OddsMonkey has been around since 2010.
Their matched betting software, OddsMatcher makes finding the best offers easy and convenient.
OddsMonkey also publishes the latest info, news, tools, strategies and MB techniques on their dedicated blog that you can follow.
Cost: FREE | £19.99 per month | £180 per year
Pros & Cons
7 Matched Betting Tips for Making the Most of Your First Bets
Start by doing your research. A lot of information is available online, so make sure you understand how the process works before placing any bets.
Be patient. Making your first profits may take some time, but the rewards can be impressive if you stick with it.
Stay disciplined. Remember that matched betting carries a calculated risk, so don't go overboard and bet more than the instructions say.
Have fun. Enjoying what you're doing is key to staying motivated – and who doesn't like making tax-free money?
Take Your Time. Remember: matched betting isn't a get-rich-quick scheme. It can take time, so don't rush things or try to do everything at once. Instead, pace yourself and think long-term.
Be smart with your time. Make sure the time spent placing a matched bet is worth the effort.
Don't Give Up. If you mess up once (or even twice), don't give up on matched betting altogether – it's very easy to get back on track if you focus your efforts.
Don't Miss: 20+ Matched Betting Tips for Beginners (2023 Update)
Final thoughts: Is Matched Betting Worth It in 2023
Matched betting is still a great way to make risk-free money in 2023, and I highly recommend it! Every person should try out matched betting. If you're not doing it, you're just leaving cash on the table.
And when you're looking for ideas to save money on a low income, matched betting works and can be a great source of second income with low risk (be careful and don't make any human errors!) and potentially high rewards.
Don't take my word for it – sign up for a free trial with a site like Outplayed or Oddsmonkey and try it yourself.
You never know if it'll work unless you give it a go, so why not sign up for the free trial?
And if you don't like it, don't extend your membership after the trial. That way, you won't be charged a penny, and you can keep the £20-40 profit from the trial offers these tools offer!
So, what are you waiting for? Try matched betting today! It's a fun and easy way to make some extra cash.
And remember, if you don't follow the instructions closely or make mistakes, you risk losing money. So start small (like £50 or something) and learn slowly.
Once you understand how it works, you need to keep doing the bookers' betting account offers slowly and see the money rolling in.
I'll regularly update this post as I plan to get back to matched betting and build upon the £600+ I made in just a few weeks/months of actively doing it (a few hours a week).
I hope this article has been helpful for anyone looking to start matched betting soon. If you have any questions, feel free to post them in the comments below, and I'll do my best to help!
FAQs about Matched Betting
Can I lose money with Matched Betting?
It's highly unlikely that you will lose money match betting. If you make a mistake while placing bets or don't follow the instructions to comply with the free bet small print, it could eat into your winnings.
When you place your qualifying bet, you will lose a small amount (generally ~£0.50 on a qualifying bet of £20). It's part of the process. After you qualify for the free bet, you make up for the small loss and keep around 90-95% of the free bet. So, you will profit £15-16 from the £20 free bet offer.
Can I get rich from matched betting?
Many people think that this is an easy way to get rich quick or get free money from bookies. It would help if you had a lot of discipline and self-control to do match bet successfully and make long-term profits from it. To get rich from matched betting, you are going to have to be willing to spend a lot of time on the internet. It's not something that you can do in a day or two.
Is matched betting legal?
Matched betting is completely legal and legit way to make money. You won't have any issues with the law or the police if you place a bet to make money from the free bet offers from bookmakers.