Making money passively is a great way to pad your income, save up for a rainy day, or even start building your wealth. And luckily, there are plenty of ways out there to do it.
If you want to earn some extra cash on the side without having to quit your day job, then these passive income ideas are for you!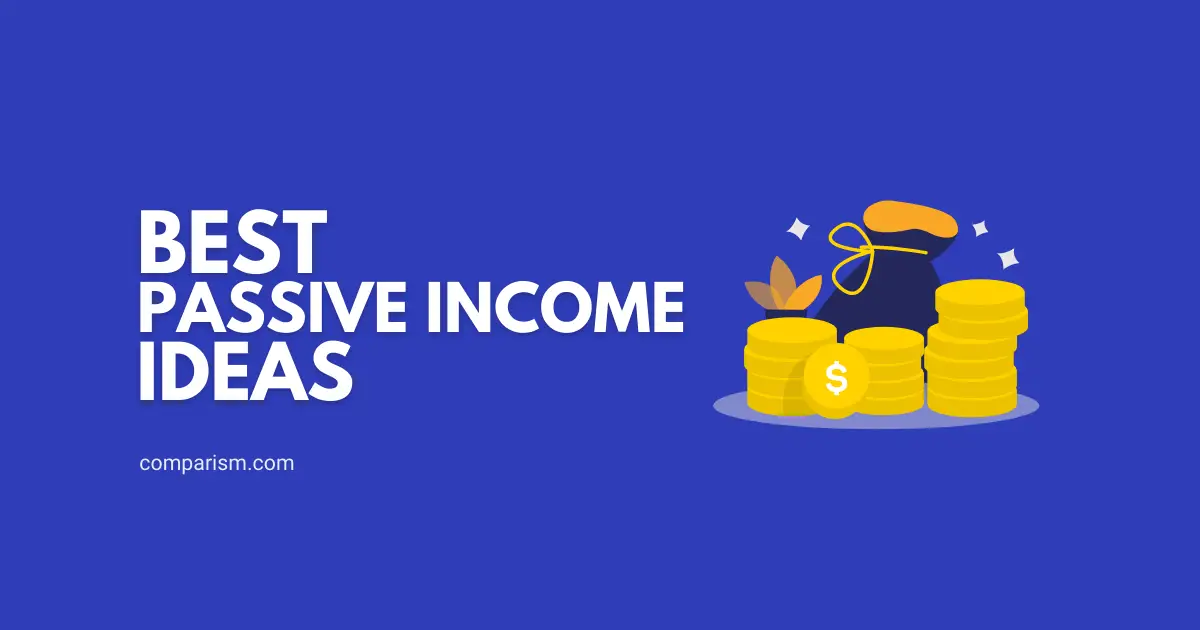 Not sure what I'm talking about? Well, let me start from the beginning.
This is you. You're a busy person with a lot of things on your plate. You have a job, or maybe you're a student and have bills to pay. You don't have time for a second job, and you're not exactly sure what passive income is anyway.
Don't worry, I've got you covered.
Passive income is a great way to earn extra money without putting in much effort. In fact, many people use passive income to replace their full-time job salary altogether!
When done right, you can have income coming in 24/7/365. How is this possible?
Well, that's what this guide is. Here, I have explained everything and curated a massive list of 43 passive income ideas that you can start today. Keep reading to find the perfect passive income stream for you!
I have also described each passive income idea and tips for starting immediately. Some of them require a bit of up-front investment, but most don't. You don't need a lot of money saved up or investing experience to start your passive income journey.
And once set up, they just keep making money for you while you sit back and relax. Earning money passively in the real sense.
In fact, I was in a corporate rut not too long ago when I started exploring alternate ways of making money. So many passive income generation ideas on this list motivated me to quit my 9-5 corporate job and start my journey towards financial independence.
I am not making a life-changing figure from these streams (yet), BUT: I am sure these will compound over time and hopefully come back to update this. 😉
Ready to get started? Let's go.
Disclaimer: Some links on this article are affiliate links where we may receive a small commission at absolutely no extra cost to you. For more information, you can read my affiliate disclosure. The information provided in this article is for information and entertainment purposes only. I'm not a financial advisor, and this is not financial/investment advice.
Before jumping into the list of passive income ideas that work, you must understand passive income. What does it mean?
What is Passive Income?
In a nutshell, passive income is money you earn without actively working for it. It's the opposite of active income, which you earn from doing things like working a job or running a business.
With passive income, you put in some initial effort to set things up (like creating a website), and then you can sit back and watch the money flow in. Passively.
Passive income can come from various sources, such as rental properties, stock dividends, bonds, royalties, and sometimes cashback or loyalty rewards.
There are many benefits of earning passive income.
For starters, passive income allows you to make money while you sleep! Additionally, passive income can help you reach the ever-elusive goal of financial freedom.
It is important to note that not all passive income ideas are created equal; many require a considerable amount of capital upfront before they can begin generating money for you on an ongoing basis.
Fortunately, there are some great options out there with minimal startup costs!
As always, do your research before investing in any passive income venture.
Passive Income vs Active Income: What's the Difference?
Active income is money that you earn by trading your time for it. This could include working a job, freelancing, or running your own business. For example, if you work at a software consultancy firm for eight hours every day and get paid £50 an hour, that would be your active income.
On the other hand, passive income is earned without actively trading your time for it. So the money comes in even when you're not actively working. Passive income can come from various sources, such as dividends on stocks you own, bonds, royalties from books or songs, or rental income.
Now that we know more about what passive income is and how it compares to active income, let's get to the good stuff!
Best Passive Income Ideas (2022)
Passive income is one of the most lucrative ways to earn money. Whether you're employed or not, making passive income on the side has never been easier than it is today!
There are dozens of great options for anyone looking to make a little extra cash without doing much work at all.
Below is a list of 43 passive income ideas that you can start using today to bring in some extra dough without too much effort.
1. Start a Blog and Sell Products or Advertising Space
If you're interested in making money online, one of the best ways to create passive income is by starting your own blog.
This can be a great way to share your thoughts and experiences with others. You can write about any topic you're interested in and then monetise your blog through advertising and affiliate marketing.
Make sure you produce high-quality, unique content that keeps readers coming back for more!
Blogging takes a lot of hard work upfront, but it can be gratifying once you start to see money flowing in.
There are many different ways to monetise your blog, so you must research before getting started. You'll need to find the best way for your niche and audience to make the most money from blogging.
Getting started with blogging is easy.
Sign up for a hosting account with Bluehost (£2.18 or $2.65 per month), and it comes with a free domain for the first year, so you don't need to buy it separately.
Using a hosting like Bluehost, you'll have a self-hosted wordpress.org site which means you own everything on it, and you can monetise it the way you want. This is important if you're setting yourself up for the long haul.
2. Start Earning Cashback
Online Cashback is one of my favourite ways to earn money passively. You don't have to do anything for this one – pure passive income.
I have been using cashback sites to earn money passively for over a decade now and use them for all purchases online. So, for example, if you go shopping at your favourite website, you can find a cashback site that will give you, well, cashback for purchasing via them.
The beauty of these sites is that they are entirely passive. You're not actively doing anything specific to earn cashback; you're shopping as usual and making extra money as a residue.
Plus, it doesn't hurt getting paid to shop around online when paying bills or doing your regular shopping!
You can make some serious (tax-free) income on the side using the cashback website. For example, I have made £2704.06 using Topcashback and Quidco in the last eight or so years.
Cashback sites to get started in the UK:
TopCashback (£10 Sign up bonus when you earn £10 in cashback)
Quidco (£5 Sign up bonus when you earn £5 in cashback)
OhMyDosh (£1 account credit on Sign up)
3. Earn Loyalty Points on Online Purchases
If you're looking for ways to make extra passive income, then you should consider earning loyalty points on your online purchases.
Like cashback, you don't have to do anything actively to collect loyalty points. In most cases, all you have to do is sign up for the rewards program and link your account to the retailer's website.
Then, when you make a purchase, the loyalty points will be automatically added to your account that you can later redeem.
Many retailers offer loyalty programs that give you rewards for spending money with them. These rewards can come in discounts, free items, or even cashback.
By using a loyalty program that offers rewards on your online purchases, you can make a little extra money each month with minimal effort.
Several retailers offer loyalty programs with rewards on online purchases in the UK. Some of the most popular include Boots, Tesco, and Sainsbury's.
If you're not sure if your favourite retailer offers a loyalty program with rewards, simply Google "retailer name + loyalty program." You should find all the information you need on the retailer's website.
Retailers with Loyalty Programs in the UK:
4. Create YouTube videos
If you have a hobby or interest that you're passionate about, consider creating YouTube videos about it. YouTube can be a great way to earn passive income, as you can earn money from advertising revenue and product sales.
To increase your chances of earning passive income from YouTube, create interesting, informative, high-quality videos.
Additionally, ensure to include links to products or services in your videos that you think viewers might be interested in purchasing. By doing so, you can make money from the products you recommend and earn income by linking to affiliate marketing programs.
If earning money with YouTube sounds like it might be right for you, but you don't know where to start, you can check out other videos on YouTube to learn the tricks. Yeah, you can learn to make YouTube videos on YouTube 😉
Or, you can get a professional course from sites like Udemy on how to get started making videos today!
5. Social Media Sponsored Posts
Did you know you can passively make money on the side with your social media profiles (Facebook, Twitter, Instagram, Telegram or Pinterest)?
One of the easiest ways to do this is with sponsored posts. For example, suppose you have a popular social media page on Instagram, Pinterest or Facebook. In that case, brands may want to pay for shoutouts to promote their products and services to your established audience.
At first glance, it might not seem like there's any money-making potential here because most users will only be able to charge a small amount for a single sponsored post. However, creating a large social media following could make a lot of money by doing sponsored posts regularly.
To start making money with sponsored posts, you can manage it yourself by displaying your contact information on your social media profile so brands can get in touch with their campaign.
Or, you can sign up for an influencer marketing platform that connects brands with influencers to promote their products and services.
Once you've agreed on the campaign terms with the brand, then all you have to do is create the post and schedule when you want to publish it.
6. Rent Out a Room in Your House on Airbnb
Do you have an extra room in your house that you're not using? If so, you could rent it out on Airbnb and make some extra money.
Airbnb is a website that allows people to book rooms or apartments for short-term stays. This can be a great way to make extra money if you live in a popular tourist destination.
To start renting out your room on Airbnb, you'll need to create a listing on the website. This listing should include information about your space, such as the size, location, and price. You'll also need to take photos of your room so potential guests can better understand what it looks like.
Once your listing is done, you'll need to wait for people to start booking your room. Airbnb takes a commission on each reservation made, so you'll want to keep that in mind when setting your price.
7. Invest in Stocks that Pay Dividends
The stock market is one of the most popular ways for individuals to make passive income. If you have some money that you don't need for the next few years, investing in stocks can be a great way to see it grow.
You need to research and invest in shares of stock in a company that pays dividends every few months.
Investing your money into stocks is essentially like getting free passive income because all you have to do once the transaction has been made is sit back and watch as your stock portfolio grows.
However, it's important to note that risk is associated with investing in stocks, so do your research before making any decisions.
There are several different ways to invest in stocks, so you'll need to find one that best suits your needs. If you're new to the stock market, I recommend starting with a Robo-advisor like MoneyBox or Plum.
Robo advisors are services that recommend stocks for you to purchase based on your age, income level, and risk tolerance.
Once you've chosen an investment strategy, all you have to do is make the initial deposit into your brokerage account and watch as it grows over time. Most of these types of accounts will either charge an annual fee or a percentage of your profits, so you'll want to make sure it's worth your while before getting started.
There are a few different methods:
buy and hold: you choose an individual company and hope that its price goes up over time so you can sell later at a profit (buy low, sell high)
buy and sell: you can purchase stocks at a low price, then immediately turn around and sell them when the company is doing well.
short selling: this strategy involves borrowing stock (usually from your broker) to make gains if the share prices go down. You must return it once the period has expired.
The stock market can be complicated, and it's essential to understand what you're getting yourself into before putting money in.
Get started: Freetrade (Free share up to £200 on sign up)
8. Invest in Dividend Paying ETFs
Investing in ETFs that pay dividends is similar to investing in dividend-paying stocks, except with ETFs, you're investing in a wider variety of stocks.
What are ETFs?
An ETF is a type of security that represents a basket of assets, such as stocks, bonds, or commodities. ETFs can be bought and sold on the stock market like regular stocks, offering investors a way to diversify their portfolios. Just like with stocks, you'll want to do your homework before investing in any ETFs to make sure they fit with your investment strategy.
9. Invest in Rental Properties (Real Estate)
Real estate is one of the best ways to build wealth over time. You can buy a house and then rent it out.
Once you've purchased any type of real estate, all you have to do is sit back and wait for it to appreciate while collecting monthly rental income.
However, purchasing real estate can be more complicated than other passive income ideas on this list and needs more planning.
You'll need to make sure you're making a suitable investment and then hope that your tenants are good for the rent each month without causing too many problems.
If you're interested in getting into real estate, I recommend reading some books on the subject. Many different resources can help teach you how to invest in real estate, so don't be afraid to do some research before jumping in.
10. Real Estate Investment Trusts (REITs)
If you're looking for a relatively low-risk way to make some extra money on the side from rental properties, then consider investing in Real Estate Investment Trusts (REITs).
REITs own and manage commercial properties, such as shopping malls, office buildings, and apartment complexes.
By buying shares in a REIT, you can enjoy the benefits of owning a small fraction of those properties and earn money every month or quarter from their rental income.
11. Invest in Cryptocurrency
Cryptocurrencies are a new type of investment that can be highly volatile. However, they could also be worth a lot more in the future.
Note: If you're interested in investing in cryptocurrencies, I recommend doing your research before making any decisions. There are several different currencies to choose from, so make sure you pick one that you understand how it works and the associated risks.
With cryptocurrencies, you can buy the coin and wait for it to appreciate, but that wouldn't count as direct passive income, would it?
Or, you can stake your coins to earn interest on your coins passively.
You can use look for cryptocurrencies that pay you to stake the coins. The websites that allow staking or rewarding you for holding coins are Binance, Coinbase, BlockFi and many more.
Holding cryptocurrencies can be profitable. You also get Airdrops that reward free cryptocurrencies for holding a specific coin/token from time to time.
For example, you get a chunk of any new project launching on Binance if you hold the Binance Coin (BNB).
Be aware that the cryptocurrency market is extremely volatile, so your investment could go up or down anytime. So make sure you only invest money that you're willing to lose.
Get started:
12. Company Stocks (ESOPs)
Suppose your 9-5 job offers you the opportunity to purchase company stock through an Employee Stock Ownership Plan (ESOP). In that case, it could be a good idea to consider taking advantage of this.
Purchasing shares in the company you work for allows for great tax benefits and can give you a passive income stream that could last throughout your retirement years.
However, you need to be aware that company stocks can go up and down in value, so you'll need to do your research before making any decisions.
If you're not sure whether or not purchasing company stock is the right decision for you, I recommend talking to a financial advisor. They will help guide you through the process and answer any questions.
13. Create an Online Course Teaching a Skill
Creating an online course can be a great way to earn passive income. You can teach a skill you have mastered or share your expertise on a particular topic.
EdTech is booming! Selling courses online is a great way to share your expertise and make money passively simultaneously!
You put in the effort and time to create the course that could sell for weeks, months or even years, rolling the money in whilst you sleep.
The best part? You set the price and keep 100% of the profits.
The beauty of this passive income stream is that you can repurpose the content you produce as part of the online course into a YouTube video, an eBook, a blog post or even teasers that are given for free to entice people to buy the course.
Many platforms are available that make it easy to create and sell your courses online.
Here are a few that are very easy to get started:
WordPress (with LMS software): Having your own website to sell online courses is the best way to go. You can use a platform like self-hosted WordPress and install an LMS (learning management system) plugin to create and manage your courses.
You keep all the profits and pay no commission to anyone. Hosting your WordPress site is not complicated at all. You can get started very quickly.
Buy hosting from Bluehost
Install WordPress using the simple wizard
Install the LMS plugin of choice and start setting up courses
One of the most popular plugins for WordPress is called WP Courseware. It's easy to use and allows you to add quizzes, certificates, and other features that make learning online fun and interactive.
Another plugin to consider is Tutor LMS by Themeum. It's simple to use, and the free version is feature-rich to help you get started; your site selling online courses will be up in no time. You can then decide if you want to opt for the premium version, which has everything you need to run your online course-selling business effectively.
Teachable: Teachable is a popular online course platform that makes it easy to create, market and sell your courses. Teachable charges a commission of 20% on all sales, so you keep 80% of the profits.
They have various features that allow you to create professional-looking courses with little effort. You can also add quizzes, certificates, and other features to make your courses more interactive and engaging.
Udemy: Udemy is another popular online course platform that allows you to create and sell your courses. Udemy charges a commission of 30% on all sales, so you keep 70% of the profits.
They have a wide variety of features that allow you to create professional-looking courses with little effort.
14. Sell eBooks and Digital Products Online
Another great passive income idea is to sell eBooks and digital downloads. You can create your own ebook or sell other people's products as an affiliate. Many platforms make it easy to sell digital products online.
If you have built an audience via your blog, course website, or YouTube channel, you can use the below services to start selling your digital products to leverage the audience you've built.
Here are a few that are very easy to get started:
E-Junkie: E-junkie is a popular platform for selling digital downloads and eBooks. They have been in business since 2006 and have a wide variety of features that make it easy to sell your products.
E-junkie offers a free 30-day trial which means you can get started for free. After the trial period, plans start from a $5/month flat fee. They have a simple-to-use interface and make it easy to sell digital products online.
Gumroad: Gumroad is another popular platform for selling digital downloads and eBooks and a cheaper alternative. They don't have a monthly fee and charge a commission of 9%, which reduces to 3% depending on your sales. Gumroad has various features that make it easy to sell your products.
Createspace: Createspace is a popular platform for selling eBooks and digital downloads. They charge no commission on sales and make it easy to get started. They have a wide variety of templates that you can use to create professional-looking products with little effort.
15. Podcasting
Podcasting is a great way to make money on the side passively. You can easily create a podcast series about a topic you're passionate about and then sell advertising space or sponsorship deals to help generate revenue.
The magic happens when an episode that you recorded months or years ago continues to bring money in because of an affiliate product (or a discount code) you had mentioned.
You can also use a service like Patreon to create a subscription-based model for your podcast.
According to the Infinite Dial 2021 survey done by Edison Research, 41% of Americans (12+ age) said they listened to at least one podcast last month (up from 37% in 2020). That's 116 Million people.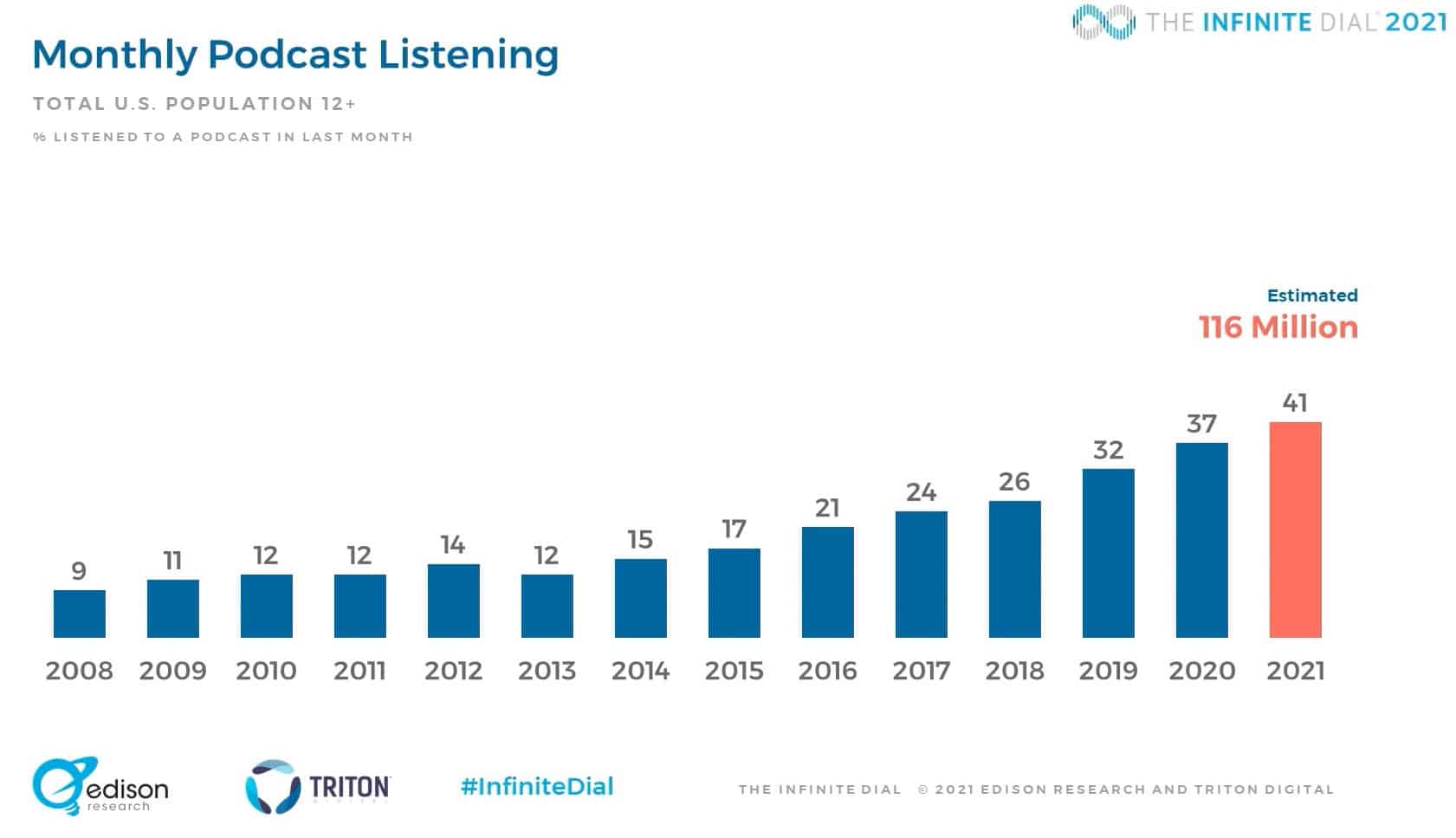 This means that even more people are listening to podcasts every day!
Getting started with podcasting doesn't require a lot of resources. It's a lot easier than ever to create and upload audio files online, even if you don't have any experience with digital media production or hosting website servers.
With the growing demand for podcasts every day, there's never been a better time to get started!
16. eCommerce Businesses
There are many e-commerce businesses you can start to make passive income. Several different platforms allow you to do this with low startup costs.
One option is to create an online store. You can use a platform like Shopify to create and manage your store. You can also use WordPress with WooCommerce to set up your own store.
These options give you more control over the look and feel of your store and the products you sell.
Alternatively, you can sell your products through channels like Amazon and eBay, where you can sell your products to the big audience these platforms have and pay a commission on each sale.
17. Start a Dropshipping Business
Dropshipping is a great way to start a passive income stream. With drop shipping, you don't have to worry about handling inventory or shipping products – the supplier will take care of that for you. Using Shopify, you can also set up your online store very quickly and for free.
When someone buys a product from your store, you'll simply order it from a supplier and have it shipped directly to the customer. This process is entirely hands-off, so you can focus on growing your business and making sales.
To get started with dropshipping, you need to find a supplier. You can use sites like Alibaba to search for suppliers that sell the products you want or search on Shopify's app store for dropshipping apps that will help you set up your shop.
Contact the wholesaler or manufacturer directly once you have chosen your product(s). Most of the time, they will provide you with their product catalogue. You can also search for dropshipping wholesalers on Google using keywords like "wholesale supplier + your product" or "dropship suppliers + your niche/product."
18. Matched Betting
Matched betting is another great way to make a passive income. It's a process where you place bets on opposite outcomes of the same event so that you can collect your winnings no matter which result occurs.
How do you make money with Matched Betting?
Say you bet on the outcome of a football game. You could place a £20 bet on Team A to win and place a £20 bet on Team B to lose (or vice versa). If Team A won, you'd have made a profit of £20. But if Team B won, you'd still have a profit of £20, as you'd have bet on them to lose!
You might think I made £20 and then lost £20, what's the profit? Well, you make money on bookie companies' free betting offers. So the free bet is where you make money.
In the above example, if £20 bet is free, the profit is £20 irrespective of whether Team A wins or not, as you bet on both outcomes.
You can use matched betting for any event – not just football games. You can also use it for horse racing, election results, and more.
So you can make some money passively – set some bets when you get some time in the day or a few hours every week. And see the money flow in when you work on other passive income ideas.
Using matched betting, I have made a little over £600 in about two months, and I only spent a few hours each week (and skipped a few weeks).

19. Sell (License) Your Photos Online
If you're a photographer, selling your photos online can be a great way to make passive income. Many different websites allow photographers to sell their photos, and most of them offer a commission on each sale.
Some of the best websites to sell your photos include Shutterstock, iStockphoto, and Fotolia. I would recommend signing up with all three of these sites so you have an increased chance of making more sales.
These websites are great for selling photos online, but if your goal is to make a full-time income from photography, it's also worth looking into stock photo agencies. These agencies will help sell any photos that you upload and give you a cut of the profits.
20. Rent out your car
If you're not using your car very often, renting it out to other people can be a great way to make extra money. Several websites allow you to do this, most of which take a commission fee on each rental.
One of the best websites to rent out your car is Turo. They have a large number of users who are interested in renting, so it's well worth signing up.
Once you've signed up with Turo, you can then use their mobile app to find people and cars nearby.
21. Advertise on your car
Putting adverts on your car is another excellent idea to generate passive income if you drive a lot. Many companies pay you to advertise their products or services through magnetic signs, vinyl stickers and even paint jobs.
Adverttu allows you to earn money passively by driving as you always do.
You'd need to download the Adverttu app and drive to get matched to brands. You can then sign up for an eligible campaign in a few taps to get invited for the campaign branding wrapped to your car.
Then, drive around your area as you normally would, and you earn up to £175 per month based on the campaign and the number of people that see your ads.
CarQuids is another app that matches drivers with advertisers similarly to Adverttu and could earn you £100 monthly.
In the USA, you have Carvertise, America's largest car advertising company which allows you to earn between $450-$1500 per campaign. Carvertise has several different products and services available, and its customers range from small businesses to multinational corporations.
22. Sell ad space in your home or office
Did you know you can earn money by renting out space on your walls for advertisements?
It's a great way to generate income passively. All you need is an unused space and some creativity. You can post flyers in your local community or online, and several websites will help connect you with advertisers.
If you have a shop or an office at a premium location, you can charge a higher price for ad space.
23. Become a mystery shopper
Did you know you could get paid to shop?
You get to shop for free – who doesn't love that?
Mystery shoppers get paid to visit stores and make purchases as regular customers. They then report back on their experience, usually by filling out a questionnaire or writing a review.
If you're looking to supplement your income, mystery shopping is a great option to earn a few extra pennies in your spare time!
It's an effortless way to get started. And, you can club it with your everyday shopping to earn passive income.
Several companies in the UK offer mystery shopping opportunities. Some of the most popular ones are Market Force and Grass Roots.
Let me know if you want to know more about these sites, and I will list UK mystery shopping companies here.
You can sign up for the free app and fill out the registration form. Once your account is created, you can start finding jobs near you!
You then need to visit the store/service to fulfil the required tasks and submit a paid report.
After you submit the report, the company will repay your expenses and your payment/rewards into your account.
If you're not in the UK, don't worry – plenty of companies offer mystery shopping opportunities worldwide. Just do a quick Google search for "mystery shopping companies", and you'll find plenty of options to choose from.
24. Write and Sell an eBook
One of the best passive income ideas is writing and selling an ebook. This can be a great way to make money on the side, and it's straightforward to get started.
You'll need a good idea, but tons of resources available online can help you with this step. If writing isn't your thing, consider hiring someone on platforms like Fiverr or Upwork.
Once you have a topic and a plan for your ebook, it's time to write!
Make sure to create a high-quality product that provides value for your readers. Once you have a finished product, it's time to start selling.
There are many ways to sell ebooks, but the most popular option is through Amazon. You can create a free Kindle book or submit it as a paid title.
The great thing about this passive income idea is that you can continue to add new books as time goes on and create an entire library of ebooks.
25. Flip Furniture
If you're looking for a way to make passive income, flipping furniture could be the perfect option. There are many different ways to do this, but my favourite method is through online auctions.
One website I recommend using is eBay. They have a large user base and allow you to sell both new and used items. In addition, you can purchase old furniture at a discounted price from eBay and sell it for a profit.
You could even improve the condition of the product to increase your margins.
26. Sell Old Clothes
You can list your old clothes on apps like Vinted and Depop to make you money passively. These apps are great for selling clothes that you no longer wear and making a little extra cash on the side.
Be sure to take good pictures of your items and write a well-crafted listing to get the most out of your sale.
27. Rent Out Your Parking Space
If you have an extra parking space that you're not using, consider renting it out to someone who needs it. This can be a great way to generate an additional passive income stream.
Several websites and apps make finding people looking for parking spaces easy, so check out your options before deciding on a platform.
You can also rent out your parking space for a few hours. If you're hosting an event or just need to use it yourself, renting the spot can provide extra income and help someone else who needs to park nearby.
Companies like JustPark and Stashbee allow you to rent out your parking space in the UK. You can set your price, and you get paid after a commission cut from the rental fee.
Several websites and apps allow you to do this in the US, including Spacer and SpotHero.
If there's no app or website available to do this in your area, check out Gumtree or Facebook Marketplace. There is a good chance someone will be looking for parking spaces where you live! If you're in the USA, you can check on Craigslist.
28. Rent Out Equipment
If you have equipment that you aren't using regularly or a bike that's just taking up space in your garage, consider renting it out to others for extra cash on the side.
If you have a bike, you can rent it out for £15 a day or more. And if you have sports equipment or tools that you don't often use, why not rent them out? You could easily bring in an extra £100 each month by renting out your unused belongings.
There are trusted marketplaces like Fat Llama (available in the UK, US and Canada) for renting almost anything. So you could be helping your neighbours with stuff you don't use regularly and, on top of that, make some money passively.
29. Create a Print on Demand Online Store
One of the best ways to create a passive income stream is by setting up a print-on-demand store to sell your designs online.
You simply upload your designs, and then when someone orders a product with your design, your store prints it out for them! This can be anything from t-shirts to phone cases to coffee mugs.
The great thing about starting a print-on-demand store is that it costs next to nothing. You don't have to purchase a large inventory or even ship products.
There are plenty of places to set up an online print shop. For example, in the UK, there are companies Redbubble. They both have a wide range of product categories you can sell and helpful tutorials on getting started.
30. Become a Peer-to-peer (P2P) Lender
Peer-to-peer lending is a type of investment where you lend money to other people and earn interest on your investment. This is a great way to make money on the side, as you can invest as little or as much money as you want.
Some platforms offer peer-to-peer lending, such as easyMoney and Blend Network in the UK.
31. Create an App
One great way to create passive income is by creating an app. With something like this, you could make a lot of money while sleeping. Of course, there is always work that goes into creating an app, but if it's successful, the payoff can be worth it.
So, if you have an idea and some coding skills, creating an app that earns money through subscription fees or ads is a great way to go. You can also create an app that sells for a one-time fee.
Whichever route you choose, there are many ways to make passive income with this type of business venture.
Just be sure to do your research and plan accordingly!
32. Flip Websites
Flipping websites is a very profitable passive income stream if you have a knack for picking online businesses that have potential.
You purchase a website that is already making (some) money and then resell it for a profit. You could decide to change a few things to make the business better or sell it as-is.
The best part is: flipping online businesses requires very little work on your part once you have the website up and running. You simply need to continue ensuring the site is generating traffic and revenue.
However, there are a few things to keep in mind when flipping websites. First, it's essential to do your research and find a profitable website with good potential for growth. Second, you need to have some technical knowledge to ensure that the website is running smoothly. Finally, it's important to be patient and wait for the right opportunity – don't settle for a website that isn't making as much money as you want.
You could also decide to create a blog/website yourself and grow it to a point where you can then sell it for a much more significant multiple.
33. Affiliate Marketing: Refer New Customers to Businesses
Okay, the next on my list is a big one: Affiliate marketing.
With affiliate marketing, you can not only generate some decent passive income on the side but also, very possibly, you could turn that into a meaningful full-time income.
This passive income idea can be clubbed with many other income streams on this list to create a massive snowball effect or money pouring in. It would help if you had a loyal audience to start and then take it from there.
It works by becoming an affiliate of a business and promoting their products/services on your blog or website or email newsletter (or wherever you have an audience).
When someone clicks on the link to the product you've recommended and then makes a purchase, you earn a commission from the sale.
There are many different programs out there. You can sign up with a few from the below list to get started. You can also try and find out if any products that you use if they have an affiliate program that you could promote to your audience:
Awin
FlexOffers
Rakuten Linkshare
ShareASale
34. Sell Your Unwanted Stuff
If you're like most of us, then your closets and attics are probably overflowing with stuff that hasn't seen the light of day in years.
Use eBay or Gumtree to list some items for sale, and you can quickly make a nice chunk of change on the side.
35. Sell Digital Products
If you've got some free time, consider creating a digital product that others would be willing to pay for.
You can do this by writing an ebook or recording video tutorials on your computer. Then use the internet (or even better, Amazon's self-publishing platform) to sell it online!
36. Vending Machine Businesses
If you've got access to appropriate commercial property or pubic location, consider starting your own vending machine business!
You need the initial investment to purchase and maintain the machines and the space rental for them. Then sit back and watch your profits pour in passively with minimum effort and maintenance.
37. Freelance Work
One of the best ways to make money on the side is to sell your skills for freelancing jobs. This could involve writing, designing, programming, or any other skill you can offer to others.
Many websites (such as Upwork, Fiverr and Freelancer) can help you find clients who are looking for skilled workers.
38. Sell Your Artwork
Do you have any artistic talent? If so, then consider selling your artwork to others. Whether it's digital art or traditional paintings and drawings, there are many ways to find customers interested in supporting artists like yourself.
You may just be surprised at how much money you can make from your artwork! You can even convert your artwork to NFTs and earn from cryptocurrency royalties.
39. Buy or Lease an ATM machine
This is a great way to earn passive income, as you can charge other businesses and individuals for using your ATM for cash withdrawals.
If you're a retailer, having an ATM onsite can increase customer footfall, in turn increasing in-store spending. In addition, companies like Cashzone have zero rental plans that you can check out if you run a shop.
40. Invest in startups (Crowdfunding)
If you're looking for a high-risk, high-reward investment opportunity that grows passively, then consider investing in startups. You can do this through crowdfunding platforms such as Seedrs (review), CrowdCube or Kickstarter.
Investing in early-stage startups carries high risk; ensure you do your research first and understand the risks involved.
41. Pay Off or Reduce Debt
(Penny saved is a penny earned.)
One of the best ways to save money is by reducing or paying off your debt. There are a few different ways to do this, and the one that will work best for you depends on your unique situation.
Debt consolidation: This is where you take out one loan to pay off all your other loans. This can be helpful because it will have one lower interest rate, and it may make it easier to keep track of the debt you owe.
Pay down your debts: This is where you pay off one loan at a time until all loans are paid off. While this will take longer, it can be more rewarding and gives you some financial security in knowing that if something happens (like losing your job), then start getting into trouble.
Credit card debt: If you have a lot of credit cards, it can be helpful to use a tool that helps manage your spending and put any extra money towards paying off the credit card with the highest interest rate first. Credit cards are often one of the most expensive types of financing because rates are usually high. Don't use them in the right way, and you could end up paying a lot in interest payments.
Student loans: If you have student loans, there are a few different repayment plans that you can choose from to make your debt reduced quicker.
By reducing or paying off your debt, you can save money on interest payments and have a more secure financial future by using the saved money to put towards other passive income ideas on this list.
Related: Check out our list of tips on how to save money as a student.
42. High-Yield Savings Account
A high-yield savings account is a great way to save money and earn passive income. These accounts offer interest rates higher than regular savings and current accounts.
This can help you save money faster and make more money on the side, which you can then invest into other high-yield ideas on this list.
Many different high-yield savings accounts are available, so be sure to compare interest rates and find the best account for you. Some accounts also have sign-up bonuses, so be sure to take advantage of those if you can.
Finding a good savings account can help you effortlessly make extra money on the side while continuing to grow your savings.
43. License Your Music
If you're a musician, then consider licensing your music to others. This could involve giving away the rights to use your song for a certain period or selling exclusive rights to use your song in a particular context.
Either way, licensing your music or other sound artwork can be a great way to passively make a bit extra money.
How Much Passive Income Can You Earn?
There is no one-size-fits-all answer to this question, as the amount of passive income you can earn depends on the type of passive income stream you choose and how much effort you put into it. However, I have provided some general guidelines to give you a rough idea.
If you're looking for a low-effort way to make a little bit of passive income, you can probably expect to earn around £50-£100 per month from a simple investment or rental property.
If you're willing to put in a bit more work, you could potentially earn £500-£1000 per month from a blog or online business by putting in a few hours a day.
If you have a few hours to spend every other day, Matched Betting could add another £300-£500 to this amount if you can spare that time.
If you're looking for a more meaningful, life-changing passive type of income, then anything from £1000-£10000 per month is achievable with the right combination of a website niche and suitable affiliate marketing products. There are numerous examples where people make even £10,000s every month from their passive income ideas.
Depending on the specific opportunity, it may require some basic skills and knowledge – but they are often not difficult to learn or acquire.
The most significant investment will usually be time, which separates most people who want to make money from those who do.
Time and the effort you put in are the real differentiators that will set you apart from the crowd.
And that's the part that compounds over time and adds up to reward you multiple times over the coming years.
So, there you have it – a general overview of how much passive income you can earn from different types of opportunities. Remember, the amount will vary depending on your circumstances, so always do your research before committing to anything!
Now that we've covered some of the basics let's take a look at some tips on how to pick the best passive income stream for you.
Tips to Pick the Best Passive Income Idea for You
Now that you've read through our list of passive income stream ideas, it's time for the most important part: deciding which one is right for you.
There are many different ways to make money on the side through passive income ideas. Which one is right for you?
You will have to do some research and testing to find out which method works best. However, here are some tips from my side to help you get started.
Choose an area of interest or expertise so if things go wrong (e.g., your blog stops earning money), then there are other areas where you can generate income.
Start small and gradually increase your investment as you get more comfortable with the idea of passive income. This will help reduce the risk if things don't go as planned.
Pick an idea that doesn't require a lot of time or money to start so you can get started right away.
Don't forget to make it fun! You want this to be an enjoyable experience, not another job.
Don't focus on the money; instead, enjoy what you're doing and make sure your business reflects who you are as a person.
Look for new ideas every day by reading blogs or books on topics that interest you or searching online forums like Reddit.
Get creative and think of ways to make money that don't require much work.
What is the Easiest Passive Income Stream?
There are a lot of different passive income ideas that you can use to make extra money on the side. But, which one is the easiest?
One of the easiest and most popular ways to make passive income is investing. You can invest in stocks, real estate, or other types of investments. If you do your research and invest in a solid company or property, your investment will likely increase in value over time, and you will earn passive income from it.
Another popular way to make passive income is through owning a business. You can start a small business on the side or buy an existing one. Once the company is up and running, it will continue to generate income for you, even while sleeping or spending time with your family.
Myths about Passive Income
Below, I have debunked some of the myths about passive income that I want to address before we finish.
Passive income is easy money: This couldn't be further from the truth! Passive income requires a lot of hard work in the beginning, and you have to be willing to put in the time and effort required to make it successful.
You need to be an expert: You don't have to know everything about passive income in order for it works. When you're first getting started, all you really need is a basic understanding of how each type of passive income works and enough knowledge or skills so that you can take action on something if the opportunity arises.
It's a get-rich-quick scheme: Again, this is not true! Passive income takes time to build up and can be slow initially. But over time, as your passive income stream grows, it will eventually become more profitable than active income sources.
You need a lot of money to get started: While you typically will need some seed capital in order to start most passive income businesses, it's not always the case. There are many great ways to make passive income with little or no initial cash outlay (we'll cover different types of passive income and how anyone can do them).
It's only for the rich: Anyone can start a passive income business. It doesn't matter how much money you make or what your job is right now – anyone who wants to invest in themselves and their future can take advantage of this opportunity (yes, even if you're broke).
Passive income is a scam: I've saved the best for last. This one might be the most popular myth of all, and it's simply not true. Passive income is a real thing, and there are countless people out there who have created successful businesses with this model.
There you have it – some of the most common myths about passive income debunked.
As you can see, there's nothing to be afraid of here; passive income is a great way to make money on the side and build your wealth over time.
So what are you waiting for?
Start investigating the different passive income ideas that interest you, and start today.
Conclusion
This blog post has given you 43 different ways to make money. The passive income ideas range from creating an online store with Shopify to investing in the stock market or even starting a YouTube channel. You can choose whichever one suits your needs and interests best!
If you're not sure where to start just yet, don't worry! We've debunked some of the most popular myths about why people feel like they have no chance at succeeding with these income streams so that you know what's real and what's fake.
I hope at least one idea from the above list of ideas struck a chord and helps you find the passive income opportunities that fit into your lifestyle.
Establishing multiple passive income streams is key to achieving financial independence. While some of these ideas may require an initial investment or time commitment, most of them can help you make money without leaving your day job.
Over time, they can add up and help you achieve your long-term goal of Financial Independence!
We hope you found this post helpful and that it's given you some ideas for generating passive income.
Remember: it doesn't hurt to try something new if it means more financial freedom for yourself over time.
The most important thing is to get started!
So go ahead – pick out which idea sounds best right now and get started on achieving your dreams today!
FAQs About Passive Income Ideas UK
Is it possible to earn a passive income?
Yes, there are several ways to make a passive income; there are ample opportunities that you can tailor to fit anyone's lifestyle and interests.
From online businesses to rental properties, there are many ways to create a stream of passive income that will provide you with regular earnings for years to come; you can start many of them with very little money.
So if you're looking for a way to make money while you sleep, you should strive for multiple streams of passive income.
How much passive income can I earn?
The amount of money you can earn from passive income will vary depending on the idea you choose to implement and how much work you are willing to put in upfront.
However, most people who start generating passive income report earning several hundred dollars/pounds per month within the first year. Depending on your circumstances, you could potentially increase this amount to thousands of dollars per month.
How can I generate passive income ideas?
Passive income ideas include dividend-paying stocks, starting a blog, rental income, REITs, renting out your place on Airbnb, selling online courses, affiliate marketing, earning cashback on purchases, and collecting loyalty rewards.
These are just a few examples of passive income opportunities.