Paysend Review (2023) – Is it the Best Money Transfer?
Paysend provides a fast, straightforward and hassle-free new way to send money internationally to your loved ones in 100+ countries.
With an existing customer base of over 4 million customers, Paysend is an excellent method to move money across borders.
But, is it any good for you with so many other money transfer options available in 2023?
That's exactly what I will help you find out in this detailed Paysend review so you can make an informed decision if Paysend suits your needs.
Read through as I go through everything you need to know before using Paysend for your next international money transfer.
Let's jump right in.
Disclaimer: This post contains affiliate links that might earn a referral commission if you sign up and transfer money using our link. This comes at absolutely no extra cost to you and helps in keeping Comparism content free. Please read the affiliate disclosure for more details.
Paysend Review –  Summary
In a rush? Here's a quick overview of our verdict on Paysend.
Paysend is an excellent service with unique ways of sending money – card-to-card transfers, direct transfers to Digital wallets and PaysendLink. You can still opt to send money to a bank account (the usual cheaper way!)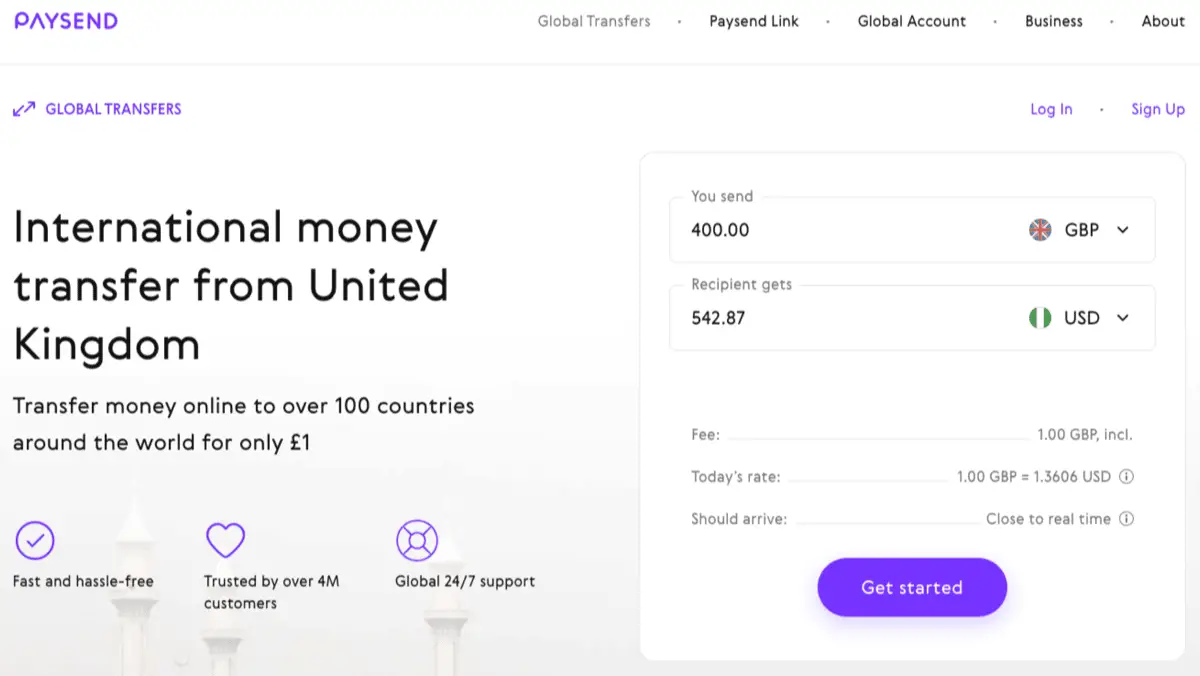 With Paysend card-to-card transfers, you can send money directly to a debit or credit card overseas – all you need to know is the recipient's name, card number and card expiration date.
Paysend Link is a unique way to receive funds without having to provide bank account details. No account number, sort code, or SWIFT details are required; all you need is a phone number. The transfers cost £1.
Card-to-card transfers and Paysend link cost £1 and are almost instant, and bank transfers carry zero fees.
Paysend also has a cash pick-up option if your recipients are more comfortable with picking the money in cash directly.
Paysend has a low overall fee (including the flat advertised prices and exchange rate margin). However, I like to see more transparency around the markup added to the currency rates.
The fee and exchange rate are shown upfront, so you do know what you are committing to – but, as a customer, working out what you're actually paying for is left to you, or you have to rely on an in-depth review like this.
Paysend adds a ~1% markup to its exchange rates which is still a lot lower compared to banks but not so much when compared to Paysend alternatives like CurrencyFair and Wise.
Pros and Cons of using Paysend
For a detailed review, read on!
What is Paysend?
Paysend is an international money transfer provider offering remittance services to over 110 countries in 50+ currencies showing a solid global presence.
Paysend was the first FinTech company to bring card-to-card global transfers connecting the existing 12 Billion cards issued by Mastercard, Visa and China Union Pay.
Their money transfer offering is very compelling with a transparent upfront low fees structure and exchanges rates with low margins.
Paysend allows you to send money using actual exchange rates to your loved ones overseas for a low fixed fee.
You can not only send money directly to your recipient's bank accounts but also make card-to-card transfers issued by international payment systems like Mastercard and Visa.
Paysend was founded in April 2017 by experts from banking and payments.
Headquartered in London with offices in Canada and Edinburgh (Scotland), Paysend has a global customer base of over 4.3 Million customers and rated Excellent (4.7/5.0) on Trustpilot (based on 25k+ ratings). 
(We will look at all of this in more detail below.)
Paysend has a global 24×7 customer service team that comes in handy if things go wrong and you need the help of a person.
How does Paysend work?
Paysend is a next-gen money transfer service that uses innovative ways and the latest technology to make international transfers.
Once you have opened your free account with Paysend, you can calculate your recipient's amount and provide the recipient details.
Next, select how you want to send the money – bank transfer, card-to-card transfer, Digital wallet or Paysend link – and pay locally to Paysend.
Paysend will then deliver your money locally to your recipient, charging a flat fee using the mid-market exchange rates (adding a small mark-up – more on this below).
Paysend offers its money transfer service on desktop computers (laptops), tablet and mobile phones (via the native apps).
Here's a quick video overview by the Paysend team.
Paysend Link – How Does it Work?
What details do you (or your recipients) usually share for domestic or international transfers – bank details?
Well, Paysend link is a new way to send and receive money abroad that allows you to pay using just a mobile number for payments.
The only detail you need to send money with a Paysend link is the recipient's phone number.
If you live in the UK, you would have already used this mechanism for domestic transfers to receive or send payment to a mobile number (known as MPay or MobilePay).
Paysend link allows you to do that for international money transfers.
As a sender, you can basically send money to anyone even if you know only your recipient's mobile number.
Your recipient will get a notification of the incoming transfer that you've set up via text/SMS. They can then register with Paysend and be able to withdraw the money to any of their cards. Great!
All they need to do is: set up an account with Paysend with the mobile number, personal details and the information of how you want to get paid (add a Visa, Mastercard, UnionPay card or a bank account).
Paysend will take care of the routing and direct the payments to your account as Paysend has your mobile number to bank account mapping.
If your recipient already has an account with Paysend, they can skip the registration and just need to log in.
Paysend link has excellent benefits as a receiver: you don't need to provide any personal details or bank account details to the sender. Only your mobile number. And, you decide whether you want to get paid to a bank account, or directly to a debit or credit card.
Is Paysend Safe and Reliable?
Paysend is absolutely safe and legit. Paysend is UK-registered and regulated by FCA (UK), which means if Paysend were to go bust, your money is safe as it's not treated as the assets of Paysend.
Paysend also has an Integrated fraud prevention system with the website ports and access points encrypted to enterprise SSL.
All 3D-Secure card transfers with Paysend are authorised by a security code or online password set via the user's bank.
Paysend are also authorised and regulated by CBOF (Central Bank of Russia) and ACB (Asia Credit Bank)
Apart from this, Paysend has a few more things to put your mind at ease:
Level 1 PCI DSS certified card processing system directly connected to Visa, Mastercard and UPI
Mastercard Principal Issuing and Acquiring Member
Visa International Principal Acquiring Member
UnionPay International Principal Acquiring Member
Member of The European Payments Council, SEPA Credit Transfer registered participant
Passported in all EEA member states
Direct settlement with bank partners globally
How Long Does Paysend Take to Transfer Money Abroad?
Paysend transfer time for international remittances is usually within seconds – as Paysend mentions on their website, "75% of our money transfers with Paysend reach their destination in 20 seconds or less. The only thing that normally slows us down is if the recipient bank isn't quite as quick as us!"
Paysend uses the standard money-sending technologies that help send money to the recipient's bank in real time.
Some banks still don't support this tech and take more time to process the transactions. If your transaction falls into this bucket, the transfer time is dependent on the recipient's bank but, in any case, should not exceed three business days.
Paysend Supported Countries
Paysend operates its money transfer service in over 100 countries. You can send money from 60+ countries and receive money in 110+ countries.
There are four different methods you can send money into these supported countries with Paysend.
How is the Customer Service?
You must be thinking, "How is Paysend customer service in real life?"
Don't worry! I put that to the test as well.
I contacted customer service on three different occasions using the live chat feature, asking questions about their money transfer service.
I heard back from a real person in 2-3 minutes, and they answered my queries in all these instances. It's good that I didn't need to speak to a bot first: +1 to Paysend.
It gets frustrating at times as conversational AI still has a long way to go, and not all companies have figured it out yet!
I haven't tried email support as I usually prefer web chat over email.
Customer Reviews
Paysend is rated Excellent on Trustpilot with a score of 4.7/5 (based on 25,634 customer ratings).

94% of the customers rate the Paysend service as Excellent (88%), Great (5%) or Average (1%).
From the reviews, 6% of customers don't seem all that impressed and rated Paysend as Poor (<1%) or Bad (5%).
Let's look at what the negative reviews say.
Negative Ratings Analysis
Verification Process (Blocked Account)
The majority of the negative reviews relate to the hassles during the verification process – additional documents and details required. The good thing is: the customer service has been very responsive to the concerns and replies to almost all worries on Trustpilot reviews.
This is quite common with any regulated money transfer company dealing with international remittances to meet regulations and abide by applicable laws. 
As the FCA in the UK regulates Paysend, they might need additional information or documentation depending on your case and the information you provide during sign up.
If the verification process fails for any reason and you've already initiated a money transfer and paid Paysend, the money is refunded automatically to your payment method.
Delay in money transfer
For example, one review questioned the promised Paysend transfer time of a few minutes but took an entire day.
How to Send Money Abroad With Paysend
Step #1. Check exchange rates. Go to the Paysend website and choose your currency pair. Enter the amount you want to send. The calculator updates in real time, showing you the exact amount you're sending and the converted amount your recipient will get. You will also see the fees applicable, today's rate and how long the transfer will take. Click Get Started. You can also choose to click the Sign Up option to go directly to the registration step.
Step #2. Create a free Paysend account. Provide your phone number and continue to enter your first name, last name and Date of Birth. Next, give your address details. Click Continue.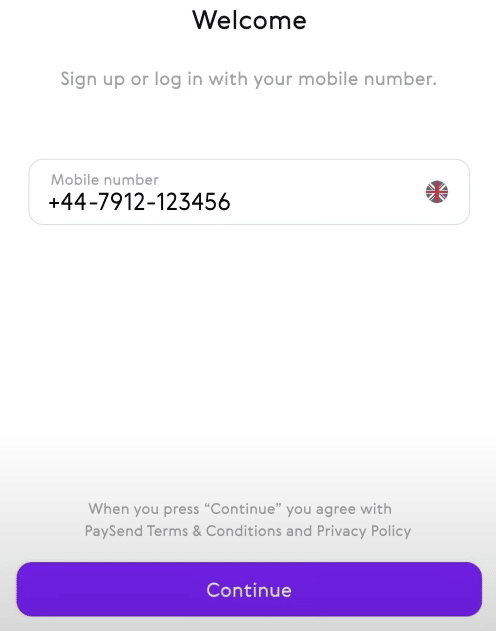 Step #3. Verification. Enter your email address. In the next step, you'll get a verification SMS text on your mobile. Enter your Paysend invite code (01jr0j) on the next step to get your offer applied.
Step #4. Set up your transfer. Once logged in, click on Send money to initiate your first money transfer with Paysend.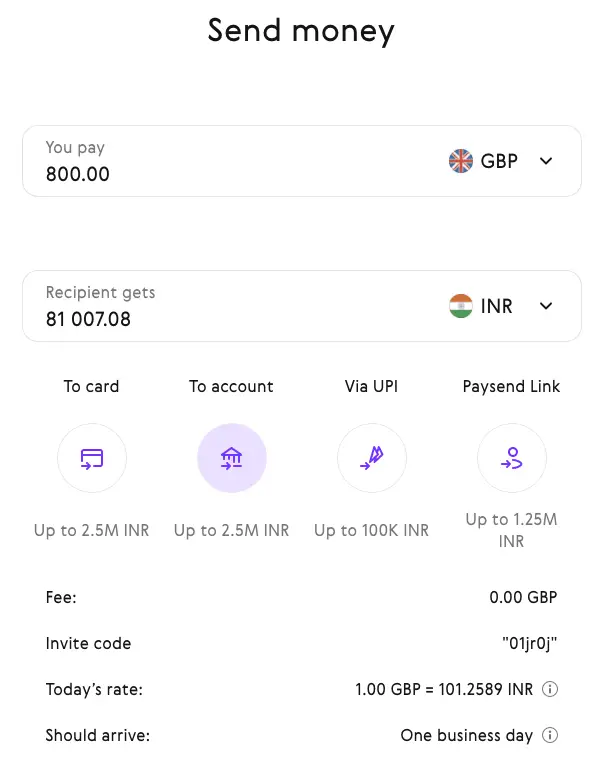 Step #5. Provide recipient details. Now you need to provide the account details of your recipient overseas based on the receiving method you chose. Bank details for bank transfers, card details for card-to-card transfers, mobile phone number for transfer via PaysendLink.
Step #6. Pay for your transfer. Next, choose the method of payment and pay Paysend to initiate your transfer.
Verification Process
Being regulated by the FCA in the UK, like any other money transfer company, Paysend will need you to provide certain documents and information about you –  including your personal information, the purpose transfer and your recipient information.
To provide a high level of security and avoid potential fraud, Paysend needs to ensure an authorised person uses your card. They do this by asking you to send a selfie with the card.
When you take this selfie, Paysend explains only showing the cardholder name, first six and last four digits of the card number, so you don't send the image containing your whole card number but still show you are the authorised cardholder.
Paysend Fees
Paysend charges a fixed flat fee of £1 on international money transfers using card transfers or cash pick-up (where available), no matter how much you transfer. Direct transfers to bank accounts are Free.
The fees are charged in the currency that is converted from – £1, €1.5, US $2, AU $2, CA $3, 49 RUB or 9 AED, as an example.
Here's a table showing the fees from different countries/currencies.
Sending via →
Sending from ↓
Bank Transfers
Card Transfers
Digital Wallets
Paysend Link
Australia
$0
AU $2
Canada
$0
CA $3
Europe
€0
€1.5
Russia
0 RUB
49 RUB
UAE
0 AED
9 AED
UK
£0
£1
USA
$0
US $2
Turkey
0 TRY
9 TRY
Mexico
$0
US $2
Paysend money transfer fees
But is this the only fee that Paysend charges? Are there any hidden charges or a markup added to the exchange rate?
As I have mentioned a few times before in my guides, there are no ZERO fee money transfers. Remember?
Let's take a deep dive to find out if £1 is the only fee charged.
In our guide for UAE to India money transfers, I calculated the actual fees Paysend charges for different amounts ranging from 1,000 AED to 10,000 AED (to INR).
In reality (including the conversion fees and the exchange rate mark-up), it ranged from 0.96% to 1.76%.
It's within the acceptable range to be a competitive offering and very low when you compare it to banks.
But, a bit more transparency on the exchange rate cut would be great.
Full marks for showing the total amount to be received and the fees charged upfront so there are no surprises later but calculating what is being actually charged shouldn't be left to the customer.
I did find this transparency on comments from one of the support team members on Trustpilot though: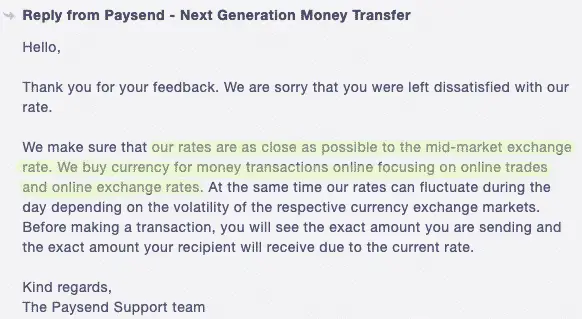 When you make a card-to-card transfer, check on the additional charges the recipient's bank could impose on debit/credit card transactions.
Paysend will only charge when they promise they will at the time you're setting up the transfer. Make sure you take care of this as mentioned in the below comment from the Paysend team on one of the reviews on Trustpilot.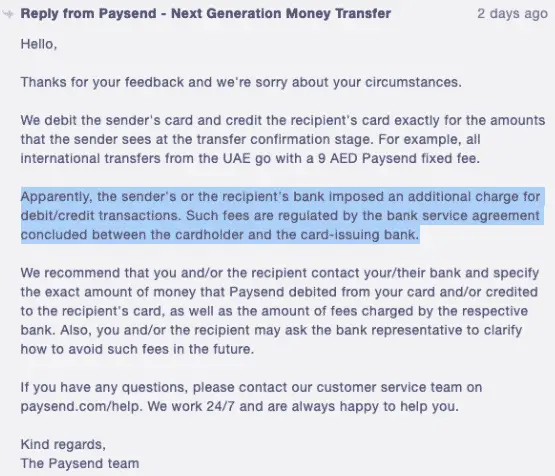 Does Paysend Have Mobile Apps?
In addition to the web browser experience, Paysend also has money transfer apps on all the major platforms – Apple iOS and Google Play (Android). They also have an app on the Huawei AppGallery.
The Android app is rated 4.6/5 based on a massive 57,505 customer reviews.
The Paysend iOS app is scored 4.8/5 based on 1500 customer ratings.
Both Google Play Store and Huawei AppGalley show the Paysend app has had over a million installs.
Verdict: Paysend Money Transfer
There you have it!
A detailed Paysend review curating everything you need to know before using Paysend for your global money transfer.
This in-depth review should help you make an informed decision whether Paysend suits your requirements or not.
To conclude, Paysend has a competitive tech-savvy offering that's a complete package of global money transfers, global money account and Paysend Link.
All three offerings have been thought through quite well, and it has many traits to compete with Wise and Revolut, so it will be interesting to see how they foray into other products that Wise and Revolut offer.
For now, if I were to focus on the Paysend money transfer offering for this review, it's a very competitive offering and I recommend you try Paysend especially for the features that other options don't yet offer (like the Paysend link that can help you send money to your recipient just by using a mobile phone number).
If you prefer sending money card-to-card without hassling around with bank account details, Paysend is the way to go.
However, one negative for me is: Paysend adds a markup to the mid-market exchange rates in addition to the £1 fees. This could use a little more transparency as it could be misleading to some customers who would think they are effectively only paying £1 in fees.
Also, I would prefer if the Money transfer and Global accounts apps were to be ONE app. That will be great for the user experience and help me have one less app to worry about on my phone.
Update: I spoke to the Paysend customer service over live chat and they clarified my doubts around the separate apps. The Paysend Global account app is their latest updated app with all the features combined (including Global money transfers). Eventually, the Paysend team plan to retire the isolated Global Transfers app. So, if you plan to install the Paysend app to manage your transactions on the go, install the new app.
Looking at the overall offering and the competitive rates, my thumbs up to Paysend. You can use our link to sign up for a free account.
FAQs about Paysend money transfer