Looking for an in-depth Profit Accumulator review? You've come to the right place!
If you're looking for ways to generate additional income streams, matched betting is a great option to make some extra money on the side.
You can easily make £50-£100 per month with minimal effort, and using a matched betting service like Profit Accumulator makes it even easier. With only an hour spent daily, you could make a steady £300-1000 per month.
Now, if you've recently come across the phenomenon of matched betting, chances are you've also heard about Profit Accumulator during your research.
Profit Accumulator is the UK's leading matched betting service and has been around since 2014. But does Profit Accumulator work? And is it worth your money?
In this detailed Profit Accumulator review, I'll go over what the service is, how it works, what it offers and whether or not it's worth your time and money.
Let's find out!
Disclosure: Comparism is reader-supported; this article contains affiliate links that might earn a small commission if you purchase a paid membership, at absolutely no extra cost to you. For more information, you can read my affiliate disclosure. This article is for information and entertainment purposes only and is not financial advice. The amount of money you make from matched betting depends on the time and effort you put in. Results can vary. There is no guarantee of specific results.
In a hurry? Here's a quick overview.
Profit Accumulator Review: Quick Summary
Profit Accumulator is a matched betting site that launched in 2014 to help people take advantage of bookmaker offers using the matched betting technique. Profit Accumulator website provides tools and resources that make matched betting straightforward. The paid service also offers ongoing support and advice, particularly useful for beginners.
Would I recommend Profit Accumulator? Yes, absolutely! I would recommend Profit Accumulator to anyone interested in matched betting. It's a great way to make extra money, and the service is incredibly user-friendly. If you're serious about making money from matched betting, a specialist service like Profit Accumulator is a must-have. It's helped me (and many others) make £300-500 in a month tax-free, and it can do the same for you too.
It provides all the tools and software you need and detailed tutorials on placing bets and making the most of your profits. All you need from your side is time and dedication, and you'll soon be on your way to making hundreds of pounds each month.
After I signed up, the first thing that struck me was how user-friendly and intuitive the interface was. Everything is laid out in a very beginner-friendly manner, and it made me think about why had I been putting this off for so long!
P.S. Use this link to get a no-obligation free trial with two free offers (worth £45 in profits).
Or, if you want to try all the features, you can use this link instead to get full access to all sports offers and tools for 7 days (for just £1).
Full Access for £1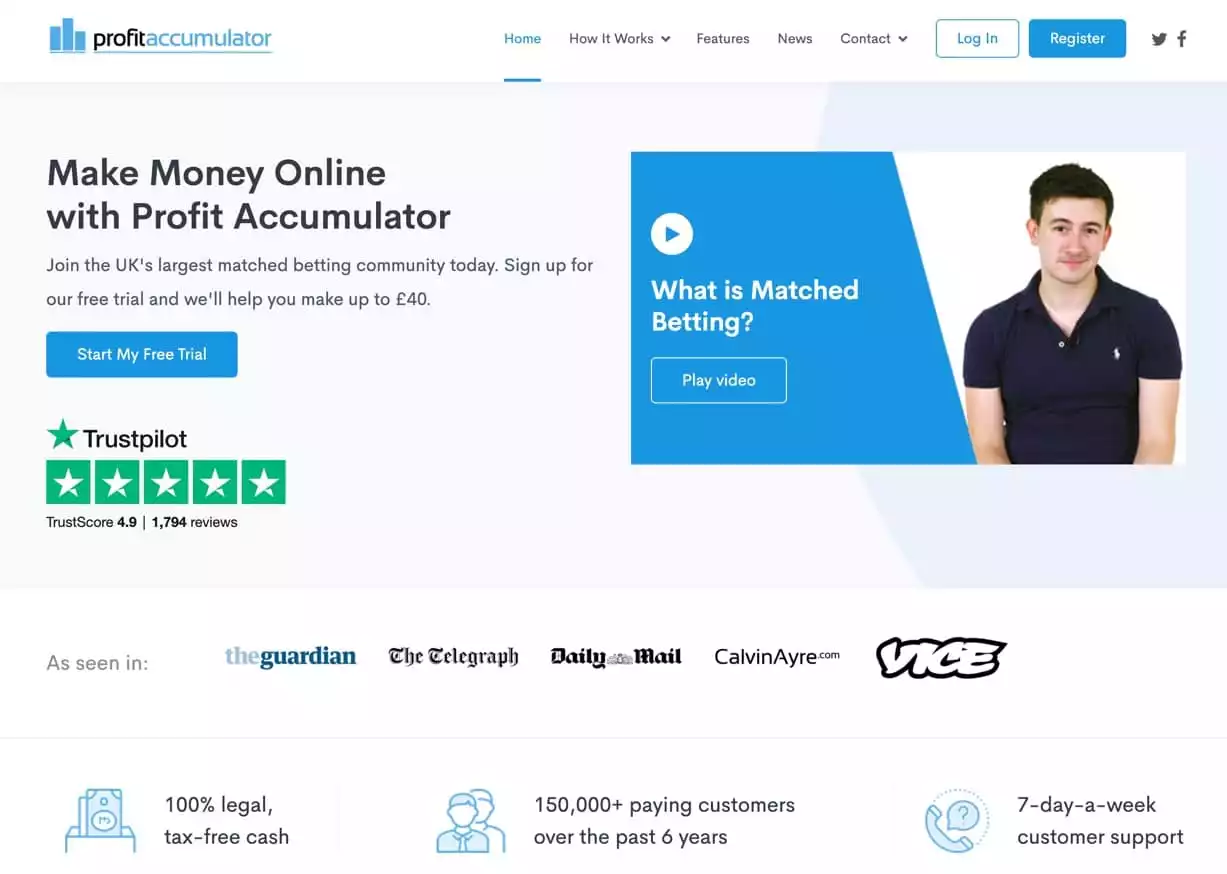 Pros
Cons
If you're interested in knowing everything about Profit Accumulator, read along as I try out its features and dissect it in this in-depth review.
What is Matched Betting and How Does it Work?
Simply put, matched betting is a way of turning the bookies' free bets into cash. It is a technique that takes advantage of the fact that bookmakers often offer incentives to encourage people to bet with them.
It's a legal and risk-free method (unless you make mistakes) of betting that anyone can do, and it's how I've made over £1100 in the last ten months by spending only a few hours per week (when I could).
Matched Betting works by placing two bets on the same event; one bet with a bookmaker (back bet) and another with a betting exchange (lay bet). You eliminate the risk of losing money as you're effectively betting against what you backed at the bookmaker site.
For example, let's say a bookmaker offers you a £30 free bet when you deposit and place a bet of £10. To activate the free bet, you need to place a bet of £10. You take a small loss when you lay it on the exchange (the Qualifying Loss).
When you get the free bet, you will place a £30 back bet at the bookmaker and a £30 lay bet at the betting exchange. This means that no matter what happens in the event, you keep about 80-85% of the free bet, i.e. £24, in the above example.
For further reading:
What is Profit Accumulator?
Profit Accumulator is a matched betting service that helps people make money from bookmakers' free bets and bonuses. It makes matched betting easy by providing tools, software, tutorials, and support.
Profit Accumulator was founded in 2014 when Sam Stoffel, the founder, came across this intriguing way of making money from bookies while still in university. He did match betting as a side hustle to make extra money as a student. However, he was surprised that everyone didn't know about this money-making method.
So he created a website to help others like him take advantage of bookmaker offers.
That's how the million-dollar idea Profit Accumulator was born. Over the years, Profit Accumulator has evolved into a powerful matched betting tool with over 150,000 paying members.
Free Trial
Is Profit Accumulator Legit?
Yes, Profit Accumulator is legit and a legal matched betting service to make extra money on the side. Profit Accumulator has been featured in many popular publications such as The Guardian, The Telegraph, Metro, The Sun, Daily Mail, etc.
I'll be honest with you, when I first heard about Profit Accumulator (and matched betting), I was pretty sceptical. It all sounded too good to be true. I mean, how can you make money from something risk-free? So surely there must be a catch, right?
Wrong.
Matched betting is very much a real thing, and Profit Accumulator is a legitimate service that will help you do just that – make risk-free profits from the free bets and bonuses offered by bookmakers. The only risk is human error. You could lose money if you make a mistake while placing your bets. But if you follow the instructions provided by Profit Accumulator and use their tools/software, this risk is greatly minimised.
I signed up for Profit Accumulator's free trial to see how it worked. And I'm glad I did because it changed my mind about matched betting.
It is not a get-rich-quick scheme, but if you're willing to put in the time and effort, it can be a great way to generate some extra income each month.
How to Use Profit Accumulator?
To use Profit Accumulator, simply sign up for a free account. Then, browse the available offers and choose the one you would like to take advantage of. Once you have selected an offer, Profit Accumulator will provide you with instructions on how to place your bets to guarantee yourself a profit. It is as simple as that!
When you sign up for the Profit Accumulator trial, you get instant access to the members' area, where you can start exploring all the features on offer.
As I previously mentioned, the free trial gives you access to two offers and related tutorials. You also have an option to pay £1 for a 7-day full access trial to the Platinum membership that gives you instant access to all the offers, tutorials and tools.
You can use the trial to get used to the tools, the tutorials and how things are laid out overall before deciding whether to go for the paid Platinum membership.
How Does Profit Accumulator Work?
Profit Accumulator is a matched betting software that offers a range of tools, software, and tutorials you need to make money from matched betting. It works by curating the available offers at the bookmaker website and providing you with step-by-step instructions on how to place your (back and lay) bets to generate a profit.
The first step is to sign up for a free trial. This will give you instant access to the members' area, where you can explore all of the features and tools.
Here are the products and services it offers:
Training Videos and Tutorials
The training videos are very comprehensive and easy to follow. They cover everything from how to place your first bet to more advanced strategies.
The tutorials are written in a step-by-step format and are easy to follow. Once you click on an available offer, simply follow the instructions to place your bets.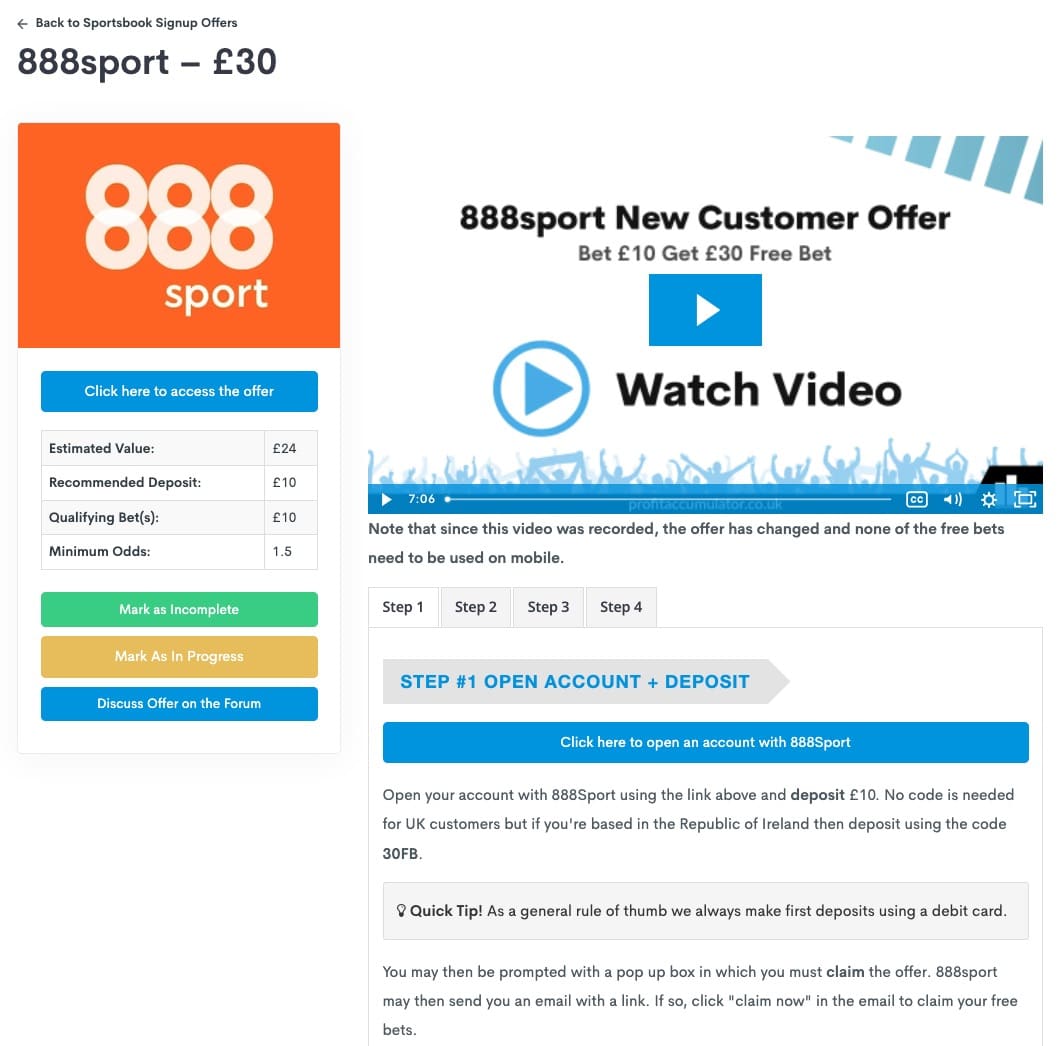 Oddsmatcher
Oddsmatcher is a powerful tool that helps you find the best possible odds to place your bets without hunting them manually. If Oddsmatcher were the only tool PA offered, I would buy it because it is a huge time saver. And when it comes to matched betting, time is money, quite literally.
The Oddsmatcher lists the odd pairs for all eligible events for a particular offer (that you can select from the dropdown). Doing this changes the filters for that offer, so you don't even have to do that, further saving time.
Now, all that's left for you to do from here is to place your bets. You can do that in two ways:
Click on the small calculator icon to bring up the odds calculator and the links to the event page on bookmaker and exchange sites. Or,
Use the Profit Accumulator integration button (for Smarkets and Betfair) to open a new window with the event details for both bookmaker and the exchange. You can place your lay bets from the PA site itself (I love this feature!)
Calculators
One of the most valuable tools that come with PA is its different calculators (20+ of them) for sports and horse racing bets.
It allows you to compare different bets and choose those most likely to be profitable.
Betting Calculator: Also called the lay bet calculator. Used to determine how much profit can be made from a given bet. Really useful to work out comparing different odd pairs to work out the more profitable one.
Fixabet Calculator: used to fix erroneous lay bets or partially matched lay bets.
Bonus Lock-in Calculator: to lock in a potential bonus/refund.
Each Way Calculator: used to calculate lay stakes for each way bets (horse racing)
15+ more advanced calculators
Forum and Facebook Groups
Profit Accumulator also offers a matched betting forum and a Facebook group with close to 45,000 members where users can share tips and advice.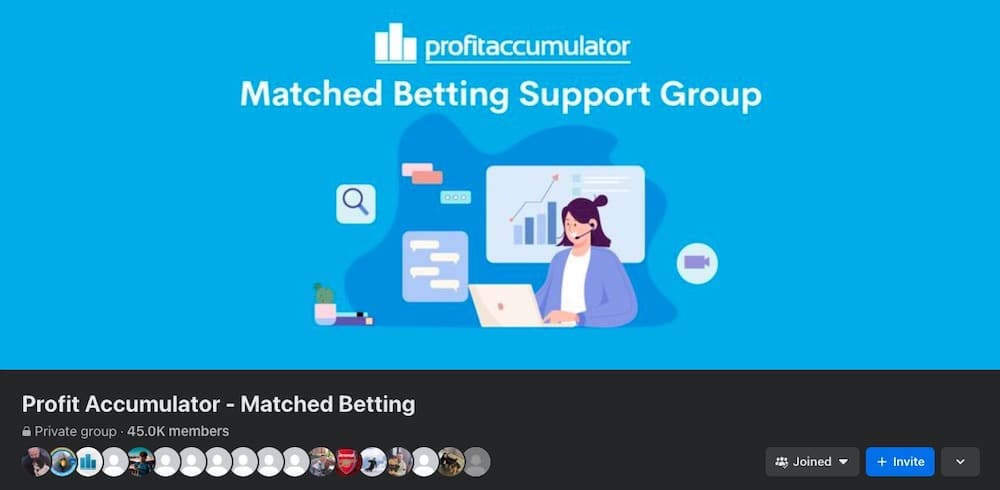 The forum and the Facebook group are very active, with users sharing offers, tips, and advice. You also get a daily update on the best offers for the day.
In my opinion, the community is one of the best perks of Profit Accumulator because there are so many experienced matched bettors who are willing to help and answer any questions you may have. You can learn a lot from them.
Profit Tracker
The in-built Profit Tracker is a simple way to keep track of your progress and see how much money you've made (or lost) from matched betting. It just works.
To track your profits or qualifying losses, you can use the Store button under the calculator.
Another way to track your profits is by going to the profit tracker and making a manual entry by adding a new row.

As I mentioned in my post on matched betting tips, I went from using the in-built tracker that comes with PA to trying out a few different spreadsheets to returning to using the PA tracker. It's simple to use and saves time because you can utilise that time doing offers instead.
Money-back guarantee
If you're unsatisfied with the service, you can ask for your money back in 30 days. As you can tell by now, I haven't had to use this feature, but it's good to know that it's there.
Profit Accumulator Customer Service
Customer service is a vital aspect of software/digital service products, and Profit Accumulator excels in this department. You can contact the support team on Facebook messenger, Live chat on their website or 24×7 telephone helpline.
During my last 10+ months of using Profit Accumulator, I've had to contact their customer service a few times and each time, I've received prompt and helpful responses. If you're reading this Profit Accumulator review to make a decision, this is a big +1 in my opinion.
You can talk to the support team on Facebook messenger for general enquiries about matched betting, even if you're not a paid member. As a paid member, you get access to premium support via live chat on the website or telephone.
How Much Does Profit Accumulator Cost?
The pricing structure is simple. There are two membership plans: Platinum and Diamond both with monthly and annual payment options. The yearly plan is cheaper in the long run, but you can cancel at any time with the monthly plan, so it gives you some flexibility if you want to take it for a spin after the initial trial
Here are the prices:
| Profit Accumulator Plans | What's included? | Cost |
| --- | --- | --- |
| Profit Accumulator Free Trial (Limited Access) | Access to two bookmaker offers (with video tutorials). Limited access to software (tools and calculators). | FREE |
| 7-day Trial (Full Access) | Full access to all sports offers, tools and tutorials for 7 days. | £1 |
| Platinum Membership | Full access to all sports offers, tools and tutorials for a month/year. | £29.99 a month or £199 for a year (£16.58 a month) |
| Diamond Membership | +Casino offers and software/tools. | £44.99 a month or £349 for a year (£29.08 a month) |
I don't recommend the Diamond membership when you're just getting started. I recommend starting with the free trial, learning the ropes and moving to the next level (Platinum) when comfortable.
When you know matched betting like the back of your hand and are comfortable with all kinds of offers with a decent bankroll, you can decide if Diamond's extra features are worth it.
Which Membership Plan Should You Choose?
So now that you know about all the options available, you might ask, which membership is for you, then?
Here's what I recommend:
Start with the free trial. Once you're in, go through the free step-by-step tutorials and have a feel of the tools and software. Then, complete the two free offers that will make you around £45.
Or, you can choose to sign up for the full instant access 7-day trial for just £1; sign up using this link instead. This gives you access to all the sports offers and software – so if you wanted, you could do as many as you can in a week and make much more than the £45 in the free trial.
If you like what you see so far, decide if you want to continue with the monthly or annual membership and upgrade to Platinum Membership.
If you think you'll be matched betting for a while (which I highly recommend you do) and can afford the annual fee, go for it as it's much cheaper in the long run. And you can make it back in a few weeks of doing the sign-up offers.
Don't forget; you just made £45 in free profits from the free trial – you could take that as seed money for your annual membership. You need £150-160 more for the whole year.
You could even take the monthly option for a month and then switch to the annual plan.
P. S. I made my annual payment back (£180 for Platinum at the time) doing the sign-up offers within two weeks. And this was me taking it very slowly.
I have read that people are making it back in just a few days on the forums. Do drop me a comment on how many days it takes you.
If you want to jump straight in and start making as much money as soon as possible from the offers, go for the full access trial instead (full 7-day access for just £1).
Profit Accumulator Discount Code
Profit Accumulator has no active discount codes, but you can get a trial using the links below.
Profit Accumulator: Customer Reviews
As you can guess, I am quite impressed having tried PA myself for almost a year. But you don't have to just take my word for it.
As I do with my other reviews, I looked at the reviews left by others to understand what customers say. Not that I didn't know already what customers think! I am a part of a very active Facebook group, and members are always sharing their latest successes.
But I understand that some of you might still be sceptical and want to see what others have to say before signing up for the free trial (or even the full membership). So here are a few Profit Accumulator reviews from TrustPilot:
On TrustPilot, Profit Accumulator has a TrustScore of 4.9/5 and is rated 'Excellent' based on 1888 reviews.
96% of users rate it as Excellent or Great, 2% rate it as Average, and the rest 2% rate it as Poor or Bad.
On Google reviews, they score 4.5/5 based on 66 reviews.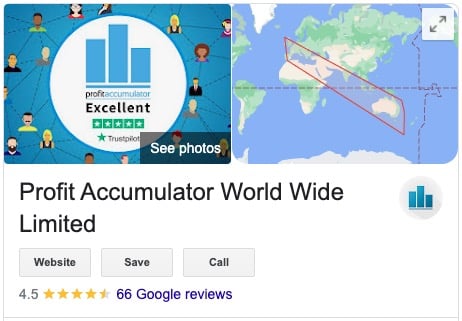 P.S. I didn't need to spend a lot of time on this section of the review as there is no shortage of positive Profit Accumulator reviews online on TrustPilot or the PA facebook matched bettors' group.
Here's what some of their customers have to say.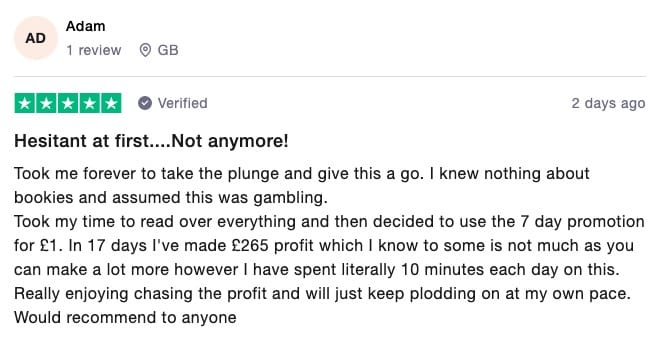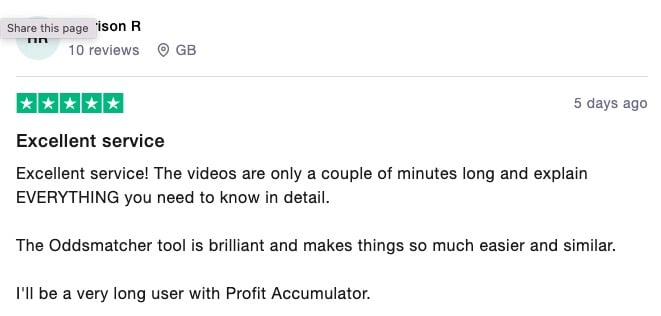 The best place to read more Profit Accumulator reviews is directly on the Profit Accumulator website, where you can see hundreds of reviews from real people.
How Much Money Can You Make With Profit Accumulator?
In short, there is no limit to how much money you can make with Profit Accumulator. It all depends on how much time and effort you're willing to put in. If you have the time, you could do all the available offers in a day (not practically possible, but you could if you wanted).
My point is:
The more time you spend matched betting, the more money you can make. And with Profit Accumulator's OddsMatcher tool, finding profitable bets is quick and easy.
Of course, some factors will affect your earnings potential such as the number of offers available, how much time you have to dedicate to matched betting, and your starting bankroll.
But if you're consistent and put in the work, there's no reason why you can't make £300 to £1000+ per month from matched betting with Profit Accumulator.
Free Trial
Full Access for £1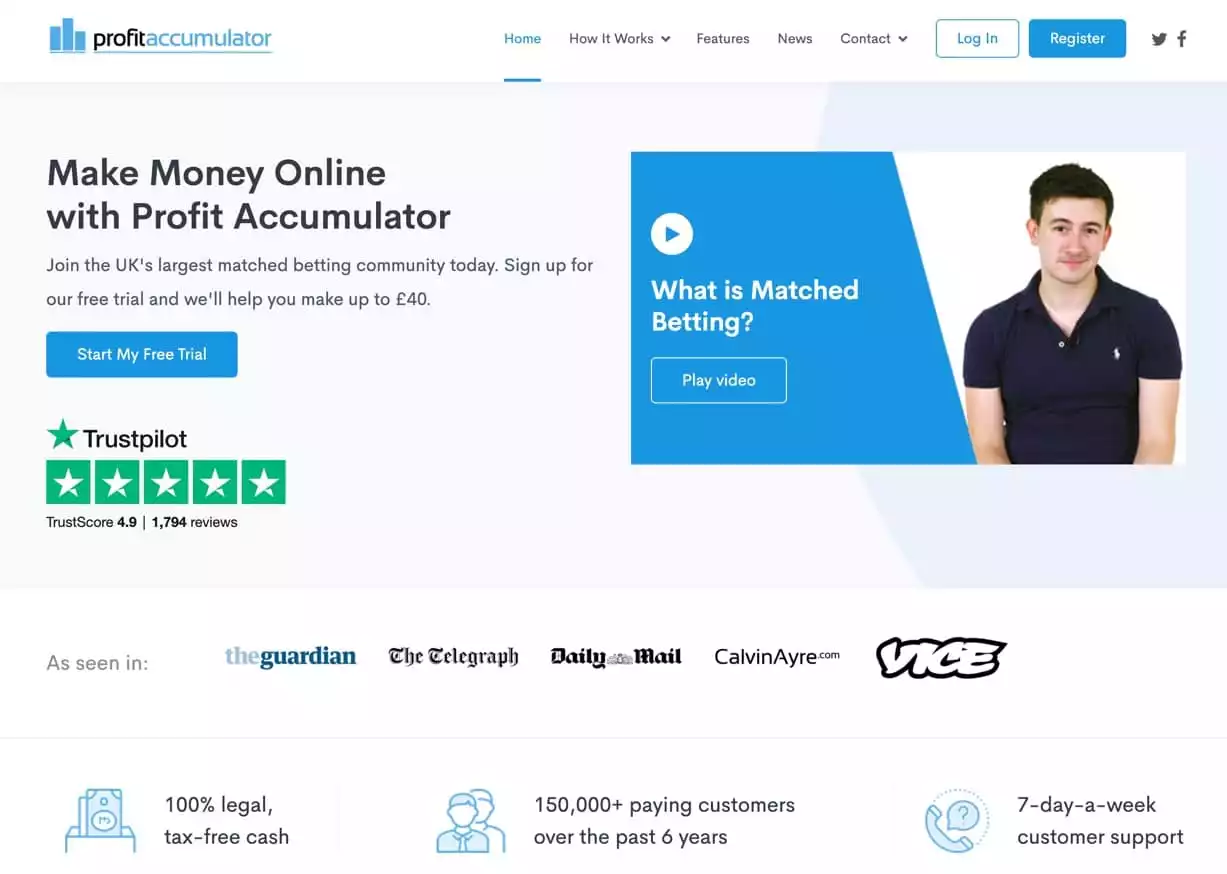 Profit Accumulator Alternatives
Oddsmonkey vs Profit Accumulator
Oddsmonkey is one of the main alternatives to Profit Accumulator in the UK. It is rated 4.8/5 on Trustpilot (based on 480+ reviews).
Both Profit Accumulator (free trial here) and Oddsmonkey (free trial here) offer pretty much the same features:
A comprehensive list of offers
Oddsmatcher software to find the best odds
Calculators to help you place your bets
Forum and Facebook groups to discuss strategies and offers with fellow bettors
Both offer free taster trials
The main difference is the price – Oddsmonkey is a bit less expensive than Profit Accumulator at £24.99 per month (or £180 when paid annually).
They are both excellent services with a lot to offer, so it ultimately comes down to personal preference. I suggest giving both a try to see which one you prefer.
Free Trial
Profit Squirrel vs Profit Accumulator
Profit Squirrel is the new kid on the block, having only launched in 2019.
It comes with 50+ bookmakers' sign-up offers (relatively less than Profit Accumulator's 70+)
One feature where Profit Squirrel stands out is the access to personal matched betting experts as part of their Lifetime VIP Plan (one-time payment of £250).
Below are the available ProfitSquirrel plans:
Free trial: access to one bookmaker offer (£20 in value)
Premium Access (monthly): £24.99 (access to 50+ offers and tutorials)
Lifetime VIP Premium Access (one-time): £250 (access to above + personal matched betting expert)
Profit Maximiser vs Profit Accumulator
Profit Maximiser is another popular matched betting service in the UK, specialising mainly in casino offers.
It's very similar to Profit Accumulator with a few key differences:
The Oddsmatcher software that comes with Profit Maximiser is not as user-friendly or intuitive as ProfitAccumulator's.
The number of bookmakers and offers available is slightly less than what's on offer with Profit Accumulator.
For casino offers (specifically high-risk), Profit Maximiser is a better option.
Better for Casino Offers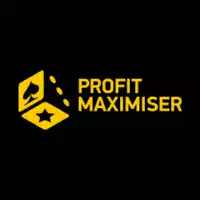 Team Profit vs Profit Accumulator
TeamProfit is a free matched betting site that gives access to a few bookmakers' offers and beginner tutorials. But, after you're done with those free offers, TeamProfit eventually recommends you sign up for Profit Accumulator.
Team profit is a good free alternative if you're just starting and want to dip your toes in the water only to try a few offers.
But if you're serious about making money from matched betting, skip this bit; go ahead and sign up for the Profit Accumulator trial instead (or Oddsmonkey) to access all the offers from day one.
By doing this, you'll avoid getting used to one service (Team Profit) and then learning how to use another one (Profit Accumulator), which can be confusing and time-consuming.
So from that perspective, with a more significant community of like-minded bettors to discuss strategies and share tips, Profit Accumulator would be the better option.
Verdict: Is Profit Accumulator Worth Your Money
So there you have it, my Profit Accumulator review. I hope you found it helpful and that it's given you a better idea of what to expect from this it.
If you're looking to make some extra money each month, then Profit Accumulator is definitely worth your investment. For just £29.99 per month (or £16.58 if you sign up for a year), you'll have access to all the tools and resources you need to make hundreds of pounds in profits.
The bottom line: Is Profit Accumulator worth it?
I would say yes, Profit Accumulator is worth it. If you're looking for a comprehensive guide to matched betting with plenty of offers, easy-to-use Oddsmatcher software, and a supportive community of fellow bettors, then Profit Accumulator is the perfect service for you.
If you're looking for a get-rich-quick scheme, this is not it. But if you're willing to put in the time and effort, matched betting with Profit Accumulator can be a great way to earn some extra money each month.
So what are you waiting for? Sign up now and start your matched betting journey today!
Top Pick
Full Access for £1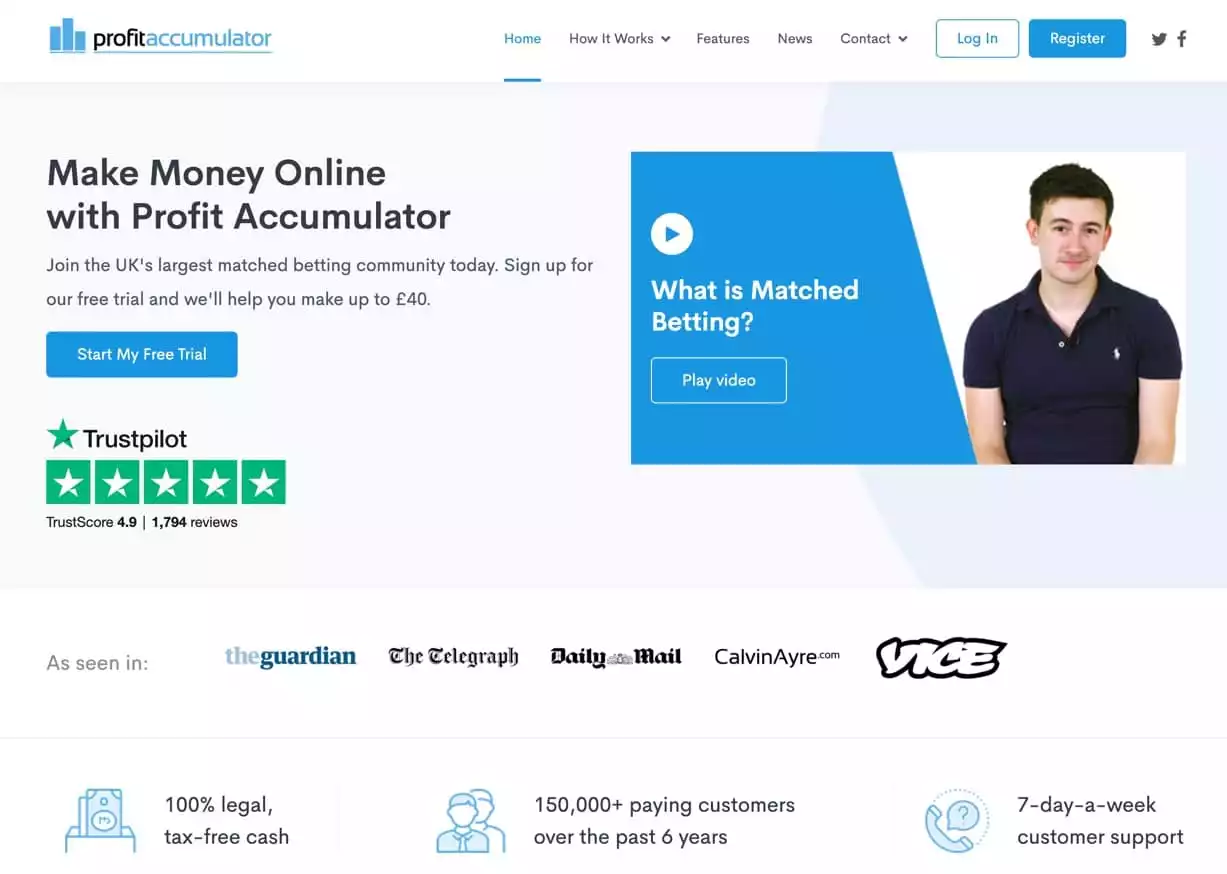 Here are some essential things to keep in mind if you consider using their service.
Matched betting is not a get-rich-quick scheme. You can make money from it, but it takes time and effort to find profitable bets and to learn how to place them properly.
There is a subscription fee for Profit Accumulator. This means that you will need to factor in the subscription cost when calculating your potential profits.
While Profit Accumulator can help you find matched betting opportunities, they don't place the bets for you. You'll need to do that yourself, and it's important to understand how matched betting works before you start placing bets. They do provide instructions and videos for you to learn just that.
All things considered, Profit Accumulator is a safe and legal matched betting service that I have used to make a decent chunk of money from matched bets.
Profit Accumulator Review: FAQs
Profit Accumulator Review 2022: Is It Worth Your Money?
Looking for an in-depth Profit Accumulator review? Read inside as I explore all the features to find out if Profit Accumulator is worth it in 2022.
Price: 29.99
Price Currency: £
Operating System: Web
Application Category: Matched Betting Software