It can be tough trying to save money when your income is low. You might feel like you're stuck in a never-ending cycle of bills and expenses, living paycheck to paycheck.
But it doesn't need to be that way!
Don't worry, we have some practical tips for you that will help with how to save money fast on a low income.
There are many ways that you can save money quickly and easily for your financial goals. In fact, I have covered 45 ways for you in this guide. 🎉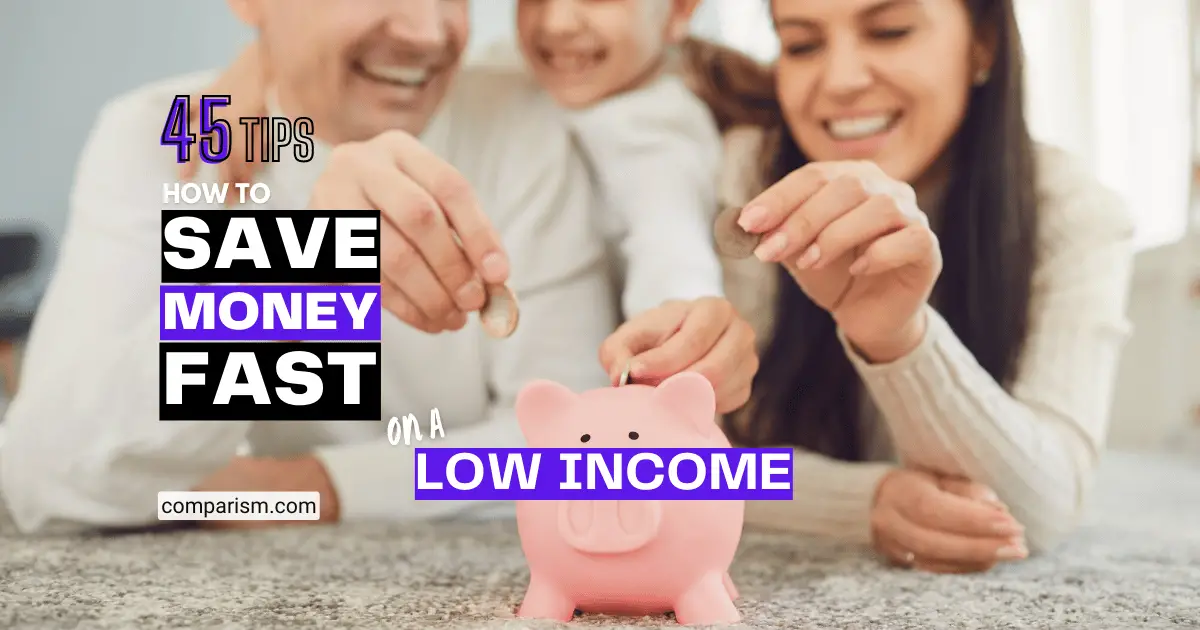 Here, we will discuss 45 practical tips that will help you stretch your pounds further.
Whether you're saving for a small goal like a vacation, to pay off debt, a bigger goal like a house deposit, or to just have a little extra cash in your pocket, these tips for saving money fast will help you.
So let's jump right in, and learn how to start saving today!
Disclaimer: Some links on this article are affiliate links that might earn a small commission at absolutely no extra cost to you. For more information, you can read my affiliate disclosure. The information provided in this article is for information and entertainment purposes only. I'm not a financial advisor and this is not financial/investment advice.
45 Ways to Save Money Fast on a Low Income
1. Learn About Personal Finance and Investing
If you want to save life-changing money, it's important to learn about personal finance and investing. This way, you can make informed decisions about what to do with your money to make the most of it.
There are many great books and websites that offer information on these topics. So take some time to educate yourself – it will be worth it in the long run!
There are a lot of free resources that we produce here at Comparism. Make use of them and make yourself comfortable with money and personal finance concepts.
If you're looking for a more focused course on personal finance and investing, you can take a specialised course on Udemy that's designed specifically for people who're just getting started.
2. Create a Budget and Stick To It
Creating a budget is one of the best ways to start saving money.
When you know how to budget and save money on a low income, you know exactly how much you have got to work with each month.
Sticking to your budget can be tough, but it's worth it in the end. Make sure to track all of your expenses so that you stay on course. This way, you can be sure not to overspend.
Use a budgeting app like Emma or Snoop to help make budgeting and tracking your expenses easier.
3. Cancel Unused Subscriptions and Memberships
You don't need every single subscription service in the world.
It's important to be mindful of all the subscription services and memberships that you have, especially if you're not using them.
Cancelling your unused subscriptions and memberships is an easy way of cutting costs on a low-income budget. For example, if you're not using your gym membership or Netflix subscription, cancel them! You could save quite a bit of money each month by doing this.
You can also cancel other types of memberships, such as magazine subscriptions. Just be sure to read the terms and conditions first so that you're aware of any cancellation costs.
Just be sure to cancel the services in a timely manner to avoid getting charged for another month.
4. Invest in Yourself (Take Free Courses to Improve Your Skills)
You might think:
How can taking a free course help you with money-saving on a low income? Well, it's prepping you for a better future where you have the right knowledge and understanding to make better decisions!
Investing in yourself is one of the best things you can do.
Taking these courses will also help make you more marketable. When you invest in yourself and improve your skills, you're more likely to get a promotion or find a better job. This means that you will be able to earn more money and eventually save more.
It's worth it!
There are many free courses available online that can help you improve your skills. So take advantage of these resources and start learning today!
Some great websites that offer free courses include Coursera, Udemy, and even YouTube.
5. Start Goal-based Savings
Start by sitting down and figuring out what you need to save for. This could be anything from a rainy day emergency fund to a holiday next year or even retirement!
Once you know your goal, break it down into smaller monthly or weekly goals. This will make it easier to track your progress and stay motivated.
For example, if you want to save £1000 for a holiday next year, you would need to save approximately £20 per week (£80/month) – adding a certain percentage over time.
£1000 may seem like a lot of money at once, especially on a low income. But if you break it down into smaller goals (like £20/week in my example) it becomes more manageable.
Plus, seeing your progress as you go along will make you more likely to stick to your goal and deprioritise things that aren't as important.
Tip: You can have different saving pots for each goal. This way you can see how much you have saved and what your progress is at a glance for each goal!
6. Start a Side Hustle to Generate Multiple Income Streams
Knowing about tips on how to save money with a low income is a great start, but there are also other ways you can improve your financial situation.
By generating more income streams and building wealth, you'll be better prepared for the future than most people!
Getting a part-time job (or a side hustle) is one of the best ways to supplement your income. Moreover, it's an excellent way to save more and speed up your financial journey!
If you work full time, consider starting a side hustle during your free hours so that you can boost your earnings even further. This could be anything from starting a blog to babysitting children or pets for neighbours.
You could, in addition, start an online business from your own home that generates passive income every month.
7. Explore Passive Income Streams
Nowadays, there are many ways to make money without actively trading your time for it. These types of income streams are called passive because they require minimal maintenance once set up – meaning you can focus on other things while still making money!
Whilst you're looking at starting a side-hustle, you should look at ideas that grow into generating passive income.
Having more income means that you'll be able to increase your income, save up faster and live better lives in the long run!
For example, you could rent out a room in your house on Airbnb or start a blog and earn from advertising revenue passively.
There are many different ways to make passive income, so explore your options and find one that best suits you!
Check out my post about passive income ideas for some great ideas to generate additional income.
There are many ways to earn money on top of your regular income, so take advantage of these opportunities by getting started today!
8. Switch to a Bank With No Fees
Many banks charge you a monthly fee just for being their customer. They charge unnecessary banking fees that can drain the savings you make using the other tips on here.
Look for a bank account that offers the same features at zero fees or at a fraction of the cost.
This can be a great way to save some extra pounds each month, which you can then put towards your savings goals!
9. Consider to Start Investing
Using the tips on this guide, you can put the money saved into a high-interest savings account or invest it into a stocks and shares ISA.
Both of these options will give you the potential to make your investments grow over time, which can make a big difference when you're on a low income.
If you're not sure how to get started with investing, you can use Robo-advisors that will manage your money for you.
This is a good option if you don't have the time or knowledge to do it yourself, but want to benefit from the potential growth of investing.
There are many different robo-advisors to choose from, so be sure to do your research before deciding which one is right for you.
Here are some of my favourites:
10. Get a Cashback Credit/Cebit Card
Getting a credit or debit card that pays you passively every time you shop, is one of the easiest ways to save up money.
If you're not using cashback credit or debit cards, you're missing out on free money. These cards offer rewards in the form of cashback for every purchase that you make.
Some cards even offer bonus rewards for spending at specific types of stores or restaurants. Be sure to read the terms and conditions so you know what kinds of purchases qualify for cashback rewards.
Make sure you're always paying off your card in full each month so that you don't incur any interest charges. Otherwise, the benefits of having a cashback card quickly disappear!
11. Use Cashback Websites
When you shop for the necessary things like a mobile phone, clothes or groceries, you can use cashback websites to essentially get a cut on your purchases.
Cashback websites work by giving you a percentage of the total cost of your purchase back in cash. That's free money.
So, for example, when you're buying a new broadband contract, you can use a cashback website to get cash back on your purchase.
It's an easy way of getting a discount on the things you need, without having to do any extra work!
There are lots of different cashback websites out there, so it's worth doing some research to find the one that works best for you.
Here are my favourites:
12. Shop Around for the Best Deals: Compare Prices
One of the best ways to save money quickly on a lower income is by shopping around to compare prices online before buying. This includes everyday purchases from groceries to clothes and electronics. You can find some great deals by doing a simple Google search for the item you're wanting to buy.
And this works every single time.
I have bought items that are priced at £499 at a leading retailer's website, but after shopping around for the best deals and using price comparison websites (like Idealo), I have found them cheaper somewhere else for just £275!
The same item, same model number but bought after a bit of research before finally shopping online to place my order.
You can do this with almost any product or service that you want to buy from car insurance to home applicants, to holiday packages to booking flights.
Just make sure you're comparing prices between reputable sellers and for the same product/service features.
Check out: Best price comparison websites (UK)
13. Look for Coupons When Shopping
Coupons are a great way to get a discount on the things you're buying, without having to do anything extra!
There are lots of different places where you can find coupons, including newspapers, magazines, and websites.
Or, you could make it automatic by installing apps like Honey as Chrome extension which will automatically find and apply any available coupon codes at checkout!
Getting discounts using coupons doesn't mean you can now spend additionally on items you don't need. It just means that if you were going to buy something anyway, using coupons allow you to buy them for less!
You can then find a better use for the money you saved.
Maybe, put that into your investment pot to help it grow over time with the power of compounding?
14. Haggle on Prices
Haggling on prices for services that are up for renewal is a good way of saving money on a low income.
For example, if your car insurance is up for renewal, try contacting your current provider and asking for a lower rate. Often providers will be willing to reduce their rates if they know that you're considering switching to a competitor.
The same applies to other services such as phone contracts, broadband deals, and even gym memberships!
Even when you're shopping for big-ticket items, such as a car or a mattress, don't be afraid to haggle on the price.
Many people are hesitant to haggle because they think it makes them look cheap or unprofessional especially when it comes to big purchases. However, if you do it in the right way, it can actually save you money!
Start by researching the market value for the product/service you're interested in. This will give you a good idea of what the item is worth and how much room you have to negotiate.
Then, approach the seller with a reasonable offer. Be prepared to walk away if they don't meet your price!
Many sellers are willing to lower their prices in order to make a sale, so don't be afraid to ask.
You may be surprised at how much money you can save by haggling on prices!
15. Ask for Discounts
When you're buying anything, don't be afraid to ask for discounts. The worst that can happen is they say no!
This works particularly well with small businesses or restaurants where the owners are more likely to know their customers personally and want repeat business from them.
You could also try asking your insurance company about possible discounts for things like bundling policies, home insurance and car insurance premiums.
There are also many websites that offer discounts on products and services. A quick online search can help you find the best deals on the things you need.
Just be sure to read the fine print so you know what you're getting into!
16. Save Spare Change
If you have a habit of leaving your change in the car or just throwing it into a piggy bank at home, consider saving it. Most people don't realize how much money they leave behind by doing this!
You'd be surprised at how much money you can add to your bank balance by simply saving your spare change. Over time, this will add up and help you reach your savings goals faster!
17. Automate Your Savings
Using automated ways to save can take out the emotion of saving and allow you to reach your goals faster.
You could set up an automatic transfer from your monthly income into a savings account, or have money taken out of each paycheck for retirement contributions.
Apps like Chip, Plum or Moneybox can help automatically save spare change from your daily spending. For example, let's say you made a small purchase of £3.70, these apps will automatically put change like £0.30 in this case.
Even Lloyds bank has a Save The Change feature that rounds up your debit card purchases to the nearest pound and saves the difference into a separate savings account.
This can add up to a significant amount over time and help you save money without even thinking about it.
18. Walk more frequently
This is a simple way to save you money and get in some exercise at the same time! Health and Wealth in one!
If you can, try to walk instead of taking public transport or driving. This will help you save money by not having to pay for parking or fuel and it's good for the environment too as it helps reduce your carbon footprint.
You may also find that walking more often can help improve your mental wellbeing.
Plus, free apps like Sweatcoin pay you to walk.🚶
Our Pick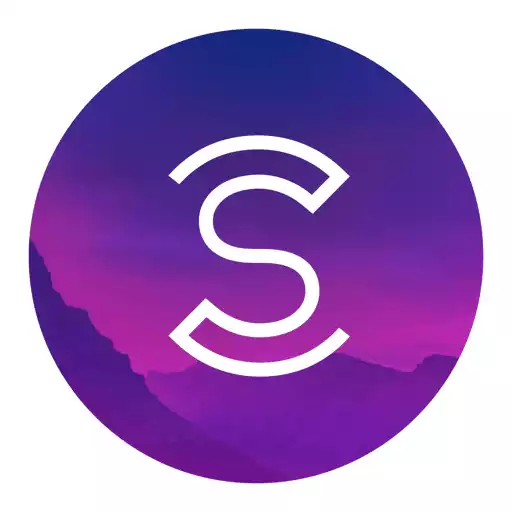 Sweatcoin: Get Paid to Walk!
Studies have shown that rewards motivate people to stay active.
Sweatcoin is a free mobile app that counts your steps and converts them into a digital currency called sweatcoins. The more you walk, the more you earn. And the more you earn, the more it motivates you to walk! And it's free.
Try now
I might earn a referral credit in Sweatcoins if you sign up using this link.

19. Ask for a Raise
If you're in need of a raise, don't be afraid to ask your boss for one. It never hurts to try!
Keep in mind that it's important to have a solid case and be able to back up your request. Come prepared with data that shows how you've been an asset to the company and why you deserve a raise. Researching the market rate for your position can also help strengthen your case.
If you're not comfortable asking for a raise outright, try negotiating other benefits instead. For example, ask for more vacation days or work from home privileges. There are many things that can be negotiated besides just salary increases!
20. Reduce Your High Interest Debt First
To start saving up money on a small income, you may first need to lower your high-interest debt.
If you have credit card debt, for example, it's important to focus on paying that off first. This is because credit card debt typically has a high-interest rate, which means you're paying more money in the long run.
There are many different methods for reducing debt. You can try making extra payments each month or consolidating your debts (if you have more than one loan).
If making extra payments is not possible, the best way to save up on the high-interest payments is by consolidating them into a single loan with a low-interest rate. This way, you can pay off more money per month and save on interest!
Look for a bank or a company that specialises in debt consolidation loans. You should be able to find a better best deal on a loan that will reduce your monthly payments and save you money in the long run!
Whichever method you choose, make sure you're staying focused and motivated. It can be tough to pay off debt, but it's worth it in the end!
21. Cut Back on Your Expenses
One of the best ways to save money quickly is by cutting back on your outgoing, starting with the biggest expenses. Take a look at your monthly budget and see where you can make some cuts.
For example, maybe you could cancel your Sky subscription and watch shows online instead. Or, maybe you're paying unnecessary fees for a gym membership that you don't use and can cancel it instead.
You could also try cutting back on your food expenses by meal planning in advance and preparing them yourself at home. This will save money compared to buying ready-made food or eating out every night!
22. Lower Your Utility Bills
You can reduce your energy usage by turning off lights when not in use and using energy-efficient appliances instead of old ones that consume too much electricity which adds to your monthly expenditures.
23. Make Your Own Coffee
This one can save hundreds of £££ for you over time.
Skip the morning drive-thru and make your own cup of coffee at home. You can cut costs by brewing coffee yourself instead of buying it from a cafe every day. Even if you just bring in a box of coffee pods, that's still cost-effective than going through Starbucks!
You can save even more if you buy your own mug instead of using disposable cups. This way, it'll be cheaper for everyone involved and better for the environment!
You should also try some recipes that will help make cafe-like drinks at home.
24. Make Your Own Meals Instead of Eating Out
Cooking meals is one of the easiest ways to speed up money-saving journey especially with a low income.
Cooking at home instead of eating out can save you hundreds or even thousands of pounds a year!
It's also healthier because homemade meals are typically made with fresh ingredients that contain fewer calories than those found in restaurants. If you want to stay fit, this could help too!
If you don't know how to cook, there are many resources available online that can teach you the basics of cooking and help get started on your money-saving journey.
You might think this is an obvious point but be sure to get all the ingredients in your food shopping to plan and save even more as you could get some decent deals when you spend over a certain amount in one go saving you even more.
25. Sell Your Unwanted Old Stuff
Sometimes, there are items lying around our house that you don't need or use anymore.
Why not sell these items on eBay or Gumtree? You could make a few pounds from something that's just taking up space in your home.
This is a great way to make some additional income and clean out your house at the same time!
If you don't want to sell your items online, there are other ways to get rid of them. For example, you could donate clothes or toys that are no longer used by anyone in your family.
You can even organise a car boot sale with friends and neighbours to flog off all of your unwanted items in exchange for cash.
eBay and Gumtree aren't the only places to sell your stuff. You could also try Facebook Marketplace or even a local classifieds website.
26. Check You're Paying the Right Taxes
One way to instantly save money on a low income is by checking you're paying the right taxes.
If you're not sure what tax band you fall into, or if you think you might be paying too much tax, then it's worth speaking to an accountant or HMRC for advice.
You may be surprised to find out that you could be entitled to a tax rebate, or that you're paying more tax than you need to.
It's worth checking this out as soon as possible as it could save you a lot in the long run!
27. Spend Less on Gifts, Cards and Wrapping Paper
Christmas, birthdays and other gift-giving occasions can be very costly. A great way to save money is to spend less on gifts, cards and wrapping paper.
You could make your own cards or wrapping paper, or buy cheaper alternatives.
You could consider giving experiences rather than things. For example, a trip to the zoo or theatre or a voucher for a massage.
28. Use Public Transportation
Public transport can be a great way to add save additional cash for your piggy bank.
If you live in a city, using a bus/train instead of taxis or driving can save you a lot in the long term.
29. Combine Errands to Save Time and Money
You can save time and fuel costs by combining errands. For example, you could combine the trip to the supermarket with a visit to the bank.
30. Delay Major Purchases
Major purchases such as a new car or trip overseas can be great experiences, but they can also be expensive.
A good way to save is to delay making major purchases. You could put the cost of the purchase in your budget and set aside enough money for it each month until you have saved up enough for big expenses.
31. Grow Your Own Vegetables or Herbs
If you have the space, growing your own vegetables or herbs can be a great way to save. Not only will you save on groceries, but you'll also get the added benefit of fresh produce.
32. Cut Back on the Clothes Shopping Habit (Which is a Money Pit)
It's easy to get caught in the trap of buying clothes that you don't need. If you can cut back on clothes shopping, you'll be able to hold on to a lot of your money in the long run.
Again, if you do need to buy some necessary items, wait for the seasonal sales. You'll be able to get the clothes you need at a fraction of the cost.
33. Try to Buy Things in Bulk When Possible for Saving Money
You can't just avoid buying certain items. They're a necessity. For such products, you can look at the possibility of buying them in bulk. It's a great way to save money, especially if you have enough space to store them!
That way, you won't have to worry about running out later on and spending extra in the process as local off licence shops charge a lot more com!
34. Do It Yourself
Whether it's home repairs, gardening or cooking, there are many things that you can do yourself to save money. DIY projects can be a lot of fun and you'll spend a lot less money in the process!
Just make sure that you're safe when doing any DIY projects and always read the instructions carefully.
You can look up YouTube videos for instructions on just about anything! I have done many DIY projects around our house just by following some simple steps on YouTube. It's so easy!
35. Live Frugally
One way to save money quickly is to live frugally. This doesn't mean that you have to live a life of deprivation. It just means being conscious about your spending and making smart choices.
There are many ways to do this: cooking at home instead of eating out, carpooling or taking the bus when possible, and buying used items instead of new ones. I have talked about many of these in the other tips and tricks on this list.
36. Give Up Vices That Are Costly (Like Cigarettes)
Giving up vices that are costly, such as cigarettes, can save you a lot of money in the long run.
Not only will you reduce your spending, but you'll also be healthier and have extra money to spend on things that are important to you.
37. Make a Shopping List Before Leaving Home
Making a shopping list before leaving home will help you stay focused while you're out and about for things like grocery shopping and avoid buying things you don't need. This will help save you money and avoid going over budget.
38. Follow the 30-day Rule
When you're tempted to buy something that is not a necessity, ask yourself if you really need it and if so, wait for 30 days before buying it. If you still don't need it after 30 days, you never needed it in the first place! This will help you avoid impulse buys and unnecessary spending.
39. Avoid Impulse Buying by Waiting Before Making Purchases Online
One of the best ways to cut your outgoing costs is by avoiding impulse buys. This can be tough, but if you're able to stick to it, then you'll definitely see the benefits!
Avoid impulse buying online by waiting at least 24 hours before making a purchase. This will help you avoid buying things that you don't need and can save you money in the long run.
40. Rent Out a Room
If you have an extra room, why not rent it out? There are many people who need a place to stay and would be willing to pay for it. You could even list the room on Airbnb if you'd like!
41. Don't Waste Food
Wasting food is a huge waste of finances that can suck cash out of your pocket silently.
This means buying only what you need, storing food properly and planning your meals ahead of time so that nothing goes bad in the fridge.
Not wasting any food is a great way to cut costs on groceries shopping.
42. Choose a Less Expensive Mobile Plan
There are many different mobile plans available these days, so if you're not using all of the features in your current plan, it might be time to switch to a less expensive one.
You can use sites like uSwitch to find the best mobile deals for you.
43. Buy Used Items When You Can
By buying used items, you'll save money and help the environment at the same time. Just make sure that they're in good condition!
44. Visit Places That Don't Cost Anything
There are plenty of places to explore without spending a dime, from free museums to parks to free concerts. Free entertainment.
Just make sure that you do your research ahead of time so you know what's available in your area.
45. Get Help When You Need It
Millions of pounds worth of grants go unclaimed every year in the UK. You can check those options if you need them.
You can check if you're eligible for home energy grants for loft and cavity wall insulation to make your home energy efficient and reduce your bills.
You can check out this detailed guide by MoneySavingExpert.
Final Thoughts: How to Save Money Fast on a Low Income
There you have it!
45 ways for how you can save up money quickly and easily on a low income.
Saving money on a low income doesn't have to be difficult. Saving need not be a daunting task. There are many ways to save money quickly and easily, even on a tight budget.
Just use some of the practical tips in this article and you'll be well on your way to financial independence!
I hope some of these tips strike a chord with you and help you with how to be financially stable with a low income.
Remember, it's important to start small and work your way up. And don't forget to have some fun along the way!
Start by trying out a few of these tips and see which ones work best for you.
When it comes to saving, every little bit counts!
So be sure to try out as many of these tips as possible in order to see the biggest savings. And don't forget: even if you can only save a little each month, that can grow to a significant amount over time!
Explore new income streams, try new things and enjoy your life.
If you're looking for more ways to save money and increase your income, be sure to check out my other blog posts.
We have a variety of tips and tricks that can help you get on the road to financial freedom!