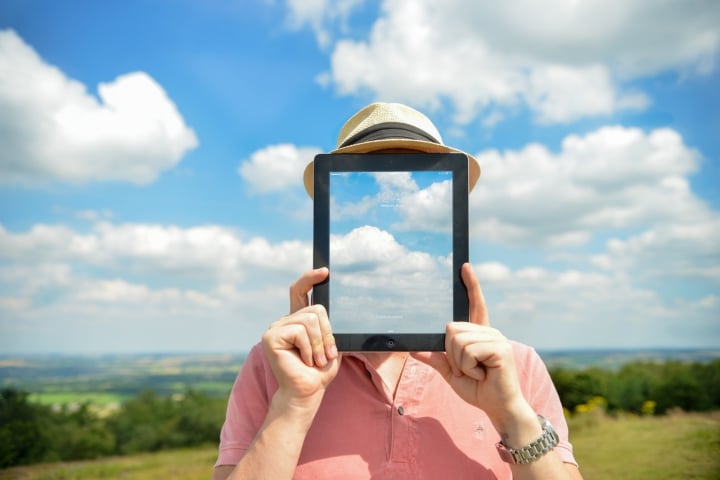 Need to send money to a family member or friend in India urgently?
There could be various reasons you need to do that: an unexpected expense, investment opportunity, immediate payment to avoid late fees or a sudden requirement for your family or a close friend.
Many online services exist to send money to India quickly and the money reaches your family member's or friend's bank account in minutes, a few hours or days based on the service you choose.
What if the person to who you want to send money, does not have a bank account?
Well, if your recipient does not hold a bank account, a bank-to-bank transfer might not be an option! But you can still send them money using alternatives.
This post is EXACTLY to help you with that: how to send money to someone without a bank account.
How to Send Money to Someone Without a Bank Account?
Sending money to someone online is the quickest and cheapest way to do it.
It is a simple process.
You raise a transfer request with a money transfer company that provides remittance services.
Pay them in your local currency (GBP in the UK).
The money transfer service converts the amount and pays it into your recipient's bank account (let's say INR in India).
On average, the money arrives in 1-2 working days usually; a few seconds with bank alternatives like Wise (review). Most companies operate this way, and this simple process keeps things restricted online.
You don't need to make any phone calls or visit any transfer service outlet. Instead, you can do all this online in a few minutes and with even fewer clicks.
But, all this requires the recipient to hold a bank account. Sending money using a bank transfer is effective as companies offer better rates for money sent to bank accounts (compared to cash pickups). If the person you are sending money to doesn't have an Indian bank account, don't worry!
Let's dive right in and look at the options available to you in case your recipient does not hold any bank account.
Related: When is the best time to transfer money to India?
#1. Open a new bank account and send money online!
Okay, this is a simple one!
If you want to quickly send money to your family or friend in India who doesn't have a bank account, the best option is to explain and convince them to open one!
It wouldn't take too long, and the benefits are huge!
The exchange rate, fees and deals offered are much better for online bank-to-bank transfers so opening a new bank account in India makes complete sense!
(Bank-to-bank transfer is where you pay the money transfer service online using your UK bank account, or a credit/debit card, and the service pays your Indian recipient direct to their bank account.)
Once the recipient has a bank account, you can follow my no-hassle guide to transfer money to India online – fast and easy – from the comfort of your computer or smartphone.
But can you transfer money without a bank account?
Yes, and that brings me to the cash pick-up option.
#2. Cash Pickup
If for some reason opening a new bank account is not an option, the next best alternative is to send money using transfer services that deliver funds to India for a cash pickup.
Companies like Azimo, MoneyGram, WesternUnion and Lycaremit provide an option for your recipient in India to pick up money in person from their given location.
All you need to do from your side for a "bank to cash pickup" transaction is pay the remittance company in your local currency (GBP Pounds Sterling) online or in person and you will be given a unique MTCN (Money Transfer Control Number) code.
You need to provide this unique code to your recipient. The receiver can then show this along with a government-issued ID proof by visiting any collection centre and be paid in cash.
(I haven't yet tried a money transfer using a cash pickup service. My research is based on information available on websites and forums online that I have collated here in one place so you can benefit.)
In this post, I have also provided a few companies that provide a cash pickup option (which means your recipient can pick up the money in cash from the given agent location).
#3. Money Order
[Not cheap, usually]
A money order is another option for sending money to a person who does not have a bank account.
However, let me clarify that Money Order is NOT the cheapest option and also it takes around 15 working days for your recipient to receive the money.
In India, you can send a money order using India Post.
If you prefer a cleaner interface, you can use your ICICI bank account to send a money order online to India – ICICI has coined their service as "Smart Money Order."
ICICI Bank provides a Smart Money Order facility in partnership with India Post. To request money orders to India with ICICI, you need to have an ICICI Bank account. You can just log in to your ICICI account online and enter the details of the sender and receiver along with the amount to be sent.
You should also keep in mind that ICICI Bank charges Rs. 25 (plus Service Tax) on top of the 5% India Post charge.
Money Transfer Companies with Cash Pick-up facility
Here is the list of money transfer services that offer cash pickup services (in no particular order).
I have included the number of agent locations, transfer fees, transfer limits and other important information that you need to know before sending money to a cash pick-up location.
Western Union allows your family and friends to pick up cash from almost anywhere with the biggest network of agent locations. You can initiate a transfer using any online medium – website, Andriod or iOS app.
Western Union cash pickup service is limited to £4000 and the money is ready to collect in minutes. If you choose to pay using credit or debit card issues in the UK, be mindful that you get a lesser rate as compared to paying with a bank transfer. The fee for sending up to £1000 is £4.90 and from £1001 to £4000 is £5.90.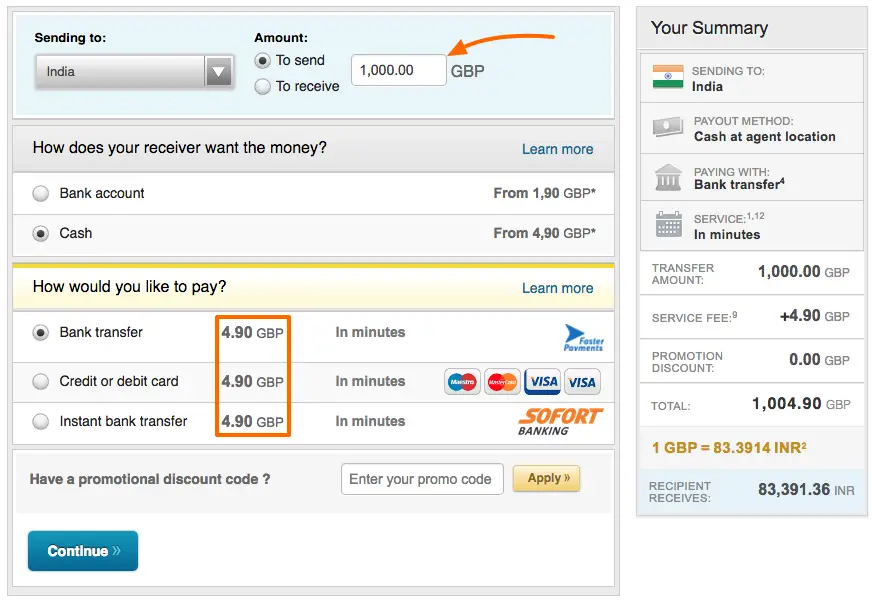 If you need to send more than £4000, you can go for Western Union Online FX Service (which is a bank-to-bank money transfer service – no cash pickup) or other alternatives for sending money to India online.
2. MoneyGram
MoneyGram is another easy option to transfer money online from the UK to a cash pick-up location in India. You can use a credit debit card to pay, and the money typically is ready to collect in under 10 minutes from over 53,000 pickup locations across India.
Your recipient then simply needs to show the unique Reference number along with one valid photo ID proof to collect the money from any MoneyGram location.
You can pay using a UK credit or debit card and for sending £1000 to India, you will pay £7 in fees.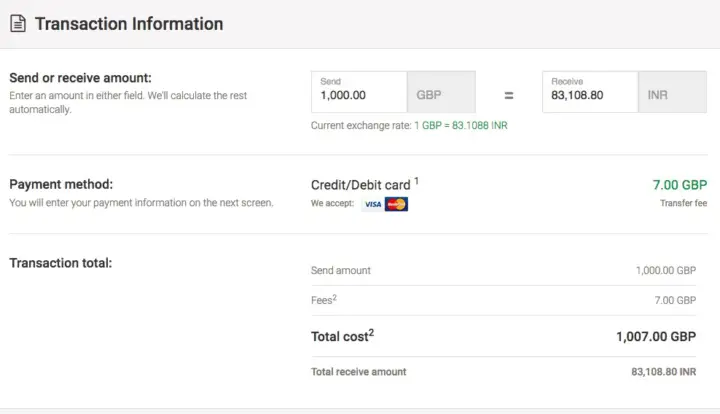 The maximum amount you can send for cash pickup using MoneyGram is limited to 1699.99 GBP. If you need to send up to £4000, you can use WesternUnion or for an even larger amount, use other ways.
3. LycaRemit
Lycaremit from LycaMobile fame is another option that lets you send money to India for cash collection in person if your receiver does not have a bank account. The rates are also quite competitive compared to the other services on this list – check the screenshot below.
I could not find the number of cash pickup locations available with Lycaremit and I have an email to the support team to confirm – will update this post once I have this information.
If you use LycaMobile, you get a free £5 credit on LycaMobile for one transfer over £300 per user per calendar month, on all money transfers with LycaRemit.
For more details, head over to Lyca Remit.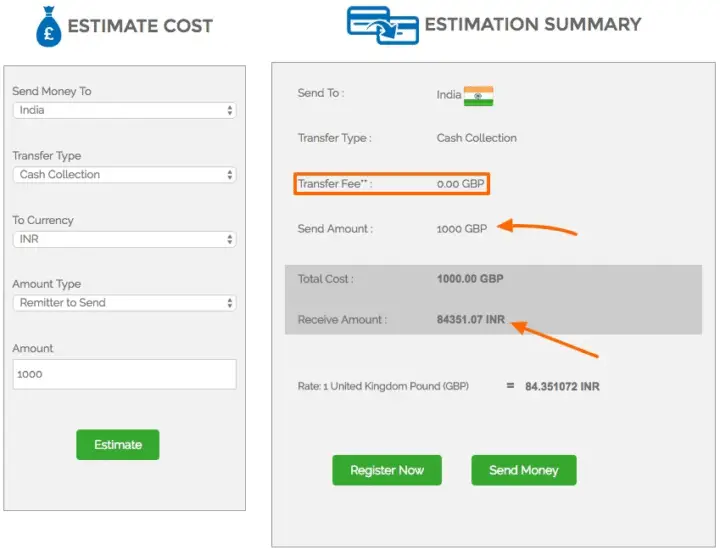 Conclusion
There it is – your available options on how to send money to someone without a bank account.
The best move is for the recipient to open a new bank account and then you can send them money online using one of the methods I talked about in my other post.
If that's not an option, you can use the alternative I have mentioned above which is to send it through a company that provides pick-up options.
If you have no other way at all, then as the last resort take the "money order option."
I also recommend you read my ultimate guide for transferring money to India which busts all the jargon and myths about the right and wrong ways of doing it.
If you found this post useful in gaining new knowledge about alternative ways of sending money to someone who does not have a bank account, do share it with your friends and colleagues on Facebook, Twitter and Whatsapp.
Also, don't forget to subscribe to my free newsletter and never miss any updates on new posts and exclusive deals.