If you're like most people, you probably think that investing is only for the wealthy, the top 1%. However, this is no longer the case thanks to zero-commission investment apps like Wealthyhood.
Wealthyhood is a new DIY investment app that has been getting a lot of attention lately. It promises to make it easier for beginners to get started on the journey of building their wealth over time. With a low fee structure, it offers a lot of personalisation and automation features so that you can feel comfortable investing as a beginner.
But is Wealthyhood any good? Is your investment safe with them?
In this Wealthyhood review, we'll take a close look at the app and its features to help you decide if it's right for you.
Disclaimer: Comparism is reader-supported; we might earn a small commission if you open an account with Wealthyhood, create a portfolio and make your first investment. The contents of this page are for information purposes only and not financial advice. Capital at risk.
Wealthyhood: One Minute Review
Wealthyhood is an investment app that allows you to invest in a variety of ETFs. It gives you the capability to select different assets, geographies, and specific sectors to automatically creates a portfolio which you can then customise to your needs.
For this review, I signed up for a new Wealthyhood account to test how it works in reality and give you a taster of my experience, from making the deposit, and creating the first portfolio to making the first investment.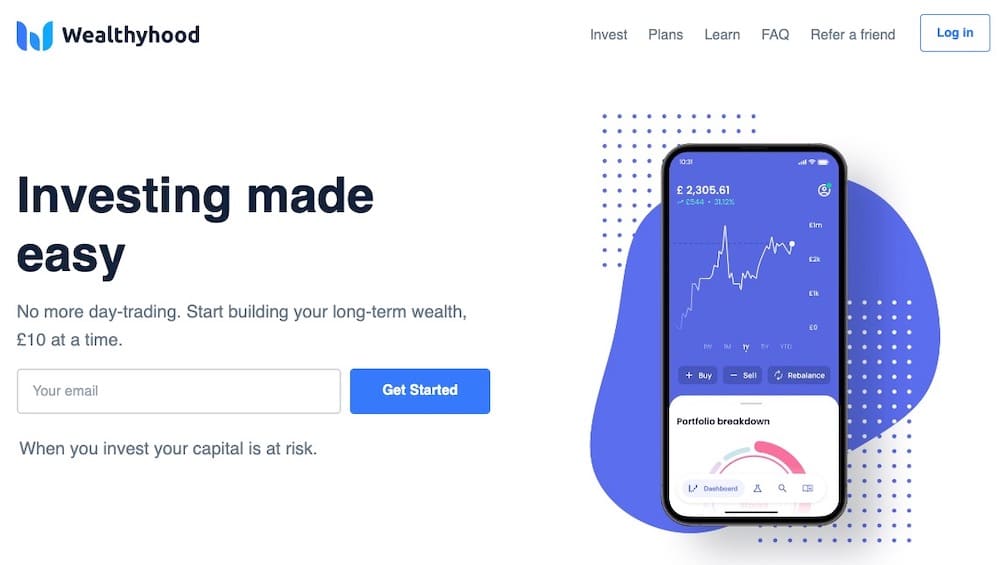 The app has been designed with focus on everyday investors and is simple to use.
I liked the onboarding process, which clearly explained the different investment options and how to set up my account. I also like that there are no fees for using Wealthyhood, which makes it a great option for beginner investors.
You can start with as little as £10, and there are no fees for Wealhtyhood accounts. This makes it an attractive option for beginner investors.
The downside is that the selection, for now, is limited to ETFs. However, if you're looking for a simple and straightforward investment app, Wealthyhood is a good option.
So far, I am quite impressed with Wealthyhood. The website is still quite new and a bit rough around the edges, but its team appears to be very responsive and constantly working to improve the user experience.
So if you're looking for a safe and easy way to start investing, Wealthyhood is worth checking out!
Free ETF share up to £200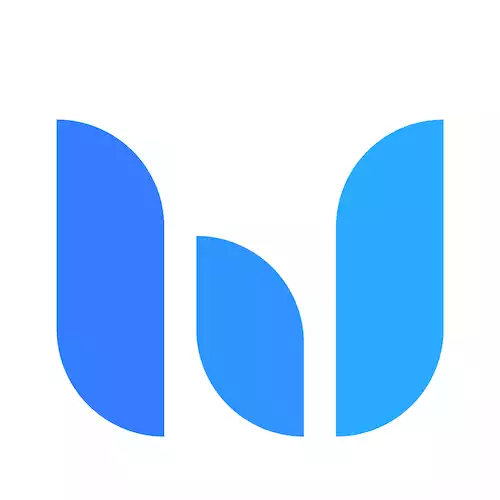 Wealthyhood
Start building your journey to long-term wealth today with Wealthyhood. Sign up today, fund your account and get a free ETF share worth up to £200.
Get Free ETF Share
Capital at risk. We earn a commission if you sign up and fund your account, at no additional cost to you.

What is Wealthyhood?
Wealthyhood is a DIY investing app that allows you to start investing in ETFs with as little as £10. It was designed with beginners in mind and offers a simple, user-friendly interface with plenty of personalisation and automation features.
The app's goal is to make it easy for people to grow their wealth over time. I like the extra emphasis on long-term investing.
Wealthyhood was founded in 2020, with the beta version of the app launching in May 2021.
So far, the team has raised €900K (£765K) in a pre-seed round from angel investors and Greece-based Genesis Ventures to create the DIY wealth-building platform.
Wealthyhood Team
Wealthyhood was co-founded by Alexandros Christodoulakis (CEO) and Konstantinos Faliagkas (CTO) and is based in London. They both bring years of experience from their past tenures in Morgan Stanley and PlayStation.
Besides customer validation, I also like to see if reputable individuals run the company. And the team at Wealthyhood certainly seems to be qualified.
Is Wealthyhood Safe?
Yes, Wealthyhood is a safe and legit investment platform.
Wealthyhood is a new investment app, and as such, there are always risks associated with any new company.
However, I believe that Wealthyhood is a safe investment app. Here's why:
Wealthyhood Ltd (approved by the FCA) is an appointed representative of WealthKernel Limited, which is authorised and regulated by the FCA (Financial Conduct Authority).
Your money at Wealthyhood is protected by FSCS, up to £85,000.
The team behind Wealthyhood has years of past experience in the industry.
How Does Wealthyhood Work?
Wealthyhood is a platform that provides you with the tools and resources to make informed investment decisions and build long-term wealth. In this section, I will show you how to use Wealthyhood.
Here's how to get started:
Create an account
As a first step in creating your free Wealthyhood account, you need to go to this link, provide your email address, and verify it using the code sent to you.
Create your portfolio
Once you've verified your email, you'll be taken through a questionnaire to personalise your portfolio.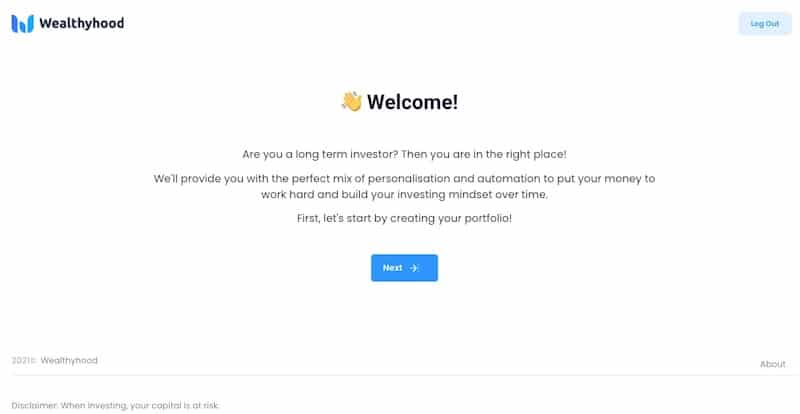 In this step, you'll pick your asset classes, geography, specific sectors/industries etc. This will help Wealthyhood understand your risk tolerance and investment goals.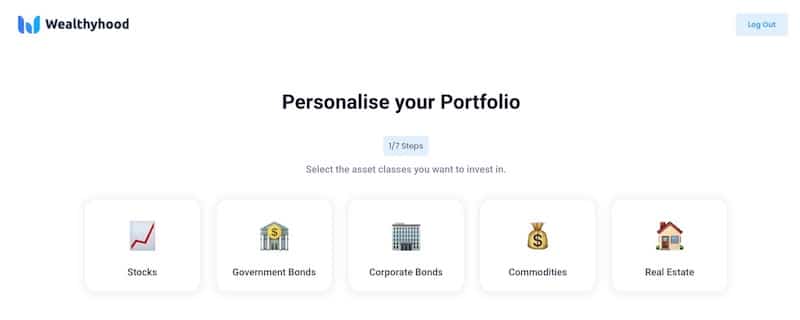 Confused? Don't worry, you can hover over each of the options for a quick explanation.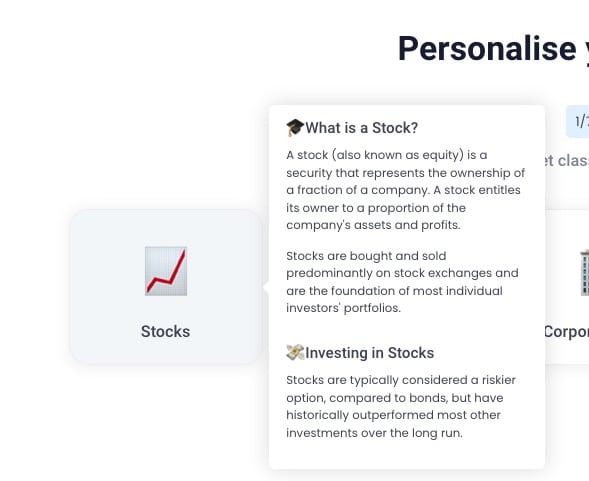 I found this nice little touch really useful as this goes to show that the Wealthyhood team have thought about educating users and tried to make their platform easier to understand for beginners. The investing world can seem confusing when just starting and such kind of hand-holding makes you feel comfortable that you know what you're getting into.
Next, you'll also be asked about the geography you want to invest in.
You can pick one of the below two options:
Global: Invest in assets from the US, Europe, Asia & Emerging Markets
USA: Invest in assets only from the US
Next, you can pick the specific sectors and industries you want to get exposure to for your portfolio.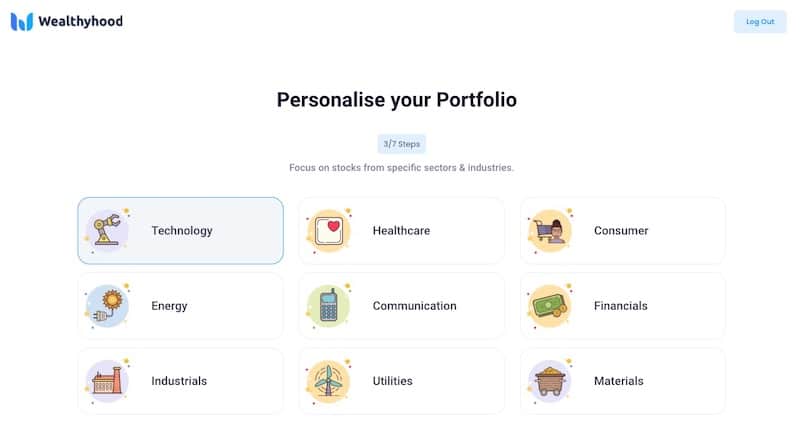 Again, if you want to know more about any of these categories, you can hover over each of the options.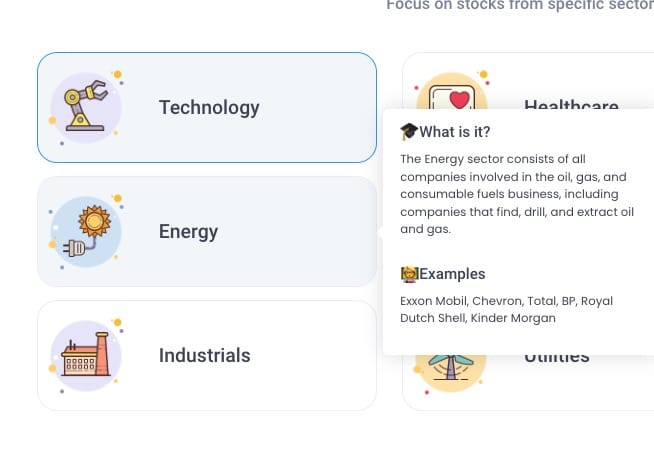 After you've completed the questionnaire, Wealthyhood will automatically create a personalised diversified portfolio for you based on your answers and preferences.
At this step, you'll be able to see your portfolio and how it's diversified across different asset classes. Preview your portfolio and click Next.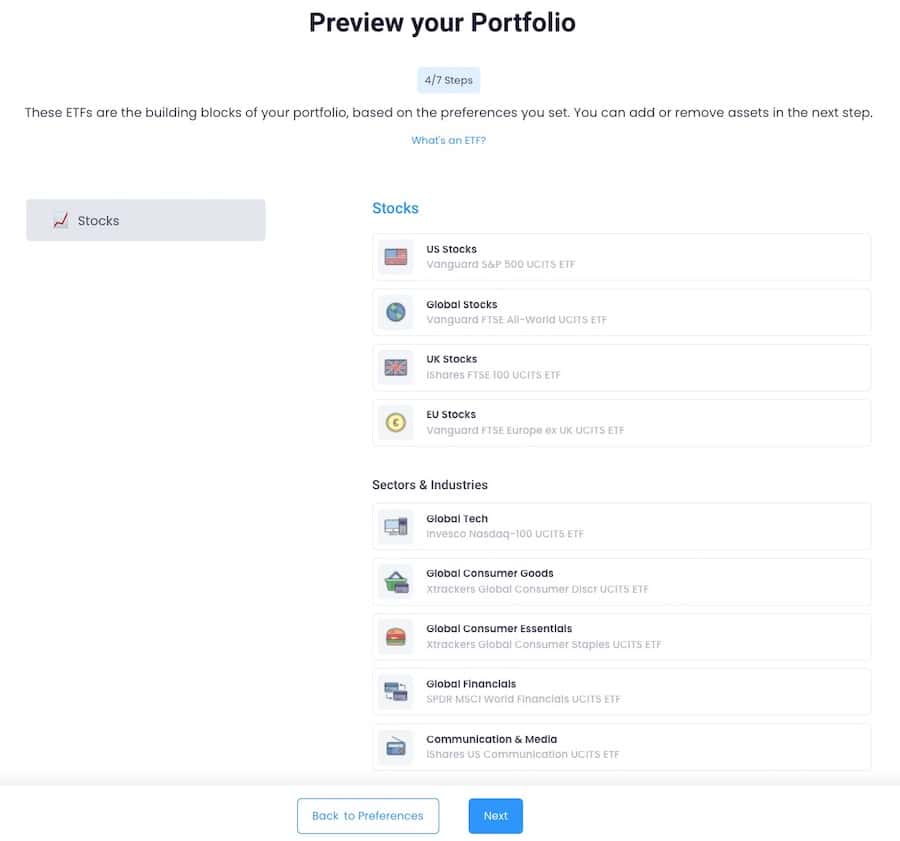 If you're not happy with everything that's on here, don't worry. You can customise every single bit in the next step.
You can add keep, add or remove items as you like.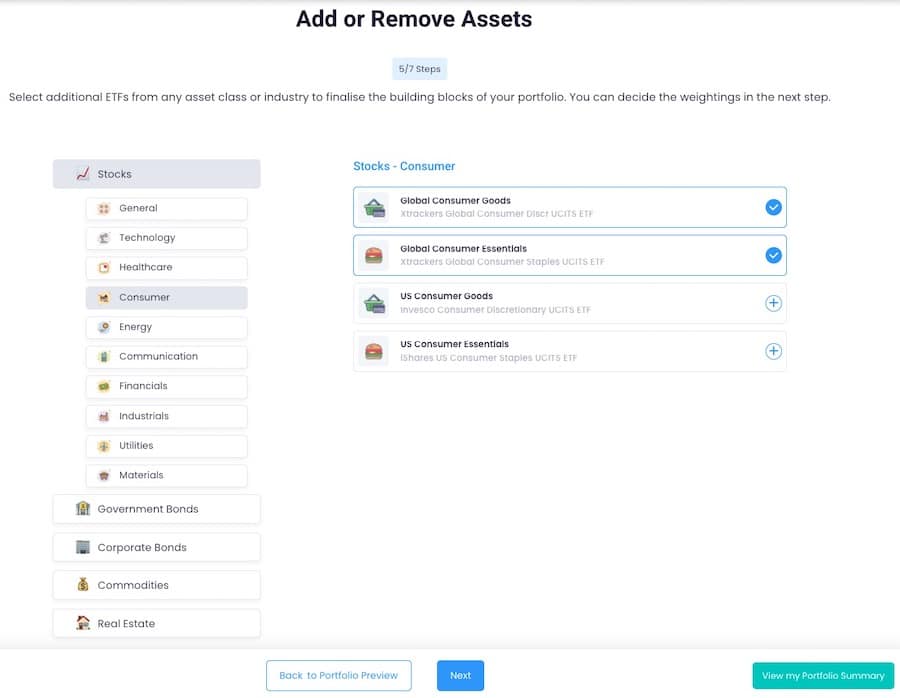 I can even go ahead and add assets from other categories that I didn't feel to add in the first step (Government Bonds, Corporate Bonds, Commodities, Real Estate).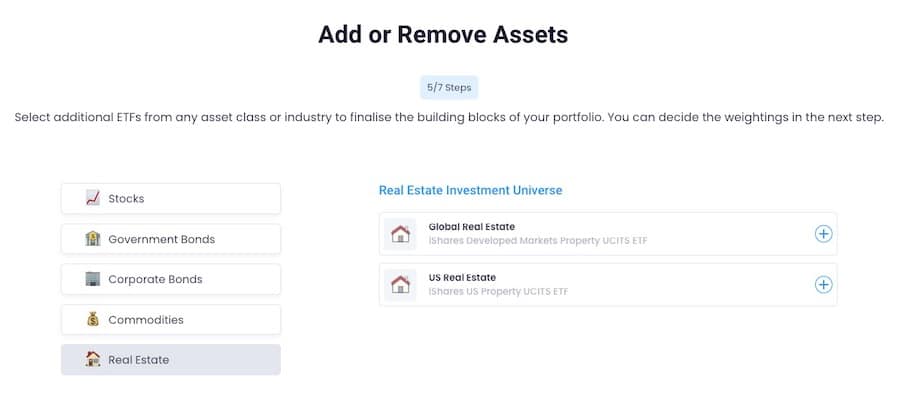 Happy with everything? Click Next.
In this step, you can customise your portfolio weighting.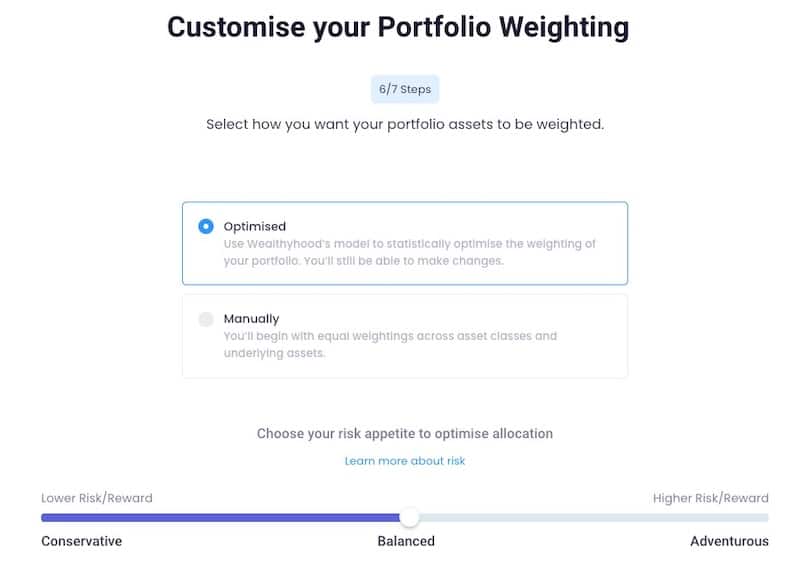 Optimised: This mode will use Wealthyhood's optimisation model to optimise the weighing of your portfolio statistically. In my opinion, this is a good place to start. You can still make changes later if you like.
Manually: This mode will keep equal weightings across asset classes and assets.
Next, select your risk/reward tolerance ranging from Conservative to Adventurous. I kept it between Balanced and Adventurous. Based on your risk appetite, make your selections and click Next.
Based on your answers on this screen, Wealthyhood will apply the weighing to your portfolio picks.
Here's an example that I created for the purpose of this review.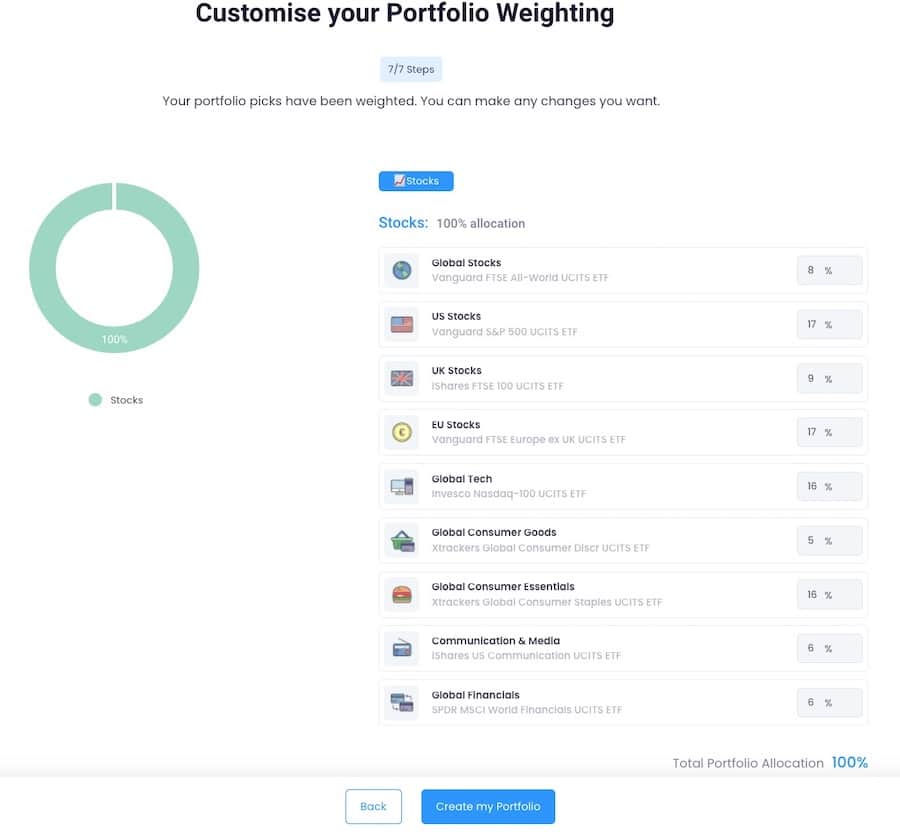 Again even at this stage, you have the capability of changing allocations on this screen or going back at any stage and changing things around to fit your preferences.
When you're happy with everything, click Create my portfolio.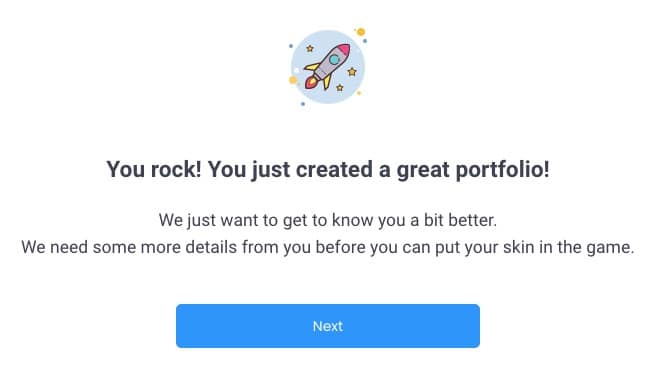 You've now successfully created your first Wealthyhood portfolio.
Verify your account
Before you make your first investment towards the portfolio you just created, you need to verify your account by providing some personal information.
To complete your registration, you'll need to give your name, date of birth, nationality, address and NI (National Insurance) number. Click verify account.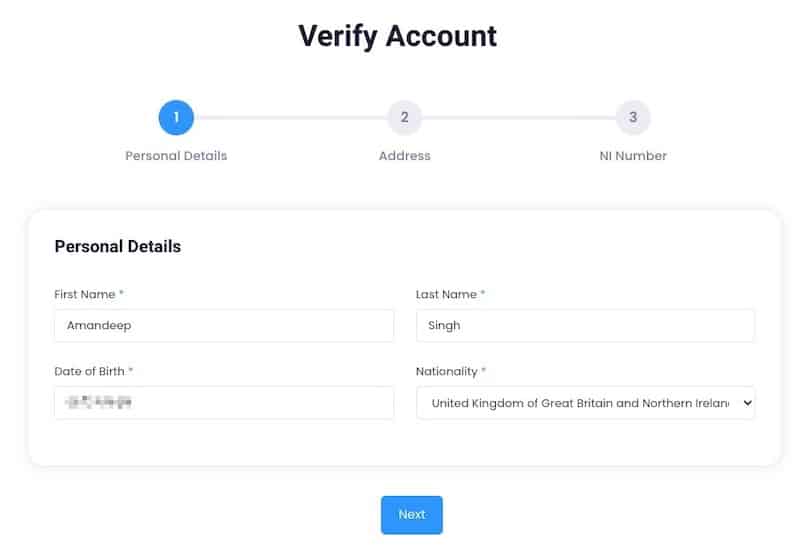 Once your account is verified, you can proceed to make your first deposit.
Make a deposit
To start investing, click Make my first investment.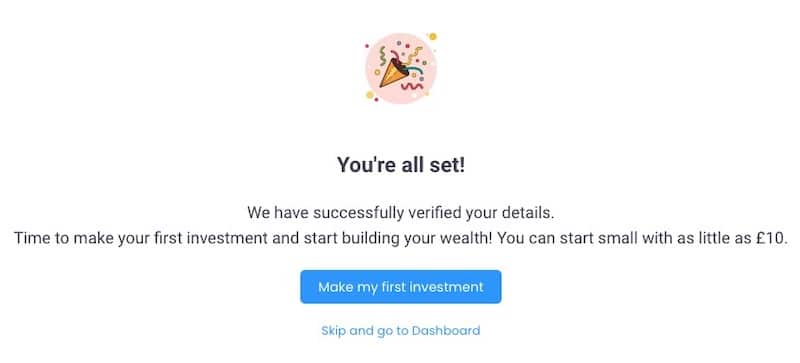 Wealthyhood uses Truelayer to collect payments which means you can use your bank account to make deposits to your Wealthyhood account.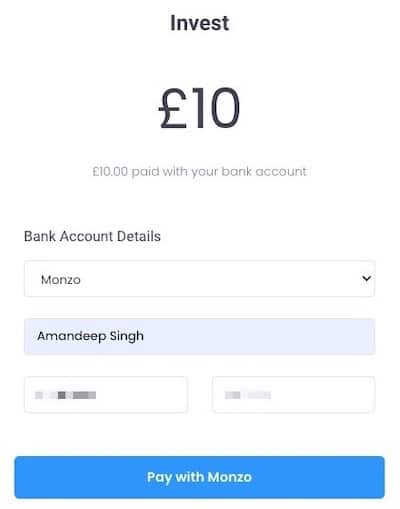 I used my Monzo account to make my first deposit. The minimum deposit you need to make to be eligible for your free ETF share is £10, so make sure you add at least this amount.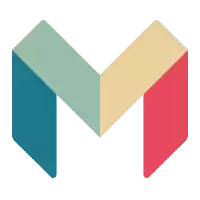 Wealthyhood Plans
Wealthyhood will eventually have three different plans to choose from depending on features and each one with a different subscription cost. At the time of writing this review, only the Beginner plan is available.
Wealthyhood Beginner. Costs £1/month and allows unlimited commission-free investing in ETFs, portfolio automation and over a million personalised portfolio templates. It also includes real-time guidance and insights on ETFs.
Wealthyhood ISA. Cost £3/month. This plan will offer everything included in the beginner plan plus access to Stocks & Shares ISA account which means this plan allows you to invest inside the ISA wrapper for tax benefits.
Wealthyhood Pro. Cost £7/month. The Pro plan will include everything in Beginner and ISA plans along with zero-commission investing in individual stocks.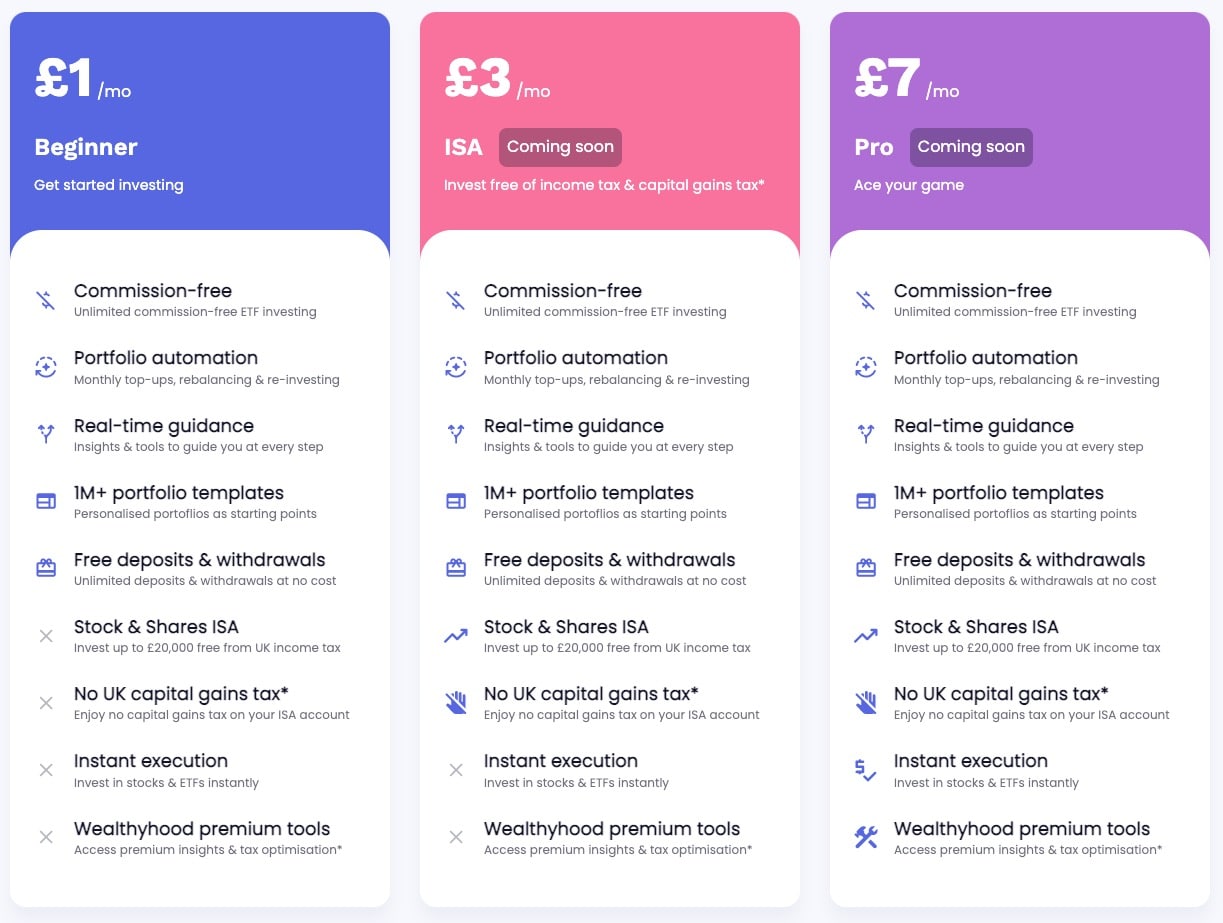 (Capital at risk)
Wealthyhood Free ETF Shares
To head start your wealth-building journey and try out the Wealthyhood account, you can use our link to get a free ETF (or fraction of an ETF) up to the value of £200.
Here's how you can claim your free ETF share from Wealthyhood:
Create your first portfolio and make your first deposit of £10+
You'll get a free ETF share for up to £200 within 5 days of your investment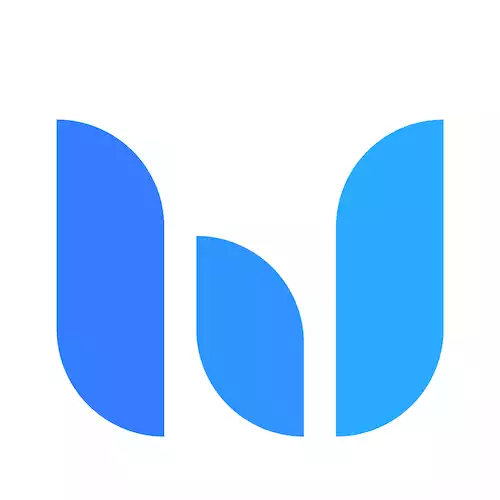 Wealthyhood
Start building your journey to long-term wealth today with Wealthyhood. Sign up today, fund your account and get a free ETF share worth up to £200.
Get Free ETF Share
Capital at risk. We earn a commission if you sign up and fund your account, at no additional cost to you.

Wealthyhood: Customer Reviews
The Wealthyhood profile on Trustpilot doesn't carry any reviews as of now. That could be because it is still a fairly new kid on the block (founded in 2021).
Nevertheless, as a next step, I would usually take to Google Play Store and App Store to see what users had to say about the Wealthyhood app. But the Wealthyhood app is still in the works, and you can only use the web platform for now (which is what I used to sign up).
Wealthyhood's LinkedIn page has 7817 followers and 29 employees, which again shows it is a growing startup in the fintech space.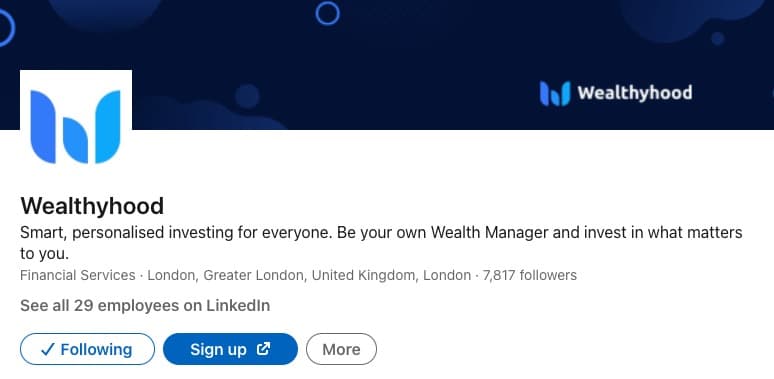 Heading over to Wealthyhood's Instagram page, there are close to 5K followers with a fair amount of posts around personal finance tips, Wealthyhood updates and some helpful infographics.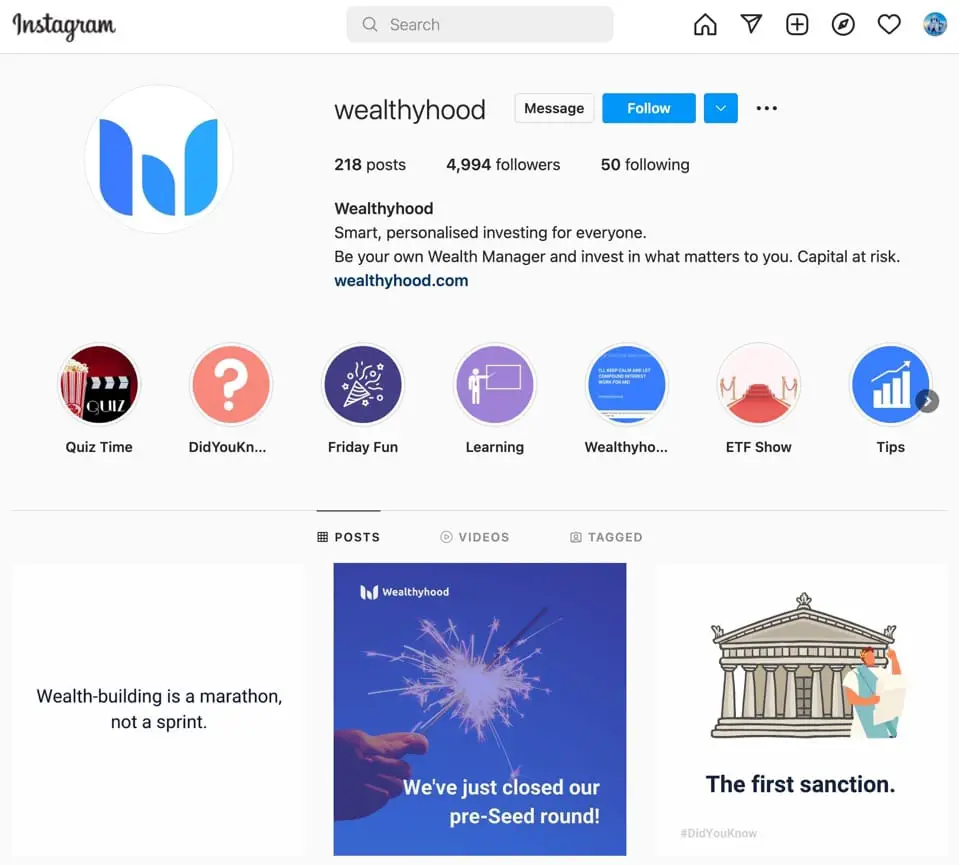 Wealthyhood Review: The Verdict?
Wealthyhood is a new investment platform on the scene that offers some unique features, such as commission-free investing in ETFs and the ability to get a free ETF share worth up to £200. For this review, I created a portfolio and made my first deposit. The app is easy to use and has a clean interface. At a low monthly fee for automating investments in ETFs, the DIY portfolio creator is very easy to use.
In addition, I like that the web app design is user-friendly with beginners in focus. There are plenty of personalisation and automation features to help you make informed investment decisions.
However, at this time, there are no customer reviews available, and there are no mobile apps yet (planned to be released in the coming months). The Wealthyhood team seem to be active on LinkedIn and Instagram with good engagement with followers. Overall, Wealthyhood seems like a safe investment app and is worth trying out.
Sign up for a free account, and try it for yourself. Plus, you get a free share that you can sell and withdraw after 60 days if you don't like the features.
Have you tried Wealthyhood? What did you think? Let me know in the comments below.
If you liked our review of the Wealthyhood investment app, leave your feedback below and share it on social media.
You can also show support by using our link, which may earn us a commission at no additional cost to you. This helps keep the site free for you with honest, no-BS reviews. After you create a portfolio and invest £10+, you get a free ETF share worth £5-200 that you can withdraw after 60 days. It's a win-win.
(Capital at risk)
FAQs about Wealthyhood