If you have been looking for cheaper ways to send money abroad, Wise is an excellent alternative to banks.
I started using Wise (known as TransferWise at the time) to send money to India from the UK in 2014, and this review is based on my personal experience.
Is Wise Money Transfer legit? Can I trust Wise with my money? How fast is it? Is it safe and reliable?
That's EXACTLY what this post is about – a detailed Wise review to answer all your questions.
I'll uncover how it fares on the exchange rates, fees, transfer times, safety and security to help you decide if Wise is an excellent choice for your next money transfer or not.
Spoiler: it's far better than bank transfers or sending money with Paypal.
Disclaimer: This post contains affiliate links that might earn a commission for Comparism if you sign up and transfer money with Wise using our link. However, this is an independent detailed review based on my personal experience. This comes at absolutely no extra cost to you and helps keep Comparism content free. Please read the affiliate disclosure for more details.
Wise Review: At a Glance
Wise is a simple way to transfer money across borders for personal or business needs. It gives you access to actual mid-market exchange rates, the rate that only big corporations and banks get when transferring money to each other.
That is the live rate you'll find on independent sources like Google and XE.com.
One of the main advantages of using Wise money transfer is transparency in the rate offered and fees charged upfront.
Let's take a look at some of the shortcomings weighed against the plus points of Wise.
Pros & Cons
I am all for simple and cheap ways of sending money to India. When I came to the UK, I trusted my Indian bank and used the money transfer service offered by them for years, only to realise this:
Banks charge an insane amount of money in (hidden) fees by converting your money at a bad exchange rate.
The best part? (For banks, of course!) You don't even realise this; because they offer you a "Zero Fee" transfer.
Remember:
If a company doesn't charge you any fees for your overseas transfers, they take a cut out by offering you an exchange rate that has a markup compared to the mid-market rate.
Those are the only two prevalent business models.
You can do a simple check with me!
Search "GBP to INR" on Google or check the GBP-INR pair on XE.com and the rate you see there is the real mid-market exchange rate!
Using your bank's money transfer services without understanding the costs involved is not a great idea. It took me YEARS to realise my mistake, and I took action as soon as I gathered awareness.
In my quest to find the best way to transfer money to India, I stumbled upon Wise back in 2014 (known as TransferWise until Feb 2021), who were disrupting the way banks transfer money traditionally.
Wise is no longer the only money transfer service that offers a transparent fee structure with the exchange at mid-market rates, but they are right there at the top with some of the best ones.
What is Wise?
Wise (formerly TransferWise) is a peer-to-peer international money transfer service that matches transfers for different currency pairs saving money in fees.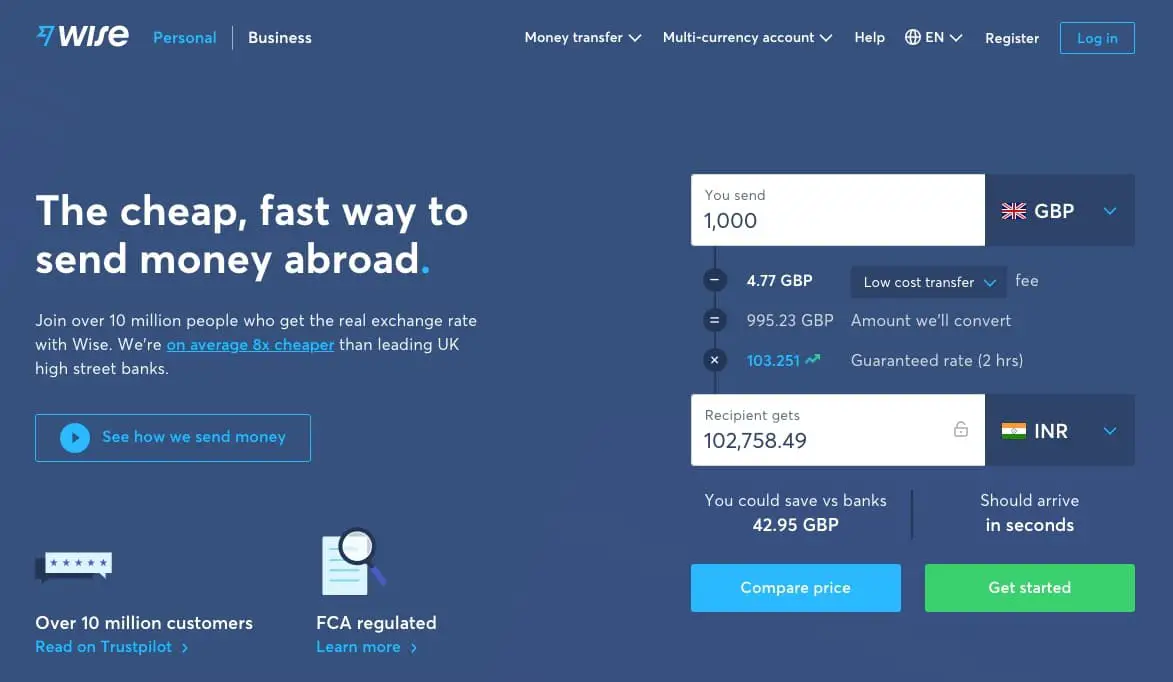 It's like you'd take GBP here from a friend in the UK and pay INR to their bank account in India – saving money otherwise wasted in bank transaction fees.
That's precisely what Wise does and that makes them one of the most transparent and cheap ways of sending money overseas. (I will cover the in-depth details of how it works in a bit!)
With Wise, the money never leaves the borders!
Is Wise Safe?
If you are wondering whether you can trust TransferWise (now, Wise) with your money, it is entirely trustworthy.
When handing over your money to Wise to send to your loved ones, there's nothing to worry about!
Wise moves over £500 million every month globally and is available in 59 countries covering 504 currency combinations.
I have been using them myself for 6+ years now and have only great things to tell about them. I can – without any hesitation – vouch for their transparency with the money transfer requests.
TransferWise is authorised in the UK by the Financial Conduct Authority (FCA) under the Electronic Money Regulations 2011 to issue electronic money.
The web and mobile apps are secure and offer the latest tech and security – 2-step login and fingerprint sign-in are safe and quite handy while placing new transfer requests.
Here's what Wise explains regarding its security standard.
We maintain bank-level security, which is continually independently tested and audited, and reinforced by ongoing training of all of our staff. Our security includes preventative measures, such as 2-step login, and our verification procedures. These are specifically designed to ensure we are protecting your account from unauthorised access.
How does Wise Work and How is it Cheap?
Have you ever tried exchanging money with your friend who lives in the country you are sending money to?
That's pretty similar to how TransferWise (now Wise) works.
Say you are in the UK and want to send money to India and have a friend in the UK who has Rupees lying in an Indian bank account and is now in need of GBP pounds.
A simple trick saves transaction fees and commissions (in the form of a bad exchange rate) that you would otherwise pay to money transfer companies.
Pay your friend here in the UK in GBP pounds, and your friend can, in turn, pay you the equivalent in Indian Rupees to your Indian account.
That's exactly how Wise operates!
Wise is a peer-to-peer money transfer service that matches your remittance request to a similar request in the other direction.
For example, your GBP-INR request from the UK is matched to an equivalent outward remittance from India to the UK.
With a simple, secure swap, the money never physically leaves the borders, and Wise eliminates high bank fees saving a lot.
This allows Wise to allow cheap international money transfers by passing on the benefits to you.
How to send money using Wise (Ex-TransferWise)?
Making an international money transfer with Wise is pretty straightforward. It's a simple process – I have covered it below.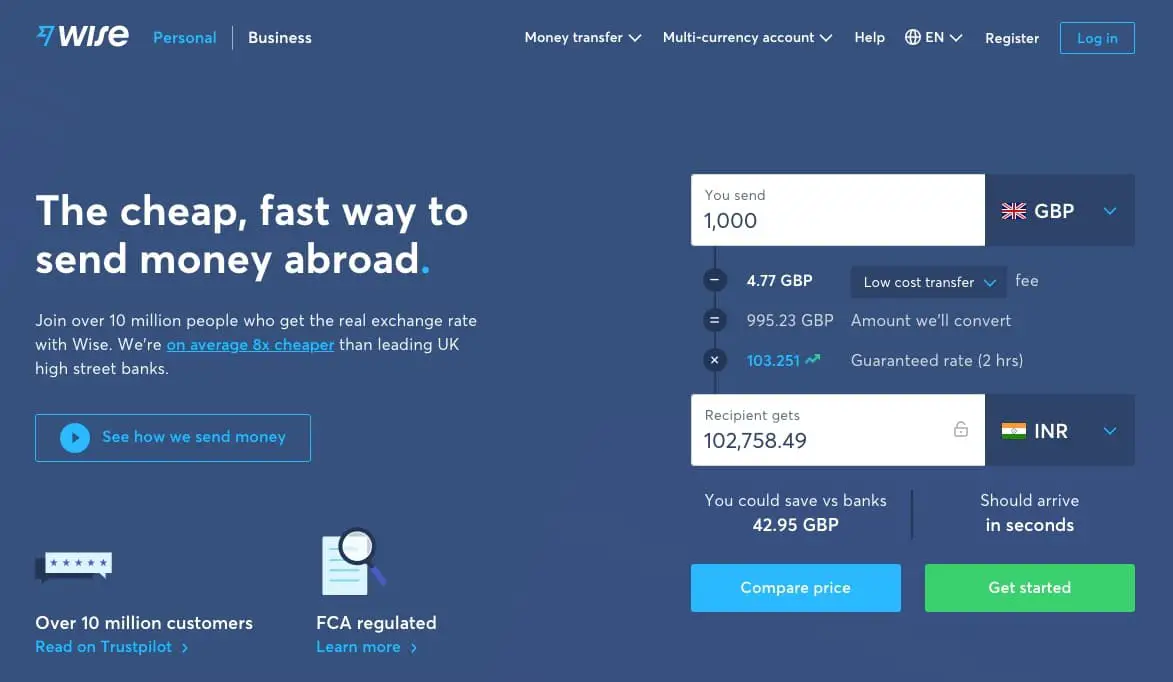 Steps to send money transfer with Wise:
Wise converts the UK Pounds to Indian Rupees (in this example) at the shown rate, and your recipient gets paid the amount in Indian Rupees from Wise's bank account in India.
I followed the above steps to make a money transfer from the UK to India with Wise. The steps involved are the same for all international corridors and currency pairs.
You can use the same steps to make money transfers using Wise on your mobile browser or the Wise native mobile app.
Wise (TransferWise) Fees
TransferWise (now Wise) has been very transparent about how much you pay in fees, and this is their business model.
Wise provides access to real mid-market rates (the rates you see on Google) to consumers adding no markup to the exchange rate, charging a competitive fee and clearly showing the charges up-front.
For money transfers from UK to India, TransferWise charges 0.45% + £0.29 of the transferred amount.
For a 1000 GBP to Indian Rupees transfer, that's £4.77.
Now you might think that that's a lot.
But it's better than the overall deal you get via banks. Let's look at this again.
Wise (ex-TransferWise) uses the real mid-market exchange rate – the rate that you see on Google when you search GBP to INR.
Even after paying £5-ish as a fee on a £1000 transfer, you are still getting more money in conversion compared to most money transfer providers – mainly banks.
If your bank/money transfer company is advertising a 0% fee money transfer and it entices you, well you are paying in many cases as much as 10x that in fees to your bank.
You can check this link to find out how much you pay in fees for any currency pairs.
How Long Does a Wise Money Transfer Take?
When I started sending money with TransferWise back in 2014, it used to take 1-2 working days for the funds to reach the recipient's account (for GBP to INR transfers as an example).
My last money transfer with Wise from the UK to India took 13 seconds!
Over the years, the way Wise moves money has changed a lot and the time taken for money transfers has gone down noticeably.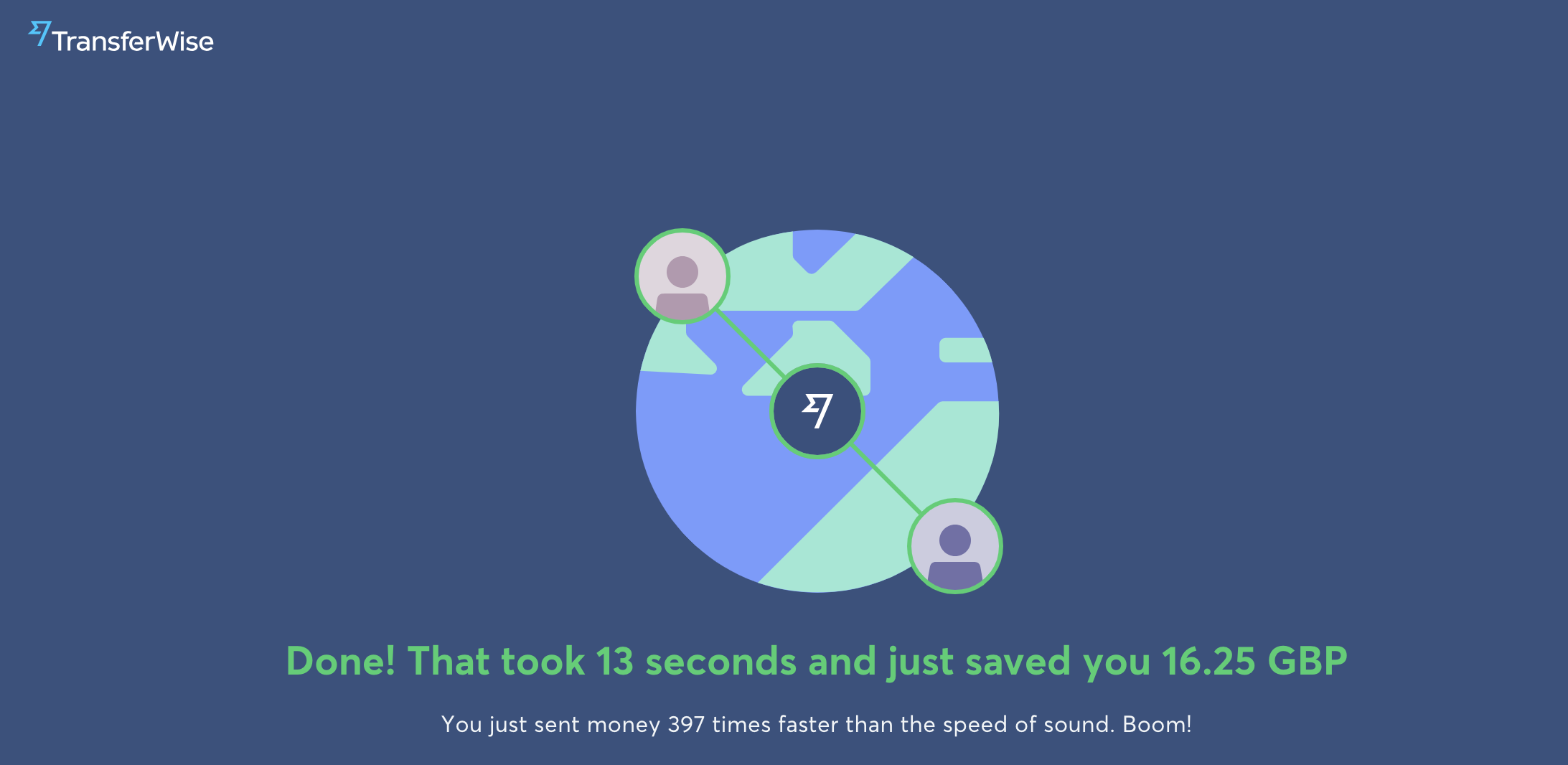 If you do try Wise, do drop a comment below and let me know how long did the transfer take for you.
How to pay for the transfer with Wise.com?
Let's look at your options to pay Wise in detail.
You can pay using a bank transfer to Wise's account (the cheapest option) or other payment methods, including a Credit/Debit card, Apple pay (via iOS app).
For a £1000 transfer:
Bank, SWIFT transfer: £4.77 (Low-cost transfer and Advanced transfer)
Debit/Credit card, Apple Pay: £7.75 (Fast and easy transfer)
If you use a Wise Borderless account, you can also pay from your GBP balance.
Here's a snapshot showing different ways of paying TransferWise along with transfer times.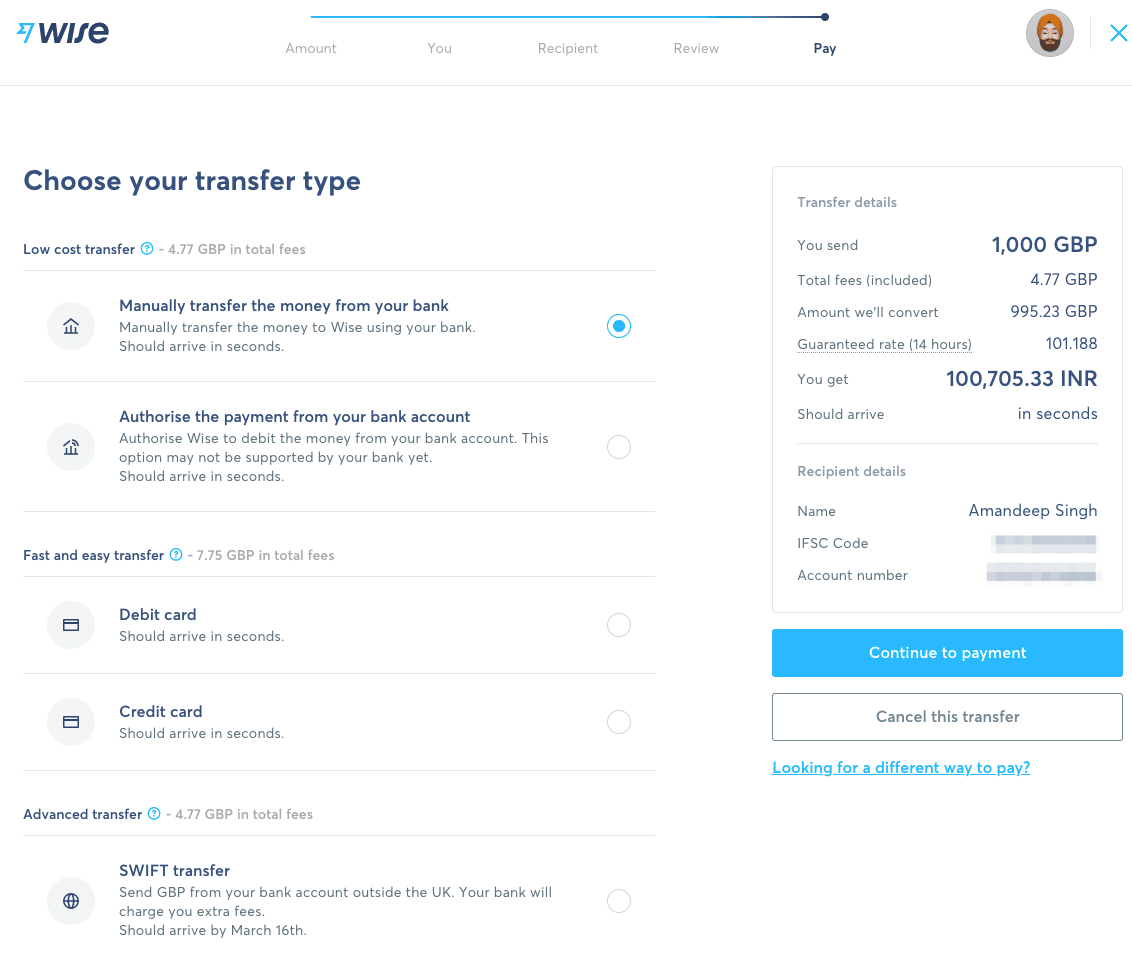 Verification Documents
Depending on the country you're initiating a transfer from, Wise might need to have you verified.
The verification takes 1-3 days.
Wise (formerly TransferWise): User Reviews
Wise has a 4.7/5 TrustScore on Trustpilot based on 114,304 reviews.
Over 94% of users rate the TransferWise service as Excellent/Great.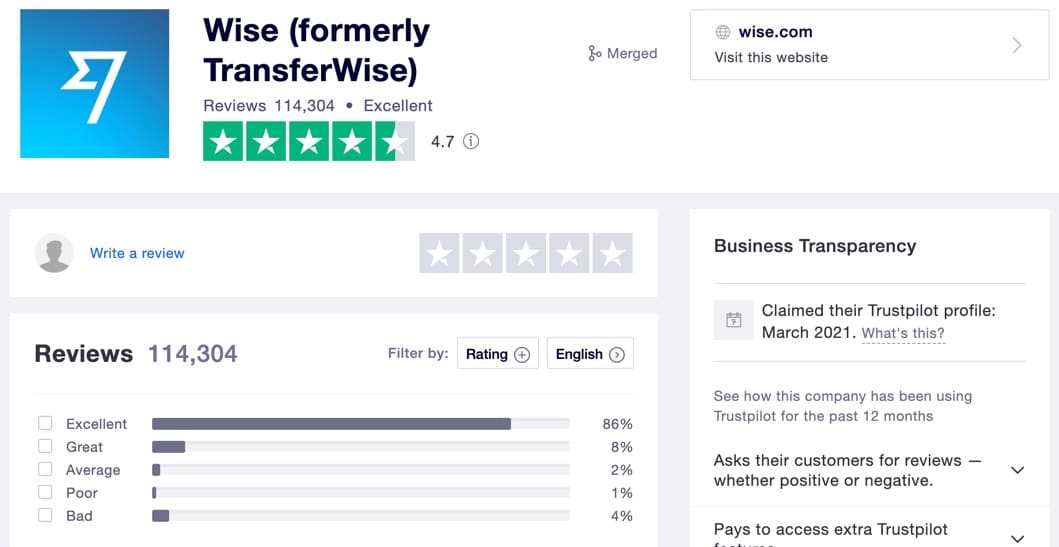 That's some great feedback rating based on 110k+ reviews across services.
Best Wise Money Transfer Alternatives
Let's quickly look at how Wise compares to other money transfer services.
#1. InstaReM vs Wise
InstaReM is an excellent alternative to Wise that offers a fast, secure and convenient way to send money overseas. Like Wise, InstaReM charges low fees and is regulated by the authorities globally.
With InstaReM you can send money to 55+ countries at low fees and great FX rates. They also have a loyalty rewards program where you can collect points to use on your subsequent transfers and save money.
You can use our InstaReM discount code and save £/$/€10 on your first transfer.
#2. XE Money Transfer vs Wise
XE is another alternative to Wise and is one of the most popular names in the money remittance industry with a network of 130+ countries and 98 currencies. With affordable fees and real-time exchange rates, you can't go wrong with XE.
Sign Up for a Free Personal or Business XE Account Here
#3. Remitly vs Wise
With Remitly, you can quickly send international money transfers from 17 countries to more than 100 receiving countries around the globe.
Like Wise, it offers a transparent-fee model, so you always know upfront how much you will pay and how much your recipient will receive.
Remitly offers a few different delivery options, including bank deposit, cash pickup, home delivery, mobile money, and more, depending on the country from where you're sending funds.
You can use our Remitly promo code to get a fee-free transfer and a special rate for your first transfer.
#4. CurrencyFair vs Wise
CurrencyFair boasts that it's "90 per cent cheaper than banks" for sending international transfers. It also offers an open marketplace where users offer and accept exchange rates amongst themselves. Its fees and exchange rates are usually excellent, and the money arrives quickly.
As a bonus for Comparism readers, you can get your first ten CurrencyFair transfers fee-free.
Get First Ten Transfers Free with CurrencyFair Now
#5. WorldRemit vs Wise
WorldRemit is a great alternative to Wise if you're after an international money transfer service that offers a variety of different ways to send money to your loved ones. It is a trusted name in the remittances industry serving 5.7 million customers using 70 different currencies in 130 countries worldwide.
With WorldRemit (review), you can send money via bank transfers, mobile wallets, Airtime top-up and cash pickup.
As a Comparism reader, you can take advantage of the WorldRemit promo code and get your first transfers free.
Get First Three Transfers Free with WorldRemit Now
Wise (ex-TransferWise) Review: Conclusion
There you have it.
I hope you now understand how Wise works and if it suits your needs to send money abroad to your loved ones.
Wise is very transparent about its fees and earning model, has fantastic web/mobile apps and provides one of the quickest solutions to send money to India (and anywhere!).
I haven't come across any concerning issues in the last close to 7 years of personally using it.
If I were to be picky and point out what is a concern for a few people based on the reviews I read on Trustpilot it would be this:
Having a pick-up location service would be an excellent addition for people whose loved ones don't hold a bank account (for example, in India).
But, I understand that'd make Wise a more expensive option, but that could be an offering for those who cannot use Wise otherwise.
Another issue I came across while reading through online reviews is: some transfer routes take a bit longer than promised, but I understand over time, Wise will keep working to make them quicker.
I say this because a few years ago the UK to India money transfer used to take 1-2 days and now it takes less than a minute.
If you plan to use Wise for your international money transfer, head over to Wise.com now to lock your exchange rate.
Apart from the potential problems I have listed above, I am quite happy with Wise and recommend it for your next transfer.
I hope this review by Comparism was helpful to you in making an informed decision.
If you have had any bad experiences with Wise or come across negative reviews or complaints, please share your experience in the comments below.
And finally, please share it with your friends, colleagues and family members on Facebook, Whatsapp and Twitter.
It won't take you more than a minute but will show your support towards my efforts of spending several hours of going through genuine user reviews and bringing such detailed posts to you!
Hit that share button now! 😉
And while we are at it, why not subscribe to my free exclusive newsletter where I send insider tips and the latest deals for international money transfers?
FAQs