With so many options for sending money abroad, it's confusing to pick the one that suits your needs. WorldRemit is an excellent money transfer serviceworldremit offering remittance services for sending 70 currencies to 130+ countries from over 50 countries online.
But is WorldRemit good for you? When does it work for you? And when it doesn't, what are the alternatives you can go for instead?
This WorldRemit review will answer all of these questions and help you decide if WorldRemit is the right way of transferring money for you!
And not only that. I'll walk you through the WorldRemit money transfer user journey – how it works, the fees they charge and if they add any hidden markup to their exchange rates.
We'll also analyse the genuine customer reviews and understand the WorldRemit problems they face so that you have enough information to make the right decision today.
Let's take a close look at this in-depth WorldRemit review.
Disclaimer: This post contains affiliate links that might earn a commission for Comparism if you sign up and transfer money using our link. This comes at absolutely no extra cost to you and helps in keeping Comparism content free. Please read the affiliate disclosure for more details.
WorldRemit Review: Summary
WorldRemit was founded in 2010 and is a trusted name in the remittances industry serving 5.7 million customers using 70 different currencies in 130 countries worldwide.
WorldRemit offers a variety of ways to transfer money to your loved ones (depending on where you're remitting the money) – bank transfers, mobile wallets, Airtime top-up and cash pickup.
Transfer speeds are almost instant, with over 90% of the transactions completed in minutes.
WorldRemit is safe to use and carries excellent reviews from real customers on review websites like TrustPilot and Google reviews.
Overall, a great service for sending money abroad with many different payment options offering quick, secure and convenient transfers.
The exchange rates offered by WorldRemit are much better than most conventional banks who keep a considerable cut from your transfers. But, when compared to alternatives, WorldRemit isn't always the cheapest on the block.
WorldRemit charges a flat fee on all money transfers, no matter how big or small the amount (the costs is the same). However, you can get your first three transfers for free using our link (use Code 3FREE).
Pros and Cons of using WorldRemit Money Transfer
(first three transfers fee-free: use code 3FREE)
What is WorldRemit?
WorldRemit is an online money transfer company in the FinTech space that offers international money transfer services to transfer money or mobile airtime to your loved ones overseas.
WorldRemit was founded in 2010 and is based in the UK with regional hubs in the Philippines, the United States, Cameroon, Poland and Nigeria.
In the last decade or so, it has become one of the most popular money transfer services available. It serves 5.7 Million+ customers globally who can transfer money in 70 currencies from 50 countries to 130+ countries.
With various payout methods for international transfers (bank deposits, mobile transfer, airtime top-ups and cash collection), WorldRemit is a well-known name in the ex-pat community and has become one of the largest remittance companies in the world.
WorldRemit was founded by Ismail Ahmed, with co-founders Catherine Wines and Richard Igoe.
Ismail, a Somali immigrant, experienced the difficulties of transferring money to his family in East Africa when every transfer meant visiting the local agent that charged high transfer fee. So he decided to do something about it and created WorldRemit to help millions similar to him.
WorldRemit belongs to the holding company, Zepz which also owns SendWave, an Africa-focused remittance app. WorldRemit acquired Sendwave in Feb 2021 and rebranded to Zepz after the Series E funding round of $292m in Aug 2021 (source).
Is WorldRemit Safe and Reliable?
WorldRemit is an entirely safe and legit money transfer company. You can send money to multiple countries, has competitive prices, has no hidden charges or fees. Two Million+ customers used their services last year alone.
WorldRemit is licensed by government regulators globally. They are authorised and regulated in the UK by FCA (Financial Conduct Authority), Australia by ASIC and AUSTRAC, and Canada by FASTRAC.
WorldRemit uses industry-leading technology to keep your money safe and protect your accounts from unauthorised login attempts. It boasts of implementing a robust verification process to ensure complete identity checks for all customers.
So you can rest assured your money is safe when you make a transfer with WorldRemit.
How does WorldRemit work?
WorldRemit works pretty much like other online money transfer services. It offers a convenient way to send money online using your computer or a smartphone.
In just a few clicks, you can send money to your loved ones using online bank-to-bank money transfer, mobile money, airtime top-up or cash pick up.
Everything happens online. Including setting up the pickup service. No need to visit the agent.
Using the cash pick up service, your recipient can still pick up the cash in person, but you can set up the whole process online from your computer or mobile phone.
How to transfer money using WorldRemit?
Setting up your money transfer with WorldRemit is a simple three-step process.
Check WorldRemit rates. Go to WorldRemit. Select the currency pair and enter the amount you want to convert in the calculator. The delivery method selected by default is bank to bank transfers which is the cheapest way to remit money. You can select other transfer options available for the currency pair from the drop-down. Based on your selection, you'll see the applicable exchange rate. Once you're happy with the rate, click "Continue."
Create a free WorldRemit account. Next, you'll be shown the applicable fee and transfer time. (Use this WorldRemit coupon code to get three free transfers). Click "Continue" to create a free account using your email address and a secure password. This is so you can manage your transfers and recipients easily. Plus, this is a way for WorldRemit to verify new customer accounts to avoid frauds and keep the system safe for everyone.
Provide your recipient details. Next, add the recipient's bank account details for bank transfers and mobile number for airtime top-ups. As you enter the recipient details, look on the right and enable the Got a promo code? option and enter the code 3FREE to waive off the transfer fees – you can use this code on first three transfers. (follow this link for more details on using the WorldRemit offer). Click "Continue"
Pay WorldRemit and confirm transfer. Choose your payment method (Bank Transfer or Card Payment) and click "Start payment"
You can pay WorldRemit using different payment methods depending on the transfer type you opted.
Payment Methods Available with WorldRemit Money Transfer Service
WorldRemit gives you quite a few choices to send money to your loved ones. The transfer types available depend on the country from where you're sending the money.
Bank transfer: If you want to electronically make a bank to bank money transfer, you can use the WorldRemit bank transfer option. How it works is: after you signup for a free account with WorldRemit, enter the amount and the currency pair you want to send. Next, enter your recipient details, including their bank details. Finally, pay WorldRemit using your local bank account.
Cash Pickup: If you choose to opt for the cash pickup service, once you have set up the transfer online, cash is available for your recipient to collect in minutes from any location close to your recipient.
Mobile Money: With this method, you can use the WorldRemit electronic wallet service to safely and securely store, send and receive money using your mobile phone. Paying with mobile money is simple – just like sending a text message.
Airtime Topup: Using WorldRemit Airtime Topup, you can send a mobile recharge top-up (add talk-time or data allowance) direct to your recipient's pre-paid mobile phone plan overseas. Airtime top-ups done via WorldRemit are usually instant.
Home Delivery: Yeah! Fancy right? Home delivery of physical cash to your recipient's home address. WorldRemit offers a home delivery service only in Vietnam currently.
WorldRemit Verification process
As WorldRemit is a regulated money transfer company, they need to verify the identity of all their customers, which is a standard process in this industry.
WorldRemit will ask you to provide identity verifications documents to authorise your account. The process is pretty straightforward – you upload the document(s), and the team verifies them and approve your account.
WorldRemit Fees and Exchange Rates
Let's look at the World Remit fee structure.
WorldRemit Fees
When it comes to fees, WorldRemit charges a fixed charge per transaction, which varies depending on the country from/to you're sending money and the payment type.
Usually, bank transfers have lower fees and payments using other methods have high transfer fees.
In addition, WorldRemit uses a transparent-fee model, so you always know how much you will be paying and how much your recipient will receive. The fee is flat, so it doesn't change whether you send a small amount like £100 or a larger amount like £10,000.
For example, if you're sending money from the UK to Canada (GBP to CAD), you're charged a low transfer fee of £0.99 (for any amount).
If you're sending money to India from the UK (GBP to INR), the flat fee is £1.49.
Another example, for GBP to USD transfers from the UK to the United States, the transfer fees is £2.99.
WorldRemit Exchange rates
The exchange rate offered by WorldRemit varies based on the amount you're sending.
Unlike Wise (review), WorldRemit doesn't use the mid-market rate. Meaning: WorldRemit adds a markup to its exchange rates.
So, in addition to the flat fees, you also pay a percentage in exchange rate markup ranging from 1-5% depending on the currency pair you're converting.
Adding a markup on the exchange rate is a pretty common practice, and for WorldRemit, it is within the range we would expect for a reliable remittance service.
This makes WorldRemit overall offering lagging behind XE, Remitly and Wise, and at-par with CurrencyFair and InstaReM.
How long does the money transfer take with WorldRemit?
WorldRemit claims 90% of their bank transfers take a few minutes to complete for most banks. However, the ones that don't happen instantly could take up to 4 days, depending on the bank involved and the country/currency pair you're transacting.
Airtime top-ups, cash pickups and mobile wallet transfers happen instantly or take about ten minutes to complete.
The speed of WorldRemit money transfer (and any other service broadly) depends on:
the currency pair you're converting
the countries from/to where you're sending money
the payment method you're choosing
You'll get the exact time it'd take for your transfer on the calculator, depending on the transfer method you choose with WorldRemit.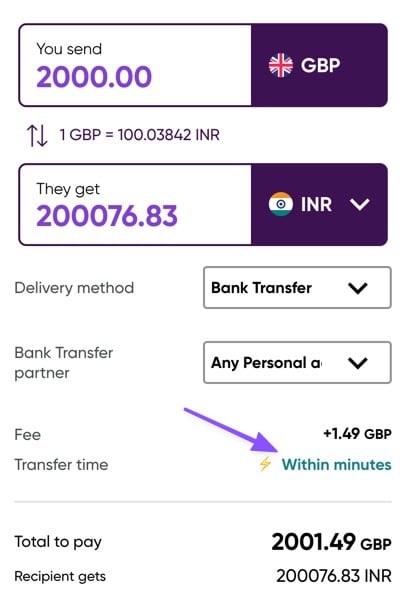 WorldRemit Cash pickup Service
In addition to offering online service for bank-to-bank money transfers, mobile wallets and Airtime top-up, WorldRemit also provides a cash pickup service using which your recipient can pick up physical cash almost instantly.
What does your recipient need to pick up cash?
To collect the money sent to a cash pickup location, here are the things your recipient should keep in mind.
Photo ID: The photo identification document should show the recipient's full name and match the name used while setting up the cash pick ups.
Transaction Reference number: When you set up the transfer, you must provide the recipient's mobile number. Your recipient will be notified when the cash is ready to be collected. You can also share this number with your recipient yourself when the status in your online shows the money is ready to be collected.
Visit the correct cash pick up point: Your recipient needs to visit the exact collection location you selected while transferring the money using the cash pick up service.
WorldRemit: What do Customer Reviews Say?
What do customers think of WorldRemit?
To find this out, I took on the task to comb through hundreds of comments left by real customers on Trustpilot, where WorldRemit has scored an average of 4 out of 5 stars.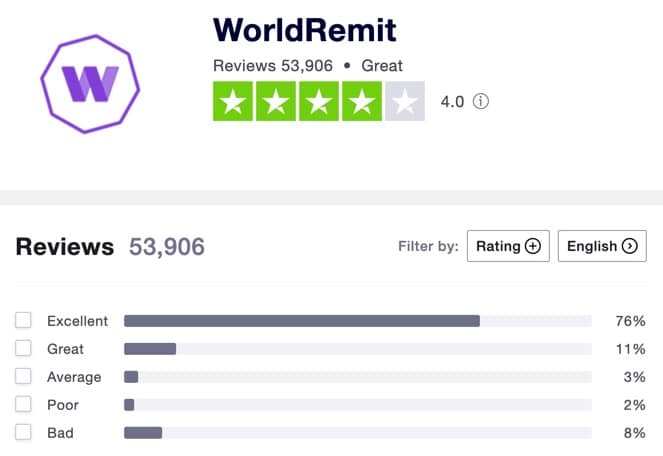 Looking at the positive feedback, the customers highlighted the following benefits of the service in their reviews:
Ease of use: "The website is easy to use and navigate. The transfer process was simple."
Speed: "The money arrived very quickly – much sooner than I expected."
Low fees: "Fees were much lower than those of the banks I had used in the past."
Convenience: "The fact that I could send money from my phone was very convenient."
Security: "I felt confident that my money was safe and would arrive at its destination."
Going through the negative reviews, the main complaints are about the speed of transfers (which can sometimes be slow for some people due to various reasons) and that WorldRemit doesn't offer support over the phone.
However, these seem to be relatively minor complaints, especially compared to the many positive reviews. Overall, WorldRemit customers seem happy with the service.
How good is WorldRemit customer support?
Based on customers' reviews on various websites, WorldRemit customer support is rated as good. In particular, people seem to appreciate the company's quick response times and ability to solve problems quickly.
One reviewer states, "I had a question about my transfer, and I got a response in minutes. They were very helpful, friendly and accommodating."
Another reviewer expressed that they could quickly get in touch with someone when their transaction went wrong. They articulated, "WorldRemit got back to me as soon as possible and sorted it out for me even though I was on a weekend break. The money ended up coming through whilst I was away, which was fantastic!"
Another one: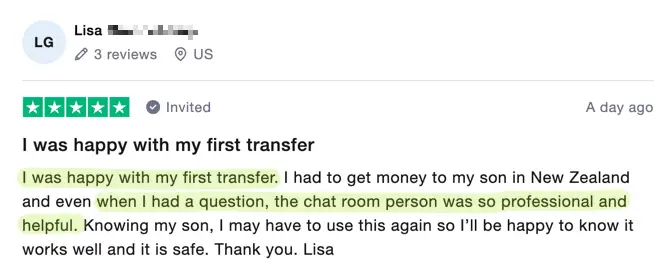 WorldRemit Mobile Apps
You can initiate your money transfer with WorldRemit using the desktop and mobile web experience. In addition, WorldRemit also has native money transfer apps on both major mobile platforms – Apple iOS and Google Play (Android).
The WorldPay iOS app has a fantastic score of 4.7/5 based on 66.7K customer ratings.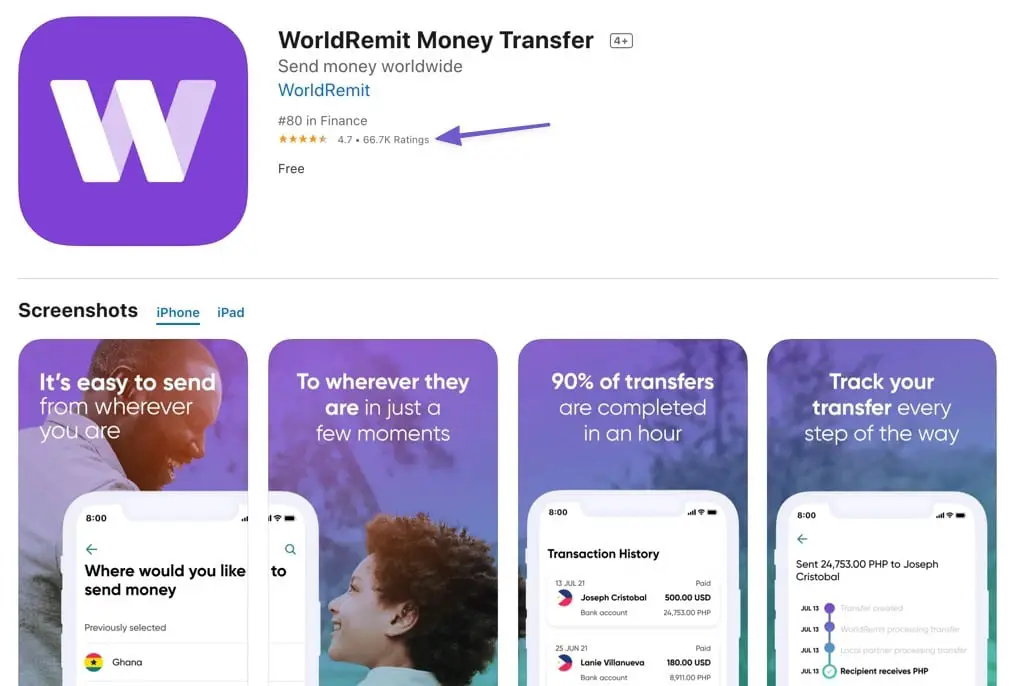 The WorldRemit Android app is rated 4.4/5 based on a massive 107.5K customer reviews. That is a lot of feedback from real customers.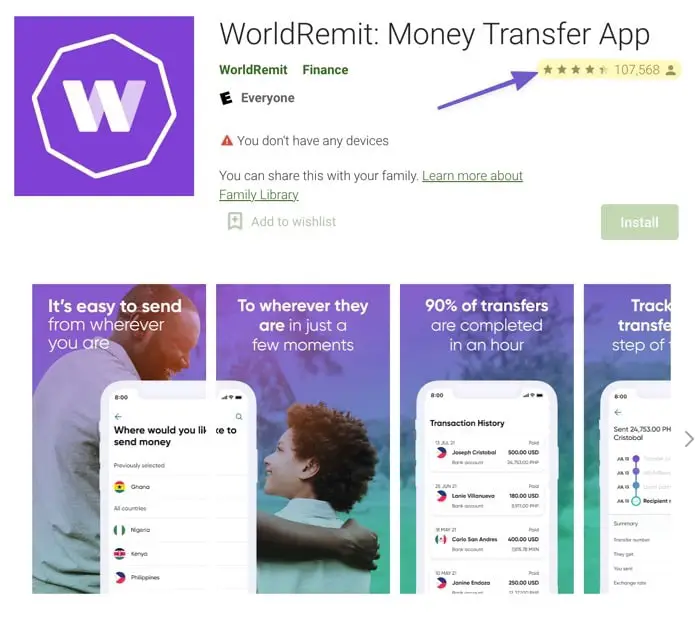 The Google Play Store shows the WorldRemit app has over 5million+ installs.
Best WorldRemit Alternatives
Let's quickly look at how WorldRemit compares to other money transfer services.
#1. Wise (formerly TransferWise)
Wise is one of the most popular international remittance services with over 11 million customers. It started as a money transfer service and now offers an international currency account and a Debit card that you can use to spend overseas without hefty conversion charges.
Unlike WorldRemit, Wise uses a real-time mid-market exchange rate with a transparent low fees structure.
If you want to send money to a bank account, Wise is usually better than WorldRemit. However, if you want more flexible options like cash pickups and mobile airtime top-up, use WorldRemit.
Learn more in our detailed Wise review here.
#2. XE Money Transfer
XE is another great alternative to WorldRemit and is one of the most popular names in the money remittance industry with a network of 130+ countries and 98 currencies. With affordable fees and real-time exchange rates, you can't go wrong with XE.
If sending cash to an agent location cash pick-up is not a requirement, then XE is a great option.
Sign up for a free personal or business XE account here
#3. InstaReM
InstaReM is another alternative to WorldRemit that offers a fast, secure and convenient way to send money overseas. Like WorldRemit, InstaReM is regulated by the authorities globally.
With InstaReM you can send money to 55+ countries at low fees and great FX rates. They also have a loyalty rewards program where you can collect points to use on your subsequent transfers and save money.
You can use our InstaReM discount code and save £/$/€10 on your first transfer.
#4. Remitly
With Remitly, you can quickly send international money transfers from 17 countries to more than 100 receiving countries around the globe.
Like WorldRemit, it offers a transparent-fee model, so you always know upfront how much you will pay and how much your recipient will receive.
Remitly offers a few different delivery options, including bank deposit, cash pickup, home delivery, mobile money, and more, depending on the country from where you're sending funds.
You can use our Remitly promo code to get a fee-free transfer and special rate for your first transfer.
#5. CurrencyFair
CurrencyFair boasts that it's "90 per cent cheaper than banks" for sending money transfers. It also offers an open marketplace where users offer and accept exchange rates between themselves. Its fees and exchange rates are usually excellent, and the money arrives quickly.
As a bonus for Comparism readers, you can get your first ten CurrencyFair transfers fee-free by following this link.
WorldRemit Money Transfer Review: Verdict
There you have it!
A detailed review of WorldRemit to help you decide if WorldRemit works for you.
We tried the WorldRemit web and mobile apps and also went through the reviews left by real customers to give you a detailed summary of what customers like about the company and some areas that could be improved on.
To summarise:
Overall, WorldRemit is a good money transfer service that customers seem to be happy with. It offers a convenient, secure, and affordable alternative to banks. Of course, there are a few negative reviews, but they are in the minority.
When does it work?
WorldRemit is great for people who need to make a quick international money transfer and offers a practically convenient way for almost anyone. Moreover, they charge a transparent fee for its services, which is usually lower than what banks charge and very competitive to other players.
The company quickly responds to inquiries and has a friendly and helpful customer support team. The mobile apps are worth checking out if you're looking for a quick way to send money abroad on the go.
When doesn't it work?
One of the only complaints about WorldRemit is that its exchange rates are not always as reasonable as those offered by other alternatives. So, if you're looking for the best possible deal on your money transfer, you might want to compare rates before choosing WorldRemit.
There are several alternatives to WorldRemit, including Wise, InstaReM, and Remitly, that you might want to compare as well and choose the one you prefer.
I hope this post gives you a better understanding of WorldRemit services and help you make an informed choice.
As you can see from reading this article, there are many benefits associated with transferring your money through an online platform such as WorldRemit – but it's essential to do your research before choosing which company to go with!
(three zero-fee transfers – use WorldRemit code 3FREE)
If you have any further questions about WorldRemit, please drop me a comment below.
Frequently Asked Questions about WorldRemit