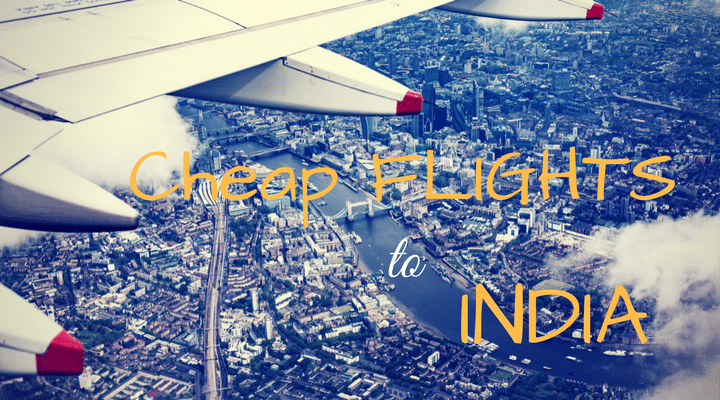 "How do I find cheap flights to India from the UK?"
"Where can I get the best deal on last-minute tickets to India?"
"When is the best time to buy the cheapest flight tickets to India?"
These are a few of many questions you want to be answered when you plan your travel to India from the UK (or anywhere).
You start your quest of buying the cheapest tickets for your trip back home.
Despite the importance of comparing quotes and doing some shopping around, this is how most people's flight booking process looks like:
Step 1: Go to their favourite flight booking website
Step 2: Enter preferred destination and journey dates
Step 3: Book the cheapest preferred flights from this site
NO comparisons, NO shopping around!
Money saved = £0.00!
Well, today, that changes.
Because now I will show you EXACTLY how to book cheap flight tickets to India – the SMART way!
In this comprehensive guide, I have penned down how I book my flights from the UK to India for cheap and the sites that I use and trust to book my tickets.
But there's a catch!
Before you go ahead and fire up your favourite website to book your flights, you will have to take a pause and READ what I have to tell you!
And then, TAKE ACTION!
Once you go through this guide, you will understand why I had to say this to you! 😉
If you are a student, special websites offer exclusive flight discounts that you can get to travel for less.
For more details on student discounts on flights, look at my article about cheap student flights.
I live in London and often travel to India to visit my family. How much a flight to India cost makes a difference as that is where a significant chunk of trip expense goes. So spending a couple of hours sifting through different sites is not a bad idea.
As I booked my flights this time, I thought of doing a quick post to show you the process I follow to book my flights to India from the UK and list down the best sites to book the cheapest flight tickets to India.
Disclaimer: This article includes affiliate links that might provide a commission to me at absolutely no extra cost if you use my links for flight booking. However, these are the best ways to book cheap flights to India that I found effective for 2021. For more information, you can read my affiliate disclosure.
How I book my flight tickets to India to get the best deals?
These are the steps I follow to get the best deals on my flights.
#1. Dates and destination city
First things first, plan my travel dates and preferred airport of departure in the UK and arrival in India.
#2. Hide your searches
Open a new browser tab in Incognito mode in Chrome (Private Window in Firefox or Safari, if you are using a Mac).
Why? The idea is to hide your searches!
As you search with different combinations of date, city, and connections, the websites use cookies to monitor your search activities, as I explain in the next steps. This enables them to identify you as desperate and surge the price slightly to create urgency so that you book it NOW, fearing the prices will increase. Act smart and hide your searches, and the cookies wouldn't know anything about you. 😉
#3. Search flights using comparison websites
Start with flight comparison sites (I have listed the ones I frequently). To start with, I stick to one comparison site (and it is usually any of these – KAYAK, Skyscanner or Momondo – more details about these later!).
#4. Add flights with one stop to the search
I prefer to book cheap direct flights to India from London, but that's not possible every time, so I also add flights with one-stop to my search filter, which ends up being less expensive. Taking a via Dubai trip with a short 2-hour stop won't make much of a difference in terms of time but, depending on what days you are looking for, you can save some serious money adding one stop-over!
#5. Try changing dates of travel
When I check different options on flight comparison sites, I also try changing my travel dates by 1-2 days.
Why? Flight fares depend on the dates of travel you want to book and how much those days are in demand. Flights for weekends, public holidays in the UK, and festivals in India are more expensive than working days (you knew that already!). If you can avoid travelling on the weekend or public holidays, you will get cheap fares. So play around with different options.
Best Sites to Book Low-cost Flights to India
1. Kayak
KAYAK allows you to filter flight costs based on the payment method you want to use – Credit/Debit card – and shows you related fees upfront. One great feature I like that probably no other website gives is, you can select one flight (departure, for example), and it gives you all the possible returns you can get on the chosen departure flight.
Plus, KAYAK has a neat algorithm that allows it to recommend whether you should Buy as it thinks prices could go up in the future or Wait as they could go down!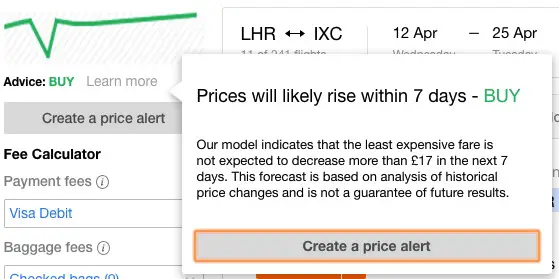 ---
2. Skyscanner
Skyscanner is another great site to get competitive flight fares to India or anywhere in the world. It shows you all the flight options available, spread over the month, so you can choose the affordable flight connection that suits you.
With comprehensive coverage of budget flights, you will end up getting a broad range of flight quotes for your trip. Skyscanner allows you to search fares for a whole month, so if you are not very keen on particular dates, you can use this feature to book the cheapest air tickets to India.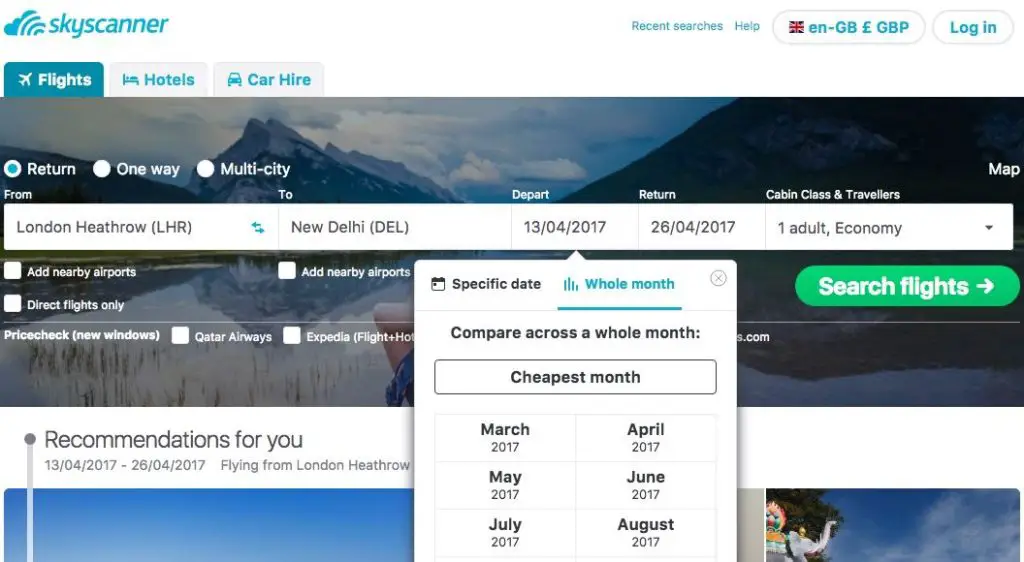 ---
3. Momondo
If you have used Skyscanner, you will love the Momondo flight search tool as well. I quite like Momondo's unique offering "Flight Insights" which is very useful and could save you £100's using the details presented in this tool.
The data is based on millions of flight searches that Momondo serves and is presented in nice graphs and pie charts that you can easily understand and put to use. It gives you an insight into when to book, which day is the least expensive and which airport is cheapest to book.
---
4. Google Flights
Yes, Google also has a comparison tool to compare different flight options and fares. Once you have selected the outbound and return flights you want to book, it gives you the link to proceed with your booking with different sites like eDreams, Expedia and Bravofly. If you go
If you go directly to these websites, you get the same flight at a slightly expensive fare, is what I have observed. So, worth booking your air tickets to India via Google Flights.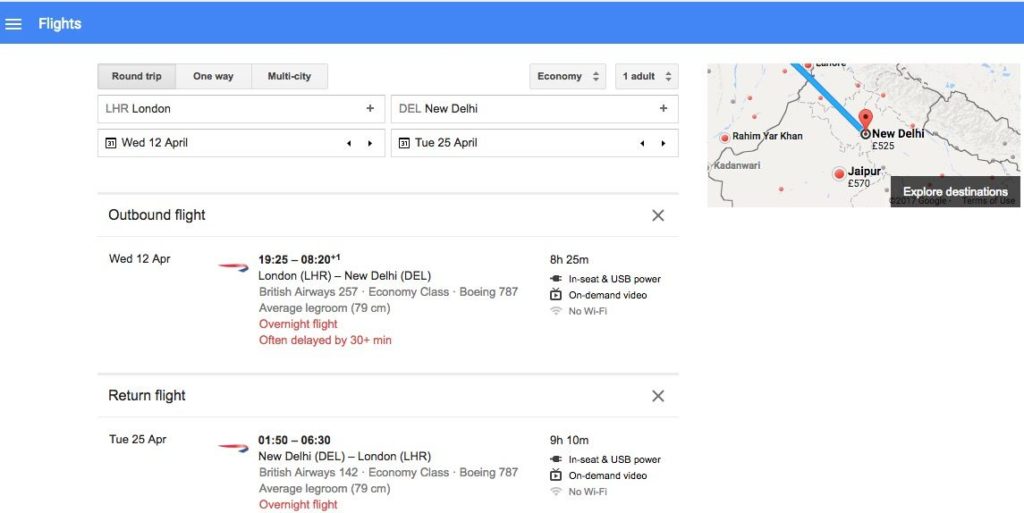 ---
5. Southall Travel
When you were new to the UK and booked flights to India for the first time, chances are you would have done it using Southall Travels. For ST, word-of-mouth is doing unpaid advertising, and they are prevalent among Indians in the UK.
I booked my first flight from the UK to India with Southall Travels. The website doesn't let you book flights in real-time online – you need to call them to get the best options. Haggling works with them, so try – nothing wrong in trying!
I used them for the first few years when I went to India on holiday from the UK. However, I need to share that after using them for a few years, I thought of trying some of the services above and realised Southall Travel isn't the cheapest every time. I just used to call them whenever I needed to book my travel to India and later found even more affordable options using different comparison sites.
So what I do is this: once I know the best deal am getting from flight comparison sites, I call Southall Travel to check if they can beat the price.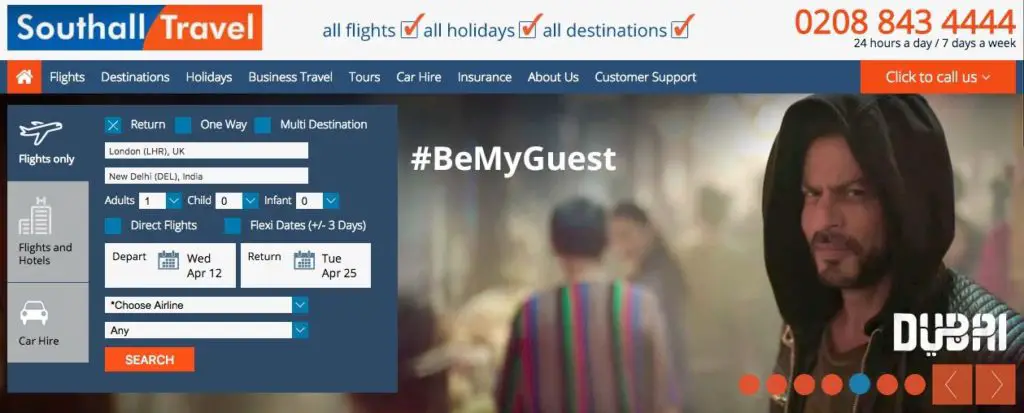 ---
So, these are the sites I use to book my air tickets. The takeaway is to shop around to get the best quotes for your flights. Go with the one you save money with!
Tips to Get the Cheapest Flights to India
Here are the top tips for landing the best flight offers for your next trip to India.
Keep your searches hidden – Flight booking sites use cookies and know when you seem desperate to book a connection. No wonder after a few searches, the flight price increases which scares you into booking the trip right away before the price rises further. Always book your flights in incognito or private browsing mode.
Book using comparison sites – they could save you £££s. In my research, if you book direct, the same itinerary ended up slightly expensive using direct sites. I have given a lot of options above so use them and find the one that you like and shop around to get the best fares.
Fly on the cheapest day – Flight comparison sites like Skyscanner and Momondo allow you to search flights for a whole month enabling you to pick the cheapest days to fly. Try it out on both outbound and return flights, and you could save some serious money! Momondo, in 2016 annual flight study based on 13 billion fares, found Tuesday is the cheapest day to fly. Skyscanner thinks alike and recommends booking in the afternoon is the best.
Fly to the cheapest place – If possible try searching for different destinations like New Delhi / Mumbai / Chennai. Flying to some cities can be less expensive than others, and it makes sense to book the domestic leg separately within India.
Book as soon as you can – If you know your dates of travel, my advice is to book them as soon as you can. Unlike hotels (which offer last minute deals), I have rarely experienced this with flights! So if you know your dates and have fixed your plan of travel, book them! When is the best time to book? Momondo Flight study suggests, 56 days before departure is the best time to book flights so apply this for your next search for flights to India.
---
Over to you!
I hope you found this post helpful and now clearly understand how to book the cheapest flights to India. If you know about more ways of saving money when booking your trip to India, do let me know in the comments section below.
If the tips I have listed in this post have helped you, don't forget to share them with your friends, colleagues and relative via email, Facebook, Twitter, Whatsapp or whatever you use to communicate with them 😉
Enjoy!