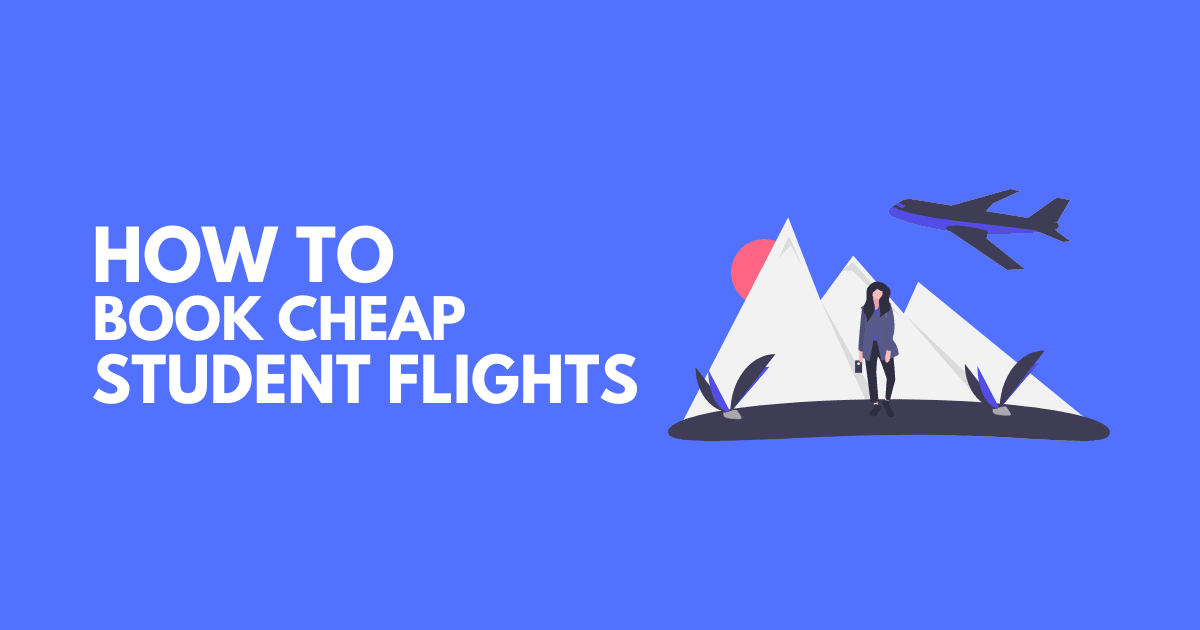 Looking for cheap student flights?
In this post, that's EXACTLY what you will learn – how not to break the bank when booking flight tickets as a student.
By the end, you will know how to book cheap flights as a student and travel to India from the UK and the world for less.
All work and no play makes Jack a dull boy.
…an old saying but still makes a lot of sense in our lives today.
As you become busier with work, studies, and daily routines, taking a break now and then from daily chores is an excellent way to refresh your mind.
Travelling is a great way to do so and visiting a new country, a different culture replenishes the lost energy, and you return with a new perspective on life – enlightened and inspired.
Travelling teaches you so many new things, and as a student, that's pure GOLD. It's good to break free and see the world, and you don't need to break the bank to see new places.
How to Get Student Discount on Flights to India?
If you haven't already read my post about tips to book cheap flights to India from UK, I recommend you to read it now!
Done?
I hope you found it useful. Now, let's take a look at how you can book the cheapest flight tickets for students.
One of the best things about being a student is the discounts! 😛
Carriers offer some spectacular deals that make travelling as a student far cheap as compared to paying a regular full-priced ticket.
I so envy students as they have discounts on great products from companies like Apple.
Haha, I am kidding!
No wait, I do! 😀
If you are a student who needs to travel abroad for study, work or simply a vacation, you get student discounts and end up buying flights for cheap.
Flight costs constitute a major portion of your expenditure on travel – if you can manage to get a decent student discount on flights, you can spend less and still see more of the world.
Some websites specialise in discounted student flight deals – using them you can search and compare different flights with student discounts.
Whether you plan to book student flights to study abroad, work, or just to take a vacation, you can get student concessions on flights and travel on a budget.
You can save some serious moolah on our international travel and could spend your savings in more enjoyable ways.
Why are Student Flights So Cheap?
Do students get discounts on flights?
Well, yes.
Companies (websites) negotiate deals specifically for this demographic (students and youths) through contracts with dozens of leading airlines. By doing so, these sites can exclusively sell the cheapest airfares to young people across the planet.
Who is Eligible for Student Flights?
If you are a student or faculty of a recognised university/school, you are eligible to buy student flight tickets.
Student flights are only for students, and you will have to prove your student status to get cheap flights for students.
Websites to Book Cheap Student Flights from the UK?
If you are looking for cheap flight tickets for students from the UK to India or anywhere in the world, these websites offer some great deals for the globetrotter in you.
I also did the same flight search (LHR to DEL) for direct and one-stop flights to see which website offers the cheapest flight deals for students.
1. STA Travel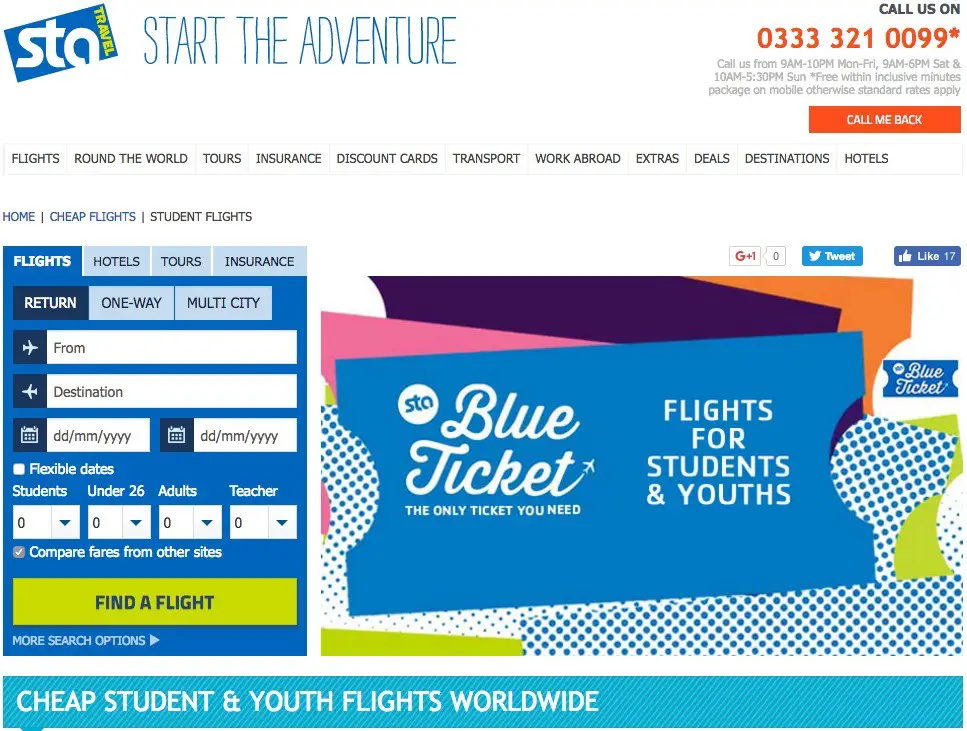 STA Travel – started in 1979 – can get you access to exclusive student flights prices. Code-named "Blue Ticket," these are flight tickets for many airlines that are exclusive to STA Travel and are available to students and youth (aged under 30 years).
To book student fares with STA Travel, you need an International Student Identity Card (ISIC) which you need to purchase from the site for £12.
While booking flights, you need to provide a unique card number to qualify for student flight discounts. With STA Travel, airlines do not accept College or University identity cards as proof of student status.
To be eligible for an ISIC card, you need to be over 12 years old and a full-time student or, UK Open University student with registration for 60 points or, a Gap Year student with a confirmed place with University/College after the gap year.
For the flight search criteria I mentioned above (LHR to DEL leaving on 05 July and returning on 19 July), the price available at STA Travel is £559 for a direct flight and £501 for a flight with one stopover.
2. StudentUniverse UK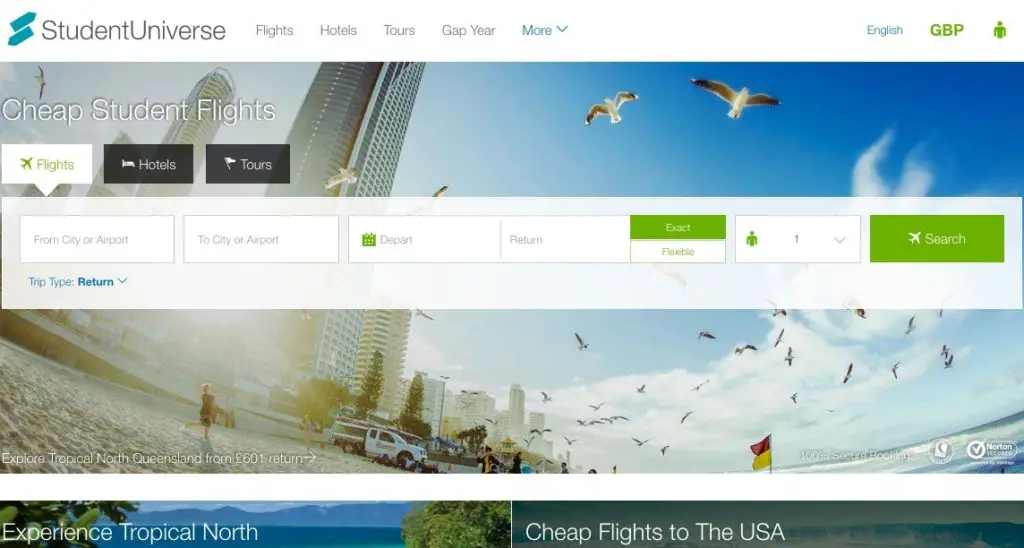 StudentUniverse UK also offers student discounts on international flights and holidays.
To get cheap student flight fares, you should be enrolled in any college in the world that is accredited by the government, community college or 2-4 years university and currently taking classes. You do not need to be attending school/college full time – as long as you are enrolled and taking classes, you are eligible for flight discounts as a student.
Unlike STA Travel, you do NOT need an ISIC (International Student) to purchase student flights with StudentUniverse – around £12 saved!
In addition to discounts on flights for students, SU also offers Youth Fares. To qualify for youth tickets, you do not necessarily need to be a student and just need to be between 16-25 years old. Also, you don't need or IYTC (International Youth Card) to book flights as a youth with StudentUniverse.
From LHR to DEL from 05 July to 19 July, the cheapest direct flight is £575, and the cheapest one-stop flight is £463 at the time of writing this post.
Bonus Tip: If you are a student aged 16-25 which means you qualify as both youth and a student, sign up as a student to get the best student offers on international flights.
You can also use student discount codes for flight booking with StudentUniverse to get further discounts.
Use promo code 'NEW10' to get £10 off your first purchase at StudentUniverse.
3. CheapOair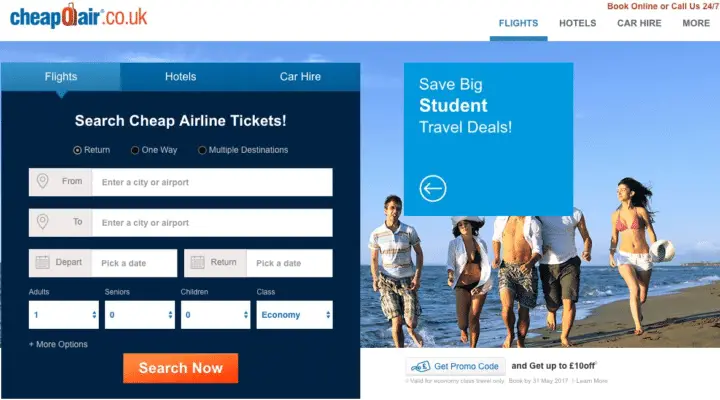 CheapOair has a dedicated student flight deals page where you can search and book cheap flight tickets offering huge student discounts.
For the London Heathrow to Delhi return flight on the same dates (05 Jul – 19 Jul), the cheapest direct flight is £619, and one-stop is £498.
Bonus Tip: You can subscribe to CheapOair newsletter to get a £10 off promo code for your first purchase.
---
Cheap Student Flights: Summary
So there you have it.
I hope this article helps you book the cheapest student flights to India from the UK.
Although in this article I have focussed on getting the best deals on India to UK flights as a student, the websites work for pretty much any international route you want to book.
Grabbing the best deal on flight tickets can make a huge difference to your overall cost of travel.
If you are a student and saved some money using the student flight booking tips in this article, please do share this with your fellow students, and university/school faculty members.
You can do so by sharing this article on Facebook, Twitter and Whatsapp or you can even mail it to your friends in school.
What is the best tip or website that you can recommend to get the best deals on international flights as a student?
Please do share your tips/feedback in the comments section below.