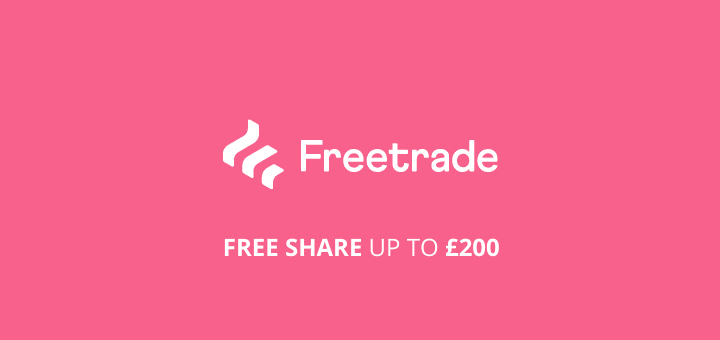 Freetrade Free Share
Join Freetrade and get a free stock share worth £3 to £200 when you fund your account with min. £1.
Get Your Free Share
All Deals
Freetrade Free Share
Looking for Freetrade free share referral invite in the UK?
Here's my Freetrade promo code link to get you one free stock share worth up to £200 when you open a GIA (Invest) or ISA account with Freetrade.
(worth up to £200)
Skip everything and get your free share with Freetrade now
You need to register for an account, fill the W8BEN (US) tax form and make a minimum deposit of £1 and your mystery share will be sent in 7-10 days. Read on as I explain the whole redemption process.
Note: To get the free share award, you must use the referral link (you don't get a free share if you downloaded the app directly) AND fund your Freetrade account within 30 days of signing up otherwise the award lapses.
The free stock offer from Freetrade is available to the UK residents only. US nationals or dual US nationals who reside in the UK are excluded.
Freetrade Features
Here are some of the top features I like from using it so far:
Zero commissions or hidden fees on investing in stocks and ETFs
3800+ stocks and ETFs from US and UK
Unlimited instant trades
Freetrade also allows you to buy fractional shares that allows you to buy event the most expensive shares (like Amazon that trades for $3000+) from as little as a few quids. You don't need to buy one full share.
Compared to Trading212, Freetrade charges you to have an ISA account £3/month. For now I have only opened up the GIA account to try out the app and have got my ISA investments in Trading212.
💰How to get your free share with Freetrade?
Follow the steps below to get your free stock when you open a new Freetrade account and fund it.
Go to this Freetrade referral link 🔗
Click on "Get The App" button on the webpage. If you're doing it from your computer, enter your phone number and you'll get a text on your phone with the free share link.
Install the Freetrade app and Create a free account 👨🏻‍💻
You'll be taken to the App Store on iOS or Play Store on Android to download the Freetrade app
Once installed, open the app and on the first screen click on Continue.
Enter your email address and click continue.
Sign in to your Freetrade account and Confirm identity 🕵🏼‍♀️
You'll be sent a verification email with the magic link that'll sign you in to Freetrade app.
Choose a passcode – you'll need this to log in to the app and confirm important transactions.
Enter your First name and Surname and DOB on the next screens. Enter your postcode and select your address.
Confirm nationality.

The W-8BEN form is to let you invest in US stocks (and get you a chance to get the free stock from the US)
If you choose not to fill the W-8BEN, that means your free share could be allocated only from the UK

Choose account type ⚖️
ISA £3 per month or GIA (General Investment Account) – £0 per month FREE
Fund your account.
That's it – once your account has been funded, your application is submitted.
In most cases, your information will be reviewed manually and account approved.
Get your free share! 🥳
Once you've made your deposit (min. £1), we both should receive a free stock from Freetrade within 7-10 days. The stock is randomly picked from a list of around 90 interesting companies in the UK and the US valued between £3 and £200. Good luck!
Up to £200? 🤑
Yes, that's right! If you're lucky, you might get a share in Disney Microsoft like I got one in Walt Disney using the Trading212 deal.
Don't feel sad if you don't – it's still free money as you are guaranteed to get one share for free.🕺🏻
Let me know what free share you get.
Remember: To get your free share successfully, make sure you use the invite link (you don't get a free share if you downloaded the app and signed up directly) AND fund your Freetrade account within 30 days of signing up otherwise the award lapses.
---
Using this Freetrade free share promotional offer, you and I both get one free share up to a worth of £200.
Once you sign up using my invite link and get your free share, you can use your own unique Freetrade free share invite and refer your friends to get more free shares under the Freetrade referral program.
How to invite your friends to get more Free Shares with Freetrade?
Here's a bonus tip on how to get more free shares with Freetrade.
Open the Freetrade app
On the first tab (Portfolio), click on the button that says "Free shares"
Click on "Send a free share" button and share your unique Freetrade free share referral link with your friends.
Once they sign up to Freetrade and follow the instructions to make their first deposit, you'll both get a free share.
You can invite as many friends as you want and get a free share for every friend who funds their account.
Frequently Asked Questions