Best Price Comparison Websites UK (Nov 2023) to Save Serious Money
The UK boasts a plethora of price comparison websites, each offering unique advantages and focused on different categories. These platforms range from comparing financial products, such as insurance and banking services, to travel services (flights, hotels or rental cars), electronic goods, and household utilities, to name a few.
If you're looking for the best price comparison websites in the UK, look no further – we've got you covered.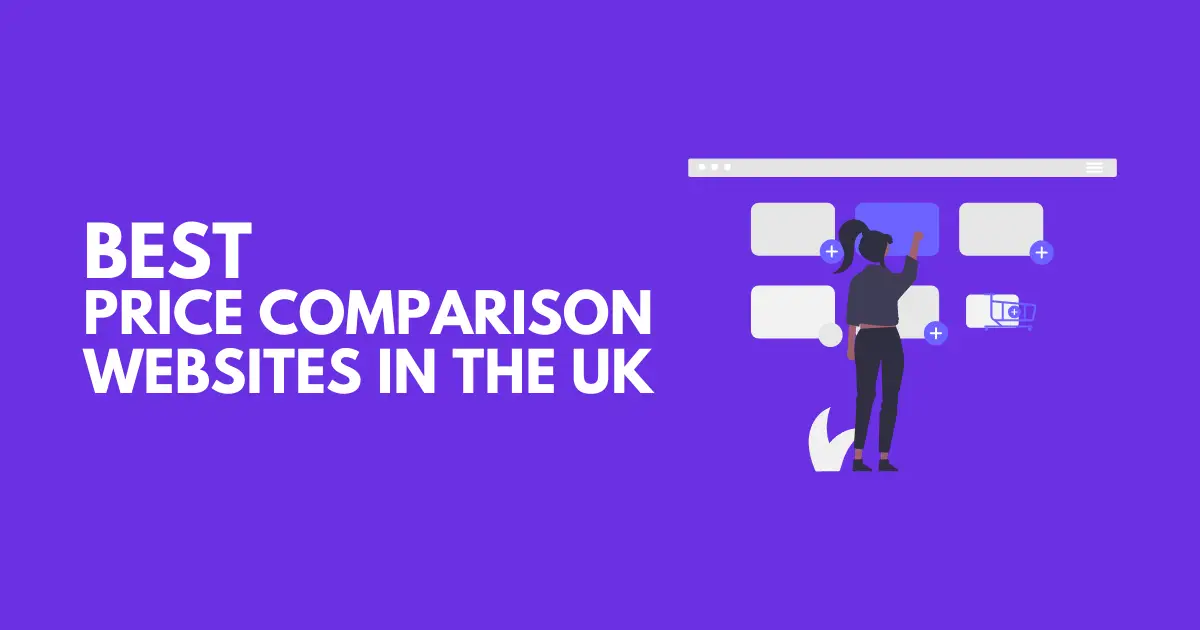 By being aware of the top options available, you can make informed choices and shop smarter. No more time and energy wasted browsing many websites to find the best deal.
So what are you waiting for? Check out our favourites below and start comparing prices today!
Happy Shopping!
Disclaimer: Some links on this article are affiliate links where I may receive a small commission at absolutely no extra cost to you. However, that doesn't influence our content, and these are the best websites you can use to compare products and services effectively in the UK today. For more information, you can read my affiliate disclosure.
Best Price Comparison Websites in the UK
After reviewing several price finders for products and services they compare, ease of use and other key factors, we've rounded up the best comparison websites available today.
Stay tuned as we delve deeper into these websites and explore the most suitable one for your specific requirements.
Best Price Comparison Sites in the UK
When shopping online, price comparison websites can be a real lifesaver. By comparing prices on different websites, you can ensure you get the best deal possible on whatever you're buying.
Here is a list of the top comparison websites in the UK in detail:
MoneySuperMarket is one of the UK's leading price comparison websites with over 12 million active users. It started as a mortgage subscription business back in 1987. In the late 90s, the website was launched to compare personal loans and credit cards.
You can compare various financial products like credit cards, loans, car insurance, home insurance, travel insurance, mortgages, and even energy tariffs and breakdown cover to get the best deals.
Using MoneySuperMarket is easy.
You need to go on the MoneySuperMarket website and choose a product category or search for a specific item you want to buy online.
Then, they'll display the results side-by-side with all of your available options. Comparing what's available this way is easier as you can see who offers better rates without visiting hundreds of websites yourself!
MoneySuperMarket also operates TravelSuperMarket.com and MoneySavingExpert.com. In addition, it recently acquired the leading UK cashback website, Quidco.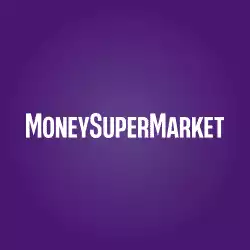 2. Confused.com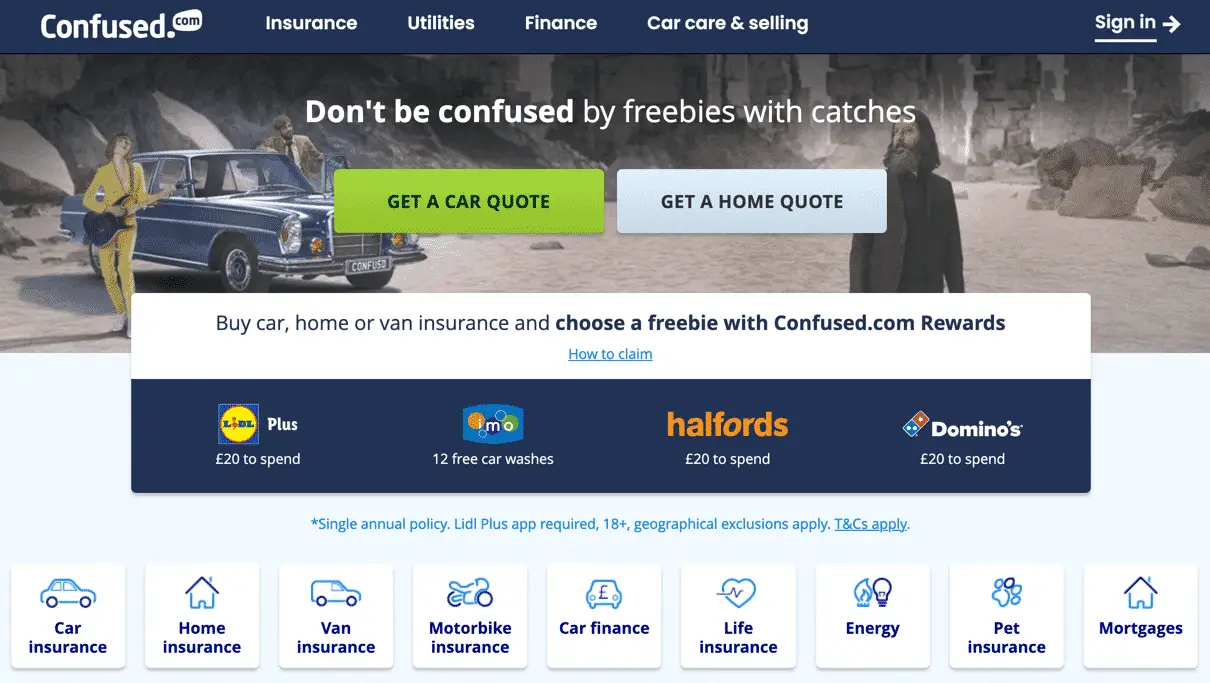 Confused.com is the UK's first-ever comparison site. With more than 15 million monthly users now, it is also the longest-running comparison site. It is the fourth largest car insurance comparison website in the UK by ranking.
Confused.com compares a wide range of insurance types and financial services. You'll find them all on the website, from car insurance to home insurance, personal loans, and mortgages.
They also compare utilities like mobile phones, TV, broadband and energy.
Confused.com is free and has a beneficial community section where users share their experiences with particular products or services. It used to be owned by the Admiral group. It is now a part of the ZPG (Zoopla Property Group) through its comparison site group division RVU.
Other brands in the same group include Zoopla, money.co.uk and uSwitch. However, Confused.com is an entirely independent business.
3. Compare the Market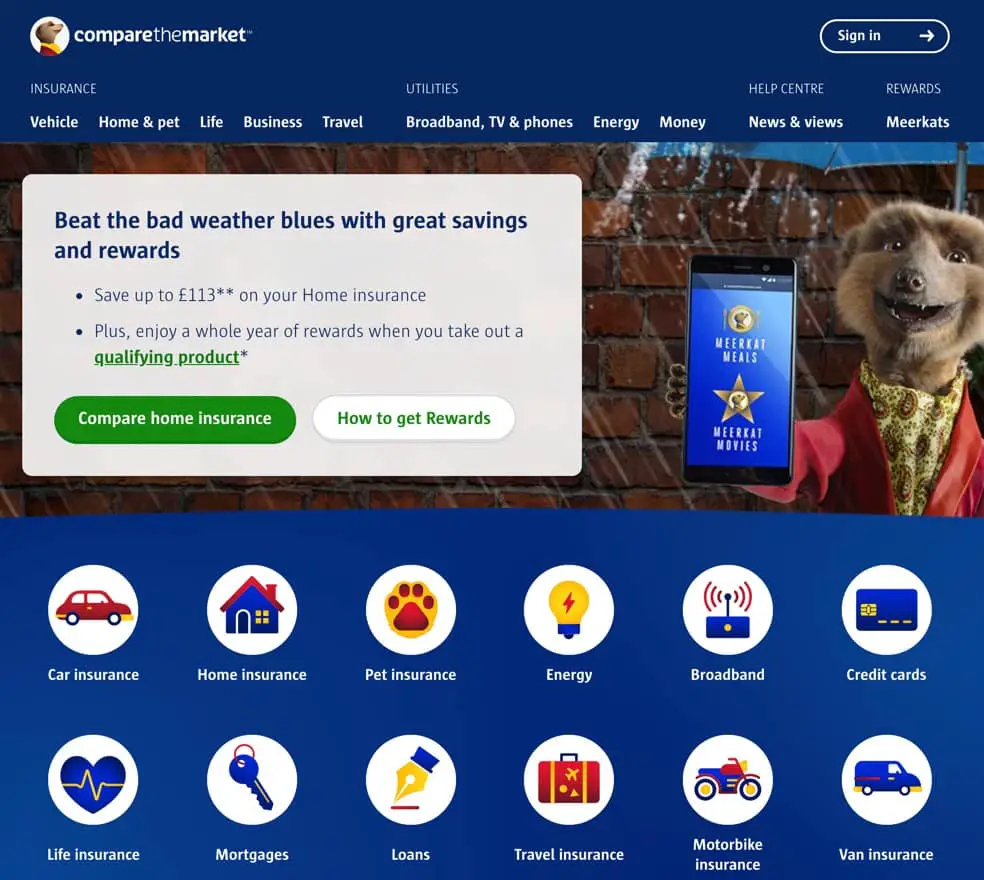 ComparetheMarket.com is one of the best financial comparison sites in the UK. It helps you compare various financial products like mortgages, loans, credit cards and current accounts, and insurance products like vehicle, pet, home, life and business insurance.
They also compare broadband and dual fuel (energy) deals.
You can create a free account to manage all your quotes in one place. That also means never having to fill in your details to get quotes again in the future.
Comparethemarket has a customer rewards program for buying a qualifying product. For example, you get access to Meerkat Movies that get you 2-for-1 cinema tickets (Tues or Wed on two standard tickets).
With Meerkat Meals, you can get at least 10% off takeaways throughout the week and 25% off the entire bill or 2-for-1 on selected food at participating restaurants.
4. GoCompare
GoCompare is a popular website in the UK that started in 2006.
GoCompare has grown since then, making it one of the biggest comparison sites in the UK. Also, they were the first comparison site to compare products based on features and not just prices.
It gives you an easy way to compare services like car insurance, dual fuel, broadband, mobile phone contracts or breakdown cover.
In Nov 2020, GoCompare became a part of Future plc, Britain's biggest magazine publisher.
Idealo is one of Europe's popular price comparison websites that lets you compare products across different categories like electronics, computing, home & garden, toys, gaming and fashion.
Founded in 2000, Idealo has built an extensive database with over 350 million offers from over 50,000 retailers, with prices from leading retailers like Amazon and eBay to smaller specialist sites.
Idealo is free for shoppers on the website, their browser extension or the mobile app to help you compare products while shopping online.
You can also compare flights using their dedicated portal – Idealo Flights.
Apart from the UK, Idealo is available in Germany, Austria, France, Spain, and Italy, with a dedicated website.
6. PriceRunner UK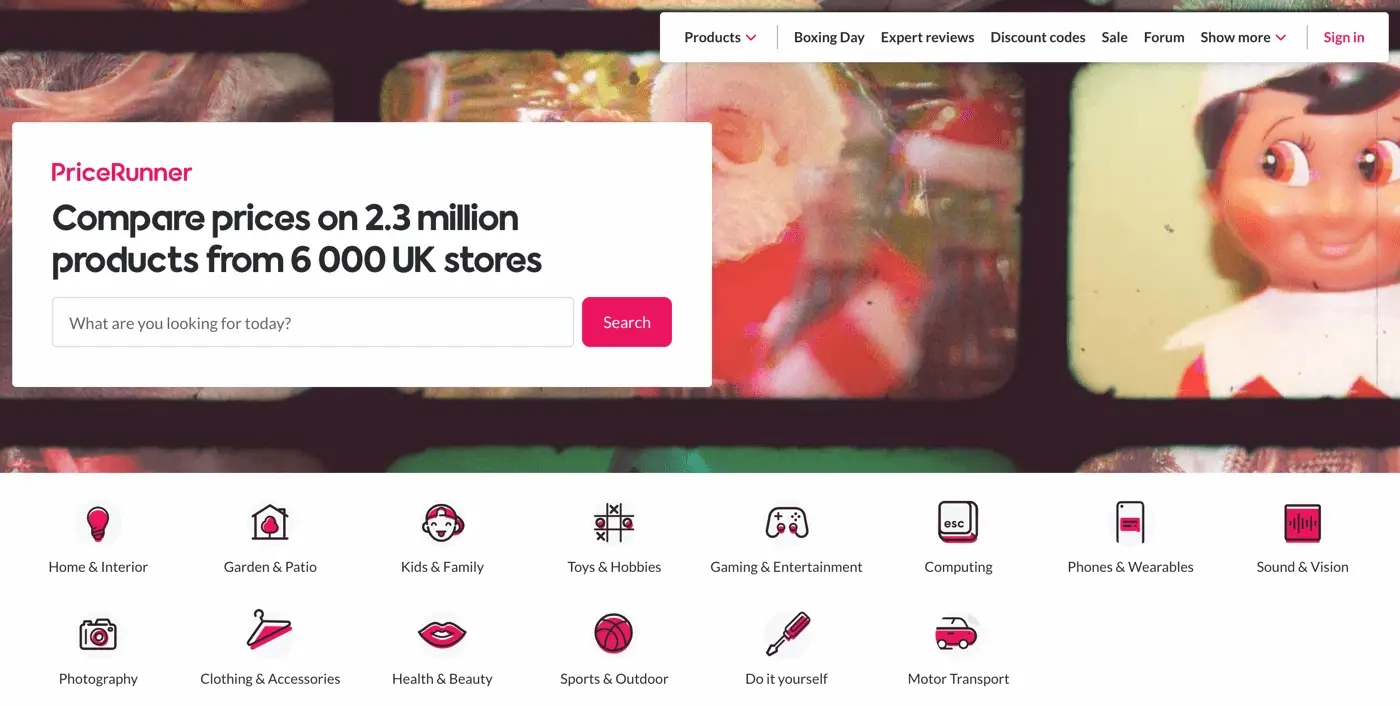 PriceRunner UK is a leading product and price comparison service that compares top online consumer brands from various categories.
They help you get the best price on 2.3 million products from 6000+ UK stores.
It's been around since 1999 and features many categories, including phones and wearables, home appliances, photography, computing (laptops, tablets), garden items (lawnmowers, BBQs), games and DIY.
The comparison engine allows you to narrow down your selection based on price, brand, product features, and many other variables using the filter tool.
You can also create an account on the PriceRunner website to help you with future orders, store your wishlist, and compare products.
7. PriceSpy UK

PriceSpy UK allows you to compare products like mobiles, tablets, laptops, cameras or video gaming consoles across top online retailers in the country.
Other categories on the website include white goods, household appliances, home & garden, kids & family and sports items.
You can search for the product you're looking for or browse through one of the categories to end up on the product page. Here, you'll find the price of the same product from several online retailers, which you can then visit to make your purchase.
PriceSpy UK is a free service, and you can also download their mobile apps on Android or iOS.
You can register for a free account to access added features like price change alerts, save and sync product lists, and write reviews on products.
8. CamelCamelCamel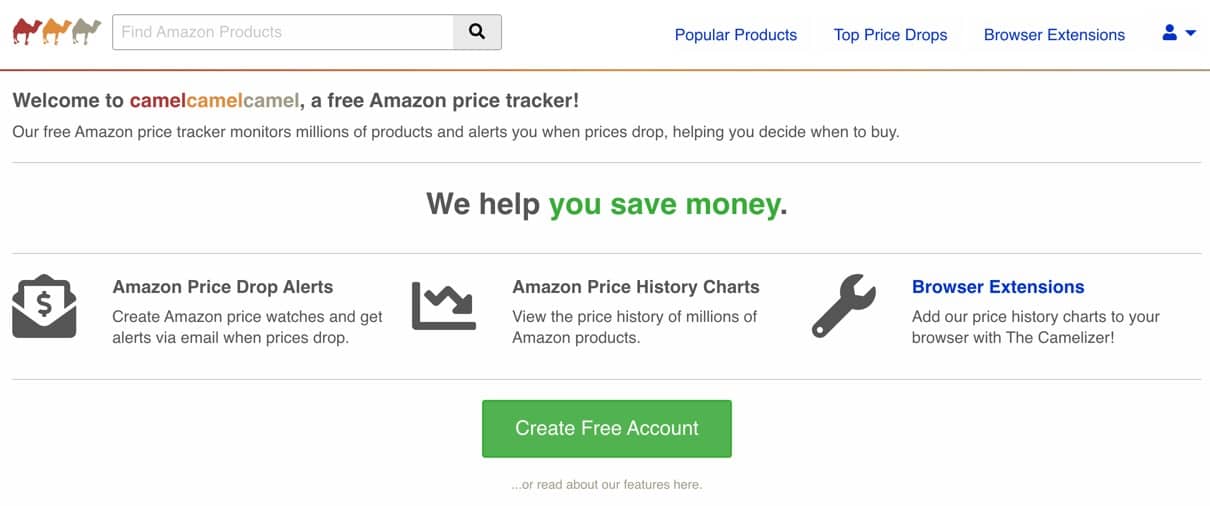 CamelCamelCamel is the best price comparison website for Amazon products. It helps you track different Amazon products and get price drop alerts when price changes happen.
You can also access price history charts on millions of Amazon products over time, which is fantastic, so you will know if today's price is your best deal.
CamelCamel also offers a chrome extension called The Camelizer. It helps you access price charts on an item's product page without copying and pasting.
The Camelizer can be a real time-saver; it works conveniently through your browser while shopping on Amazon instead of opening up CamelCamelCamel's website in another tab.
9. Skyscanner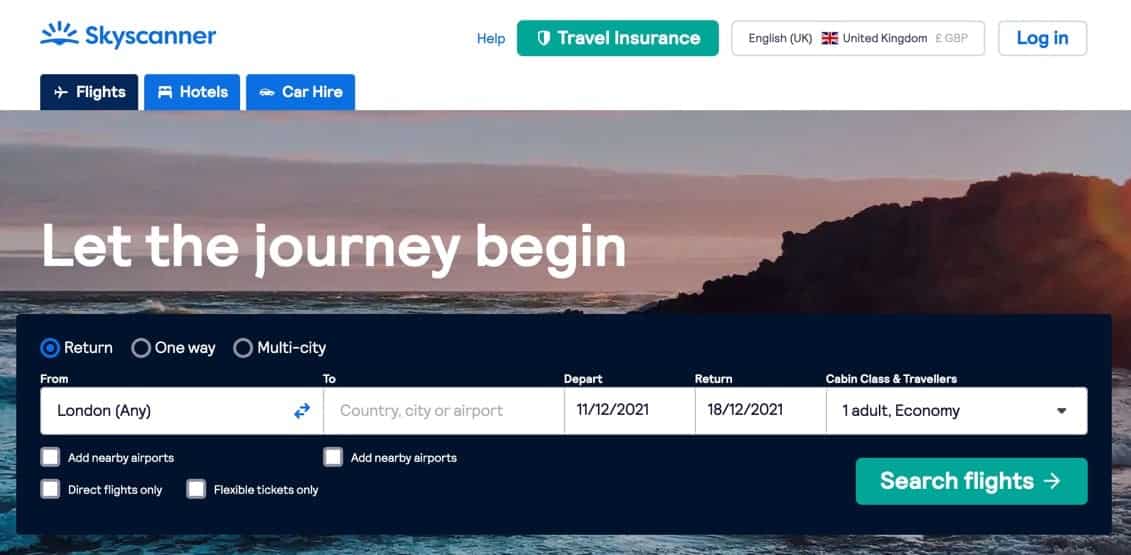 Skyscanner is a website and app that helps you find cheap flights, hotels and car hire. The site compares prices from over 700 airlines and millions of rooms to help you find the cheapest price for your trip.
It was founded in 2003 and has become one of the world's most popular flight search engines.
Skyscanner is easy to use, and the results show you exactly how much your trip will cost, including taxes and charges. In addition, you'll be able to book on the airlines' website or, for some companies, directly from Skyscanner's website or app with just a few clicks!
Booking.com is a popular platform where you can search and compare hotel prices. With their extensive database of properties, you can find various accommodation options ranging from luxurious hotels to budget-friendly hostels. The user-friendly interface allows you to filter results based on your preferences, such as location, price range, and facilities like hotels with EV charging.
Moreover, with their flexible cancellation policies, you can book with confidence, knowing that you have the power to make changes if your plans take an unexpected turn.
When searching for a hotel on Booking.com, you can investigate the property thoroughly by reading reviews from other travellers. This helps you gauge the quality of the accommodation and make a well-informed decision. You might also want to use the map view feature to identify the location's convenience and access to attractions.
Kayak started in 2004 and is a popular price comparison website in the travel industry. It is one of the best price finders for flights, hotels, car rentals and more.
In 2013, it became a part of the Booking Holdings group, the world leader in online travel running popular sites like Booking.com, Priceline, Agoda, OpenTable and RentalCars.
Using Kayak's track prices feature for flights, you can set up alerts for notifications when the cost of flight changes to book at the best time.
Kayak has a unique purchase advisory feature for flights where they advise if it's okay to book the flights now or wait for better deals.
On top of all that, Kayak has a flight price tracker so that if it finds something cheaper, it'll notify you to let you book it before it's gone!
You can also access hundreds of travel guides and articles, including city guides about your destination, things to do and more.
RentalCars.com is a car rental comparison website with over 30 leading suppliers, including Sixt, Avis, Hertz and Europcar. You can compare prices to rent luxury cars, economy vehicles, or SUVs from over 60,000+ locations worldwide. It is part of the Booking.com group of travel sites.
To book your car hire, enter your pick-up location and duration for your car hire. Then, the comparison engine will show you the best deals from all the suppliers in that region.
You can quickly filter your results by specifying extra options, such as car type, to find what you are looking for based on your budget.
RentalCars offers flexible rentals with free cancellations and changes up to 48 hours before pick-up on most bookings. There are no hidden fees to pay when you pick up the car; you know exactly what you're paying upfront.
They also offer a price match guarantee under which RentalCars promises to match the price you've found elsewhere.
---
When it comes to finding the best energy deals, you need a comparison site that can offer you impartial advice and help you find the cheapest tariff for your needs.
The dual-fuel deal comparison sites we have here are both Ofgem accredited.
Here are your best options:
13. uSwitch
uSwitch is an online and phone comparison and switching service in the UK.
It helps UK consumers compare prices and save money on gas, electricity, broadband, phone contracts, car insurance, home insurance and personal finance products. The site is free to use and provides a simple way to compare costs and quickly switch providers.
It was founded in 2000 and is now the go-to service for saving money on household bills and services. uSwitch also has mobile apps available on both major platforms: iOS and Android.
uSwitch is simple to use: pick the service you want, your postcode, salary, and energy supplier. Then uSwitch takes care of the rest by comparing costs from many suppliers, including the "big six" energy firms.
uSwitch also offers a price promise, which guarantees they will beat it if you find a cheaper deal elsewhere.
14. Energy Helpline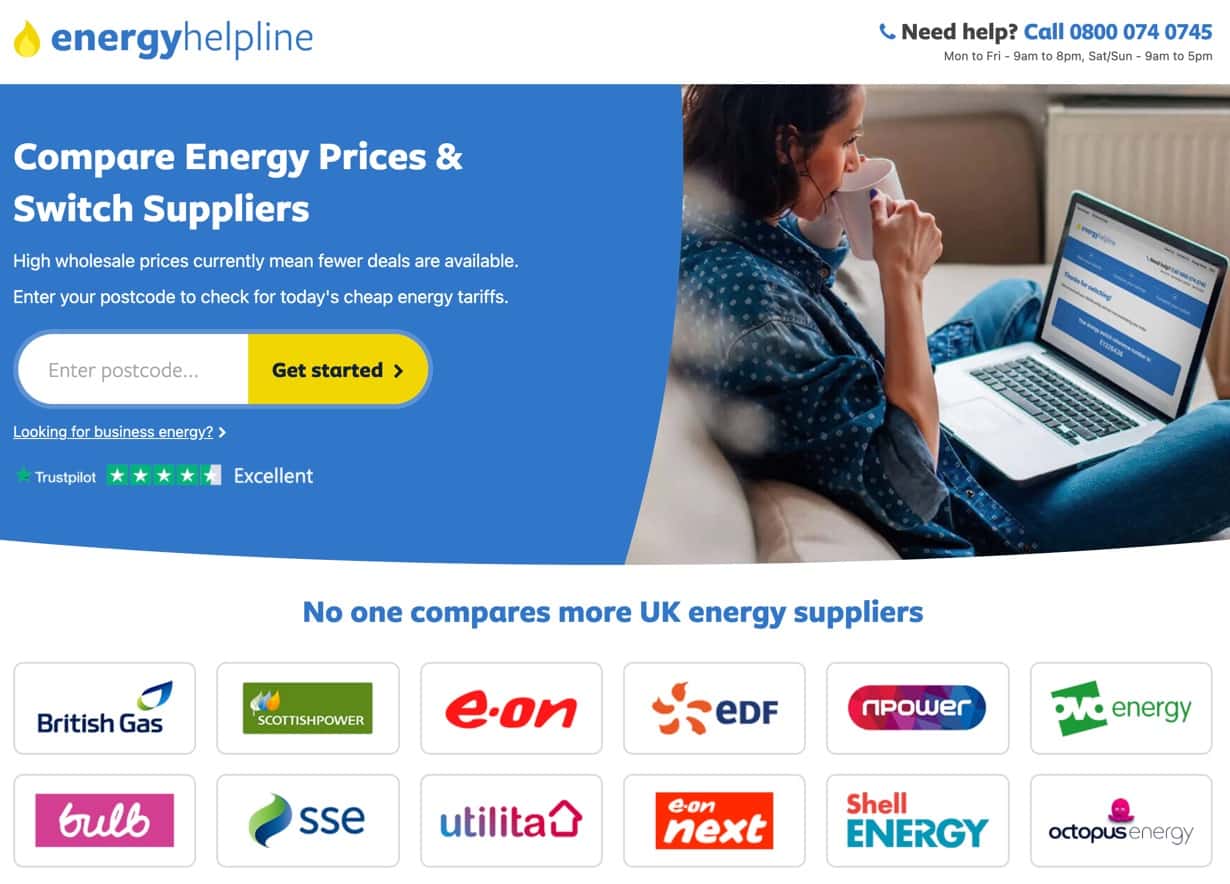 Energy Helpline is one of the biggest and most popular energy price comparison sites for your gas and electricity tariff needs.
It's free to use, easy to understand, and you don't need an account. In addition, the site has over 100 tariffs for gas and electricity contracts, so it can help you find the cheapest deals in your area.
What are Price Comparison Websites?
Price comparison websites allow you to compare the cost of goods and services from different sellers covering a vast range of products and services.
These sites make it easy for you to find what you need.
What kind of products can you compare on price comparison websites? The most popular categories that the best price finder websites cover include:
Travel: flights, car rentals, hotels
Insurance: car, home, travel or life insurance
Electronics: TVs, laptops, phones, tablets, etc.
Finance: credit cards, money transfers, mortgages, loans
Utilities: broadband, mobile phone/SIM contracts, energy tariffs
Home Appliances: ovens, dishwashers, washing machines, dryers, etc.
Clothes: Men's, women's, and chMen'sn'women'ses
Food: food prices between different supermarkets
The sites have a database of products that you can search by keyword or product name and, in a few seconds, will return results from several different retailers.
You can then choose the best deal based on price, quality, and other factors on a single platform.
You don't need to fill out multiple forms for all the different brands you're comparing.
How do Price Comparison Sites Work?
Price comparison sites work by allowing you to compare prices on products and services from a range of different retailers. It's an easy way to find the best deal on what you're looking for without having to visit multiple websites.
Some websites will ask you to enter personal information, such as your name and address, to tailor their search results according to your location. For example, insurance comparison engines often require this kind of info before providing an appropriate quote.
Mortgages, credit cards and personal loans are different. You can compare them by browsing the products on the screen without requiring personal information.
You can then filter your results by price, ratings, and other factors to find the perfect product or service for your needs.
Once you've found a deal you're happy with, most comparison engines will direct you straight to the retailer's website, where you can buy the product or service.
Some even offer a 'buy now' option on their site. That allows you to purchase products directly from them.
How do Price Comparison Websites Make Money?
Price comparison sites make money by charging retailers a fee to refer new leads to them through a mechanism called affiliate marketing. Affiliate marketing is performance-based marketing where the comparison website earns an introduction fee for referring customers to the merchant's site. This commission is usually a percentage of the sale price or a set cost per lead.
As a customer, you get the best deal on the market and save some money. The retailer brand gets new customer sales. The comparison website earns a commission for introducing you to the brand. Everybody wins.
Price comparison websites have been around for years. However, with the rise of online shopping, these sites are now more popular than ever before. They attract massive online traffic due to the easy-to-navigate websites and simple "cheapest price finder" tools they have created.
What Makes a Good Price Comparison Site?
Not all price comparison sites are created equal. Some focus on a specific product or service category, while others offer a broader range of comparisons. When choosing a price comparison site, it's essential to consider the features most important to you.
If you're searching for a specific product or service, look at several websites and pick the one specialising in your desired category.
Some of the most important factors include:
The range of products and services offered
The quality of the results
How easy is the site to use
The number of retailers featured
Unbiased information not influenced by who pays the most
The availability of customer support
How to Use Price Comparison Websites Effectively (Tips)
Price comparison sites are straightforward to use.
However, there are a few things you can do to ensure that you get the best deal possible:
1. Compare Prices With Different Price Comparison Engines
When looking for any product or service, you must compare prices across multiple price comparison websites, as each site has its own method of displaying results.
No single site will have the best deal for everything, so it's important to compare a few to get an idea of the market. In some cases, such as with car insurance, you may find that one site offers a much better deal than the others.
However, always read the small print as there may be exclusions that don't fit your needs.
2. Factor in Delivery Costs and Other Charges
When comparing prices, factor in any delivery or handling charges that may apply.
Some online retailers offer free shipping on orders over a specific value, while others charge delivery fees. Some price comparison websites also include these charges.
3. Factor in the product's warranty
While comparing products, make sure you factor in the length of the product's warranty; a product with an extended warranty may be more expensive but worth it in the long run. Conversely, a product with a shorter warranty may be cheaper, but you'll have to replace it sooner.
4. Filter Your Results Down to Your Preferences
When looking for a product, you can filter the price comparison sites based on specific criteria, removing any extras you don't need.
For example, if you're looking for a TV, you could only include TVs with LED screens as this matters most to you. Filters allow you to find what will meet your needs.
You can even filter down to a specific product or service you want. Select the website, product or brand name in your filter criteria. The comparison engine will only list down deals from the brand/website you want. If you have decided on buying the SIMO deal from O2 and only wish to compare their tariffs. You can do that!
Filtering criteria is a great way to save time. It skips browsing multiple pages and reduces your search to a simple click.
5. Make Sure You're Aware of Any Exclusions
Most price comparison engines have a list of exclusions, products or services that they don't compare to find the cheapest deal.
For example, some comparison sites won't compare car insurance prices for drivers under 25. So it's essential to know these before you begin your search.
Wrapping Up
I hope this article on the best comparison sites in the UK has given you valuable insights to help you choose your favourite one to compare prices online.
So, which one should you use?
It depends on what product or service you plan to compare and eventually buy. If you want to compare a wide range of products, you're better off using a website with more products in its database.
But suppose you're after a specific product or service from a brand you've already decided on. In that case, it could be worth using a site that's more focused in that area.
Ultimately, it's up to you to decide which price comparison engine is right for you. But I hope this article has helped you make the decision.
Do you have any favourites on the list? Or is there any that you use and recommend adding to this guide? I want to know.
Please feel free to ask any questions or leave comments below if there is anything else you would like me to cover in my next blog post!
How We Chose the Best Comparison Sites
We considered over 25+ different comparison websites to compile this list and spent 15+ hours trying and testing them. We picked the ones on our list for the products available, features, and ease of use of the website. Most websites on our list are also available to download as mobile apps on Apple and Android devices.
Frequently Asked Questions