How to Cancel Tastecard Subscription in 3 Simple Steps: The Ultimate Guide
Tastecard is a subscription dining club with 2.65+ million members that allows users to enjoy discounts at 1000s of restaurants across the UK.
It is a great way to save money on dining out, but what happens if you don't use it and want to cancel your membership?
If you're looking for an easy guide on how to cancel your Tastecard subscription, look no further!
This guide will walk you through the three simple steps you need to take to cancel your membership.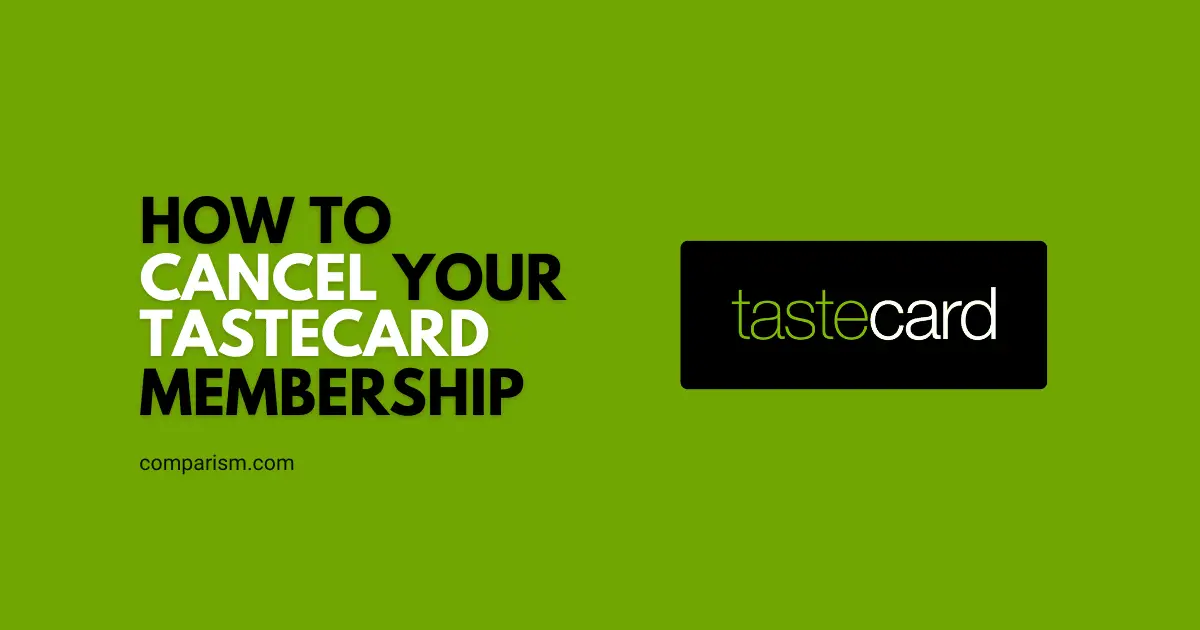 I know cancelling a subscription can be a hassle, so I'll also provide some tips on what to do if you encounter any problems along the way to make it as easy as possible for you.
I cancelled my Tastecard in Jan 2021 as I paid for the whole year and couldn't use it during the thing that hit humanity in March 2020. Here's what I learned during the process.
So without further ado, let's get started!
What is Tastecard?
Tastecard is a subscription-based service that provides its members with 2-for-one discounts on dining at participating 6000+ restaurants in the UK and Ireland.
Tastecard also offers up to 33% off cinema tickets, 50% off pizza delivery and up to 50% off tickets at attractions.
To use it, you need to present the card at the participating partner restaurants/cinemas to get your discounts.
What is the deadline to cancel my Tastecard?
You can cancel your tastecard membership up to 11:59 PM the night before your renewal (expiry) date. For example, if your renewal is on the 1st of January, you need to submit the cancellation request by 23:59 on the 31st of December.
I recommend if you don't want to continue with your membership, it's better to put in the request a few days before so that you have some cushion to take things up with the support team if the cancellation doesn't go through.
How to Cancel your Tastecard Subscription Online?
If you decide that Tastecard is not for you, or you no longer wish to receive the benefits of a subscription, cancelling your membership is a simple process.
You can use one of the cancellation options below:
Cancel Online Using the Cancellation Form (Recommended)
Here's what the online cancellation process looks like in 3 simple steps.
Step #1. Go to this link: https://tastecard.co.uk/cancel-membership
Step #2. Log in to your account using your email address and password
Step #3. Follow the cancellation steps and enter the details you used at the time of sign up
You can use the login icon in the top-right corner or scroll down to the end of the page.
Note: The details need to match your current membership account details.
Cancel via Webchat
Another option for tastecard cancellation is to do it by contacting the support team via webchat. They operate from Mon-Fri between 9-5 PM.
Cancel via Email
When I cancelled my Tastecard, for some reason, I couldn't cancel using the online form method so I cancelled via email.
To cancel via email, you need to send an email to [email protected]. They then asked me to provide the below information:
Full name on the membership
The membership number
The address used to sign up for the membership
The e-mail address used to set up the membership
The telephone number associated with the membership
You will receive an automated response to your email with a unique reference number confirming the receipt of your request.
If you're having trouble cancelling your subscription online using the options above, you can also contact the support team using this contact form.
Additional Tips for Cancelling Tastecard
Here are a few important pointers from the tastecard membership small print, so you don't get caught out.
All the tastecard trials convert into a renewing subscription (even if you have a free trial) if you don't take any action to cancel it. If you're not interested in continuing your subscription, be sure to cancel it before the trial expires.
If you have a membership, it's important to note that cancelling Tastecard now doesn't mean you lose access to all the benefits of the card right away. Your cancellation won't take effect until your current billing cycle ends. If you don't want to end up renewing next year, you can cancel it now so you don't forget.
With the trials, the membership benefits end as soon as you cancel the trial so time your cancellation close to the trial expiry date if you don't want to continue.
That brings me to the next tip: Add a reminder to your calendar to remind you about the cancellation
Be sure to read the Terms and Conditions (or just ask customer service) when signing up and then act accordingly!
What are the Problems With Cancelling your Tastecard Subscription?
In the past, some Tastecard members have encountered problems when trying to cancel their subscriptions. This is because it wasn't easy to put in the cancellation request, as the only way you could do it back then was over the phone.
Now, however, it's much simpler to cancel your subscription online.
Some of the main problems raised on review sites like Trustpilot (filtered by poor or bad rating):
Delays in response from the customer service
No refunds issues once you've been renewed and want to cancel
Cancellation terms only included in the terms and conditions and not on the card
Wrapping Up
There you have it!
To summarise, there are a few different ways to stop your Tastecard membership. You can either go online and follow the simple steps or contact customer service using webchat or email.
If you have any problems cancelling your Tastecard account, you can reach out to the customer support team via the contact form on their website.
Now that you know how to cancel your Tastecard subscription be sure to do it before the next billing cycle, so you don't get charged for another month.
Thanks for reading! 🙂
Please consider subscribing to my free newsletter if you find this guide helpful. Also, follow us on Twitter and Facebook. We are also active on Telegram.
FAQs About Tastecard Cancellation
Logo Image Credit: Tastecard