Looking for how to transfer money from India to UK online?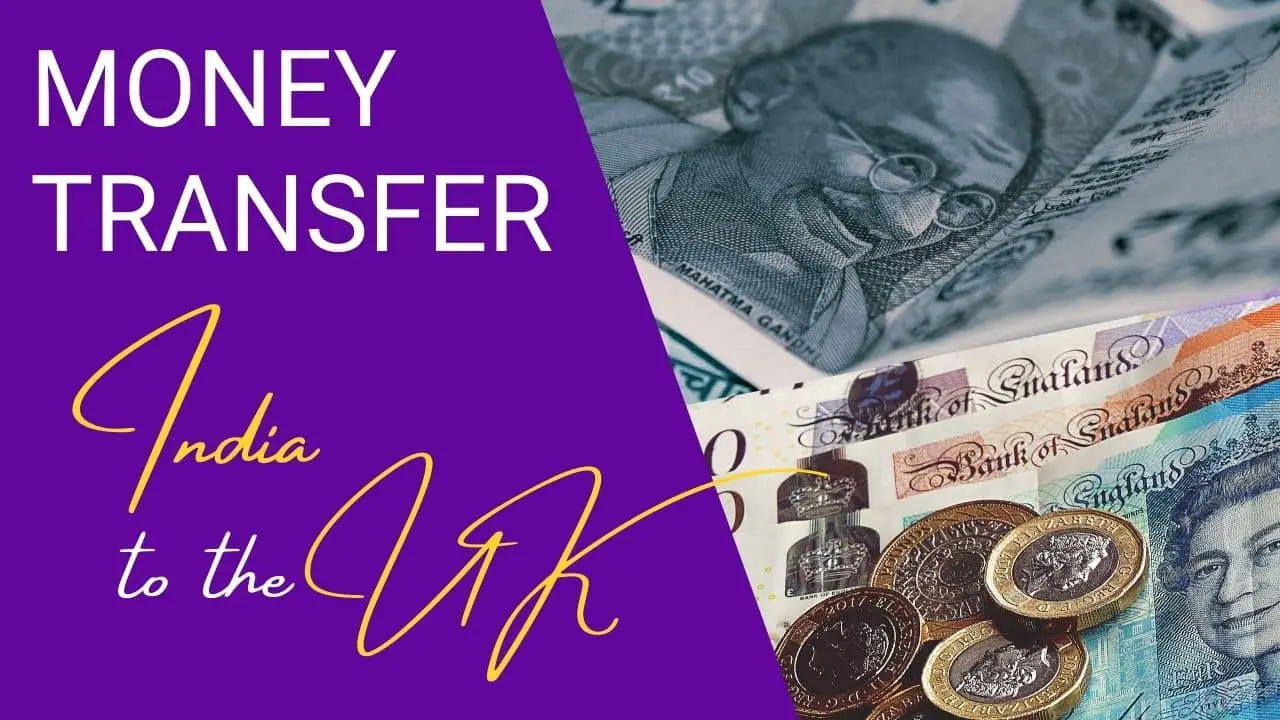 That's EXACTLY what I will show you: the best ways to send money from India to UK legally at the best rates – minus the hassle.
If you need to send money from India to overseas to pay for your financial commitments, overseas education expenses, overseas travel, maintenance of your loved ones, medical treatment, foreign investments, visa fees or a gift, this post should help you make an informed choice.
As you can appreciate, it is easy to send funds freely from the UK to India but relatively hard to get funds back to the UK.
That's why you must have seen many references to the UK to India money transfers online but not so many for the international money transfer from India to the UK.
When you need to transfer money out from India, you need to consider a few things like legality, transfer fee, reliability, taxation and transfer timelines, as these could influence your decision. I've tried to cover most of them in this post.
In this guide, the options I talk about are to remit money from India to the UK, but most things apply for other corridors from India (to USA, Europe, UAE and Canada transfers).
Let me know if you want me to do a separate post for you.
I will also answer a few queries one by one along the way that I found answers to after flipping through 100s of pages on the internet.
Ok, let's jump right in then…
Disclaimer: As extensive as I would like this guide to be, it does not compare ALL the providers/companies that offer money transfers from India. I will update this post as I get feedback on what works for people. This post contains affiliate links that could earn a small commission for Comparism (at absolutely no extra cost to you) if you use our links to signup and send money. However, these are the best ways for sending money from India to UK (INR to GBP) that I found effective in 2022. For more information, you can read my affiliate disclosure.
In a hurry? Here's a quick summary for you.
Transfer Money from India to the UK: Best Options
If you cannot go through the whole post now, I have listed the best online money transfers from India to the United Kingdom overall.
Money Transfer
Features
Deal
Go to site

Excellent service and support
Completely online process
Fees: 1.2%-1.7% based on amount transferred

₹700 off the first transfer + 75 InstaPoints

Excellent service and support
Easy online process
Fees: 1.78% + ₹68.94 (Fixed)

-
Follow this guide to send money from the United Kingdom to India instead.
Also Read: 5 Reasons why you DON'T get the best deals on your money transfers
Why did I write this guide?
Recently, I was helping a friend with information on how to transfer money to the UK from India to fund his house purchase here.
He sold his ancestral land in India and wanted to bring the money legally from India to the UK.
I got into research mode and started exploring as I had never moved money in the reverse direction (India to the UK).
But the first question I had in my mind was this.
Can you send money to UK from India?
The answer is Yes.
If you think getting money into India from abroad is much easier than getting it out, well, you are right.
Some restrictions apply on outward remittances from India to the UK (or anywhere abroad), and you need to abide by them before making your transfer.
Only the banks and companies authorised by the Reserve Bank of India (RBI) can carry out outward remittances from India.
Be mindful that FEMA guidelines for Outward Remittance apply when you try moving money from India to abroad.
Send money from India to the UK: Are there any legal restrictions?
As you would, I started my research with a simple google search "can I transfer money from India to the UK."
To my dismay, Google couldn't help much at it only serves what has been indexed. I found a few threads on various forums with the same query.
I didn't get the answer to my query as a simple "Yes" or a "No."
This is crazy:
Besides so many people asking the same question on different forums on the internet, I did not find a satisfactory answer in one place.
There is a lot of conflicting information floating about this topic. Not a single forum/guide exists that caters to all the queries and concerns – in one place – around foreign outward remittance from India to the UK.
By the way, I found:
The banking term used in India for the reverse transaction is "foreign outward remittance."
I read many articles and forum posts, hoping to find an answer and gathered a lot of information along the way.
In short, this is what I found:
With money transfer companies like Wise (formerly TransferWise) and CurrencyFair,  it is effortless to send money to India from the UK. Still, most of these companies do not have a licence for reverse remittance (from India to the UK).
And that's where things are not very pleasant – for reverse transfer from India to the UK, I mean!
Bringing foreign currency into India is rather easy. But money transfer from India to the United Kingdom, on the other hand, involves more complexity!
If you are NOT a person of Indian origin, you can directly skip to your remittance options.
Depending on if you're a resident individual in India or an NRI, different transfer limits and regulations apply to you which I have briefly covered below.
Repatriation from an NRE account
Under the liberalised remittance scheme of the RBI, the money you have in your NRE (Non-Resident External) account is freely repatriable, meaning no formalities or permissions are required for remittances abroad for any amount.
The funds in the NRE account are in the first place deposited from abroad or are accrued from the interest or dividends paid from foreign investments. Hence, remitting them from India to abroad is relatively less hassle.
Repatriation from NRO account
If you want to remit funds from your NRO (Non-Resident Ordinary) account in India, meaning the funds are from income earned in India, you need to meet the legal restrictions and limits.
With an NRO account, the remittance limit per year is USD 1 million, subject to meeting procedural formalities. You need to get a certification from a CA for taxes paid on your income in India.
Related: NRO or NRE – which account is right for you?
Sending money from Resident Indian account
If you live in India and have a resident individual bank account, the RBI rules under Liberalised Remittance Scheme apply to you. The upper limit for sending money abroad from India is equivalent to the US $2,50,000 (~ £1,80,000) in a year. The amount can be sent in one go or can be split over the year and can be sent to an overseas bank account.
How much you can send in a single transaction could also depend on the company or method you use.

What are your options, then?
I thought, why not publish all the information that I gathered during the research and publish a comprehensive step-by-step guide on money transfer from India to the UK?
Well, here it is!
How to transfer money from India to the UK?
Below are a few ways for safe and secure outward remittance from India legally to a country overseas, in this case, the UK.
The method and ways mentioned here wouldn't be vastly different if you were to do a money transfer from India to the US, Canada, UAE, or other countries.
Ok, let's look at the options to find the best way to send money from India to the UK.
1. Use an online international money transfer service
You might trust your local bank as the most obvious way to send money to the UK from India.
But, banks are not always the best and the cheapest option as they usually have very unfavourable foreign exchange rates adding a mark-up over the mid-market rate (Google rate, as I like to call it).
Money transfer companies offer a good alternative with competitive exchange rates and low transfer fee.
When I started writing this guide, I was looking for low-cost, secure online money transfer services to simplify the process of sending money from India to the UK for a friend.
Essentially, you'd still be transferring money from an Indian bank to your recipient's bank account in the UK.
Instead of making a direct bank-to-bank transfer (which is expensive), you use an intermediary company that offers international money transfers from India, doesn't keep a hidden mark-up on the currency exchange, and charges low transparent fees.
Until not too long ago, none of the money transfer services had RBI permission for outward remittances from India.
RBI then granted permission to a fairly new entrant to the UK-India corridor – InstaReM.
A short while later, Wise (review) got the RBI permissions to transfer money to the UK from India.
Both Wise and InstaReM offer a real mid-market exchange rate with no added mark-up and transparent upfront fees.
No hidden fees.
(you'll always see the total amount your recipient will receive upfront)
Here's how InstaReM and TransferWise (now Wise) compare when sending ₹100,000 to the UK from India.
| Sending ₹100,000 with | Exchange rate (1 INR → GBP) | Transfer fee | Recipient gets (Total after fees) |
| --- | --- | --- | --- |
| | 0.0097 | ₹1700 | £953.51 |
| | 0.0097 | ₹1816.60 | £955.60 |
Table updated: 26 Jul. 2021 22:30 UK time.
InstaReM is quite popular for its remittance services for Australia to India and UK to India money transfers. They started online money transfer to the UK from India a few years ago.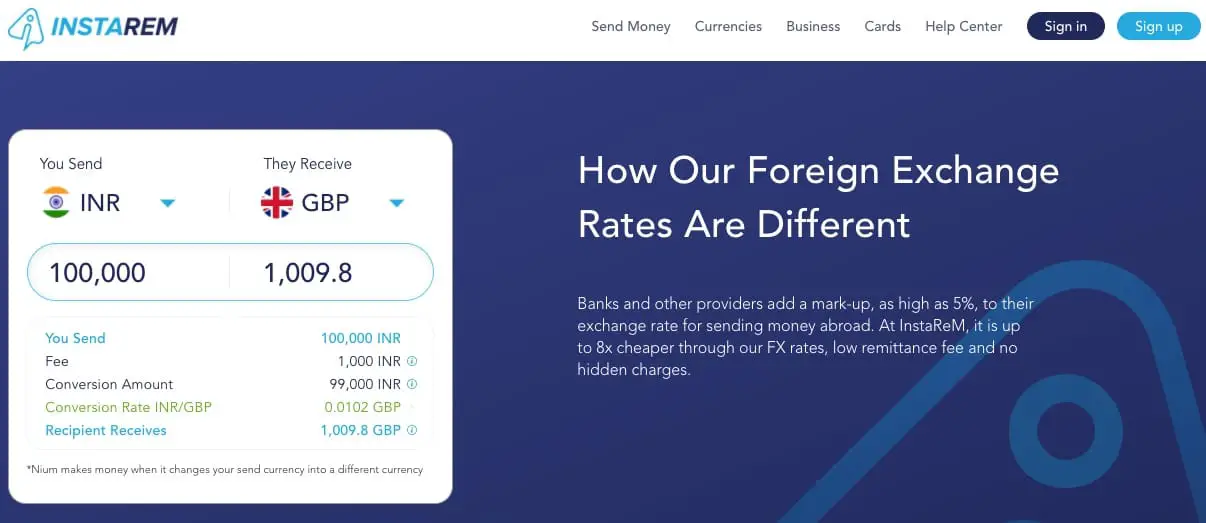 How to send money from India to the UK online with InstaReM?
Here are the easy steps to quickly send money from India to the UK with InstaReM.
Step #1. Create your free account with InstaReM using our link
Step #2. Upload verification documents
Step #3. Initiate your first transfer
(Use the InstaReM promo code "COMPARISM10" to get an instant ₹700 discount on your first transfer)
Step #4. Enter your recipient details and pay for your transfer
InstaReM Fees
InstaReM charges between 1.2%-1.7% in fees for India to UK money transfers based on the amount. The fee starts at 1.7% and reduces as you increase the amount you're sending.
Compared to TransferWise, InstaReM offers a competitive transfer fee model by a very small margin, so the overall deal comes out cheaper with InstaReM.
Update: After I originally wrote this guide, InstaReM increased their fees a bit, and Wise lowered their fixed fee by more than ₹400, reducing the gap between Wise and InstaReM offerings.
That means there isn't a huge difference between InstaReM and Wise for the overall amount received if you're sending small amounts (less than £2000). You can use either. Both options don't charge any hidden fees.
But, if you're sending a bigger amount (more than £2000), InstaReM works out as a cheaper option.
Wise Money Transfer
Wise (fka TransferWise), a top-rated service for the UK to India transfers, recently started offering India to UK money transfer services.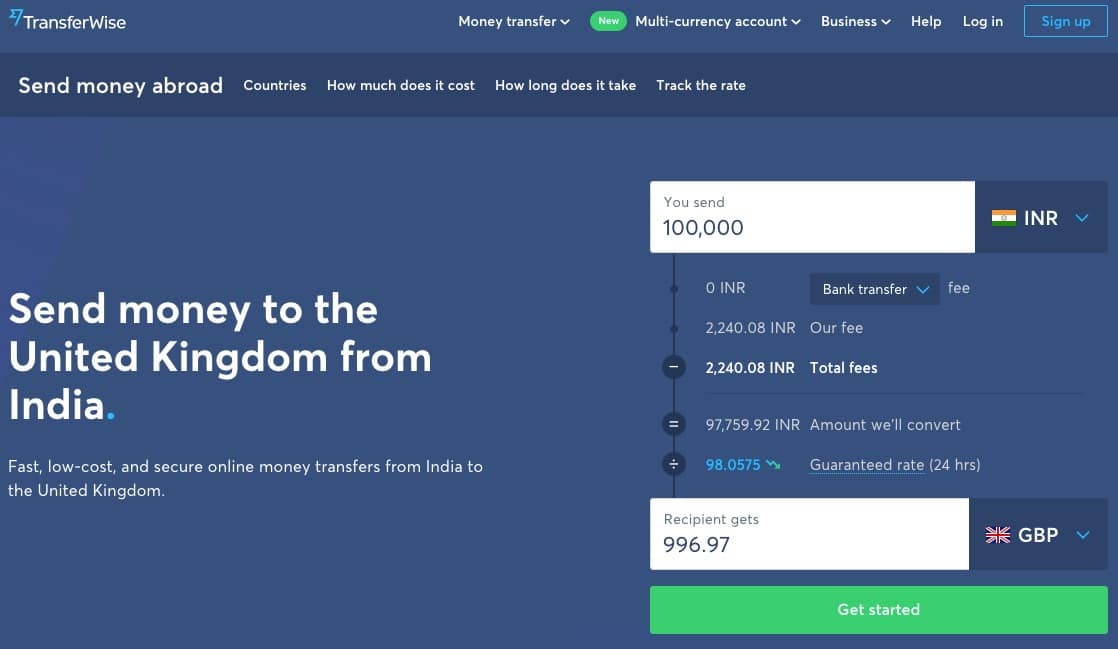 Read my detailed Wise (ex TransferWise) review here.
How to send money to the United Kingdom from India online with TransferWise?
Here's how you do it in 4 easy steps!
Step #1. Create your free account at Wise.
Step #2. Enter how much you want to send in INR – you will be shown the equivalent amount you will get in GBP in the UK. Click "Get started"
Step #3. Enter recipient details and follow the on-screen instructions to initiate your transfer
Step #4. Pay the money in INR to TransferWise
Note: The minimum amount you can send with Wise from India is ₹20,000, and the maximum amount is ₹6,50,000.
With TransferWise, you can pay INR with your debit card or credit card or send the money to TransferWise Indian bank account using your online banking account.
The money is then locally delivered in the UK directly from Wise's local UK bank account. The transfer fees are kept competitive as the money doesn't need to leave India physically.
You might need to verify your identity before the transfer is initiated – this is a pretty standard security procedure with all money transfer companies. You can upload your documents when asked.
TransferWise charges a flat fee of ₹499.95 ₹68.94 + 1.78% of the converted amount.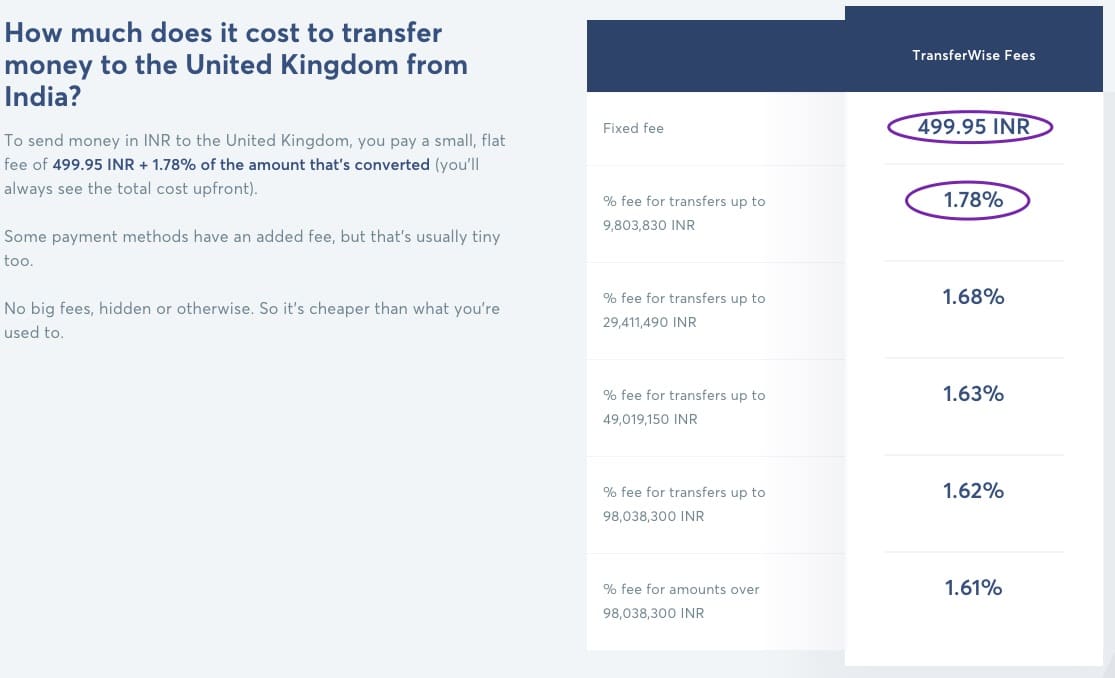 ---
As I mentioned and will discuss further as we go along in this post, I found a few other ways while helping my friend in getting his money from selling the property in India to the UK, but they mostly all need paperwork (and associated hassle).
With both InstaReM and Wise (review), sending money from India to the UK doesn't involve any unnecessary paperwork. However, you do need to provide verification documents at sign up which is a one-time task.
2. Exchange with a friend who needs cash in India
Simple! The very idea that Wise (ex-TransferWise) works on.
Remember, you pay money to a local account in India, and Wise pays you from their account in the UK – P2P (person to person) currency exchange?
The money never leaves India physically.
You can take matters into your own hands; get pounds from your friend in the UK and pay them in Indian Rupees.
Agree on a rate so that you both feel satisfied with the transaction.
Benefit?
Restricting a transaction within your circle of friends, family members and colleagues, you can avoid bad exchange rates, transaction fees and all the paperwork (aka hassle) to transfer money from India to the UK.
Note: You need to take care of the tax implications with this method (and, for that matter, all other methods on this list). Make sure when you exchange currencies with a friend, all applicable taxes have been paid in both countries. If you have any concerns about this option (or any other option on this page), please consult with your accountant or financial advisor.
3. Check with your Indian bank to send money to UK bank account
Many banks offer outward remittance services to transfer money from India to all around the globe, even if you do not have an account with them.
When you want to move a large amount of money from India to overseas, you'd trust your bank to be the go-to option but be careful with what they offer.
The overall fees, the foreign exchange rate, how much will effectively reach your recipient – should be the questions you need to ask.
Banks tend to be expensive compared to other options as they offer poor rates and charge unreasonable transaction fees.
Comparing the overall amount with other money transfer options will give you a clear picture of the best way to transfer your money overseas to the UK from India.
4. Interbank transfer – Indian bank to send money to their own branch in the UK
For example, open a Citibank/HSBC/SBI account in the UK and then open an account with their branch in India.
Many UK high street banks have their own branches in India or have special arrangements with local banks in India.
Compared to Wire Transfers from an Indian bank to an overseas bank, Interbank transfers may end up being a bit cheaper and quicker because of lower charges and better exchange rates compared to cross-bank transfers.
You need to determine this by comparing the overall amount your recipient gets in the end after deducting all transfer fees.
You'll need:
International Bank Account Number (IBAN) and Bank Identifier Code (BIC) for your recipient
IBAN and BIC codes for your account. If you are making a transfer using the same bank in India (like ICICI India to ICICI UK), you won't require this.
You don't necessarily need to hold a bank account to use the wire transfer services provided by that bank.
---
What is a Direct Wire Transfer?
These are direct money transfers from your banking account in India to your beneficiary's account in the UK bank. Wire transfer would sometimes seem to be one of the most convenient ways to transfer money abroad.
But that doesn't necessarily mean they are the cheapest.
When you instruct your bank to initiate a wire transfer from India to the UK, you aren't guaranteed the best rates for sending money from India to the UK, as banks normally add a markup to your forex rate.
Compare the amount you need to pay to your India bank to get the same amount overseas vs using a company like InstaReM, for example. Include all the fees using both methods before making a decision.
Generally, here are the details you would need to initiate a wire transfer from India to the UK:
To transfer money from India to the UK or any other country via Wire Transfer, you'll need to visit the bank.
Also, you don't need to hold an account in the bank for most banks to make the wire transfer.
Wire transfers are available for non-account holders too. Account-holders of any Bank in India (resident and non-resident) can do a wire transfer from India.
Tell your bank branch that you need to wire transfer money, and you will be given a form. Mention the overseas bank details (recipient details, SWIFTBIC code) and your details, and the bank official will guide you through the process.
For wire transfers, the banks initiate the transaction using the Society for Worldwide Interbank Financial Telecommunication network, shortly and commonly known as SWIFT.
Netbanking
There is another way you can start a bank-to-bank transfer – Netbanking.
To initiate a wire transfer using SWIFT (above), you need to visit the bank.
But if you have net banking activated for your account, you don't need to. You can initiate the transfer online from the comfort of your home.
All you need is the net banking login details for your bank account and the account details along with the SWIFT code of the recipient's bank.
Can you use services offering cash pick-up location?
Some money transfer companies give you the option to choose a cash pick up service (like Azimo or Western Union).
Western Union also have an online bank-to-bank money transfer service now, but I haven't used them yet – if you do, I'd like to know how your experience was, so drop a comment below.
I don't recommend the pickup option over the online bank to bank transfer.
Why? Cash pick up services might be fast but not the cheapest when it comes to getting the best deal on your money transfer, so worth keeping that in mind when you choose the cash pick-up option.
And also, the "fast" part is no longer unique to cash pick up services. As technology advances, the time it takes for money to reach overseas will keep improving.
So unless you really need it, there's no added advantage over the modern disruptive way of moving money.
The online money transfer counterparts (like InstaReM and TransferWise), on the other hand, offer the transfers at a much lower fee.
How cash pick-up works?
Find a company that also has a service branch in the UK (companies like Western Union have a lot of high street outlets)
Hand over the funds and pay the transfer fee in India
After payment, you will get a reference number which you can pass on to the recipient overseas (never share this number with anyone else as anybody with the number can collect the money)
If you want to know more about the pickup services, you can check out my post I did earlier on the available options in detail – again, I don't recommend this over the other available methods.
---
More options?
Here are a few other options for remitting money from India to the UK:
Western Union
ExTravelMoney
PayPal: not a cheap option for transferring money from India to the UK
Foreign Currency Demand Drafts: Using this, the recipient can withdraw money send by you in their local currency. This option involves a time-consuming process and is expensive.
Summary – Best way to transfer money from India to UK
So there it is.
My quest for the easiest and the best way to bring money from India to the UK started to help a friend, and this guide sums up the viable legit options I came across.
I hope you now have a better understanding of outward remittance from India to help you make an informed decision on how to transfer money from India to the UK online.
For me, both InstaReM and TransferWise offer great hassle-free service and are one of the few companies that RBI permits to do such transfers.
Using our links, you'll be supporting my efforts of extensive research on such free guides for you on Comparism. It doesn't cost you anything (not a penny extra) and instead, you'll save money from our deals.
If you decide to use InstaReM, check out the exclusive deal to get ₹700 off your first transfer and loyalty points worth £7.20 for your next one. Don't forget to use our exclusive coupon COMPARISM10.
…saved you some money there!
Which one of these did you find as the best approach to get funds in the UK? Or did you use a method that's not on this list?
Let me know in the comments. 😉
Which option you picked and why? I would love to know your experience.
If you have already moved money from India to the UK/USA/Canada or any other country, drop a line below with details of the pros and cons you faced.
FAQs about India to UK Money Transfers