How to Apply Indian eVisa (2023 Complete Guide)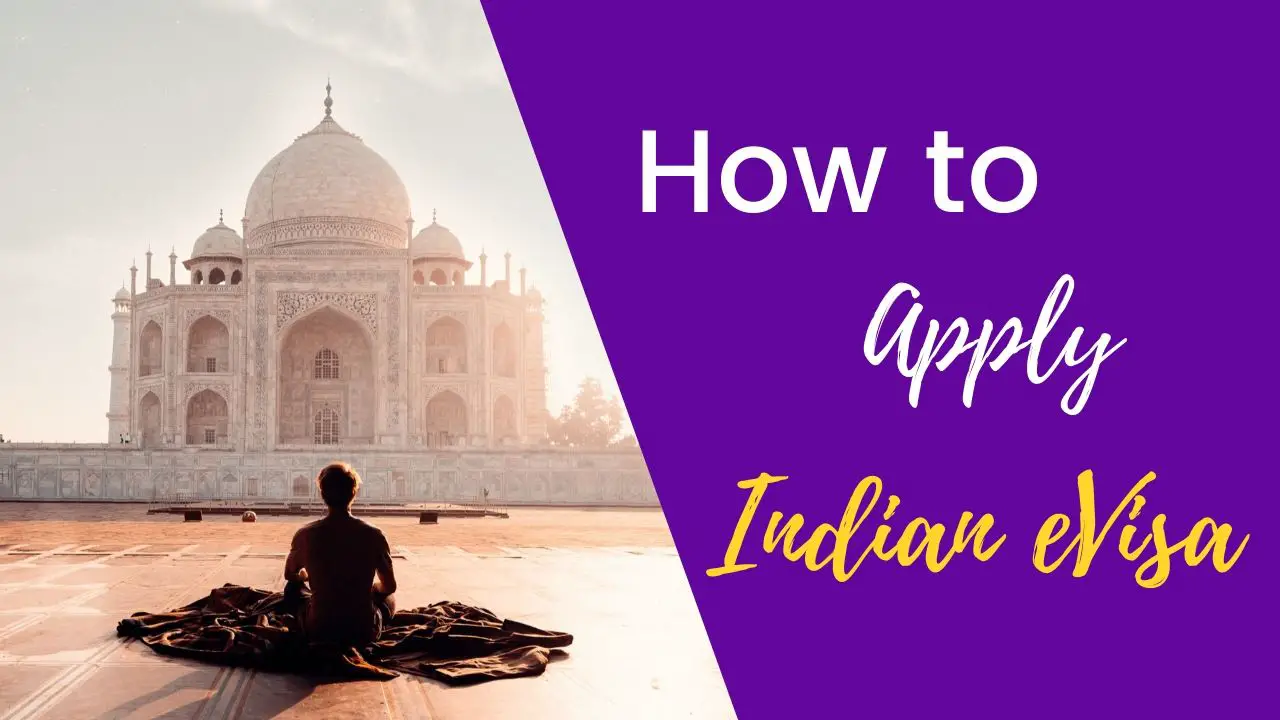 Are you planning your trip to India and need to apply for an Indian Visa?
The process is pretty simple with the introduction of an eVisa.
For this guide, I have documented the exact process of how I got my eVisa to India from the UK (twice!).
In fact:
I used these exact steps when I got my eVisa to India under 24 hours (21 hours and 21 minutes to be precise).
And, I used my own guide to apply for the e-visa the second time. 😛
Applying Indian eVisa is a completely online application with no facilitation required by any agencies or agents.
Sending money to India?
If you need to convert your local currency to INR for your trip to India, don't just use your bank. Follow my guide for the best ways to send money to India to get the best exchange rates. I've also covered a few tips towards the end of this post.
If you need to send money the other way around (outward remittance from India), head over to my other article where I have covered the best ways to transfer money from India to the UK.
The eVisa application process is the same wherever you apply from – the main difference is in the fees (more info on that in a sec).
The usual way of submitting your file at your nearest VFS centre is still an option – you can apply regular Visa to India where you need to attend an appointment to drop your documents in person.
But:
Like me, if you are short of time and cannot bother visiting the VFS centre to submit your application, go for an eVisa.
I found the eVisa process better and saved me a 20 mile round trip to the VFS in Hounslow.
If you hold an eligible passport for a country on the eligibility list, you can apply from the comfort of your home and skip the in-person appointment altogether to get the visa online.
Disclaimer: This article is for educational and informational purposes only and does not replace professional advice – this is documentation of my experience with getting a successful eVisa to India – twice!
After I got my British Citizenship, I surrendered my Indian passport in the UK but didn't get a chance to apply for OCI right away (I tend to sometimes procrastinate on such things). I was required to visit India and eVisa came to be the saviour.
I was looking for my options to apply for a visa to India from the UK.
That's when I came to know that you can apply for an eVisa which is completely an online application.
What does this mean?
You don't need to fill out any forms by hand, no documents to be prepared to be submitted.
That's when I thought of documenting the process so the knowledge is not restricted only to me.
Sharing is caring, right?
Before I jump in to guide you on how to quickly obtain an eVisa for India, here are a few things you need to know before applying online.
Who needs to apply for Indian Visa?
Countries that DON'T NEED a visa: Nepal, Bhutan and Maldives
Nationals of Bhutan and Nepal don't need a visa to visit India, they can freely enter India without any time limit.
Citizens of Maldives also don't require a visa to travel to India but they are restricted to a continued stay of 90 days.
Countries that NEED a visa – Rest of the World
All the other countries apart from Nepal, Bhutan and Maldives need to apply for an Indian Visa. Below are the options:
Visa on Arrival: What it says on the tin, India provides an option to get a visa on arrival in India, meaning you don't need to apply for a visa in advance from your country. You can show your passport at immigration and you can obtain a visa on arrival by filling in a form and paying the visa fee. Visa on arrival is currently available to only residents of Japan and South Korea.
e-Visa, also called electronic visa or ETA (Electronic Travel Authorization): Nationals of almost all of the remaining countries (170 in total) can apply for an eVisa to visit India online, using the official eVisa website (step by step details in this guide).
I also talk about the eVisa eligible countries on the eligibility section below – keep reading.
Regular or paper visa: Citizens of the remaining countries – Afghanistan, Bangladesh, Pakistan – are required to apply for the Indian visa using the traditional process. The regular/paper visa process involves visiting the Indian mission or visa application centre in person for biometrics and submitting additional documents.
This guide is focused on the countries that do need a visa and can apply purely electronically – introducing eVisa.
What is an eVisa to India?
eVisa allows you to apply for Indian visa online. Here are a few things you need to know before you go
Completely Online: The application for the eVisa is purely online.
Duration: It took me less than 24 hours to get the eVisa. The official estimate is 72 hours.
Documentation: You don't need to submit any documents in person. All documents (including your picture) can be uploaded online.
e-Visa has 5 sub-categories:
eTourist Visa
eBusiness Visa
eMedical Visa
eMedical attendant Visa
eConference Visa
eVisa vs Regular Paper Visa – what's the difference?
Should you apply for an eVisa or Regular Visa to India? Let me provide you with some information to help you with this.
| eVisa | Regular Visa |
| --- | --- |
| Process completely online from submitting of application to getting the eVisa. | The regular service is outsourced to VFS in the UK (like for OCI, Surrender Passport, Passport renewal services). |
| No appointment needed; payment made online. | Need to attend an appointment in person for submitting documents and making payment |
eVisa vs Regular visa
eVisa vs OCI (for Indian Expats)
OCI is a multiple entry multi-purpose life long visa to visit India for any length of stay. With an eVisa, you get limited validity and your single stay also comes with limits.
If you are an Indian ex-pat and visit India more than often (even once a year), OCI is what I would usually recommend due to the hassle of applying for a visa and related costs. If you plan to apply for OCI in the future, you can use eVisa in the interim as I did.
You can check out the OCI benefits here.
SIDENOTE I decided to get an eVisa as it is a quick service to get your visa sooner compared to a regular Visa at Indian High Commission in London (via VFS). As I needed to apply for OCI in the future, I opted to apply for eVisa in the interim due to the quick process. If you are a person of Indian origin but do not plan to apply for OCI in the future, applying for a regular paper Visa might suit you better. Do check your options; I have briefly covered the differences between a regular Visa and eVisa in this post.
Indian eVisa Eligibility
If you hold a foreign passport and your purpose of visiting India is recreation, tourism, short term courses, medical treatment, casual visit to friends/family or business visit, you can apply online for Indian eVisa.
You can see the full list of countries that are eligible to avail eVisa (along with other eligibility criteria) here.
You cannot apply for an eVisa if you hold a Pakistani passport or Diplomatic/Official passport or international travel document. In each of these cases, you will need to apply for a regular paper Visa via VFS.
How far in advance can you apply the eVisa?
How soon can you apply for eVisa depends on the category that you apply under.
For eTourist visa (30 days), you can apply from 30 days to a minimum of 4 days before your planned arrival in India.
For eTourist visa (1 year or 5 years), eBusiness visa, eMedical visa, eMedical attendant visa and eConference visa, you can apply from 120 days to 4 days in advance of your arrival in India.
Indian eVisa processing time
The e-Visa application may take up to 72 hours for processing as per the official guidelines.
From my experience of getting the eVisa granted twice, it took under one day (a little over 21 hours) for the eVisa to arrive via email the first time. On my second attempt, it took a little over 2 days.
That should give you an idea of how long the eVisa process should take for you – it was well under the official guidelines of 72 hours from my two applications.
The quicker turn-around the first time could be based on my timing of the two applications. Below are the details for the exact times.
| Attempt | eVisa Applied | eVisa Granted | Processing time |
| --- | --- | --- | --- |
| 1 | Mon, 5:30 PM | Tue, 2:51 PM | 21 hours 21 minutes |
| 2 | Wed, 10:38 PM | Sat, 12:16 AM | 2 days 1 hour 38 minutes |
eVisa processing time
How long is Indian eVisa valid for?
The period of validity on the eVisa depends on the type of eVisa you're applying.
You need to make sure you get the right visa for your travel to India and that it's valid for the purpose and duration of your stay.
Here's a quick summary on eVisa validity for the different categories of eVisas.
| Type of eVisa | Validity | Entries allowed |
| --- | --- | --- |
| e-Tourist Visa (1 or 5 years) | 30 days / 1 year / 5 years from the date of grant of ETA | Multiple |
| e-Tourist Visa (30 days) | 30 days from the date of your first arrival in India | Double |
| e-Business Visa | 365 days from the date of grant of ETA | Multiple |
| e-Conference Visa | 30 days from the date of arrival in India | Single |
| e-Medical Visa | 60 days from the date of first arrival in India | Triple |
| e-Medical Attendant Visa | 60 days from the date of first arrival in India | Triple |
eVisa validity and entries allowed
For an eTourist visa (1 or 5 years), the continuous stay allowed is up to 180 days for the nationals of the USA, UK, Canada and Japan. For other nationalities, it is 90 days.
For eBusiness Visa, the continuous duration is 180 days without any registration required with the authorities. If your stay is over 180+ days, you are required to register with FRRO/FRO within two weeks of 180 days spent in India.
For eTourist (30 days), eConference visa, eMedical visa and eMedical attendant visa, the continuous period is valid for the duration of your e-visa.
Indian eVisa Fees
The cost for eVisa ranges from $0 to $100 and how much you need to pay depends on a few factors – the type of eVisa, the duration of trip and nationality (the country you are applying it from).
eVisa Application Process – how does it work?

Here's what the overall process looks like in summary. I will go through each step in detail below.
Step #1. Apply online uploading a photo and passport page copy.
Step #2. Pay eVisa fees online using your preferred method.
Step #3. Once your application is processed, the e-Visa Electronic Travel Authorization (ETA) will be sent to your registered email with visa status "Granted or Rejected".
Step #4. As a final step, all you need to do is print the Granted eVisa (ETA) received on email and carry it with you when travelling to India.
eVisa Documents Required to Upload
Below are the documents required for an online eTourist visa application.
Passport photo page (personal particulars) with at least 6 months validity from the date of travel
Return ticket or onward journey ticket
If you're applying for the e-business or e-medical visa, you'd need the below additional documents.
For eBusiness visa, you need to upload the Business Card for the company you work for or, an invitation letter from the company in India including the company's information, address and phone number in India.
For eMedical visa, a letter from the hospital in India including the tentative date of admission/treatment in the hospital mentioning the name, nationality and Passport number of the patient/e-Medical Visa applicant.
How to Get Indian e-Visa Online?
Now, let me walk you through the step-by-step process to apply for Indian eVisa from the UK.
Pre-requisites
Here's what you need when you sit down to apply for eVisa to India online.
A recent coloured photograph (dimensions 2in X 2in) size less than 1MB – on the upload page the requirement shows for the picture to be 350×350 pixels.
Copy of Passport page containing personal particulars.
Beware of Fake eVisa websites
There are quite a few websites online that promise to get you the visa for India quickly using their express/premium service but are known to be fake or illegitimate as warned on the official government website as well.
The only official eVisa website is https://indianvisaonline.gov.in/evisa/tvoa.html (this guide is based on the official process of obtaining eVisa).
Indian eVisa Online form
I recommend you open a new tab from this step onward so I can guide you through each step.
Go to this link (opens in a new tab) and click on e-Visa Application tab and you will be taken to the eVisa application registration page.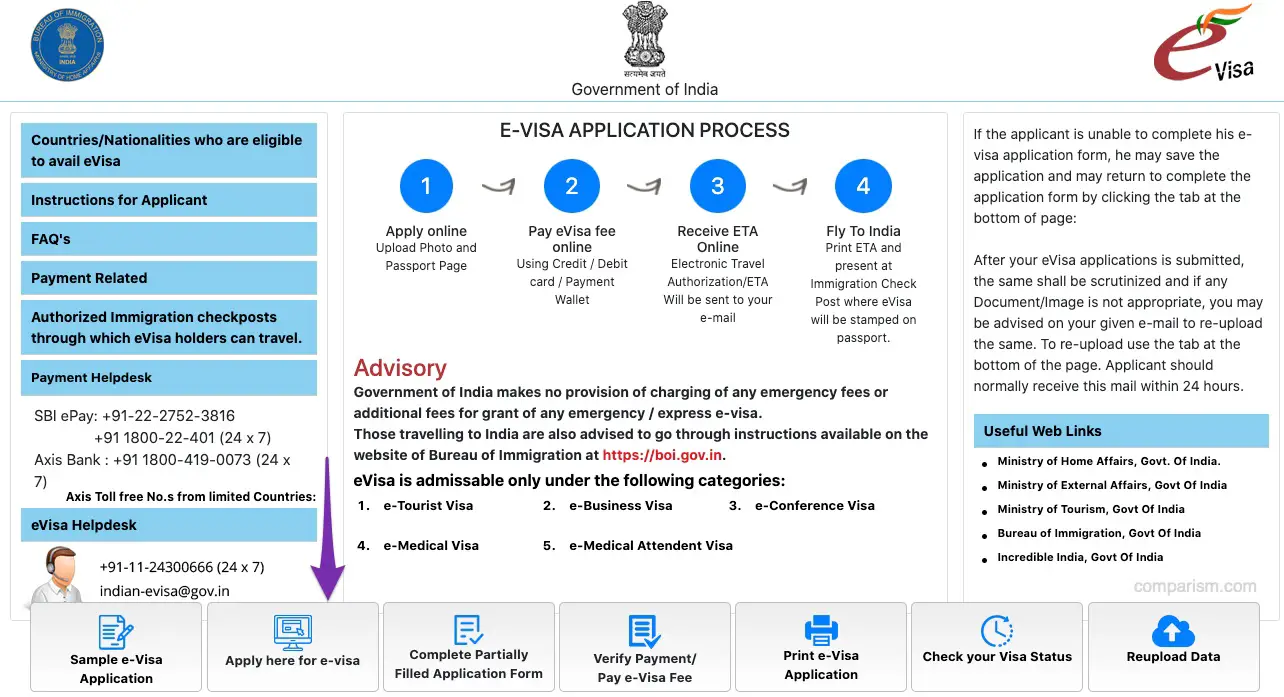 Step #1. Select nationality and type of Visa
Start the by filling in the information about your nationality and the visa type you want to apply for.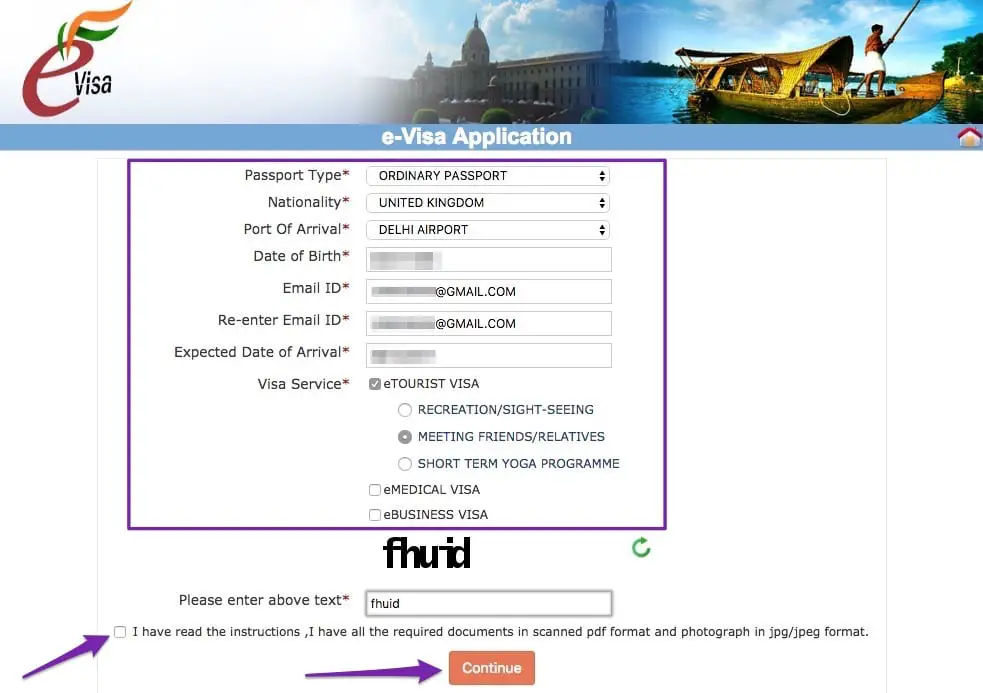 Fill in the form with your Passport Type, Nationality, Port of Arrival, Date o Birth, Email address to receive the eVisa, and expected date of arrival in India
Select the Visa category as applicable. Your options are eTourist Visa, eBusiness Visa, eConference Visa, eMedical Visa, eMedical attendant visa – you can select more than one.
Agree to the TnCs and click "Continue" to proceed to the next step: the Applicant Details Form.
Step #2. Enter Applicant Details
This is the step when you get a Temporary Application ID.
Note it down as you would need it in case you want to access your partially filled form.
It's important:
If you don't have the temp application ID, there is no way to access the details you already filled and will have to start the process again.
Fill in the applicant personal details as below and proceed to the next step.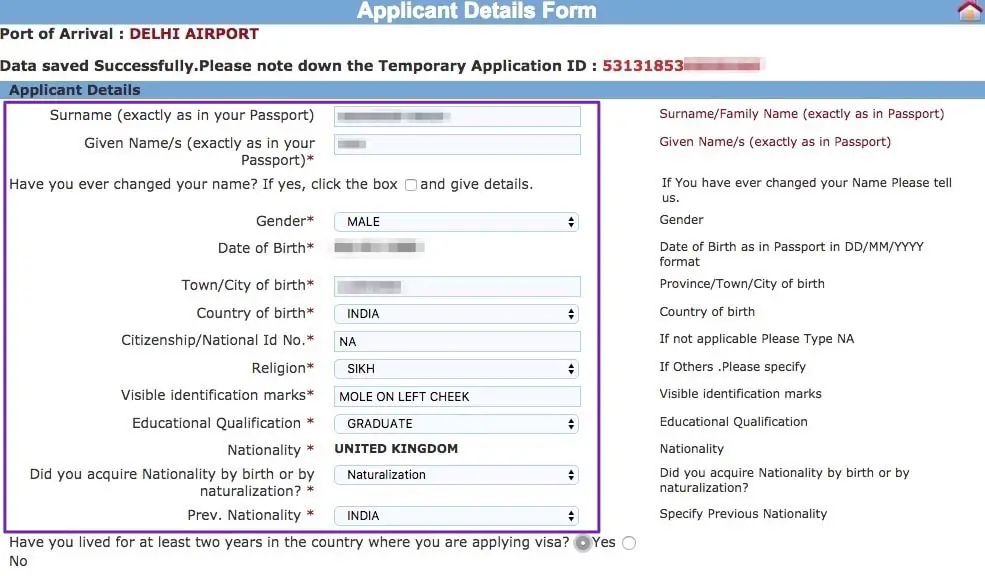 Enter passport details:

Step #3. Enter Applicant Address and family details
In the next step, enter your present address and permanent address details.
If your permanent address is the same as your present address, you can select the option to select the same address for both sections.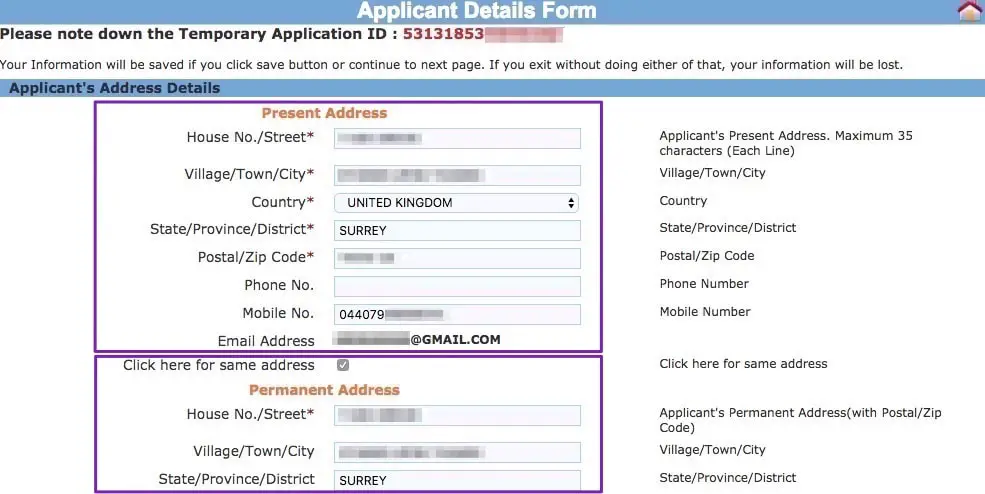 Now enter the details of your family.
If you are married, you need to select the Applicant's married status as "Married" and provide your spouse's details.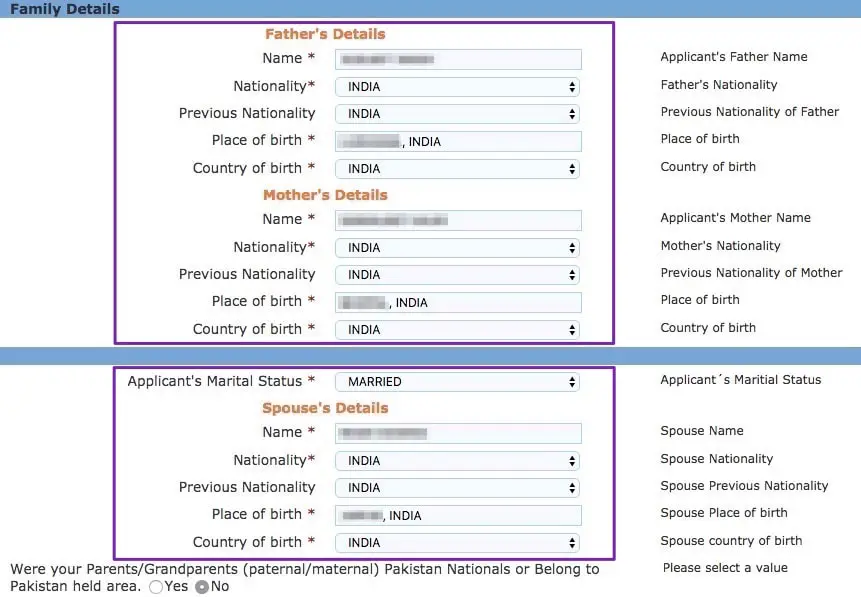 Step #4. Details of Visa Sought
This is where you need to provide the details/purpose of your visit to India.

You also need to provide details of your previous visit to India.
It is mandatory to provide your previous visa details in the application form.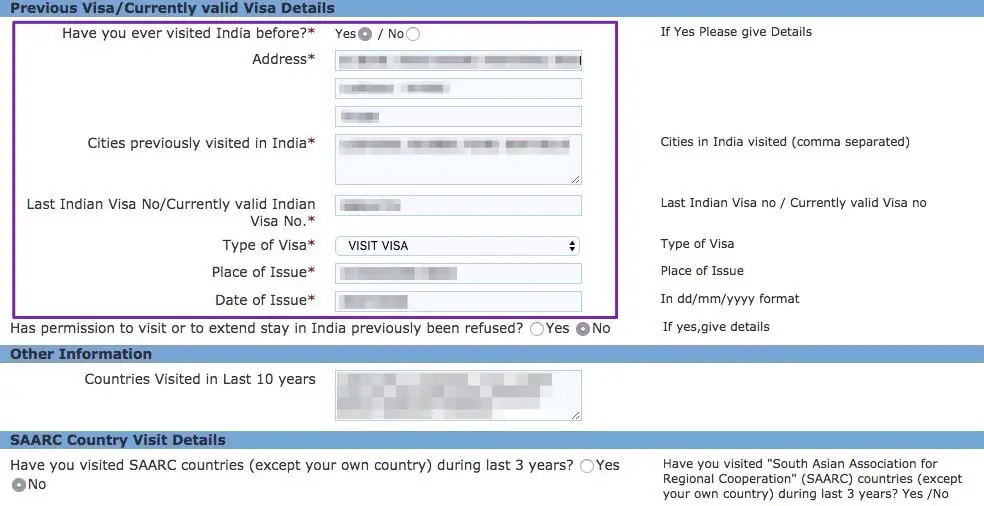 Note: If you've always visited India before as an Indian citizen using your Indian passport, you've never had an Indian visa.
Since you were an Indian citizen, you've technically never visited India before, you've only been a resident there.
In that case, or if you don't remember your previous Indian visa details, you can write NA or Not Available or Not Applicable in the application.
References in India and the UK
In this section, you need to provide the name, address and contact details of references in India and in your country of residence (in my case UK).
If you will be staying in a hotel on your visit to India, the details of your accommodation will suffice.
The UK reference can be a friend, colleague, partner or family member with their address and contact number (including country code).
For references, I provided my parents' details in India and my spouse details in the UK.
Step #5. Additional questions about your past
In the next step, answer all the questions and click "Save and Continue" – the answers to all of these usually will be a No.
Have you ever been arrested/ prosecuted/ convicted by the Court of Law in any country?
Have you ever been refused entry / deported by any country including India?
Have you ever been engaged in Human trafficking/ Drug trafficking/ Child abuse/ Crime against women/ Economic offence / Financial fraud?
Have you ever been engaged in Cyber crime/ Terrorist activities/ Sabotage/ Espionage/ Genocide/ Political killing/ other act of violence?
Have you ever by any means or medium, expressed views that justify or glorify terrorist violence or that may encourage others to do terrorist acts or other serious criminal acts?
Have you sought asylum (political or otherwise) in any country?
Step #6. Upload a digital photo
In the next step, you need to upload a recent photograph for your eVisa.
Photo specifications:
Clear front facing photograph with white or light-coloured background
Size – maximum 1 MB in JPEG format
Dimensions – 350px (height) x 350px (width)
If you are not ready to upload the picture right away, you can log back in to the form using the temporary application ID.
Step #7. Upload documents
We're almost done.
Here, you need to upload the documents to support your online e-visa application. In my case, I applied for an eTourist + eBusiness visa hence I was asked to upload a copy of my business card as well.
If you're applying for eTourist alone, you'd see only the request for the "Copy of Passport page containing personal particulars."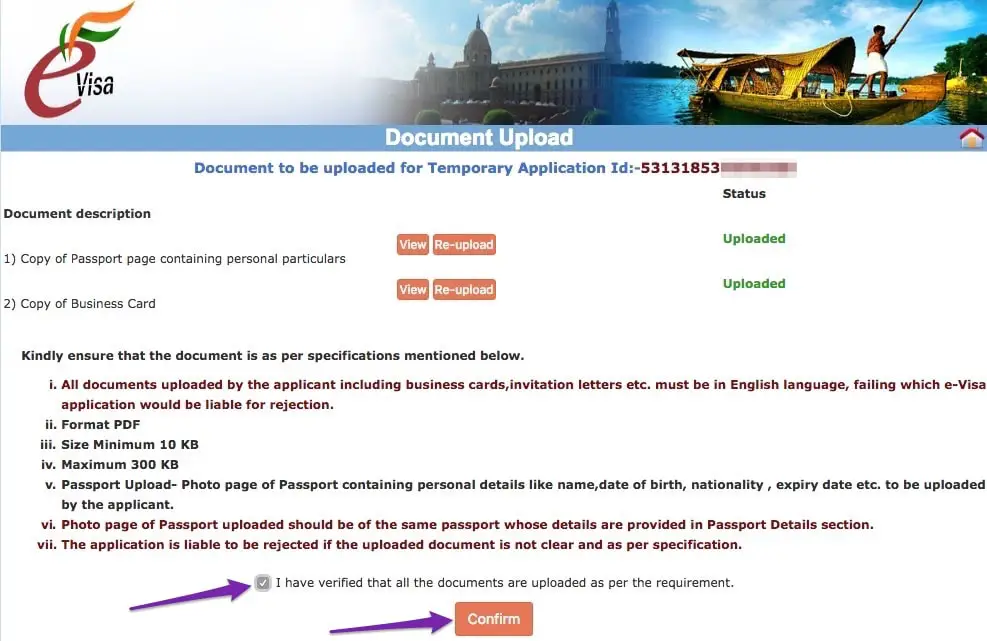 Document specifications:
Documents must be in the English language
File size should be between 10KB to 300KB in PDF format
Step #8. Review and Confirm Details
Verify all the information that you've provided on the eVisa application form is correct.
If you find any issues or mistakes on the form, now is the chance to modify/edit it.
If you review and confirm the information and click the "Verified and Continue" button and later realise for any information to be incorrect, you'll need to fill out a new form as you won't be allowed to modify it later.
Once you're happy with all the information, click "Verified and Continue" to move to the payment step.
Step #9. Online eVisa Fee Payment
You've now reached the final step.
Note down the Application ID that is displayed on top of the page as you'd need this to track the status of your eVisa and print the ETA when your visa gets approved.

Select Yes to agree to the undertaking and click "Pay Now"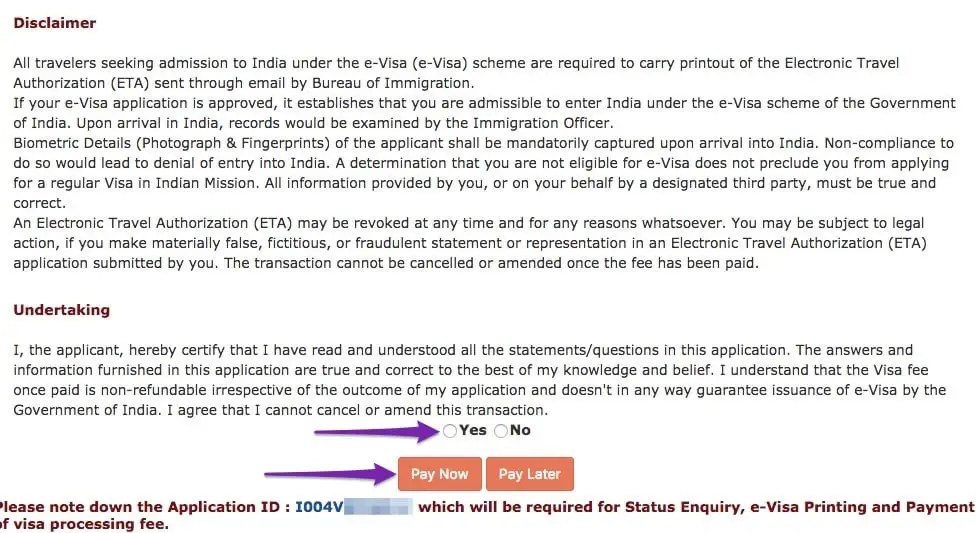 You'll be redirected to the payment gateway where you can make the payment.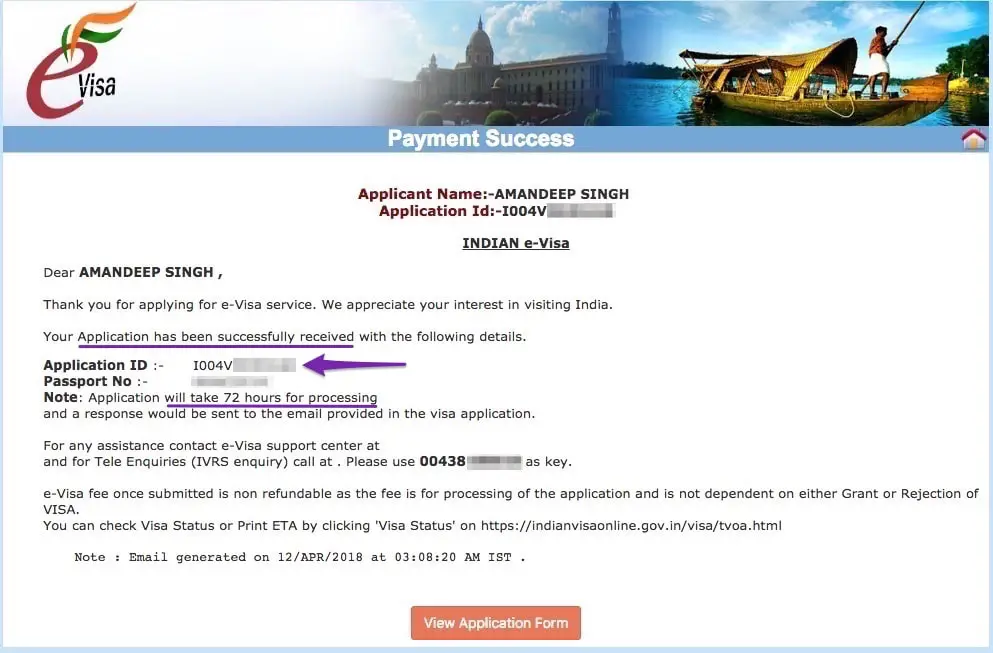 Congratulations! You've successfully applied for an eVisa for India online.
You should get the below email confirmation with the subject "Status regarding e-Visa application id: I004V5DXXXXX"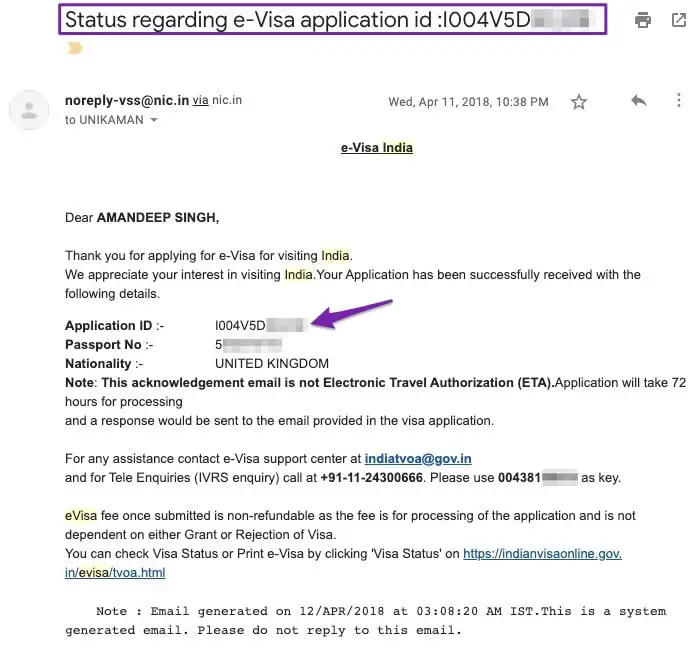 All you need to do now is to wait for the approved eVisa.
Travelling with eVisa to India
Once your eVisa is approved, you'll get an email confirming the status of your application. The approved ETA (eVisa) will come attached to your email in PDF format – download the file and print it.
It is very important that you verify all the information on the granted Visa is correct and matches your passport. If you see any incorrect information, you must notify the e-Visa support centre at [email protected].
You'll need to carry a printout of the Electronic Travel Authorization (ETA) when you travel to India – that's your eVisa.
When you enter India, the immigration officer will capture your biometric details (photograph and fingerprints). Watch out for the immigration counters that read "e-Visa".
Visiting India – Bonus Tips
Get travel insurance
It's optional but quite essential to have enough travel/medical insurance cover in place when travelling to India. Insurance is one product that you buy with the intent of almost never having to use it.
But it's always a relief to know that you are covered if things didn't go as planned.
In many cases, your bank could provide this as a packaged benefit. If not, there are a lot of options to compare.
Buying Indian currency (Indian Rupees)
The Indian rupee is a closed currency which means that you cannot exchange your local currency for Indian Rupees in your country.
The best tip I can give is: avoid buying Indian rupees at the airport as the exchange rates you get at airports are the worst. Here are a few additional tips to avoid getting a bad deal on your currency exchange.
You'll get a slightly better exchange rate at local exchange brokers when out in the city in India.
But, the overall best way is:
to carry a debit or credit card that allows spending overseas economically at the best exchange rates at mid-market rate, if you don't have a bank account in India. There are a lot of options that don't charge any fees for overseas spending.
to send it to your Indian bank account using money transfer services that provide the best exchange rates. Check out the list of best ways of sending to India that I had prepared a while ago.
---
Apply eVisa for India online – Summary
There you have it – the step-by-step process of applying online eVisa for India.
If you're a resident of an eVisa eligible country, applying a visa for India is a completely hassle-free process with no physical appointment required.
If you're a person of Indian origin and have just got foreign nationality with no time to apply for an OCI card, eVisa is a great option for you.
You can apply the e-visa from the comfort of your home using your computer with no physical application or in-person visit required.
How did you find this guide – please leave me your feedback in the comments section below.
If you get an eVisa granted successfully, do give us a shoutout on social media!
If you've got a couple of minutes, you can also leave us a review on Trustpilot – it would mean the world to me.
These guides take a lot of hours to put together so any effort you make in spreading word about Comparism goes a long way in keeping this project going on.
Don't forget to share this post with your friends, colleagues and family members on Twitter, Whatsapp, Facebook etc – your support means a lot in carrying on this work.
Please do subscribe to our free newsletter and I'll make sure you get an update about future posts on Comparism.
Let's catch up in the comments section below.
FAQs about Indian Online eVisa