Transferring money across borders can be invaluable if you're a student, a professional living abroad, or an entrepreneur with international clients and suppliers. Without international transfers, sending money to family, friends, and clients abroad would be nearly impossible.
Now, sending money internationally doesn't have to be complicated or expensive.
In fact, with a little bit of research, you can find a money transfer solution that is fast, safe, and affordable. From providing the best exchange rates and low fees to having a safe and secure platform, choosing the right service can help you save time and money.
But not all international money transfer operators are the same.
In the last 10+ years, I have spent a ton of time and money testing and comparing many different money transfer companies. And this guide is the result of that.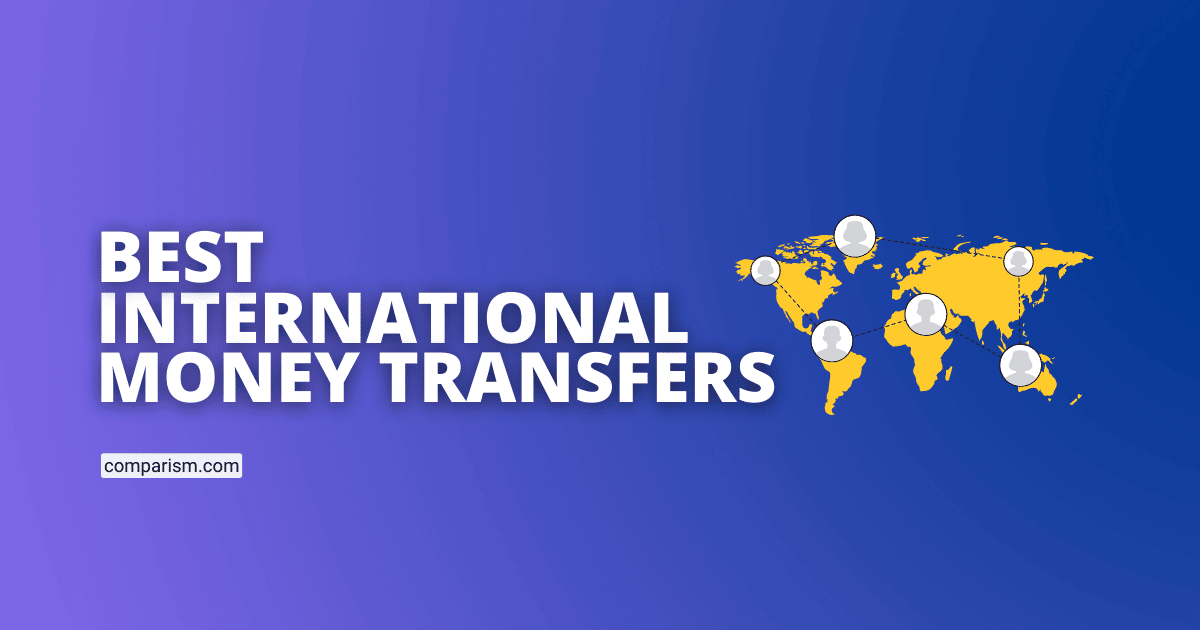 In this (mega) guide, I'll give you the findings from my research, followed by our review of the 15 best remittance companies and my top choices to help you choose the best way to send money internationally.
We'll cover everything you need to know about international money transfers, including the different types of money transfer services available and how to choose the right one for your needs. If you're looking for the best international money transfer comparison under one roof, I hope you'll find one by the end of this guide.
Disclaimer: Comparism is reader-supported. This post contains affiliate links which means if you use one of the services mentioned, we may earn a small commission at (absolutely) no extra cost to you. I test these services for you, and you support our efforts by using our links. It's a win-win. Also, this is an informational post and not financial advice. It does not cater to your specific needs. You might need to consult a professional to discuss your specific scenario.
If you're in a hurry, here's a summary for you.
Best International Money Transfer Company (Summary)
Based on my research of testing 25+ providers, here's a quick list for you.
If even that's a lot of choices and you just want the low down, here are my top picks, depending on the amount you're sending.
For amounts less than £3000, Wise is the best international money transfer service I've tested overall. They offer low transfer fees (usually ~0.5%), good exchange rates, and a fast and easy platform that makes sending money abroad hassle-free for most currency pairs. With a similar offering, InstaReM is a close second.
With limited currency pairs and iOS app-only transfers from UK and Europe for now, Atlantic Money is the cheapest option, with a flat £3/€3 fee (for any amount). None of the other options I tested could beat the overall amount converted for the available currency pairs.
For large transfers (>£3000), Currencies Direct is a competitive option for the number of currency pairs offered.
Now let's continue with the detailed analysis and review.
Why Should You Trust Me?
I came to the UK 12+ years ago. After using my bank for transferring money for the first two-ish years, I have tried companies of all different kinds that provide international remittance services over the last decade. Why did I make the switch away from my bank?
Well, I realised how much of my hard-earned money was being swallowed by the hidden fees and poor exchange rates. And banks get away with it because people trust them. Blindly. I did too.
The truth is:
Remittance still costs an average of 6.09% globally. Banks take the biggest cut off of your foreign currency transfers with an average cost of 10.95% per transfer, adding huge markups to their exchange rate offering (source).
So, I started looking for bank alternatives and found a few companies that offered better rates, reduced fees, transparency, and great customer service.
Since then, I have never used a bank again for sending money abroad. In the process, I learnt a lot about how remittances work and how cheaper alternatives can save a ton of money in fees and hidden charges. That became the motivation behind starting Comparism and spreading awareness about things banks would never want you to know.
In this post, every single bank alternative gives you a better deal than a bank. I have rarely come across a situation where a bank is the better option.
This guide not only tells you how to compare money transfers but also how to avoid getting ripped off by banks, financial institutions or Credit Unions. These places market themselves as cheap, but more often than not, they are anything but.
This is also not one of those fake reviews that list the company that pays the most commissions on the top in their comparison tables. I have tested most apps on this list myself to make an actual transfer or only included the ones that I verified and had enough trust to recommend to you.
Don't take my word for it. I have provided links for each of these bank alternatives. Feel free to click through, do your calculations and compare the overall amount your recipient will get compared to what your bank offers. And then decide.
Drop me a comment below with what you find. Now, let's get to it.
Top 15 Best International Money Transfer Companies (Reviewed)
Banks are a popular choice for sending money overseas, but they may often charge high fees (without you even realising it), and your money could take longer to arrive. Specialist money transfer services are a great alternative to banks. They're cheaper, faster and more convenient.
Here, I've curated a list of the top 15 international money transfer companies. The list is based on the cost, speed, security features and ease of use. Most importantly, the real cost of sending money abroad from A to B.
Each remittance company has its benefits, and I have laid out each of these points to make it easy for you to make an informed decision.
Wise (formerly, TransferWise) is a money transfer company that offers low-cost transfers with no hidden fees. They use real mid-market currency exchange rates and are regulated by the Financial Conduct Authority (FCA) in the UK.
Wise was launched in 2011 and was known as TransferWise up until Feb 2021, just before they IPO'd to be listed on the public markets (London Stock Exchange). It is one of the best international money transfer services I have used for 10+ years.
Wise is an excellent choice if you want to save on transfer fees and get the best exchange rate. The online platform is easy to use, and they offer a mobile app for making transfers on the go.
Wise offers conversions using mid-market rates with an upfront fee on each transfer and no hidden charges. Wise also offers 24/7 customer support if you have questions about your transfer.
Here's how it works:
Key features
Low-cost transfers, no hidden fees. This means that you will pay a small, transparent fee for your transfer and not be charged any hidden fees.
Real exchange rate. So, you will get the mid-market exchange rate without any markup.
Regulated by the Financial Conduct Authority (FCA)
Safe and Secure. Wise uses the latest technology to keep your money safe and secure.
Allows recurring transfers.
Easy-to-use mobile apps on both iOS and Android.
24/7 customer support if you have any questions about your transfer.
Rated 4.5/5 (Excellent) on Trustpilot based on 166,302 reviews. That's a lot of feedback from all kinds of users.
With a Wise account, you can also choose to get a Wise card (for a £5 one-off charge). It's an international debit card you can use to spend abroad in 200+ countries with the real exchange rate and works with Google and Apple Pay.
Fees
Wise money transfer fee depends on the currency pair and the country you're making a transfer from but usually varies between 0.41% to 0.65%.
InstaReM is one of the most popular online money transfers. They offer a low service fee and mid-market real exchange rate for your transfers, so you can get more bang for your buck when transferring funds abroad.
InstaReM is available in 55+ countries, so it's a great choice for those who need to transfer money internationally often.
You can pay for your transfers using a bank transfer or a debit card.
InstaReM also offers a loyalty program using which you can collect Instapoints and redeem them on your future transfers and referrals.
Key features:
Low transparent fees showed upfront
Transfers are usually instant or same day
Regulated by regulators across the globe
Mobile apps on both iOS and Android platforms
Loyalty program to earn reward points on signing up and subsequent transfers
Trustpilot rating 4.5/5 (Excellent) based on 7273 reviews
Fees
The remittance fee you pay depends on the currency pair you're converting but is usually between 0.25% and 1%. The exact fee you pay is shown on the currency calculator when you create your transfer.
Offer
You can use the InstaReM new customer promo code to get up to $22 off your first transfer.
XE is one of the most reputable companies in the remittance industry! They have been in the business since 1993 and started as a remittance data provider.
In 2015, XE became a part of the Euronet group that also owns Ria money transfer and together form the third largest money transfer business in the world.
Globally, XE allows you to transfer money in 139 currencies to over 220 countries and territories.
From the UK, you can send money to over 130 countries. Based on the data from the website, they moved over $115 Billion in remittances last year, which means you can trust them with your money.
XE offers various delivery options, so you can choose the method that best suits your needs. They offer a convenient and fast service with competitive currency conversion rates and low fees. Plus, you can use their mobile app for on-the-go transfers on both iOS and Android platforms.
However, XE adds a low markup to the exchange rate but is still a great alternative to banks as you're looking at 90% savings on fees compared to a bank.
Key features:
low, transparent fees
Competitive rates
transparent delivery times using multiple options
Both iOS and Android apps highly-rated
Rated 4.3/5 on Trustpilot based on 53,750 customer reviews with 94% 4-star and 5-star reviews.
Fees
XE charges no fees in most cases; however, if you send below 200 GBP or 250 EUR from the UK or EU, you'll pay €/£ 2 in fees. XE adds an exchange rate markup (usually 0.5-1%), shown upfront when you set your transfer request. This makes XE very competitive compared to banks that charge 5-7% markup (sometimes even more).
Offer
£25 gift card when you refer a friend using your referral link and they send £1000 with XE. Your friend also gets a £25 gift card.
CurrencyFair offers a fast, secure and affordable way to send money overseas. With no hidden fees and a regulated and secure platform, CurrencyFair offers international money transfers to 150+ countries in 20 currencies. It was launched in Ireland in 2010 and now has over 150k+ customers.
With their unique CurrencyFair Exchange feature (a peer-to-peer marketplace), you can choose your rate and wait for a match from one of CurrencyFair's members on the platform. This means you could potentially beat the currency exchange rate you see on Google/XE.
CurrencyFair is fully regulated by ASIC in Australia, the Central Bank of Ireland in Europe and MAS in Singapore. They're also a licensed Money Service Operator in Hong Kong.
Key features
Fast money transfers with no hidden fees
Bank-level security protocols
CurrencyFair Exchange (P2P currency marketplace)
Regulated in every territory operated
Enjoy the convenience of a fast, reliable money transfer service
Multilingual customer support (you can get in touch by phone or email)
Rated 4.6/5 (Excellent) on Trustpilot based on 5928 reviews
Fees
CurrencyFair charges a flat fee of €3 per transfer plus 0.45% of the total amount sent.
Offer
Get the first ten transfers fee-free when you sign up using this link.
Remitly is a leading international wire transfer service that offers fast, easy, and secure transfers to 190+ countries worldwide. It offers competitive exchange rates at low flat fees, making it a great option to save money on international transfers.
Remitly is rated highly for its customer service and delivers on its promises of providing fair exchange rates with bank-level security. It is probably your best option if you're looking for a fast and reliable money transfer service.
Along with the standard delivery option (economy fee), they offer an express delivery option so you can have your money delivered within hours of sending it for additional fees. They offer transfers within minutes, which can be a lifesaver when you need to send money urgently.
Key features
Regulated as a money transfer service around the world
24×7 customer support (live chat option available)
Rated 4.1/5 (Great) based on 36,056 reviews on Trustpilot
Remitly Fees
The transfer fee with Remitly varies depending on the country and currency pairs but usually, you're looking at paying £0.99-£1.99 for the Economy and £1.99 to £3.49 for the Express delivery speed.
You can use this Remitly new customer offer to get £10 off with no fees on your first transfer.
Once you're signed up, you also get access to the Remitly referral program that you can use to refer your friends and earn referral rewards.
Deal
£10 OFF and £0 fees on your first transfer using this link.
Atlantic Money is a fairly new entrant to the online money transfers scene but has started to make an impact with its fixed flat fee of £3/€3 on all transfers (up to £1 Million or €100k) and offering a Real Exchange Rate (RER). Meaning zero added markup.
That's one of the cheapest options for sending money abroad, saving you up to 99% compared to other options (especially for large transfers).
I verified this claim using the currency calculator on the Atlantic Money app. The main reason Atlantic Money didn't make it to our top 10 (for now) is that they don't have the same global reach as the other companies on this list.
The only limitation with Atlantic Money is the number of foreign currency pairs you can exchange. For now, you can only request transfers from Europe (EUR) and the UK (GBP) to nine currencies: Australian Dollar (AUD), Candian Dollar (CAD), Danish Krone (DKK), Euro (EUR), British Pound (GBP), Norwegian Krone (NOK), Polish Zloty (PLN), Swedish Krona (SEK) and the US Dollar (USD).
Here's how I see the offering from Atlantic Money: like Wise changed the money transfer game for banks, Atlantic Money will change it for the money transfer companies with the network effect if they end up delivering what they promise.
Here's an explainer video about how it works:
Key features
Fixed fee of £3 for transfers up to £1 million pounds
Huge savings on large transfers
Regulated and authorised by the UK Financial Conduct Authority (FCA) and the National Bank of Belgium
Fees
Atlantic Money charges a flat fee of £3/€3 for any amount up to £1Mn; that's for the standard delivery taking 2-3 working days. If you want speedy transfers, you can opt for Express delivery paying additional fees of 0.05% of the amount you're sending. To give you an idea, that's £0.50 fee for a £1000 transfer – that's cheap. And almost too good to be true.
Offer
Get a free transfer using my link.
WorldRemit is a top contender on this list of best international money transfer options, competing head-to-head with Wise, InstaReM and Remitly. They offer quick and easy transfers with competitive fees and exchange rates, making them an affordable option to save money on their international transfers.
WorldRemit was launched in 2010 and serves 5.7 million customers in over 130 countries using 70 currencies. They have a broad reach and are perfect if you need multiple options for transferring and receiving money internationally: bank transfer, mobile wallet, airtime mobile top-up, cash pickup or even home delivery (selected corridors).
So you can choose the method that best suits your needs.
For bank transfers, you'll usually find Wise, Remitly and InstaReM offer better rates for some corridors, so you can compare your options depending on the payment method you prefer to use.
WorldRemit has an easy-to-use website and app that makes it easy for you to send money transfers quickly and easily. They also have excellent customer service.
Key features
95% of transfers completed in minutes
Transparent conversion rates and transfer fees
Multiple payment methods: bank deposits, airtime top-up, mobile wallet and cash pick up
Cash pick-up services with 30,000+ recipient locations
Cash delivery is cheaper than alternatives
Rated 4.1/5 (Great) based on 65,277 reviews on Trustpilot
Fees
WorldRemit charges a fixed fee of £0.99 to £2.99 depending on the country from/to which you're sending money and the payment type.
The fee is flat; it doesn't change whether you send a small amount like £100, or a larger amount like £10,000. So sending money using WorldRemit starts to get cheaper the more you send.
Examples below
| Currency | Flat Fees |
| --- | --- |
| GBP to CAD | £0.99 |
| GBP to INR | £1.49 |
| GBP to USD | £2.99 |
WorldRemit Fees
Offer
You can use this link to get your first 4 WorldRemit transfers for free.
OFX is a reliable service and a competitive option if you need to send a large amount of money overseas. They offer competitive bank-beating exchange rates, low wire transfer fee, and a convenient online platform.
OFX has over 20 years of expertise in global money transfer, having sent over £113 billion+ with 1 million customers worldwide. With OFX, you can remit money in over 50 currencies to 170+ countries.
Apart from the standard one-off spot transfers, you can also set up a recurring transfer if you need to make regular payments (e.g. for rent or mortgage) or a limit order to set a target rate that you want to convert at.
You also have a forward contract feature that allows you to make your transfer in the future (up to 12 months) at an exchange rate agreed today.
Plus, you have access to a 24×7 customer service team (a real person) to answer any of your questions, which is reassuring when sending large sums of money.
OFX has offices in London, Dublin, Sydney, Auckland, Hong Kong, Singapore, Toronto and San Francisco.
Key features
Bank-beating exchange rates
Publicly listed company (ASX:OFX)
Monitored by the FCA (UK) and over 50 regulators globally
24×7 support team
Recurring transfers available
Fees
OFX doesn't charge a transfer fee but instead adds a markup to its exchange rates, usually ranging from 1-2% (based on GBP → EUR and GBP → USD pairs I tested.)
Offer
Unlimited fee-free transfers. Sign up now.
TorFX is another great option to transfer funds internationally if you're looking for competitive exchange rates and a low wire transfer fee for sending large transfers for individuals and businesses.
Established in 2004, TorFX has helped over 325000 personal and business customers offering various payout options and processes £7.5Bn+ every year in foreign currency exchange.
Key features
Fee-free foreign currency transfers (adds a markup to exchange rates)
Offers online service and iOS/Android apps
4.9/5 (Excellent) based on 5615 reviews on Trustpilot
Fees
TorFX doesn't charge transfer fees however they add a markup to the exchange rate that ranges between 1.9 (for large transfers) to 3% (for smaller transfers).
Offer
Get £50 Amazon voucher for every friend you refer (who transfers over £5000 or sets up a regular overseas payment plan). Sign up now.
Currencies Direct, founded in 1996, was the first money transfer provider in Europe. It is another reputed currency exchange expert that allows you to create your money transfers online, over the phone or by using the app.
With Currencies Direct, you can transfer funds to 120+ countries in over 60 currencies using a card or bank transfer.
Check live rates 24×7
Same-day transfers available for many currency pairs
Authorised and regulated by the Financial Conduct Authority (FCA)
Winner of the MoneyAge 'Money Transfer Provider of the Year' Award 2020
4.9/5 (Excellent) Trustpilot rating (based on 7542 reviews)
Fees
Currencies Direct adds a markup to the exchange rate and doesn't charge transfer fees. The total amount you get on conversion is shown to you when you set up a transfer.
Offer
£50 Amazon voucher when you refer a friend, and they make their first transfer. Sign up now.
TransferGo, launched in 2012 in London, is another excellent option for international money transfers that allows you to send money abroad in as little as 30 minutes (applicable to specific corridors for extra fees of £1.99).
TransferGo is available in over 50 countries worldwide and has 4 million people using its services.
They offer competitive rates for currency conversion, low money transfer fees and convenient, easy-to-use web and mobile apps that make sending money a breeze. As a new customer, you pay zero fees on your first two transfers.
In addition, they have a very low minimum transfer amount of just £/$/€50.
Key features
Low flat fees and competitive exchange rates
Option to send money online within 30 minutes (inc. weekends)
Multilingual customer support team
Mobile app on iOS App Store, Google Play and Huawei AppGallery
Rated 4.8/5 (Excellent) based on 28094 reviews on Trustpilot
Offer
For Comparism readers, TransferGo is offering the first two transfers for free. Don't forget to use this link to claim your free transfers.
Tip: Once you've signed up to TransferGo, you can start referring friends, family members or colleagues to earn £20 (or equivalent in your currency) for every successful referral that sends at least £100 in their first six months. Just log in to TransferGo and go to the 'invite' section of your account to get your invite code.
Paysend, founded in 2017, is a fairly new kid on the block but already enjoys the support of 3.7 Million customers in over 60 countries. They offer great exchange rates with low, transparent fees, making it a competitive option amongst different ways to send money abroad.
Paysend delivers money to over 170 countries worldwide for a low fee of £1. They also have an excellent customer service team that I put to the test in my detailed Paysend review.
They were one of the first Fintech companies to introduce global card-to-card transfers.
Paysend also offers a multi-currency global money account that you can use to hold, send and spend your money from the app using 8 different currencies.
Key features
No fees on transfers using UPI (India) or direct bank transfer
Send money using bank transfer, direct card-to-card transfer, mobile number (Paysend link) or Digital wallet
Bank-level security certified by Visa, Mastercard, China UnionPay, FCA and PCI DSS
Apps available on Google Play, Apple App Store and Huawei AppGallery
Global 24/7 customer support via email and live chat
Rated 4.5/5 (Excellent) based on 30,144 Trustpilot reviews
Western Union has been in the money transfer business for over 150 years. They offer competitive exchange rates and low transfer fees, and a range of delivery options to suit your needs.
You can create your transfer online, using the app or in person at an agent location. However, they are expensive compared to other online services on this list. So unless you need a cash pickup service, there are better alternatives.
With more than 15 million customers, WU offers transfers to over 200 countries worldwide, making them a truly global payments provider.
The website is easy to use, and they have a large network of physical locations where you can go and transfer money abroad in person. With WU, you can remit money at a quick speed, but they aren't always as cheap as other options.
Plus, they have an excellent customer service team available 24×7. This is great news if you need to send money urgently or have any questions or concerns about your transfer.
Key features
550,000+ agent locations globally
use bank transfers or visit a agent location in person
Rated 4.0/5 (Great) based on 36,468 Trustpilot reviews
Fees
WesternUnion charges transfer fees and also makes money from currency exchange, adding a markup of 0.7-3% to the midmarket rates depending on the currency pair.
Offer
First online transfer fee-free. Sign up now.
14. MoneyGram
Another great option to transfer money globally is MoneyGram. They have a global network of agents who can help you get money where it needs to go, even if the recipient has no access to a bank account.
Similar to Western Union, MoneyGram is a leader in money transfer services offering cash pickup with over 350,000 agent locations in over 200 countries and territories around the world.
If cash pick-up is what you're after, then MoneyGram is a competitive alternative to Western Union. They offer a variety of delivery options, including same-day cash pick-up and next-day bank transfers.
Offer
£5 Amazon gift card on your first transfer.
15. Moneycorp
Moneycorp was established in 1979 and has been catering to money transfer needs for individuals and businesses for over 40 years. Moneycorp is a competitive option for large transfers for individuals, young SMEs and large businesses. You get a dedicated relationship manager to help with your international payments.
You can create your transfers online or in person at an agent location.
Moneycorp also allows you to 'lock in' on an exchange rate for two years (a forward contract). Or you can opt for recurring payments by setting up the Regular Payment Plan.
Key features
Lock in exchange rates for 24 months
Recurring payments available using Regular Payment Plan
£50 minimum transfer amount
Same-day delivery for specific foreign currency pairs (2-3 working days for the rest)
4.4/5 (Excellent) rating on Trustpilot based on 6210 reviews
Notable International Money Transfer Organisations
Xendpay is the only online service for money transfers on this list that offers a Pay-What-You-Want model for its remittance fees (for the first £2000 per year).
With Xendpay, you can send money in 42 currencies to 205 nations (close to 3000 currency pairs). It's a great offering and the money gets remitted in time as well.
The web and mobile apps work okay but, the UX and designs seem to haven't been upgraded for a long time. Don't expect them to be as polished and modern as other options like Wise, Remitly or InstaReM. That was a major reason Xendpay couldn't cut to the top 15. It works and is still a great way to send money at mid-market real exchange rates and low fees with great customer ratings.
Key features
Transparent exchange rates
Pay What You Want Fees (on £2000 every year; £4000 per year for businesses)
iOS and Google play mobile apps
Refer unlimited friends to earn £10 per referral
4.3/5 (Excellent) based on 10,876 customer reviews on Trustpilot
Offer
Get £10 off your first transfer and use their referral program to refer your friends and earn £10 per referral.
17. Xoom
Xoom is a great choice if you need to send money to family and friends in other countries. They have various payout options, including bank deposits, cash pickups, and home delivery.
18. Paypal
Payal is a great app to send money online to your loved ones in the same country as yours but it isn't the best when it comes to international payments, especially if you're looking for the most competitive rates.
19. Sendwave
SendWave belongs to the Zepz group, the company that owns WorldRemit, and specialises in money transfers to the African corridor along with a few countries in Asia, North America and Europe. Sendwave is trusted by 800k users and is available as a mobile phone app only with no web interface.
What is International Money Transfer?
International money transfer involves moving funds from one person or entity to another in a different country. It involves sending money from your account to your recipient's bank account (which can be your own account as well). It's often used to send money between friends and family living abroad and for business payments.
It's also referred to as an international wire transfer or an international bank transfer. They all mean the same thing: remitting international payments from one country to another. The money transfer can be done in person, over the phone, or online.
When Do People Use an International Money Transfer?
There are several reasons people send money overseas. Perhaps you're emigrating to a new country and need to move your funds over, or you have family or friends who live in another country, or you are a student studying abroad and need to send receive money from back home.
Using an overseas transfer, you can also pay for goods or services abroad or make regular payments, like utility bills, mortgage payments or general expenses.
International money transfers are also commonly used for business purposes. For example, if you're an entrepreneur with clients or suppliers in other countries, you'll likely need to make regular international remittances to pay them.
Here are some of the most common reasons people use international money transfers:
Emigrating to a new country
Studying abroad
Sending money home to family or friends
Paying bills in another country
Business purposes (e.g. paying clients or suppliers)
Whatever your reason, if you need to send money to someone in another country, you will need to use an international money transfer.
So it's essential to know how the process works and which company best suits your needs. You could lose a lot of money by not knowing how international money transfer works.
Why are Money Transfers Important?
International money transfers are important for several reasons.
For one, they provide a way for people to send money in different currencies to loved ones who live in another country. For example, this can be helpful for students studying abroad, as they can easily access their funds from their parents at a local bank branch without worrying about exchanging currency at a bank or airport.
It's also beneficial for businesses with international customers, as they can easily accept payments in different currencies. Additionally, they allow businesses to make payments to clients and suppliers in other countries.
Finally, international money transfers can be used to pay bills or purchase from companies in another country.
Overall, international money transfers are a convenient way to send money to someone in another country, whether it's for personal or business purposes.
The benefits of international money transfer services are numerous, but they all stem from one thing: speed and simplicity. International transfers allow you to send money quickly and easily to your loved ones or business associates in other countries.
How Does International Money Transfer Work?
When you make an international money transfer, you're essentially sending money from your bank account in one country to another person's or entity's bank account in another country. But how does it all work?
International money transfers work using one of the two popular ways:
Peer-to-peer (P2P): where the money doesn't cross borders and is exchanged with a similar transfer in the reverse direction. This is what most modern remittance providers like Wise, Remitly and InstaReM use to keep the costs low compared to a bank.
SWIFT network: the international system banks use to send and receive money from one another. When you make a transfer, your bank will send a message through the SWIFT network to the recipient's bank with all the necessary details about the transaction.
International Money Transfers: Different Types
When you need to move money between two countries, you have a few options. You can use bank wire transfers, an online money transfer service, or go to a physical location and do it in person. Each of these methods has its own set of pros and cons, so it's important to understand which one is best for your needs.
Below are the common types of overseas transfers based on the parties involved:
Person-to-person: direct transfer between two people in different countries. The funds are transferred from one bank account to another foreign account. This type of transfer is typically used for sending money between friends and family members.
Business-to-business: money transfer between businesses in different countries. The funds are transferred from a business account to another business's foreign bank account. B2B transfers are typically used for paying suppliers or employees in other countries.
Business-to-person: when businesses pay their suppliers or employees in other countries. The funds are transferred from a business's bank account to an individual's foreign bank account.
Bank-to-bank: money transfer between two banks in different countries. The rate at which the banks transacts is the rate you see on Google (also called the interbank rate or the mid-market rate).
International Money Transfer Fees
There are a variety of factors that affect the cost of sending money overseas. The amount being transferred, the method of transfer, and the country to which the money is being sent all play a part in how much you'll end up paying.
When you compare money transfer companies, you must carefully compare charges, commissions, and exchange rates.
As I mentioned before, the costs are different for every country.
The sender usually pays the fee, but certain services and methods might require the receiver to pay as well – it's usually the recipient's bank account taking a cut.
The money transfer fee is usually charged in one of the below ways. Some companies charge two of these or all three:
Up-front fixed fees
Up-front variable fees (usually a percentage, depending on how much you send and where you send it)
The added markup on the exchange rate
Often companies offer fee-free transfers of currencies, marketing it like a zero-fee transfer. But as I have mentioned a hundred times on Comparism, there are no fee-free transfers. These companies usually add a markup to the exchange rates they offer.
So, you need to be attentive to the currency rates because different companies may have varying rates for different currencies.
How to Make an International Money Transfer?
There are many different ways to transfer money abroad.
You can go through your bank, use a specialist money transfer service, or use an online currency exchange. Each option has its pros and cons, so it's important to do your research before deciding which is the best for you.
If you opt for your bank for wire transfers, you'll need to provide the account details of the receiving bank. Banks usually charge high fees, and your money may take longer to arrive.
Online currency exchanges are also a cheap way to transfer money, but they can be slow.
Money transfer services are a great alternative to banks. They're cheaper and faster. The overall process for most money transfer companies is broadly the same. Most providers allow you to use the currency calculator before signing up (like Wise, Remitly, InstaReM etc.), and others have you sign up before you can calculate your transfers (like OFX, TorFX, Currencies Direct).
Anyhow, let's look at the steps involved.
Step 1. Choose a money transfer service.
The first thing you need to do is choose an option that suits your needs to remit your funds.
Step 2. Sign up for a free account and get verified.
Once you've found the right one, sign up for an account with some basic information. This usually includes your name, address, date of birth, phone number and email address. Then you'll need to verify your identity by providing some form of ID, such as a passport or driver's license. This is to comply with anti-money laundering regulations.
Step 3. Select the currency pair and enter the amount you want to send
The next step is to specify the amount of money you want to send, the currency you want to send it in, and how you want to send your money. You can do this online, over the phone or in person at an agent location. All the options I have provided allow you to set your money transfer online.
Step 4. Enter your recipient's information
Enter the recipient's name, address, and bank details
Step 5. Review your payment details and make the payment
This is where you can review all the details you have provided and then make your payment using the payment method you opt for.
Step 6. Click submit and wait for your funds to arrive
Once you've initiated your transfer request and made the payment, all you need to do is sit back and wait for the money to arrive in your recipient's account.
Step 7. Confirm receipt of funds
The process usually takes between one and three days, but it can sometimes take longer depending on the currency pair, the country you're sending to or the payment method used.
How Long Does an International Money Transfer Take?
The amount of time it takes to complete a transfer depends on the type of transfer and the payment method used. Generally, bank-to-bank transfers can take anywhere from one to five days. Alternate services on this list are a lot faster. The time ranges from a few seconds (almost instantly) to 1-2 days for most corridors.
Do Money Transfer Companies Use the Real Exchange Rate?
Not all the money transfer companies on this list use the real exchange rate. The 'real' or 'mid-market' exchange rate is the one you'll find on Google, and it's the fairest way to do an international money transfer.
Some companies, though, use what's called a 'retail' exchange rate. This is usually lower than the real rate, so it means you get less for your money. If you want the most for your money, choose a company that uses the real exchange rate. Or, at the very least transparent with the markup and real fees they charge for their service.
6 Things to Look For in a Money Transfer Service
When it comes to finding the best money transfer service, there are a few things you should keep in mind.
Are you looking for the cheapest option? The fastest option? The easiest option? Once you know what's most important to you, you can compare money transfers and find the best one that fits your criteria.
Let's look at each of those factors below:
Exchange Rates: Exchange rates change constantly and can have a significant impact on the overall cost of your transfer, so it's essential to find a service that offers competitive rates. Compare rates from different providers to ensure you get the best deal. Services with poor currency rates end up costing you more in the long run. You should also look at the mid-market markup being added to get an idea of how much the company charges on top of the actual fees. This will give you a better understanding of how much you're spending overall on your transfer.
Transfer fees: A money transfer company makes money by charging fees. This can be a fixed flat fee regardless of transaction size or destination country, or it can be variable, depending on the amount transferred. Some providers charge a percentage of the amount you're sending. Some companies are transparent about fees, and some have sneaky ways of charging hidden fees. Some companies also waive their fees for certain transfers or when transferring over a certain amount of money. To compare money transfer companies, look at the total cost of a transfer when considering different options to ensure you're getting the best deal and not paying any hidden fees in hidden added markup.
Payment Methods: Most money transfer services allow you to pay with a bank transfer, debit card or credit card. Some also allow you to pay in cash at an agent location. Pick the one that's most convenient for you.
Speed: How quickly a transfer happens can vary greatly depending on where your money is going and how much is sent. The fast services are often used for urgent transfers, while others may take several days before completion, so consider this when choosing a service.
Security & Safety: The most important feature of any money transfer company is how they handle your funds. The best services are authorised and regulated by financial authorities in the countries they operate in. They also use the latest security measures to protect your personal and financial information. Every element of transferring funds should be secure, including banking information transfers, account access, log-in details, payment methods, etc.
Customer Service: When something goes wrong, you should be able to reach customer service for help. The best services have 24-hour support available in multiple languages to get the assistance you need when you need it.
Now that you know what to look for in a money transfer company, let's look at the information you need to request your transfer.
What Do You Need to Make an International Money Transfer?
Well, international money transfers aren't that different from domestic ones.
If you've reached this point, I am assuming by now you have picked a money transfer company that suits your needs and have signed up for an account with your details.
Here are the details you need to set up a recipient for your first overseas transfer:
Recipient's full name and address
Bank Details: Account number and Bank Identifier Code (SWIFT BIC or IBAN (International Bank Account Number), IFSC code in India, Sort Code in the UK, Routing Number in the USA)
Amount: The amount you want to send in the currency of the destination country
Final Thoughts
Whether you're looking to send money for personal or business reasons, there's an international money transfer service that's right for you. Just make sure to do your research and compare the fees, exchange rates, and speed of each service before making a decision. And always remember to keep an eye out for hidden fees!
I hope this guide has helped you understand how international money transfers work and how you can choose the best international money transfer service for your needs. If you have any questions, feel free to leave them in the comments below.
Do you have experience with international money transfers? Let me know in the comments below!
If you found this guide helpful, please share it with your friends or family who may be looking to send money abroad. Thank you for reading!
How We Chose the Best International Money Transfer Companies
To pick out our best money transfer sites, we looked at 30+ money transfer organizations comparing the overall amount of money you would (actually) pay in fees, the time it would take for the recipient to receive their funds, and the ease of use of each platform.
International Money Transfers: FAQs