Lebara Money Transfer Review: Is it Safe and How Does it Work?
Still confused about whether to give Lebara Money a try or not?
A detailed review would come in handy at such a point, isn't it?
Well, you have come to the right place as this is an independent Lebara Money Transfer review.
NOTE:
Lebara Money has now partnered with
WorldRemit
to improve their money transfer services and to open more ways and countries to send money to. When you click on any link to Lebara Money on this post, you will be redirected to WorldRemit. Check out our
detailed WorldRemit review
.
Lebara money, launched last year, is one of the youngest companies to offer overseas money transfer services mainly aimed at migrants in the UK.
However, anyone can use it to send money from the UK to anywhere.
With its unique offering, you can lock in today's exchange rate for up to 30 days – even for small sums – if you like the current rate but cannot transfer the funds now (however, you need to be mindful that you need to pay and extra fees for this feature).
The FX rates available for immediate "today" transfers are also pretty competitive with the likes of Wise, WorldRemit, Paysend and Xendpay.
As Lebara is a relatively new entrant to the overseas remittance market, I understand you have doubts about whether to use them or not.
Is Lebara safe?
Can you trust Lebara with your money?
What are the pros and cons of using Lebara Money?
So many questions.
That's EXACTLY what this post is about – a detailed Lebara Money review.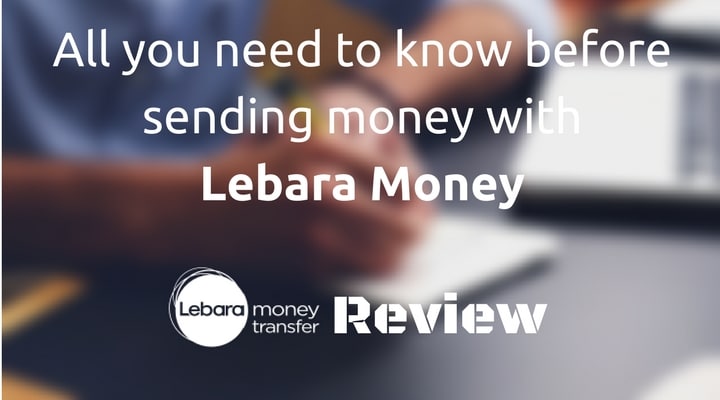 In this post, I will review the international remittance service offered by Lebara and also look at how it fairs among the line-up of other services that offer cheap and quick money transfer services to India from the UK.
Lebara Money Transfer review – all you need to know before sending money using Lebara Money via WorldRemit.
PROS:
Transparent fee structure – no hidden fee!
Like it? Lock it. Secure today's exchange rate for up to 30 days in the future.
Ongoing offer: first free transfer plus £10 off your first remittance over £100. That's £15 off your first transfer with Lebara.
CONS:
You can lock in £1000 paying non-refundable 1% fee – you lose this fee (£10 for sending £1000) if you cancel "send money later" transfer.
Only Debit and Prepaid cards accepted – no online bank transfer.
No mobile app for iOS.
What is Lebara Money "send money later" 30 days exchange lock feature?
If you like today's currency exchange rate but cannot transfer money over to Lebara right now, you can lock the rate and send the money within 30 days.
Exchange Rate locks are usually offered to bigger, wealthier clients who tend to make large international transfers.
Lebara money makes it available to the migrant group who regularly transfer their monthly salary back home.
[You need to pay an extra fee for this so make sure you count that in.]
As an example, if you plan to send £1000 to India in June, but do not have the funds today (24 May), you can lock in today's exchange rate.
…send the money anytime before 23 June, and you will still get the exchange rate you locked on 24 May.
Another example taking the Brexit scenario as I had explained in one of my earlier posts: When is The Best Time to Send Money to India Online?
Lebara's rate lock feature could save you a lot if such an event were to occur again!
If the currency rate changes unfavourably and you could cancel the transfer and only end up losing the "rate-lock" fee.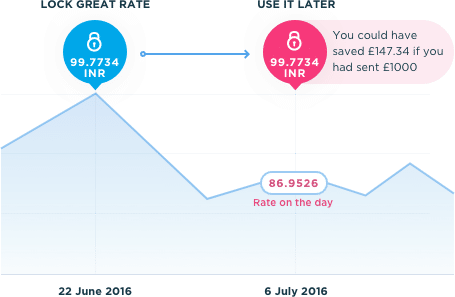 If you plan to use this feature, you need to keep in mind:
There is a non-refundable fee to use this feature – 1% fee (or £10 for sending £1000) which obviously is higher than if you were to make the transfer at today's exchange rate.
The exchange rate could strengthen as well in which case you could lose some money. I checked with Lebara money transfer support team, and you can cancel the transfer up to 11 PM on the day before the chosen scheduled transfer, but you will lose the 1% lock-in fee (£10).
Is Lebara Money transfer safe?
If you haven't come across Lebara in the past, either you are new to the UK, or you have been hiding in the caves… 🙂
If you haven't – no worries. Let me walk you through it!
Lebara as a brand has been in business for the last 15+ years. Lebara Mobile is pretty famous among the migrant community offering a cheap solution to make low-cost international calls.
The Financial Conduct Authority regulates Lebara Money as a payment institution.
What this means is:
Like any other FCA-regulated money transfer company, the funds you transfer to Lebara money are kept separated from Lebara's assets.
Hence, your money will be safely transferred to your recipient in India.
Lebara Money processes every transfer using Verified by Visa and Mastercard Secure Code.
So this answers your question "Is Lebara Money safe?"
Basing my understanding of the above facts and having used Lebara money transfer to India myself, I can recommend that your money is safe with them.
How does it work?
Sign up with Lebara Money using this link (using my link you pay ZERO fees and get £10 off your first transfer over £100!).
Choose the amount you want to transfer – either select "Today" to send now or "Later" to lock today's rate for 30 days.
Add a new recipient who you want to send money to India.
Check your transfer summary and pay Lebara Money using your UK debit card.
If you haven't already checked out my detailed guide to sending money to India to get the best rates, I recommend you do that right now.
Sending Money to India From UK Online – The Ultimate Guide (opens in a new tab)
Okay!
Let's get back to the Lebara money review.
How long does the money transfer take with Lebara?
Most transfers with Lebara take 1-3 working days to transfer.
For this review, I used Lebara Money for sending £1000 to India from the UK.
(I paid £0 fee for this transfer and had to only pay £990 using the £10 discount offer on the first transfer – you can avail of it using this link).
The money reached my bank account in India in 2 days, but that's for the first time as I understand.
One of our readers, Rutuja's first transfer also took two days, but on the second transaction, the money arrived very quickly – merely 12 hours.

Related: Read this post I wrote earlier about timing your money transfers to India to get the best exchange rates.
How much does Lebara Money Transfer charge as Fees?
Lebara money charges 0.5% on transfers to India from the UK (with a minimum fee of £2).
That's £5 in fees on sending £1000 to India.
However, you can get your first transfer with Lebara Money for free using my referral link.
If you are sending a larger amount like £5000, that's £25 off for the fee alone!
As a bonus, you get your first transfer above £100 with a £10 discount.
If you are sending £1000, effectively that's £15 off on your first free transfer with Lebara – you pay £990 instead of £1005 (inc. fees) to transfer £1000 to India.
If you plan to send £5000, that's £35 off your first remittance with Lebara Money.
How can you pay for the transfer?
Lebara accepts payments using all UK debit cards and prepaid cards.
Currently, there is no option to pay using an online bank transfer which could have been helpful.
Verification Documents
To meet regulatory requirements, Lebara might ask for ID and address verification documents to be sent confirming your identity.
That's the KYC (Know Your Customer) process they have in place for higher value transactions (above 1000 GBP).
If required, the Lebara money transfer team will contact you to send over the necessary documents.
When I did my first money transfer with Lebara from the UK, I didn't have to provide any documents for my identity verification.
But when my friend Ravi did, he got an email asking for documents to verify his identity. Now, Ravi did it from India which Lebara might have picked as one of the scenarios requiring identity verification.
Again, this to me shows that the system is secure and picking up any suspicious activity.
---
Summing-Up
So there you have it. A detailed review of Lebara Money transfer.
The transfer fees and currency rates for Lebara Money are quite competitive and at par with big players in the overseas remittance market.
Lebara charges a minimum transfer fee of £2 (0.5% of the transferred amount).
If it's your first transaction with Lebara and you are sending a large amount (any amount over £100), you get the first transfer free along with a £10 discount which is a great offer.
If you are already signed up with other money services like TransferWise, Xendpay and WorldRemit and have used their new customer offers, Lebara money is a fantastic deal, and on top of good exchange rates, you could save further using the Lebara Money offer for new customers.
After the first one, check Transferwise and Xendpay which also give similar mid-market rates to Lebara Money.
As companies offer services on different digital platforms, the absence of an iOS app for Lebara money was a bit of a hassle for me.
If you are mobile-savvy like me and use your phone for most of your internet transactions, you can look at Lebara Money alternatives. WorldRemit, Azimo, Paysend and Wise offer apps on both Android and iOS platforms.
Having used Lebara for my last remittance, I can recommend Lebara Money to be a safe option for your money transfer to India that gives competitive rates at par with the existing players.
I hope this Lebara money transfer review by Comparism was helpful to you in making an informed decision.
If this post helped you in making a better decision of picking up your favourite way to transfer money to India, do share this post with your friends and colleagues on Facebook, Twitter and Whatsapp.